We have another beautiful styled shoot for you this afternoon. This stunning wildflower shoot was held at a variety of locations all near Liverpool – Rushton's Farm, Thornton; a small area of greenery and woods off the A565 in Thornton, Liverpool and finally at Burbo Bank, Crosby Beach, Liverpool. Demonstrating that a stunning shoot can be pulled off with minimal decoration, details or fuss, photographer Struth Photography has captured this real life couple in the most unlikely of romantic locations! I love the beach scenes – the colours captured in the images are gorgeous.
This shoot is a combination of fun and romance, we tried to think outside the box and to try and find beauty in the least obvious of places.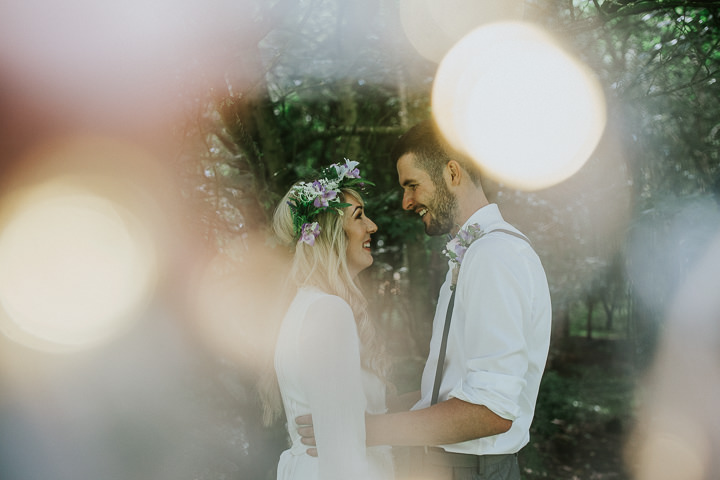 More about the shoot from the Photographer:
We love the boho theme and we have a new editing style that we thought would suit a bohemian styled shoot. We had gone for lunch at Rushton's Farm and noticed some abandoned sheds. We asked the owners if we could come back in a few weeks and do some photographs and they were really happy. We then wanted to find some contrasting scenery to that so found some green areas and thought using bold coloured smoke grenades here would be beautiful and then onto the beach because we felt like ice cream!
Kim had started making floral headbands for some different photoshoots and after visiting our local flower market she created the headband and thought about making a matching bouquet. It was something that she wanted to make just for her, but after posting images of them on social media and getting great responses we decided to use them in a shoot. We loved the wildflower effect and how natural and bohemian they looked so decided to carry on the boho theme with a knee length dress and sandals.
We wanted to show all the DIY brides out there how to make something so beautiful for not a huge expense and how getting the right photographer to go with your theme can pay off. We felt like we achieved this because the response and contact we have had online from likeminded brides and grooms was really positive. We want our work to show romance and happiness but in a laid-back fashion and we feel like this shoot defines our brand perfectly
The Team who made the shoot possible
For more information on Struth Photography go to:
struthphotography.com / [email protected]  / FACEBOOK  / T: @struthphoto / I: @thestruthsphoto