Good Afternoon to you all and welcome to Friday afternoon. How are you all? I am very well and on route home after having a few days away in North Yorkshire with Paul and Fearne. It's Fearne's birthday today so we are continuing with the celebrations into this evening with all the grandparents. It involves lots of cake and naughty treats.  Perfect.
We are back this afternoon with our weekly Boho Bride feature and this afternoon it is the turn of Fay and Graeme. Last time on the blog Fay chatted all about hair, make up and dress worries and today they are back talking all about secret weddings and hen parties.
I'll pass you over to Fay….
Last month, Graeme and I had the privilege of witnessing the 'secret' wedding of two of our best friends, Liz and Keith. The wedding was deliberately low key with a grand total of four guests (half of which were dogs!) in Crear, a remote and beautiful cottage in Argyll and Bute on the West coast of Scotland. The happy couple wanted to get married without planning a 'conventional' wedding, so instead took the opportunity to elope in a way which suited them perfectly. We were truly honoured to be part of their day which in turn made us reassess the whole purpose of our own wedding…. to get married!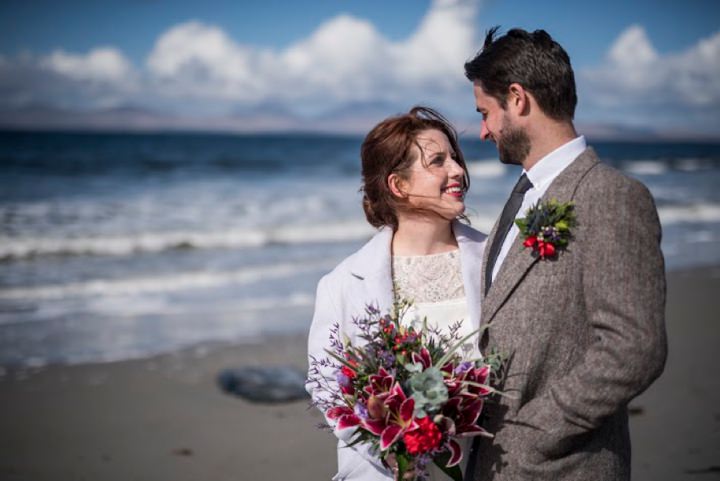 Next week I have my first dress fitting and I'm slightly worried I'll be the first bride to have put on weight since buying the wedding dress! I've had a fantastic week of eating and drinking in Barcelona with my closest friends who are to definitely to blame for my increasing waistline! My hen do has been and gone and I honestly think it was perfect! The girls and I successfully proved you don't have to drink through a willy-straw or play cringey games to have a good time.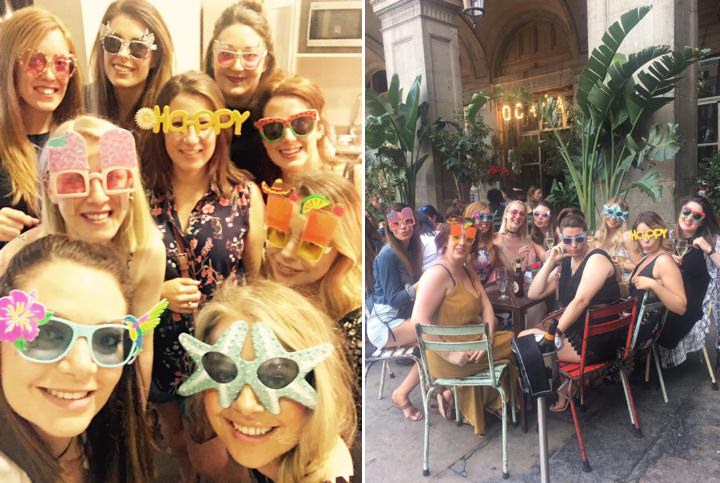 Many months ago my friends and I decided on a hen do abroad which would double-up as a mini holiday for us all. As most of us had already been to Barcelona, we didn't feel as pressured into sightseeing, although we did spend our last day sunning ourselves on the open top buses. Most of my friendships are based on a mutual love of eating so we knew food would be a big part of the holiday. However, finding a table for 9 isn't easy, so we did plenty of research beforehand and booked a number of restaurants in advance. Our forward planning really paid off as we didn't have a bad meal. We also stayed in a very reasonably priced apartment which I would definitely recommend over a hotel. The apartment worked as a base for us and it was great having our own space, making the inevitable hangovers far more bearable.
Once the accommodation and flights were booked the girls took over planning. They pretty much took my 'no willy-straws' rule seriously (bar a fluffy pink badge with a glittery willy) and no fancy dress! They also organised some fantastic activities including a 'break out room' and a Spanish cooking course which I was sadly too hungover to stay until the end (sorry girls… that's what happens when you ply me with shots)! Graeme also had his stag do this month; they went to Amsterdam and judging by the pictures they had a great time (if only they could remember it).
With less than two months to go we started a new to-do list which has practically doubled in length since our last one! I've started to think about all my craft projects and what we can realistically get done in the time we have left. I would advise any brides-to-be to ease off on their Pinterest use in the run up to the big day to avoid being completely overwhelmed. There are only so many things I can do in the next 7 weeks and I'm hoping the guests won't notice I haven't hand dyed my pom-poms as originally planned!
Love Fay!
Photo by: Bart at Crear wedding photography