Today I have a real treat for you, a totally awesome barn wedding From North Wales, that I know you are going to LOVE! When the bride used to write a wedding blog and is heavily into crafting you know that this wedding is going to look totally beautiful and be styled to perfection. Add in the fact that the  photographer travelled all the way from Vancouver to North Wales to capture the day, you know that todays wedding is going to be a real treat for the eyes. Debbie formerly of Belle Amour and now of Alp & Ash has really spoilt us with her totally amazing day. A weekend long wedding, crafted to perfection, filled with the most amazing and pretty details and decoration, all following the mustard, teal and mint theme. Everything from the beautifully decorated barn venue to the cake table, to the amazing table plan to the mustard shawl crocheted by Debbie herself is just amazing. Big thanks to Taylor Roades Photography for the awesome images.
'It was simply the most amazing weekend we've ever had'
Debbie and Anthony were married on 12th September 2015 at Llyn Gwynant Barns, Nantgwynant, North Wales. 'We really wanted a venue that was a completely blank canvas that we could decorate how we wished and to enable us to use the suppliers we wanted. We also wanted a rural setting that we could book out for an entire weekend. After a few hours of Googling we found the Llyn Gwynant Barns, arranged a viewing and booked them the following day, all within two weeks of getting engaged! We had just under 100 guests. We had about 14 months to plan the wedding, but I probably had all the major things booked within the first three months. I did spend quite some time on the details of the day because I love making things so much!'
How they met
We were friends years before we got together but had lost touch. About 13 years after I'd last seen him I came across a photo of Anthony on Facebook and I found myself thinking he was rather attractive (mainly because he'd grown his hair and I love long hair on men!) I sent a message and after about 6 months of back and forth chatting we decided to meet for a drink. It wasn't a date, just two old friends meeting up, but it took me about ten minutes to realise I really liked him! Luckily he felt the same. We'd been together 2 years and 5 months when we got married.
The Proposal
When my dad died in 2005 we scattered his ashes on a hillside in the Lake District. Every year on the anniversary of his death I walk up the hill and hide a stone painted with a message of love. Anthony chose this spot to propose so he could include my dad in the wedding in some way, and not only did he propose there but he did so with a stone he'd painted, with the words "Debbie, will you marry me?" For me it was the perfect proposal and a wonderful way to have my dad be a part of our wedding story.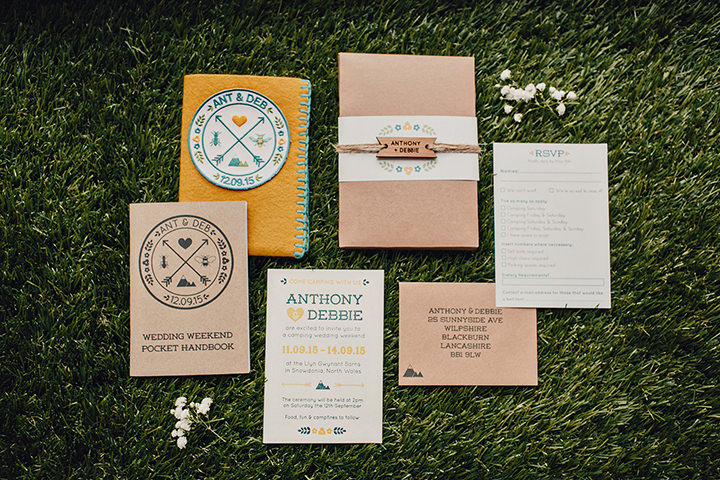 How did you allocate your budget
We spent our budget with Anthony wisely tracking absolutely everything on a spreadsheet. It's surprising how quickly things can add up and makes you much more aware of what you're spending. Because we booked things early it allowed us just to pay the deposit and then have time to save up the rest.
Where did you splurge and where did you save
I wouldn't say we splurged on any one particular detail, but we definitely paid for more decor details than were absolutely necessary, such as the festoon lighting for example – not needed but so beautiful! We saved in several ways such as booking an amazing photographer friend for our wedding who kindly gave us an amazing deal, by sourcing street food rather than 'wedding caterers', by making our own wedding cake, and I got a few sneaky discounts and freebies due to writing a wedding blog at the time too.
How did you choose your photographer
My incredible photographer was Taylor Roades, a friend I met when I lived in Toronto. I've loved her photography since I first saw it and I wanted her at our wedding as a guest anyway so it was fantastic to have her there as both photographer and guest! It was amazing that she flew from Vancouver to capture or big day, and really lovely having a friend take the photos as we're not naturals in front of the camera so it helped put us at ease.
The Dress
My dress was by Jack Sullivan, my shoes were Agnes & Norman and I wore a gold vintage headpiece that I found on Etsy, as well as a mustard shawl that I'd crocheted myself – the pattern is made up of skulls because Anthony loves anything with a skull on it!
The Suit and Bridesmaids
The suits were a dark brown wool fabric from an online service called tailor4less.com and the multi-way, mustard bridesmaid dresses were by Mimetik on Etsy.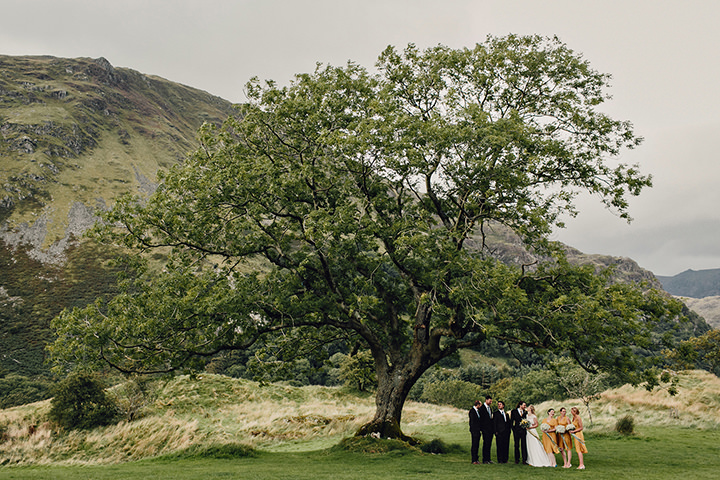 Theme or Colour Scheme
The colours were mustard, teal and mint.
Flowers
My beautiful bouquet was created by Petals in Llandudno and made up of Yellow "Penny Lane" Roses, Yellow Craspedia, Tanacetum Daisies, Grey Brunia Leaves, Eucalyptus, Astilbe & Yellow Solidago.
Decoration
The barns are absolutely beautiful and have a ceiling of paper lanterns so you could just leave them as is and they'd look beautiful. We added festoon lighting (because I really love lights!) and paper triangles machine-stitched together to add some colour.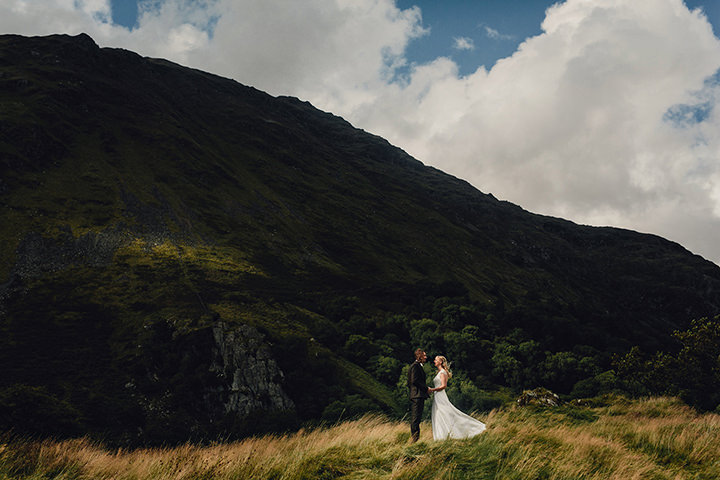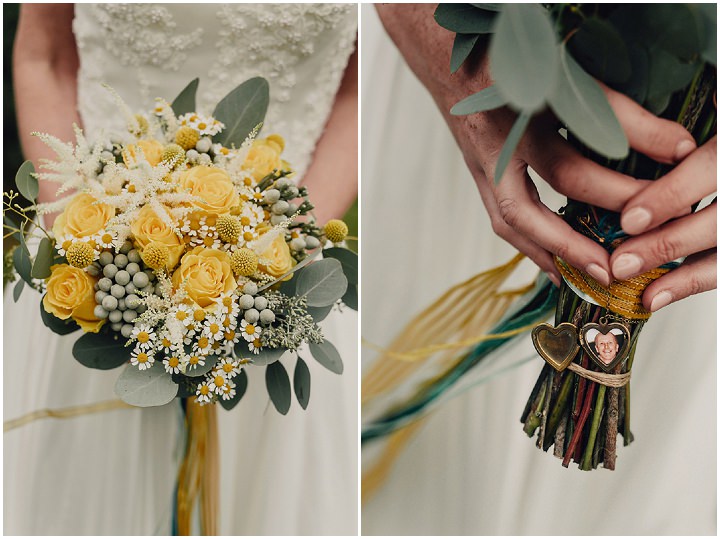 Food
We ate amazing mezze boxes from Amber's Wood Fired Kitchen: falafels and/or meatballs with fresh-baked flatbreads, slaw, olives, harissa, hummus, rocket and pickles served with tabbouleh, tzatziki and fattoush. The same company offered gourmet burgers in the evening too. We got a lot of compliments on the food, it really was delicious and I plan on seeking them out at a future festival somewhere!
Wedding Cake
I made the same cake I've made Anthony for the 3 birthdays I've been with him, because he requested it and we weren't fussed about having a big, fancy cake. It was an apple and carrot cake layered up with an apple, caramel sauce and frosted with mascarpone icing. I topped it with Playmobil figures and a laser-cut cake topper. We also had a 'Big Day Bake Off' with so many of our awesome guests creating a cake for the competition. There was more than enough dessert to go around and I had to try all of it so I could judge fairly!
Entertainment
We looked at bands but due to it being quite a remote location and therefore quite expensive for the bands we would have preferred, we decided to create an iPod playlist instead. It was a great way to save money, and Anthony (who put the playlist together) really loved being at a wedding where he enjoyed all of the music!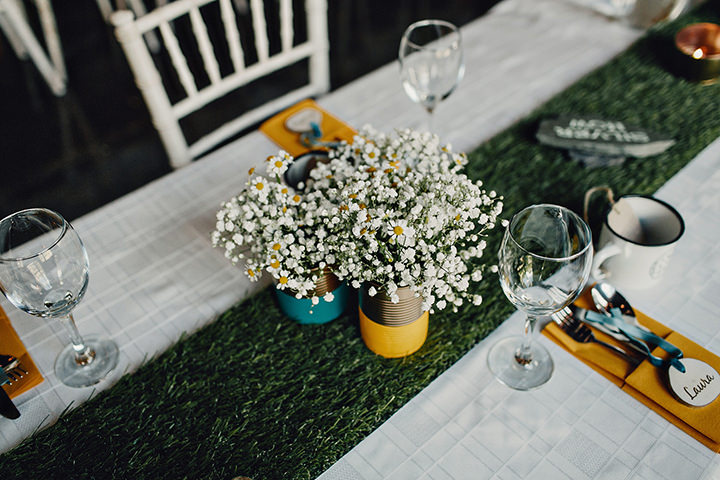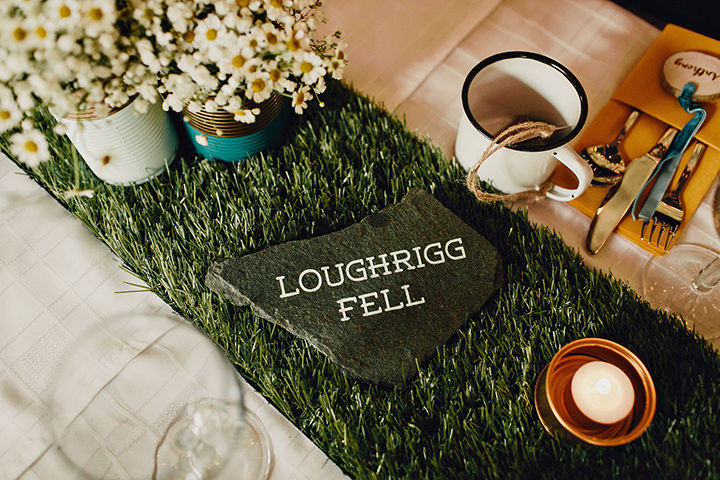 The Stationery
I made it.
Personal or Handmade Touches
I did as much as I possibly could myself because I really love making stuff! I designed a wedding logo featuring an ant and a bee, because my name means 'bee' and Ant's, well, an ant! This featured across many of the details such as the stationery, guestbook and enamel camping mugs that were the favours. DIY touches included the stationery, my shawl, the table plan, table stones, centrepieces, cake & cake topper and camping kits for the guests which included marshmallows & skewers, a pack of playing cards with a booklet of games, Toblerone chocolate, water, and paracetamol – for the morning after!
Special Moments
Seeing Anthony waiting at the end of the aisle with a huge grin on his face was definitely a highlight. That, and all the food!
Advice to other couples
My advice would be to get the big things booked as soon as possible (venue, food, photographer etc.) and then you can spend the rest of the time doing all the pretty bits. It's much less stressful knowing that you have the essentials sorted and the rest, although lovely looking, you could do without if you had to due to time or budget constraints.
Biggest surprise
I think the biggest surprise to me was realising just how much people cared… Family and friends spending many hours decorating the venue, so many guests entering our baking competition, our photographer flying such a long way to capture our wedding, a friend playing the piano as I walked down the aisle, a bridesmaid with a bin bag helping clear away plates, our awesome best man who made sure everything was running smoothly so we didn't have to worry about a thing, and most of the decorations having been dismantled and packed away before we even woke up. So many people helped make that day incredible and easy for us. I knew I'd feel loved by my husband on our wedding day but I had no idea we'd feel so loved by our guests too.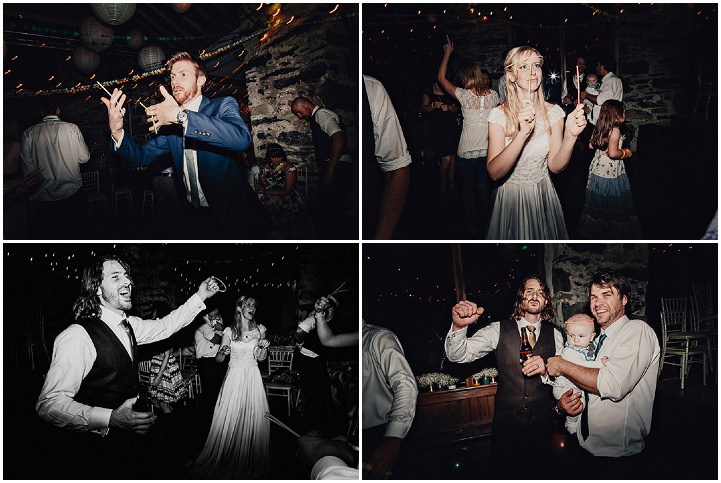 Supplier Shout Outs
For more information on Taylor's work please go to: