We have a lovely wedding for you today, a Cotswolds Barn Wedding full of natural details, from the dried flower bouquets to the brown paper ceremony programs. It is also the second Grace Loves Lace wedding dress that we are featuring this week! Everything Tania and Andy did when creating their wedding was done with the aim of it working with the barn venue, so the wedding and the venue complimented each other. They both worked incredibly hard to put the wedding together, creating an abundance of personal and handmade projects. From the personally embroidered socks to the hand stamped table names. Big thanks to Claire Basiuk Photography for the beautiful images.
'One of the quotes that we had on the table at dinner is from the book Anne's House of Dreams "They belonged to each other; and, no matter what life might hold for them, it could never alter that. Their happiness was in each other's keeping and both were unafraid." That for us summed up the day'
Tania and Andy were married on 29th March 2016 at Kingscote Barn, Tetbury in the Cotswolds 'When we got engaged we didn't think we had any idea what we wanted for the day. We were really open to so many locations, we visited a range of venues from a graveyard to a mill! But when we visited the barn we just fell completely in love with it. When we walked into the main barn we could both see ourselves getting married there. The surrounding countryside is so beautiful; it felt right. We had a total of 99 adults, 8 children and 3 babies (one was two weeks old!) as our guests. Planning took 15 months'
How they met
We met on the first day of university in 2005 when we were living in halls together. We became friends first and then fell in love. We became an official couple in 2007.
The Proposal
I had an inkling that Andy was going to propose so it was lovely that the actual proposal came on a day that I didn't expect it. He picked me up after work on a Friday and sent me into the house whilst he parked. It was covered in candles. On the chair was a silly story book I'd made him before we got together. It had a note that told me to read it… I went through the story which was all about us and on the final page, where it said "The End" he had stuck a note saying "No, it was just the beginning". He came in behind me and asked me to marry him.
Oh and Andy would like me to point out that he had filled the fridge with cheese and steak and fancy wine!
How did you allocate your budget
We were so organised! I'm a teacher and Andy's a mathematician so we were on it from the beginning. We created a spreadsheet with estimated amounts for each section of the wedding and made sure we stuck to that.
Where did you splurge and where did you save
The biggest splurge was our band but we wouldn't regret that for a minute. They were amazing! We saved money by asking people for discounts (having a Tuesday wedding helped with this), and also by bringing in favours (Tania's mum made the cake, her uncle owned the photobooth and DJ'd in the evening and her cousin ran the sweet and popcorn tables). We bought our bespoke wedding stamp from Bloomfield and Rolfe and then used that on all the stationery that we designed and printed ourselves.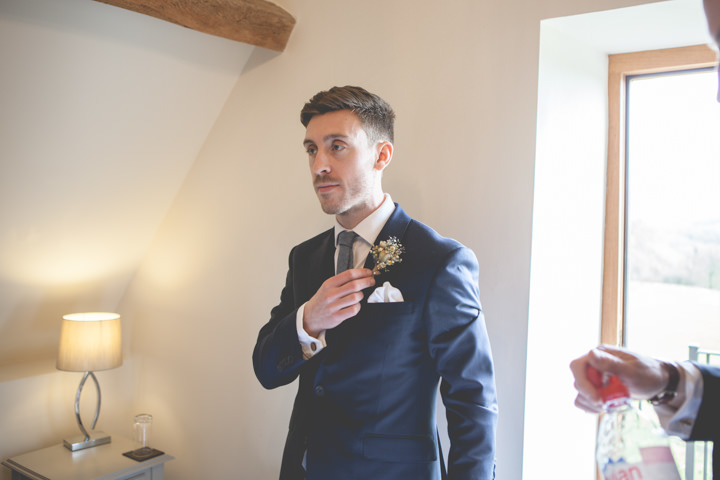 How did you choose your photographer
We chose Claire partly as she's a friend but mostly because she's amazing! Her photos are stunning, just the candid shots we were looking for and she's also such a lovely person to have with you on the day. We were sharing the most special, exciting and memorable moments with each other and we wouldn't have wanted anyone else there with us.
The Dress
I bought my dress from Grace Loves Lace, it's the Emme-waisted dress. My shoes are called Magic and are Carvela, Kurt Geiger. The flowers in my hair matched the bouquets and were from the Artisan Dried Flower Company. And my bracelet was from Azendi… Andy bought it for me for our first year anniversary present in 2008. My earrings were 'borrowed' from a friend, they matched the bracelet perfectly!
The Suit and Bridesmaids
The suits were all from TM Lewin. Andy's shoes were his pride and joy. They are the Grant shoes from Barker. And his cufflinks were my wedding present to him. The bridesmaids wore navy multiway dresses from Debenhams. They chose them themselves! It was a unanimous vote as they loved the idea of being able to put their own individuality into the outfit. It was a team effort tying them in the morning!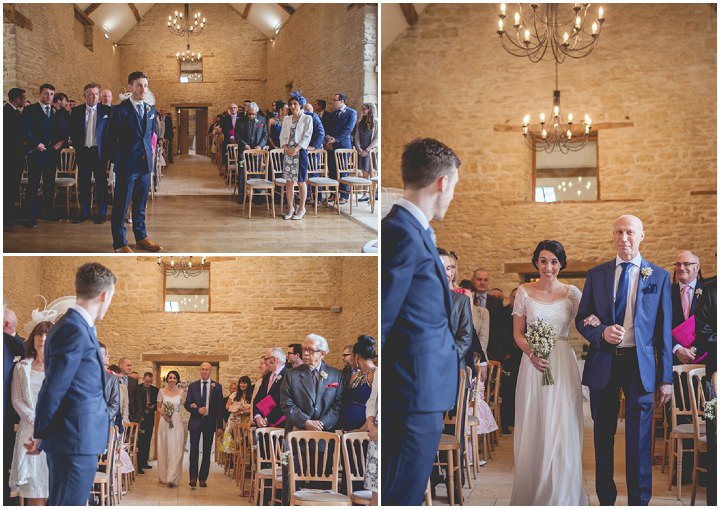 Theme or Colour Scheme
We didn't have a colour scheme or really a theme…we wanted to centre the wedding around the venue, which is why we went for the rustic flowers and brown card. We just wanted it to feel natural. We both love reading so that was a bit of a focus, we had a typewriter font, our centerpieces were books, our table names were our favourite books with quotes that we love and our guest book was a collection of ladybird book postcards.
Flowers
The bouquets and buttonholes were the wild meadow collection from the Artisan Dried Flower Company. The bride and groom had lavender added to theirs.
Decoration
Lots of candles, flowers (gypsophila and lavender), photos, books and our sister in law made some amazing 'Dr and Mrs Aldersley' bunting for us. Our favours were Kinder eggs as it had just been Easter.

Food
Canapés: Yorkshire pudding with rare beef and creamed horseradish; Smoked salmon on rye bread with chive sour cream; Mini frittata with red pepper pesto.
Starter: Glazed goats cheese and roasted beetroot carpaccio; chicken liver parfait, shallot chutney and herb toasts.
Main: Roasted cherry tomato tarte tatin, sautéed spinach, chargrilled courgette and pesto; Slow roasted pork belly, black pudding mash, crackling, seasonal vegetables and cider jus.
Dessert: For the ladies… strawberry Eton mess. For the gentlemen… chocolate orange brownie with Cointreau cream and orange gel. Sharing was encouraged!!
In the evening we served cheese (plenty of it!) sourced from our local deli with homemade chutneys, crackers and bread.
Wedding Cake
A 'naked' cake made by Tania's mum!
Entertainment
In the evening we had the Soul Strutters, a local funk and soul band who we have seen around Bristol loads and just love. The best testimony to just how amazing they are is the volume of people that were on the dancefloor. From Tania's 89 year old Grandad to our two year old nephew and everyone in between!
I was a hard act to follow but Tania's uncle played out the evening with some crowd-pleasing 2000's indie classics. We also had a photobooth, sweet table and popcorn table which all went down a storm.
The Stationery
We designed and printed it ourselves. The stamp was designed by Bloomfield and Rolfe. It's a bespoke wedding stamp so we gave them a list of things that we like, where we each grew up and where we live now and they produced the stamp. We couldn't have been happier with it.
Personal or Handmade Touches
– Andy's brother Ant (who was his best man) is a musician and played Tania down the aisle.
– One of Andy's best friends, Martin, played the guitar and sang during the ceremony.
– Andy's cufflinks had some surprise messages engraved on the other side.
– Tania embroidered the groomsmen's socks!
– We also presented our parents with embroidered handkerchiefs saying 'mother of the bride' and the date. They took me forever to sew!
– We had quite a few children there and we wrapped a book for each of them at their table in case they got bored. It was lovely seeing them reading during the meal.
– Our sister in law Jubilee made the Dr and Mrs Aldersley bunting (as Andy got his PhD last year) and also the 'Beer Barrow' sign for the drinks reception. We'd seen it on Pinterest and loved the idea especially as my maiden name was Barrow.
– The table names were stamped and tied to bunches of lavender, we did them all ourselves! Our house still smells amazing!
– On the morning of the wedding my (Tania's) mum gave me a present from Andy. It was a Cambridge Satchel purse embossed with my new initials. I love it.
– My bridesmaids got together and presented me with a something old, new borrowed and blue. You can see me receiving it in the pictures. They each gave me one of the items. The old was a penny from 1916. It was amazing. The new was a bracelet. The borrowed was a sonnet from one of my other friend's weddings. And the blue was a mirror with the date of the wedding. I was so touched with how thoughtful they were.
Special Moments
Tania: I loved the morning, getting ready in the cottage with my bridesmaids, mum and mother in law. We had such a laugh. The girls doing the hair and make-up were amazing. So much fun and just fabulous at what they do!!
Andy: It was great to spend some time with my family and the ushers before the wedding started. Some really special moments and happy memories. Seeing Tania come up the aisle was perfect. In the evening the band blew us away with how good they were!
A special moment for us both was when I was walking down the aisle – there's a photo where I'm looking at Andy and I can't keep my excitement in.
All the speeches were lovely. Dad's was sincere and warm and proud. Andy's was heartfelt and loving. Ant's speech was unforgettable. He alluded to a particularly hilarious event from the Stag Do and everyone was in stitches.
We loved the time we took outside having photos.
In the evening, watching everyone dancing and enjoying themselves was amazing.
Advice to other couples
I guess our advice would be to relax and not to worry. Make the wedding true to you and you'll have your best day.
Biggest surprise
Ant's speech! The evening sunshine was a lovely surprise.
How overwhelmed we were by the real sense of love from everyone there. It was such a joy to be surrounded by so many people who love us.
I found out that my brother's wife is having a baby girl! That was incredible.
Supplier Shout Outs
For more information on Claire's work please go to:
www.clairebasiuk.co.uk / www.clairebasiuk.co.uk/blog / [email protected] / FACEBOOK / @clairebasiuk / I:clairebasiuk / PINTEREST

I'm Claire Basiuk a North West based Photographer, undertaking weddings in the Uk + abroad. I would say my style is unobtrusive, natural, candid and romantic with a love of detail and natural light.

[jprel]