We have a real treat for you today with this super glam and glitzy New Years Eve Wedding. Hayley and Dan chose The Great Tythe Barn in Gloucester for their wedding and decided to embrace New Years and make it a black tie event. With the most amazing sequin bridemaids dresses, sequin tablecloth, gold chargers and giant balloons. This Wedding is brimming with glamorous details and really makes me wish I could attend a new years eve wedding, what fun these guests are having. Big thanks to Kevin & Carol from Kevin Belson Photography for the wonderful images, it looks like everyone had a fabulous time.
'We didn't want it to be just a one day event so we planned a 3 day party so that we got the opportunity to spend more time with all of our guests. Having all of our friends and family together for NYE would never normally be possible so by having our wedding on this day we got to have the best ever end and start of a year'
Hayley and Dan were married on 31st December 2015 at The Great Tythe Barn in Glouscester 'When we first started looking for a wedding venue we wanted to find somewhere that none of our guests would have been to before and after attending so many wedding in the last few years trying to find that venue around where we lived proved difficult. We decided to look further afield and came across the Great Tythe Barn after doing some Google searching.
As soon as we arrived at the barn we fell in love with it and the fact that we could have nearly all our guests staying on site with us made it even better. It was the perfect distance from where we live for guests to just come down for the day or stay with us onsite for the whole 3 day party. We had a total of 130 guests.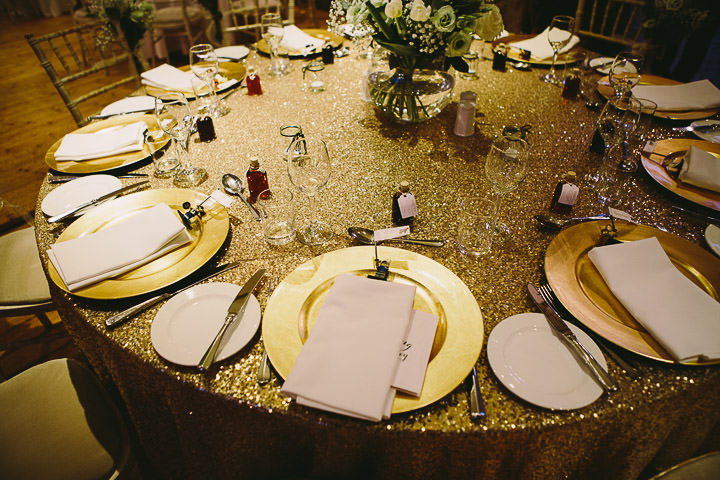 How they met
We have been together 11 years after being introduced through one of Dan's friends. I was looking for a part time job before heading off to uni and Dan offered me a job at the Golf Club he worked at and within a couple of months we were together, I think it was Dan's plan all along!
The Proposal
Dan proposed in 2014 when we were in Venice on holiday. I had no idea what he was doing when he stopped on one of the little bridges after dinner; I had already walked off over the bridge when Dan called out for me to come back for a picture. When he went to take the picture he pulled out the ring and captured a look of pure shock of my face. It makes me smile every time I think about it!
How did you choose your photographer
We met Kevin at a wedding fayre at the Great Tythe Barn, I liked his photography style immediately and after chatting with him for a while we were certain that he would be our perfect photographer.
We didn't want to have too many formal shots during the day, we wanted to spend the time with our guests and Kevin and Carol capture those moments perfectly. Kevin & Carol were amazing on the day and we hardly noticed that they were there, however the photos that we now have are just stunning and show just how talented they are.
The Dress
I found my dress after visiting 6 shops. I was with my mum and two of my bridesmaids and after walking into Windsor & Eton Brides, I just knew that this was going to be the shop. The staff were amazing and the shop and dresses were just beautiful.
My Mori Lee dress was nothing like what I thought I would choose but once I had it on, I knew that it was the one. My sister lives in New Zealand so we face timed her so she could see the dress and after a few tears it was certain that we were all in agreement.
I saw my shoes on an Instagram post back in April and was determined to track them down. They were by Badgley Mischka and proved to be very hard to find in the UK. However, I was very fortunate that one of my bridesmaids works for Virgin Atlantic so we took a little trip over to New York a few months before the wedding to find the shoes. I found them in Kleinfeld in New York and also found my hair piece while we were in the store.
The Suit and Bridesmaids
With it being a NYE wedding we wanted all the boys in black tie, Dan got his tux from Ted Baker and we bought the Best Men and Ushers' Tux's from Next. The bridesmaid dresses were the first thing we bought for the wedding, I knew that I wanted the girls in something sparkly to fit with the NYE theme and when we saw this dress in House of Fraser they all agreed that it was perfect. Our little bridesmaid and usher both had outfits from Monsoon and looked so adorable.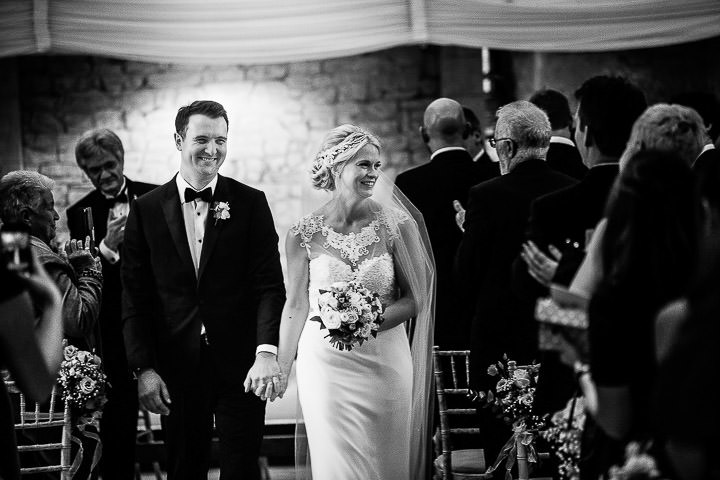 Theme or Colour Scheme
With a NYE wedding we really had the opportunity to go all out with our theme. Our colours revolved around black, white and gold and I had so much fun pulling it all together.
Flowers
We kept the flowers simple with just a variety of whites in both the bouquets and table arrangements.
Decoration
The barn is such a stunning venue that it really didn't need too much adding to it. I knew that I wanted gold reflected throughout the wedding so gold sequin table cloths and runners were a must and gold charger plates pulled the tables together.
The fairy canopy light at the barn is amazing and was the centrepiece of the venue. We put candles in all of the alcoves, I found some oversized balloons from Urban Outfitters which fitted our theme perfectly and we added fairy lights and pompoms to the upstairs beams for extra decoration.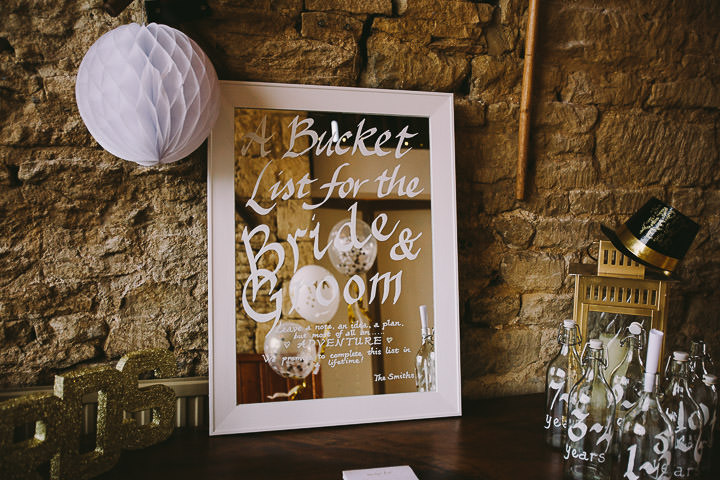 Food
Having a wedding just after Christmas we thought everyone would have had their fill of roasts and to ensure our guests had their stomach lined ready for an evening of partying we decided on individual pies with mash and gravy. Dine with Style were amazing to work with and made sure that all our guests had a delicious meal. For our evening food we served mini pizza's and pots of Mac n' cheese which are two of Dan and I's favourite dishes.
Wedding Cake
We decided not to have a wedding cake and instead went for a mix of home-made treats that my mum made which included rocky road bars, flapjacks and crispy cakes and a tower of jam and glazed doughnuts
Entertainment
We booked our band The Indie Killers based on a recommendation from our sister-in-law and we so glad that we trusted her opinion. They were better that we could have ever asked for, they got all our guests up and dancing, jumping into the crowd and letting people play the guitar as well as organising a sing off during the evening.
I couldn't recommend them more highly; I really hope that some of our friends choose them for their weddings so we get to see them again.
The Stationery
Dan's mum has amazing calligraphy skills so she was drafted in to write all the wedding invitation envelopes, place names, table plan and our bucket list.
Personal or Handmade Touches
I work in events and planning a wedding was so much fun for me, however I am not sure whether all our wedding party enjoyed the 10 pages check-list that I issued them all on the day before the wedding!
We tried to incorporate a lot of personal touches into the day, my mum and dad made all the shots that we gave as favours, their fridge was full for the last year with fermenting alcohol. One of Dan's nicknames is Lego head so we bought little Lego characters for all our guests place settings, we tried to tie in as many of the characters to our guests personalities however this did prove slightly harder than expected!
We spray painted lanterns gold and covered cardboard letters in glitter to tie into the theme and also had a confetti bar for the evening so guests could make their own confetti cones ready to toss at midnight.
I bought loads of NYE props for people to wear in the evening and we love all of the photos with our guests in hats, tiaras and glasses ready to ring in the New Year. We also arranged for confetti cannons as a surprise to go off at midnight which was just amazing and made that moment we all shouted out Happy New Year even more exciting!
Instead of having a traditional guest book we decided to ask our guests to leave their bucket list ideas that we will complete over our lifetime together. We had bottles with different years written on them and asked guests to place their idea inside one of the bottles. We will then smash that bottle in the year and try to complete all the ideas and adventures our guests have chosen for us. We have smashed the first bottle which was for year one and two of our marriage and there were some amazing ideas. However we may need to win the lottery to be able to complete them all at the moment!! I can't wait for 10 years' time to smash that bottle and see what people had written!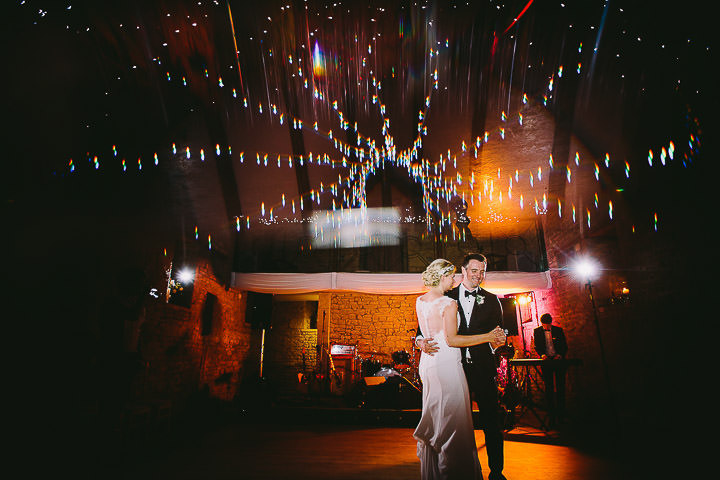 Special Moments
We both loved every minute of the day, looking back on it now there wouldn't be anything we would change about the day, apart from maybe the torrential rain that came down just as I had to walk across to the ceremony and I ended up having to be covered in a table cloth to protect my dress!
I am so glad that we decided to make the wedding celebrations more than just one day, we had 80 people for dinner the night before the wedding in the Orangery of the Tythe House, and we also did breakfast on the morning after the wedding for all the guests. On the evening of the 1st we had around 50 people still staying with us onsite and a very competitive evening of games unfolded. It was the perfect few days and we can honestly say the best days of our lives.
Advice to other couples
Do little bits throughout the planning process so that it doesn't all get overwhelming the closer the date gets. On the day relax and enjoy the time, it goes by so fast that you don't want to be worried whether the flowers or tables are set right, that's why you have suppliers who take away the stress for you.
Supplier Shout Outs
For more information on Kevin's work please go to:
www.kevinbelson.com / [email protected] /  FACEBOOK/ T: @KevinBelson  / PINTEREST
Kevin Belson Photography is a fine art/photojournalist team based in Wiltshire, shooting weddings across the UK and abroad. We go with the flow of the day and direct where necessary to create natural and inspirational images.