Today we are heading off to Penistone for this wonderful Yorkshire tipi wedding that has been captured beautifully by Joe Stenson Photography. Penistone isn't far from me and is close to the beautiful peak district, so Lisa-Jane and David managed to get some gorgeous portrait shots in the Yorkshire countryside. The wedding is full of bright and cheerful flowers as well as the fab tipi's that were decorated by Lisa-Jane and David. They kept things simple to keep costs down and made it a very handmade event. The result is a chilled out and relaxed wedding, with lots of smiles and fab outfits. I just love Lisa-Jane's beautiful bespoke gown, as well as David's tweed suit and the bridesmaids wrap dresses, which work so well with the bright flowers.
'Fun, relaxed and an expression of who we are'
Lisa-Jane and David were married on 30th August 2015 at Christ Church Ardsley followed by a reception at Daisy Hill Farm, Penistone. 'We were married in the village church where Lisa grew up and was christened. This was very important to Lisa, both of her parents recently passed away and we wanted to have the opportunity to visit their gave on the day. We also fell in love with the church and the reverend Fiona Kouble. We felt that she listened and understood what we wanted. It also meant we could have the wonderful Ilesha female choir sing at the wedding.
We held the reception in a tipi, hired from the wonderful totally tipis and we chose Daisy hill farm as the venue. We both fell in love with the farm instantly; it was the only venue we viewed. We wanted something which reflected our personalities. Daisy Hill farm had a relaxed atmosphere and was located on the edge of the peaks close to where we live and where we love to walk. We had 100 day and 125 guests to the evening reception. Although we had two years to plan our wedding it took just 3 months. We wanted Lisa's mum to be involved in the planning before she passed away'
How they met
David and I have been together for five years, we met at work. Let's just say it wasn't love at first sight. When we first met both of us had other partners and didn't have the best first opinion of each other; we both mistook our shyness for arrogance. It just goes to show, you shouldn't judge a book by its cover.
We became a couple after a trip to Venice. I had a spare ticket after my recent split from my previous partner. We went as friends, who hardly knew each other and came back as a couple. It really taught us that you have to take chances in life.
The Proposal
I took David to Iceland as a surprise for his 30th birthday. He had no idea where we were going, but he had decided he was going to surprise me by proposing wherever I took him. David took my mum shopping and got her advice on what type of ring to buy me. He bought me a vintage diamond cluster ring. It's a bit of a tradition in my family we all have a diamond cluster ring and he knows I dislike modern jewellery.
David waited until the last morning, before we took a flight home that afternoon to propose because he feared that I might say no! He proposed in Reykjavik, on the bay, with the mountains in the back ground. David knew I had spent most of my childhood in the mountains in Europe and how much I missed them and the snow.
How did you allocate your budget
We wanted to keep the wedding to a budget, we were in the process of buying a new home and we also wanted to do most of the wedding ourselves to make it unique and our own.
Where did you splurge and where did you save
We agreed that our only big expense would be the tipi and the photographer. We wanted to ensure at our wedding was recorded perfectly and we loved the idea of a tipi/outdoor venue.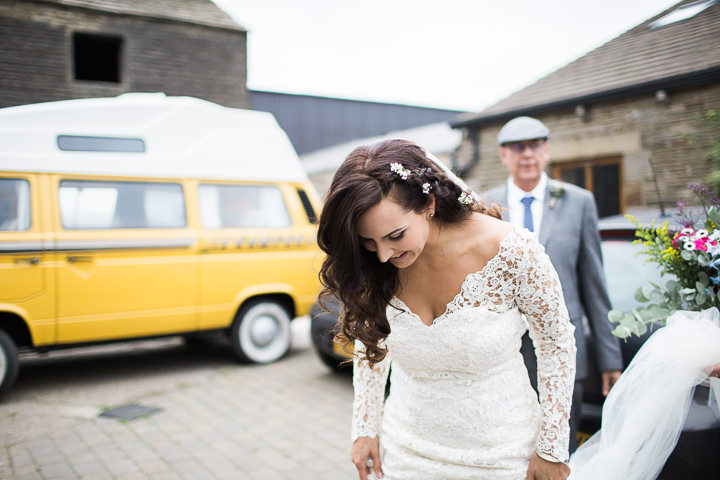 How did you choose your photographer
We spent a long time looking for a photographer; none of them seemed to offer a unique natural approach we wanted. We wanted our pictures to tell a story; we didn't want the pictures to feel posed or forced, that's just not our style. We met Joe Stenson at a wedding fair and fell in love with his work. He understood what we wanted and he made us feel relaxed and comfortable. Both Lisa and I hate having our picture taken so this was important.
Additionally one of our closest friends, Daniel Wright, gave us an alternative post-wedding photo shoot as a wedding gift. This involved lots of photos around the village where we live and in our home, doing unusual things which you wouldn't normally do in wedding attired. This included photos with our cats, so they could be part of our photos and getting dirty!! By the end of this photo shoot Lisa's dress and my suit were covered in cake and flour. These were really different and unique photos.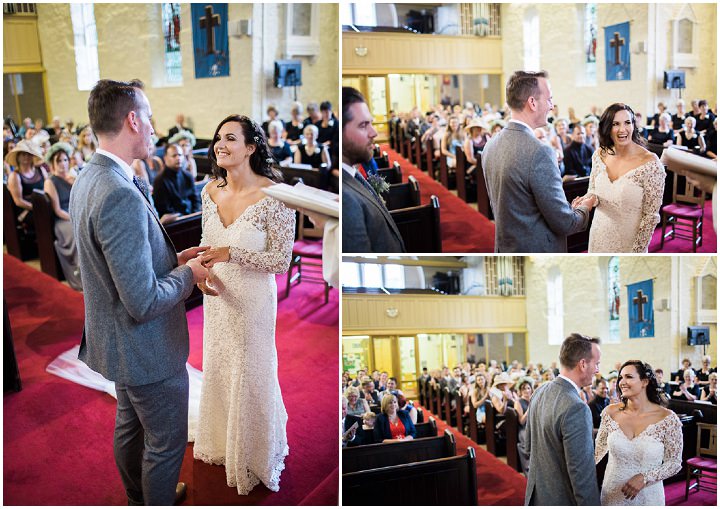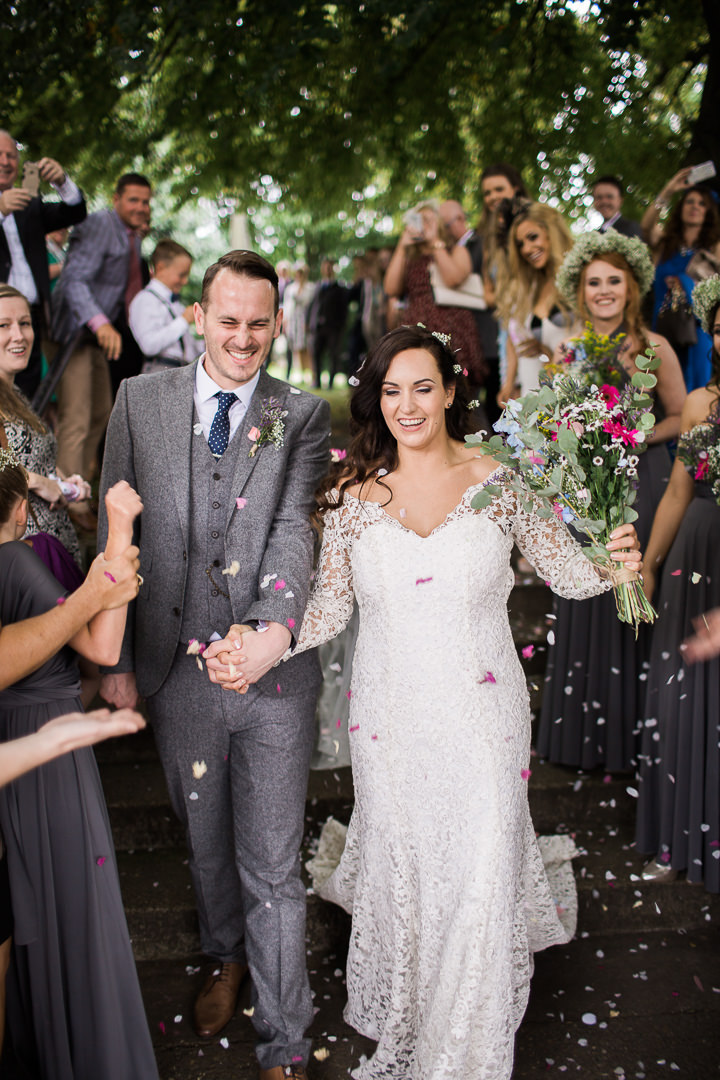 The Dress
I kept my bespoken wedding dress a secret from everyone, the only person who saw sketches of it before the big day was my mum. I knew my mum wouldn't make our big day due to her cancer diagnosis so it was very special to me that she could be involved in some way. I also found it really upsetting trying dresses on without her, so I wanted to change the usual tradition of dress shopping with your mum and bridesmaids.
Keeping my dress a secrete was really nerve racking as I had no one to give me feedback on what it looked like or even if it would suit me. On the positive side it meant I went for something which I wanted and I felt reflected me. I hadn't seen anything I had liked in magazines or in dress shops. Lucky I found an amazing dress maker, Kelly Marie Redhead to guide me though the process. Kelly also made my cathedral length veil.
I also wore black Kurt Geiger shoes for the church and converse on the farm. I kept my accessories to a minimum, only wearing some beautiful vintage black pearl earrings, which David bought me, a rose gold ring and silver bracelet from Morocco which my bridesmaids and I wore.
The Suit and Bridesmaids
David was in charge of the suits. I loved his tweed choice and his blue and white polka dot tie, which all came from Next.
The bridesmaid wore slate grey multiway dresses from esty. I wanted the girls to have something they all loved and could wear again. Each of them chose different styles and they all looked gorgeous.
Theme or Colour Scheme
We made that clear from the start, there were no colour themes or style. We just wanted things we liked. The more things clashed the better.
Flowers
Some of my bridesmaids and I took a flower arranging class prior to the wedding. We all chipped in to make the table decorations and bouquets. I made my own bouquet. My amazing work colleagues Amanda Harris and Melanie Nethercott made my bridesmaids flower garlands. We supplied them with copious amounts of champagne and tea the night before the wedding to make them.
Decoration
It was organic, it developed with what was around us. We kept the venue very natural; it didn't need much doing to it. Even down to the homemade 'help yourself' bar, bar signs and cake table.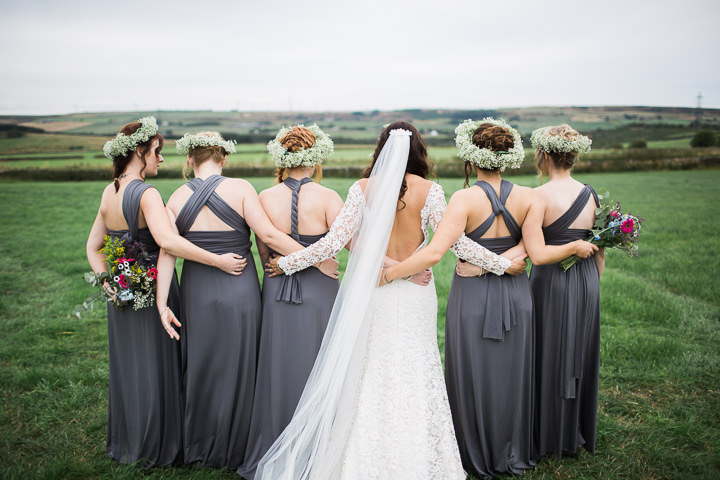 Food
Guests were given pub snacks on arrival and cava bought back by my sister and brother-in-law from where they live in Spain. All of the wine was supplied by them and locally sourced from their home in Spain. The guests could even pull their own pints or pour themselves a cider. All of which were locally sourced from the Nook Holmfirth brewery and the little badger cider company, from Brockholes in Huddersfield.
We had a buffet as our wedding breakfast with lots of cheeses, cured meats, pastries and homemade bread etc. During the evening reception we served chicken curry and vegetable chilli with home-made flat breads. After all a curry is the best way to soak up the alcohol after a few beverages.
Wedding Cake
David and I are stubborn and we both wanted different cakes, so we each decided to make one and have a bake off.
I made a naked cake with three different layers. These included a gluten and dairy free chocolate top layer (especially for my family), the second was lemon and white chocolate and the final was banana and chocolate.
David made an iced vanilla, raspberry and cranberry cake, with a second layer of blueberry, lemon and poppy seed and a final layer of orange, passion fruit and almond. All of our guests were given a token and asked to vote for their favourite. I won, but that may have been down to my Nephews tactical voting.
Entertainment
As previously mentioned we were entertained in the church by Ilesha female choir.
Our brother-in-law Michael played and sang our first dance, which was the Maccabees tooth paste kisses. He continued to entertain us along with Lisa's nephew who even played the ukulele.
Our wedding band was the amazing Northern vinyl, a three piece wedding band based in Leeds. They played all of our favourite songs. We put an iPod play list on after the band had finished, which consisted of all of our guests favourite songs.
The Stationery
It was designed by both David and I and was printed at a local printers and our house.
Personal or Handmade Touches
We did almost everything ourselves, we didn't want this to be a generic wedding. We didn't want to just do something because it was traditional or because we 'should do'. For example we didn't buy our guests favours. Due to both of Lisa parents and grandparents passing away from cancer and David's mum being in remission from cancer we decided to donate to Macmillan. Each year David and I raise money for Macmillan, without them we couldn't have got though some of the most difficult days over the last few years. We thought this would be an excellent way to show our appreciation. We also placed donation boxes on our tables and our guests gave generously.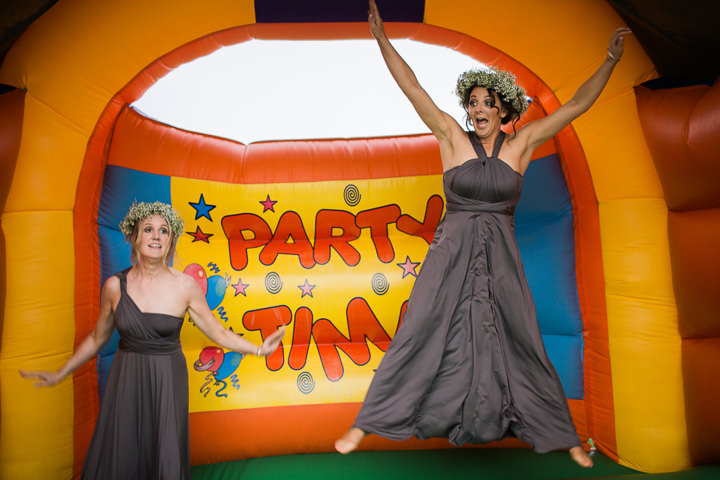 Special Moments
There are far too many to choose. I think we were just thankful that our friends and family were there to share our day and help us make it perfect. Our friends were amazing, even down to lending us our wedding car, a gorgeous VW camper van called cornel mustard. Which Andrew Jobson, from the big yellow camper van company, chauffeured us to and from the church in the cornel.
Oh and the bouncy castle. We only had four children at our wedding, but the adults made the most use of it. It gave us some amazing photos.
Advice to other couples
There are always little expenses that creep up on you the closer you get to the day. Be prepared by having a little money put aside.
Also it sounds silly, but have fun. Don't be afraid to let your hair down and be a little selfish. This is the only day you can do it. Having the help of our amazing friends allowed us to do this. Without them we wouldn't have had the wedding of our dreams and for that we are eternally grateful to them.
Biggest surprise
The amazing thoughtfulness of David and our bridal party, who helped to ensure my parents were still part of the wedding and help me though such a bittersweet emotional day. Also Jacob, my nine year old nephew playing a song for us. He was amazing!!!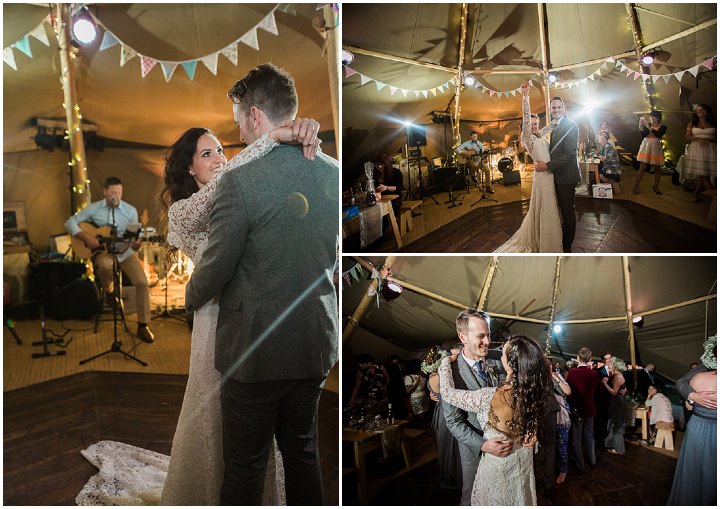 Supplier Shout Outs
For more information on Joe's work please go to:
www.joestenson.co.uk / www.joestenson.co.uk/blog / [email protected] / 07595051138 / FACEBOOK / @joestensonphoto / I:joe.stenson