Todays wedding is totally beautiful and features not one but two wedding ceremonies. Naz and Mati chose to incorporate both their cultures into their wedding, so held two ceremonies at Kilminorth Cottages in Looe, both outside and both totally stunning. They mixed their day with a huge element of chic but with some rustic DIY tones as well. In fact a large proportion of the day was homemade, including the bridal bouquet a lot of the decoration, the stationery and a rather impressive hanging light instilation that can be seen in the marquee that was put together by groom himself. With accents of blue this wedding is chilled, stylish and full of personality and I just love it. Big thanks to Emma from Freckle Photography for the beautiful images
'It was an introduction to the new Persian/Chilean way of life that we want to create for ourselves. An expression of us and what we want our future to be full of; family, friends, food, culture, adventure and laughter'
Naz and Mati were married on 26th September 2015 at Kilminorth Cottages, Looe. ' For us the wedding was about being with our friends and family and just having a good time. That meant to us having a relaxing atmosphere with few restrictions, so as to have the ceremony and reception in one place and party late into the night if we wanted. That meant that finding a wedding venue in the U.K became really difficult (!) There are so many rules and regulations about music, corkage, menus etc and so it felt like we looked at every wedding venue in the UK before I stumbled across Kilminorth Cottages that was advertised as a group of holiday cottages with an outside licensed wedding area. It took 5 minutes of meeting Jayne, the owner, to know that she was a kindred spirit and the setting was just beautiful. Jayne has put her heart and soul in building that place and it shows in every corner. In the end we had 140 guests, but we had planned for 180. We had just over one year for all the planning.'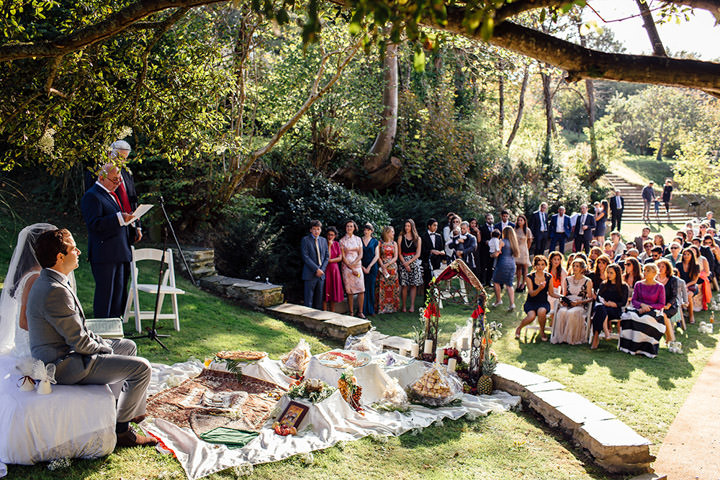 How they met
We met at Imperial College Union in 2008 and the rest is history, as they say. Mati moved to Geneva soon after we met though…so I would say it has been around 7 years with a quite a few years of long-distance in the middle.
The Proposal
I was working as a Doctor in Southampton and Mati had managed to move back to the U.K, finding a job near Bristol. So we both had our own flats and visited each other on weekends. This one particular weekend I was working so Mati had told me he was going to see his sister. I came home late on Friday night and found my front door was ajar. I had a little bout of panic thinking I was being burgled but noticed a single rose taped to the front door and faint music coming from inside. It was puzzling to think that a burgler would be so thoughtful! I gently opened the door and found Mati standing in the living room doorway looking resolute but nervous. The house was filled with hundreds of candles and our favourite music playing in the background. He began to talk and at first I thought I was hallucinating because he was talking in Iranian. Matias is from Chile and I had never heard him speak Iranian before. It transpired he had been learning for the past 6 months and his proposal was a good 10 minutes of wonderful sentiments about us and our future together, all in Persian. Then, yes he got down on one knee and presented me the most sparkly ring I think I had ever seen. I could not quite say the word yes, so I think I told him to get up and gave him a hug. We ate take-away Pizza and champagne after that.
How did you allocate your budget
We made a spreadsheet that showed how much money we would be able to save by the next year and then we made a list of everything we wanted in order of importance and then worked our way down the list! If we saved more money we would get the next thing on the list.
Where did you splurge and where did you save
We spent a healthy amount of money on the marquee, food and furniture, maybe 70% of the budget as those were essentials to us. The food represented both our Chilean and Persian roots and the rustic furniture was a must from the start! Then with the rest of the 'luxury' items on the list i.e decorations, we saved lots by doing it ourselves and just buying raw materials. Whether to supply alcohol was a difficult decision as we knew our guests would already be spending so much to get to us, but we found the really reasonable and fun 'bars with legs' who supplied a cash bar and we bought wine/beers from Tesco for during the day and for dinner.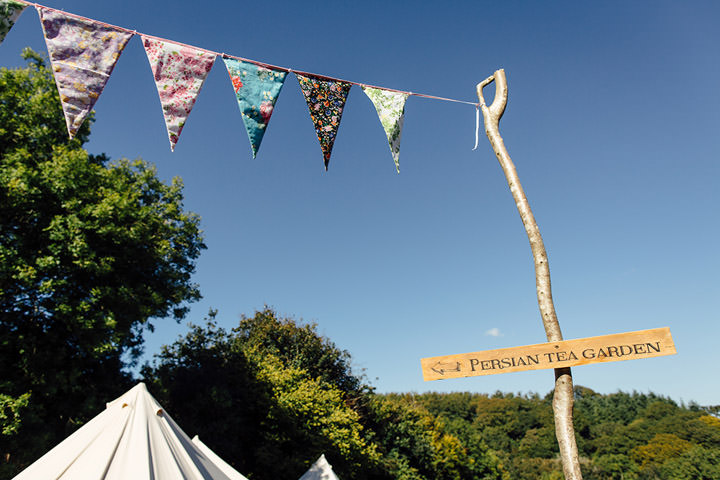 How did you choose your photographer
I hate having my picture taken but also knew I always regret not capturing important moments, so we started searching and found Freckle photography. Everything about her webpage sang to me and her pictures were so effortless. When we met her via Skype we felt like we had found a new friend and just wanted to invite her to the wedding as a guest. I think we were incredibly lucky there. Her pictures make you smile and tell a story in a beautifully natural way.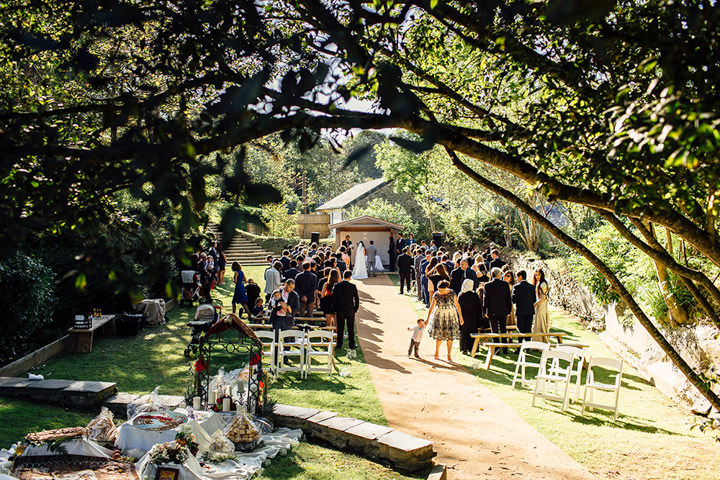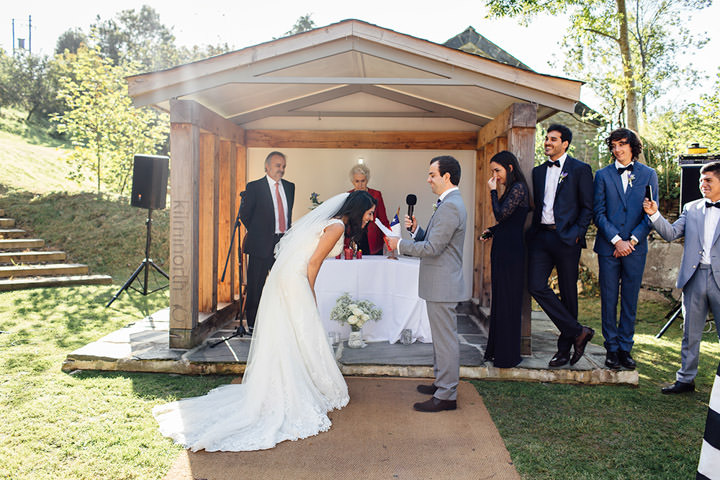 The Dress
I bought my dress at Teokath, Wimbledon, and chose a Pronovias dress called 'Onija' but only after trying on every dress in the store. My veil was really easy to find on ebay and was a second hand Richard Design Silk Voile, it was in perfect condition and significantly cheaper than from the shops! I really wanted to have blue shoes and so went on the hunt for a specific shade of electric blue, which I found at LK Bennet on Oxford Street.
The Suit and Bridesmaids
I was not allowed to see the suit before the wedding! Matias went shopping with his family in Marbella, where they live and came back with a Burberry shopping bag. I did sneak a peak at the colour though to make sure he had got it right! The bridesmaids took the longest as we were going for mismatched colours and styles. It was really important to me that they choose something they would all wear again and enjoy wearing. In the end we had dresses from Hobbs, Debenhams, Reiss And Coast.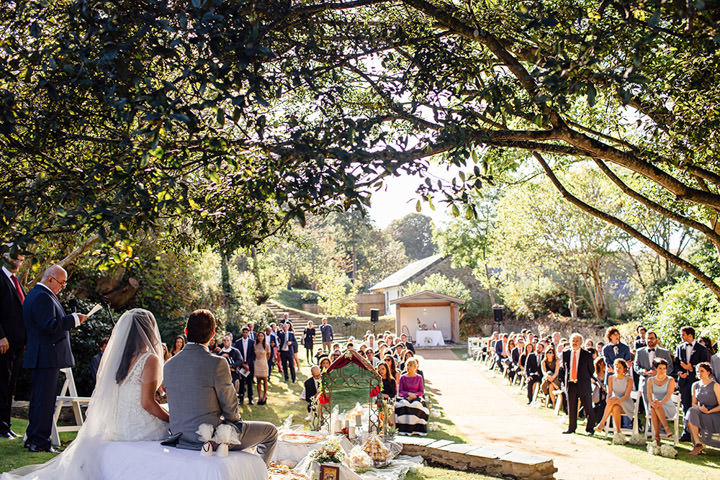 Theme or Colour Scheme
We worked with shades of blue with touches of peach.
Flowers
I ordered these from online wholesaler and I made them on the morning of the wedding. There were Scottish Thistle, Carnations, Gentiana, dried wheat and baby's breath.
Decoration
We created a light feature for the wedding reception so that there would be at least one lightbulb per guest hanging over the dinner tables. We suspended these over the tables with a roof of vine leaves and branches to give it a rustic and romantic look, continuing the outside/inside feel.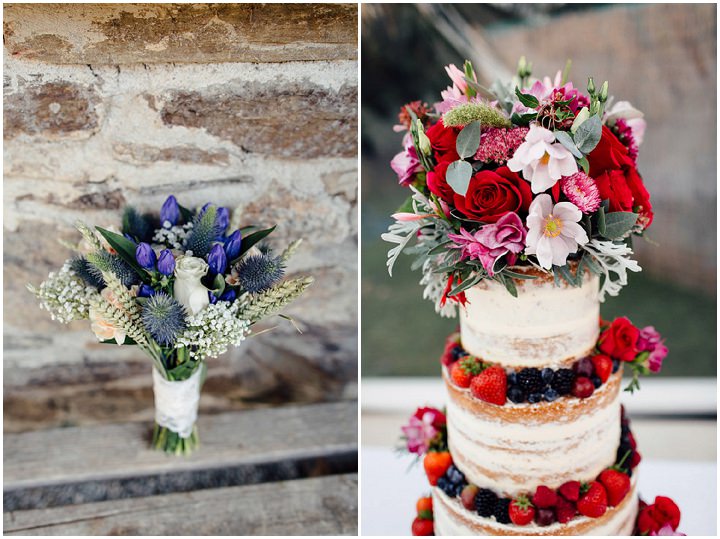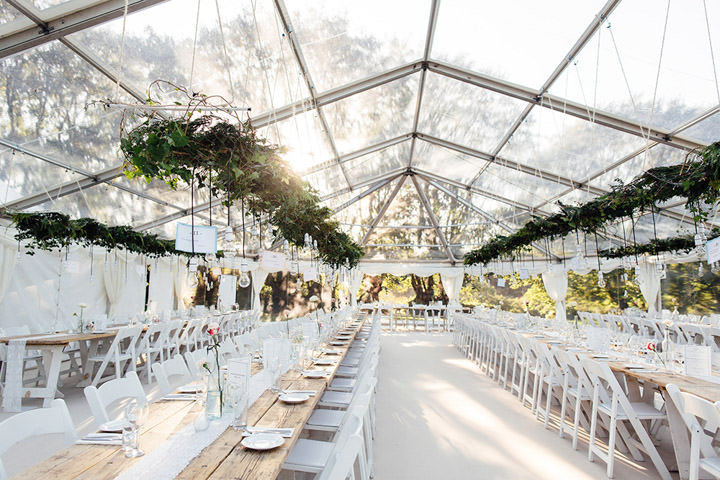 Food
Our caterer went above and beyond to create our Chilean and Persian fusion menu. He came to my mum's house to learn to make the Iranian starter and the saffron rice, which any Iranian will tell you is the most important part to get right! After just one tasting with my mum Olly made the food so amazingly that my Iranian family could not believe it when I told them the caterer was British. We had rustic sharing platters on the table with skewers of sea bass, chicken, lamb and veggies with the jewelled persian rice and quinoa and pumpkin salad. Everyone was raving about how tasty and plentiful the food was.
Wedding Cake
This was another surprise for me. Mati's sister, Valentina arranged it all for us. It was a white chocolate and passion fruit semi-naked cake with gorgeous flowers placed on a tree trunk slice. It was elegant and rustic and could not have been more perfect. At the base Valentina had decorated some bride and groom 'cupcakes' complete with brown-cream bride with a veil she created from baby's tights and a white-cream groom, that had a black, cardboard top-hat. The cakes not only tasted amazing but made us laugh. We can not wait for our first year anniversary so we can have the huge slice we have put away in the freezer.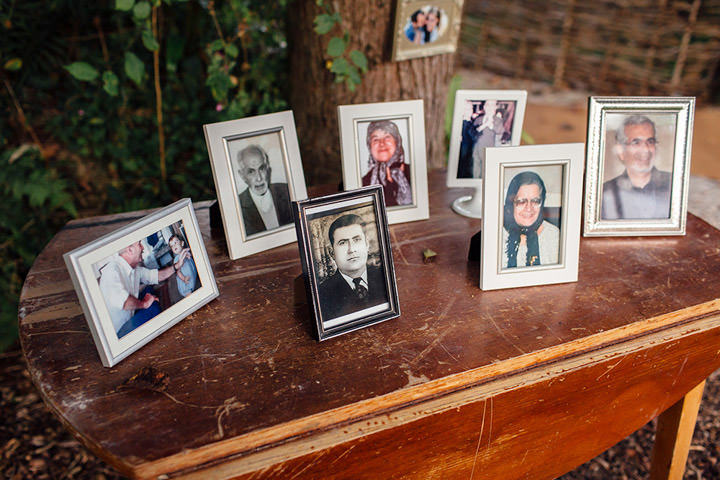 Entertainment
During the drinks reception we kept the kids busy with some goody bags and a children's play arena and the adults occupied with some props and a selfie stick.
After speeches and dinner we had a Persian knife dance where the single ladies dance seductively holding the cake knife and the groom has to bribe it off them by offering them money. This was swiftly followed by 'La Cueca' a traditional chilean dance as our 'first dance'. We actually had not practised this before – at all – and I had only watched the dance once on youtube (!), so Matias's aunt, Quena, and cousin, Florencia, jumped in to save us, which made it all the more fun and memorable as I had no clue what I was doing.
Then for the evening party Matias had mixed about 8 hours worth of feel good tunes from every genre including English, Persian and Chilean.
Outside we had arranged large fire-pits and Persian style seating as a chill out area and despite the cold weather in the evening I was glad to see quite a few people using it.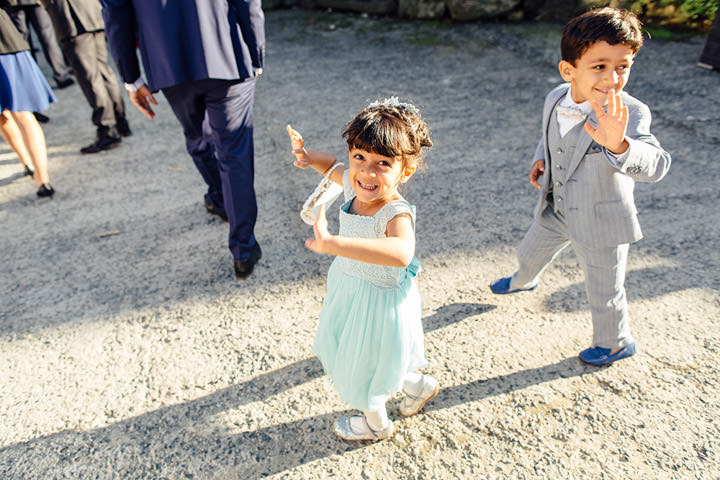 The Stationery
We designed our own wedding website and sent email invitations. On the wedding day I ordered the table settings, which were laser cut butterflies from ebay and made the table signs with plain cardboard and a home printer. We also created the wedding programme online and had them mail ordered to us.
Personal or Handmade Touches
I think most of the wedding details were made by ourselves. We learnt how to transfer ink to wood to make the wooden sign-posts to the different parts of the wedding, such as the persian garden, kids arena etc. The main feature for the reception was the hanging lightbulbs. Matias spent weeks wiring these, then we spent the few days before the wedding with all hands on deck to get them rigged up and filled with vines and branches.
My own little project was the feature for the wedding favours. I nailed nine wooden pallets together in a zig zag pattern to create some rustic shelves, which I then sanded down and painted 'duck egg' blue. I think my family were a bit confused as to what it was meant to be until all the cactuses were placed on them and it all came together!
My sister, Niloufar, lovingly created our rustic style spread for the Persian wedding ceremony, with a particularly beautiful plate of incense depicting all the earths elements in a mountain landscape using the colours of the Chilean and Persian flag. On the morning of the wedding I had some time for myself to put together my flower bouquet and the simple bridesmaids bouquests and buttonholes. It was a great opportunity to reflect before the girls arrived to get ready.
For the confetti we had created little cones made from sheet music and filled with rice, birdseed and fragrant dry flowers that made a pretty heart shape when opened up.
Special Moments
There are too many to enumerate but I really savoured the wedding morning, spending time with my bridesmaids and mum before leaving for the ceremony, it was the calm before the nerves really kicked in. Then I think all our guests would agree that Matias's vows were the star event. He wrote the most loving and beautiful things that had everyone in tears.
I also keep laughing at remembering the end of the evening with all our guests on the dance floor and my cousin, Leyla, evoked the boys to lift Matias into the air for some wedding 'bumps'. This then lead to the equally memorable attempt from the girls, not to be outdone. They tried to toss me up in the same way but only managed to hold me off the ground a few inches before the boys took pity on them and threw me up towards the full moon shining through the clear roof marquee as well.
Advice to other couples
I think it is easy to get carried away with weddings and the longer you plan the more 'essential' everything becomes, so my advice would be to make a list of what you want your wedding to be; the core feel of it and what is most important to you right at the beginning. Write it down and pin it on your wall. Then as the planning goes on and things get overwhelming or confusing you can look at that list and keep to it!
On the day itself, forget about anything that has or has not happened because it can't be changed anyway. Be in the moment!
Biggest surprise
The surprise video sent from friends and family around the world who could not make it to the wedding. It was really clever and funny and meant a lot.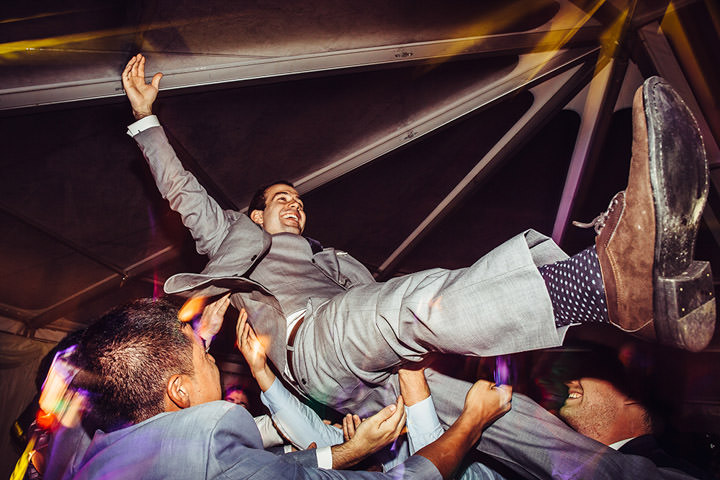 Supplier Shout Outs
For more information on Freckle Photography's work please go to:
www.frecklephotography.co.uk / www.frecklephotography.co.uk/blog / [email protected] / 07870185277 / FACEBOOK / @emsfreckles / I:emsfreckles / PINTEREST
"I'm Emma, the photographer behind Freckle Photography and I'm based in Devon, shooting weddings a loved up folk all over my beloved South West. I will venture further afield as I have a weird obsession for staying in B&B's, I think it's the biscuits you get in them. I have a natural yet playful, quirky approach to photographing weddings and LOVE colour!"