Today I have a wonderful wedding for you, here we see what happens when a pair of wedding photographers get married. Sam and Louise are regular contributors to the blog so I was delighted when they decided to share their own wedding with me. They threw tradition out the window and opted for an intimate wedding of 12 guests and went about creating a first class wedding. With a beautiful outdoor ceremony and the most stunning outdoor reception area, complete with sequins tablecloth (my fav) gorgeous decoration, delicious food and the most stunning portraits. All of this including an amazing first look, all topped off with a pool party, complete with full wedding attire! This wedding really does tick all the boxes. Big thanks to the amazing Alex Miller Weddings for the beautiful images.
'A dog friendly, outdoorsy affair, with an emphasis on fun. Totally personal and very us'
Louise and Sam were married on 12th September 2015 at Pine Lodge, Tetford, Lincolnshire. 'Around 6 months before our wedding, we'd decided to elope having recently cancelled our previous plans for a much larger wedding. As the days and weeks went on, we both decided that actually, we'd really love to have our nearest and dearest by our side. So we compromised and decided to have a teeny tiny wedding instead, and make a weekend of it. We chose Pine Lodge because of the beautiful surroundings and grounds, which were perfect for the outdoorsy, humanist ceremony we had in mind. It was also dog friendly, which was ideal for us as we're a family of dog lovers. We had 12 guests, plus the 4 family dogs. It took around 5 months to plan'
How they met
We met in 2009 at a pub called "The Goose" in Romford, Essex. We were there for a mutual friends birthday- We officially got together a few months later and we've been together ever since (6 years)
The Proposal
There wasn't one, wedding planning is something that just seemed to evolve naturally a while after buying our first home together. As wedding photographers ourselves, we came across a venue we liked, decided to have a look and ended up booking it.
How did you allocate your budget
We intentionally never set a budget. It just seemed like another thing to stress about, whether we were under or over, or if X cost more than we thought. Instead we outlined our priorities and more money went towards the things that mattered to us.
Where did you splurge and where did you save
My dress and accessories were a bit of a splurge. Jenny Packham isn't the cheapest of brands, but as soon as I saw my dress online, I knew it was the one I wanted. We saved loads by keeping our guest list small and not inviting people for invites sake. I also saved hundreds by using an independent seamstress who worked from home instead of a bridal boutique. The boutique quoted over £300 for alterations, the independent seamstress charged £25!
How did you choose your photographer
Oh Alex! With only a few months to go and a Saturday wedding in summer in mind, we accepted that finding a good photographer may be a struggle. Everyone we contacted initially was booked, but eventually someone came back to us recommending Alex Miller. We'd not come across his work before, but when we did, we were blown away. We just loved everything about it and his style matched everything we were looking for. By some stroke of luck, he was available
The Dress
My dress and accessories were by Jenny Packham. My dress was 'Daphne" and my headdress was "Acacia ii" in silver. My shoes were by Mel shoes. I spray painted them to tie in with our colours.
The Suit and Bridesmaids
Sam's suit was by Red Herring- the matching waistcoat we found in BHS! He wore shoes by Vans. We didn't have any bridesmaids, but our dogs wore a floral collar and a bowtie.
Theme or Colour Scheme
We didn't set out with one, but we ended up with lots of gold and white.
Flowers
I didn't want a bouquet originally, as i'd planned to carry my pug down the aisle with me instead. When I realised that wouldn't be practical, I opted for a dried flower bouquet so that I could keep it. The rest of our flowers were white Hydrangea, roses and carnations with lots of soft ruscus foliage
Decoration
Most of our decorations were DIY, we had a heavily decorated table with lots of gold mercury vases, tealights and candles. We also had lots of calligraphy style signage everywhere, paper pom poms in the trees and festoon lighting. We also used an old crate to display lots of family photos.
Food
To start we had goats cheese and tomato bruschetta, followed by honey glazed ham, goose fat chips and seasonal vegetables. Our main specification with the food was that there was a lot of it. So often wedding food is tiny portions and we didn't want people going hungry. Our chef was incredible and prepared so much food that we all had a second helping the following day!
Wedding Cake
We opted for a dessert table instead of one cake. We had desserts from Patisserie Valerie and the English Cheesecake company, plus lots of cupcakes, cookies, brownies and macaroons.
Entertainment
During our reception we held a sack race. This was so much fun and made for some hilarious photos! We had a few table games during our meal and in the evening instead of a disco, we had a pool party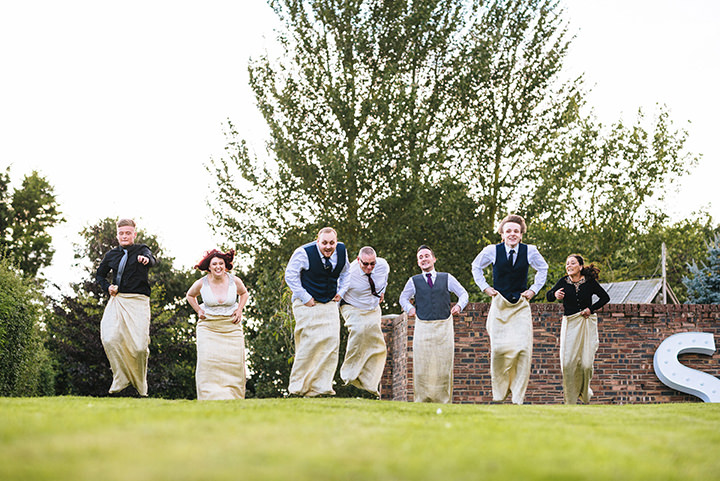 The Stationery
Everything stationery related we did ourselves, I made/wrote all our signs and menus, place names etc. Sam designed and made the invitations
Personal or Handmade Touches
As above, all signage and stationery. All decor, styling, setting up was done ourselves with help from our family. Most of our ceremony script I also wrote as we wanted it to be completely personal and not full of bumph
Special Moments
For me (Louise) it was our first look. We decided to see each other before our ceremony so that we could have a few moments together before things kicked off and it was perfect. I still remember every second of that walk and the look on Sam's face.
Sam's favourite was also our first look. "My favourite memory was turning around to see Louise for our first look. She looked so happy and I remember her dress was blowing in the wind, almost in slow motion."
Advice to other couples
Book an amazing photographer and an amazing videographer. It amazes me how many couples don't and then go on to regret it. It's cliché but the day itself will go SO fast and until we had our photos back I couldn't remember any of it. A film captures so many aspects of your wedding day that photos just can't. Cakes get eaten and forgotten about, flowers die, invitations sit in a draw, but the film and photos last forever. They are so, so worth investing in.
Don't get bogged down in tradition for traditions sake. A wedding is whatever you want it to be. As long as you end up married at the end of it all, everything went exactly as it should have.
Biggest surprise
Louise: How quickly time would run away with us. We were doing so much ourselves and we thought we had bags of time, but everything took so much longer than we anticipated. We were still setting up when my makeup artist arrived, so I had to leave it all to Sam.
Sam: Louise's gift to me. She'd known that I wanted a particular camera for a while, but kept telling me prior to the wedding that we couldn't afford it and that it was too expensive. On the day she surprised me with not only the camera, but a couple of lenses and a flash too. It was overwhelming because I know how much time, money and effort would have gone into keeping all that a secret.
Supplier Shout Outs
For more information on Alex's work please go to:
www.alexmillerweddings.co.uk / FACEBOOK / @alexmweddings
I love documenting life with my camera and telling stories through photographs. Above all, I like to take pictures that capture great moments and emotions, to allow people to relive those occasions in life that mean so much. That's probably why I love documenting weddings more than anything else. (I've also just won an award for doing just that!)