Morning all and welcome to another week! Today I bring you a photographic treat in the from of a themed engagement shoot. I have to admit that sometimes I find engagement shoots and pre wedding shoots a tad dull, but when Shelly from Toast of Leeds asked me if I wanted to post this engagement shoot I snapped it up straight away! It's a conceptual shoot with the theme of the film 'Eternal Sunshine of the Spotless Mind' which I just love. Shelly always has a knack of delivering something a bit different which is why i tend to feature a lot of her engagement shoots, she has some fantastic couples to work with and a great imagination for making the shoot that bit different.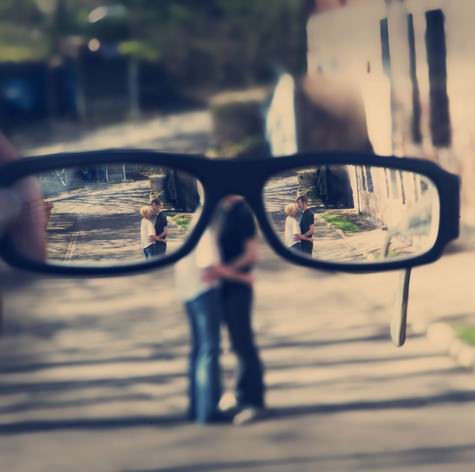 I asked Shelly to tell me a but more about the shoot and the way it came about:
One night the gorgeous Julia was watching one of her all time fave movies, Michel Gondry's Eternal Sunshine of the Spotless Mind, and she and her beau Jim were of the same ilk as the film's protagonists, Clementine and Joel. After all, at that point, Julia had blue hair (same as the Kate Winslet character) and Jim had a parka and a woolly hat.
Written by Gondry and the legendary Charlie Kaufman, the film is a beautiful tale told in Gondry's inimitable style, about a couple who 'erase' each other from their minds – not that Julia and Jim were planning on that though.
So when Julia sent me an email asking if we could do a pre-wed shoot in a similar style I was practically foaming at the mouth – did I? Hell yes! I love Gondry, I love Kaufman, and I love a bride with a plan!
But then Julia chopped off all her blue hair and the summer arrived. Not perfect for our gritty cold photoshoot. Still, I think it worked out ok.
So on a very limited budget (i.e. none) and with the help of some lovely people over at Waterstones bookshop in Manchester, we spent the day running round photographing some of our favourite stills from the movie – who knew the business and management section could be so popular and interesting on a Saturday afternoon? The settings may be a little different the props not quite the same, the lighting a little out, but hopefully I've captured some of the magic of what the movie means to these two beautiful people. I also shot some other images whilst we were there.
So without further ado, here are the final shots from the Toast Eternal Sunshine of the Spotless Mind Shoot. Ta daaaaa!
Thanks so much to Shelly for submitting this fantastic shoot, I can't wait to see the wedding!
For more information on Shelly's work go to:
www.toastofleeds.co.uk
Toast Blog
Toast on TWITTER
[email protected]
0113 3560157