I don't know about you but today I seem to think it's Friday! No idea why, but it's really muddled my week up! Our own Kelly C is off on her jollies today, she is off to New York and I have to say I'm just a bit jealous! New York is such an amazing place to visit I can't wait to take Dexter when he is a bit older, I know Kelly is going to have an awesome time! Today we are off to Great Yarmouth for this gorgeous eclectic, vintage inspired wedding. The reception takes place at their parents farm and is jam-packed with amazing details and decoration, so much pretty all in one wedding, I'm sure there will be something here to inspire you. Thanks to Tatum Reid Photography for the lovely submission.
'An eclectic, vintage inspired wedding created with a lot of help from friends and family. The day was very special, celebrating our marriage with all our loved ones, the night was the best party'
Hollie and Joel were married on 4the April 2015. The Ceremony was held at the Assembly Room, Great Yarmouth Town Hall and the Reception was held at their parents farm. 'We wanted to have the wedding on the farm as it was where I (Hollie) grew up. It is a place that means so much to me, my friends and family. I had a very happy childhood there and no where else would have seemed as special to me. Joel's main reasons were to keep me happy and the price was right! We had 110 guests in total. The planning took about a year, a lot of which was barn renovating!'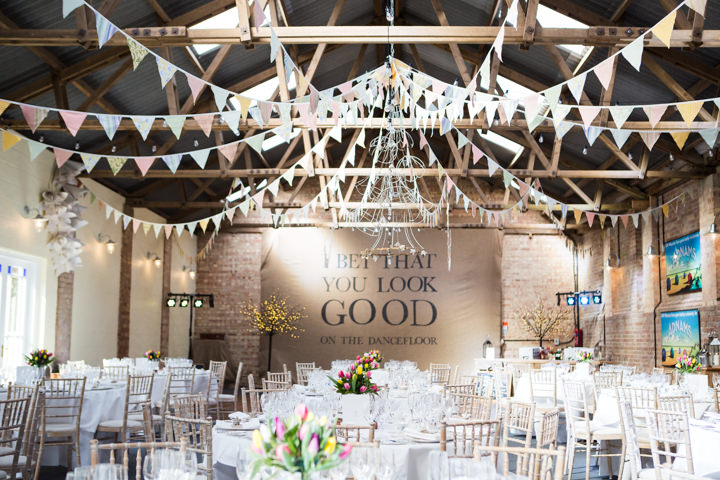 How they met
We met online, and were together three and a half years before we got married
The Proposal
After Joel's plans hadn't quite come together and in his words he 'panicked and improvised', we went for a walk up Crickley Hill which has beautiful views on the outskirts of Cheltenham where he got down on one knee and asked me to marry him with a beautiful ring!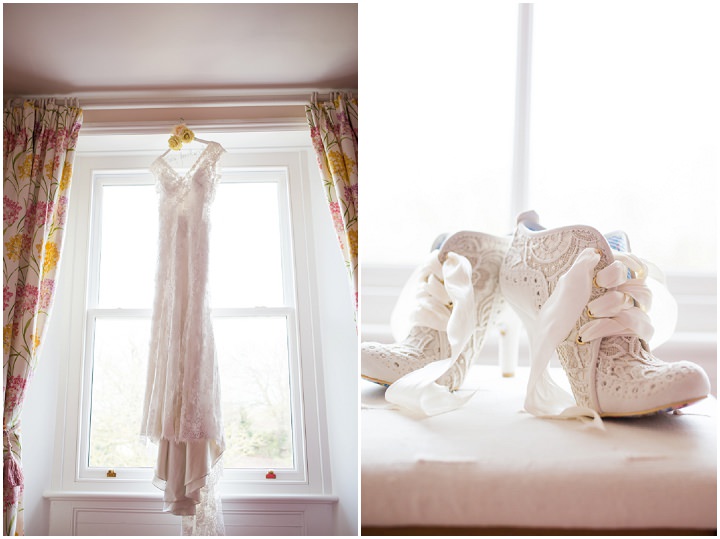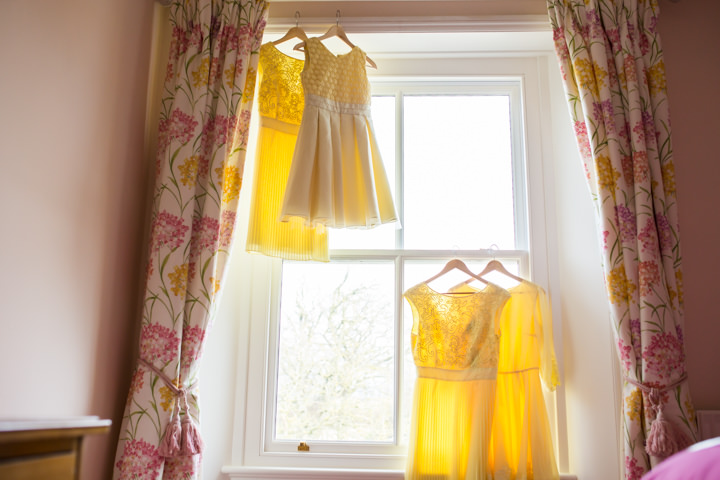 How did you allocate your budget
We wanted a massive party and chose to spend our budget around this. Catering, Music and Decor. We were quite flexible with our budget and shuffled it about as we went along.
Where did you splurge and where did you save
We saved on the flowers by Joel's mum doing all our table flowers, which were sourced direct from a farm which were arranged in teapots which she sourced from auctions with our other vintage crockery, We had a florist make our bridesmaid bouquets but opted for simple tied Tulips which again were cheaper. I had a button bouquet which I loved!
We decided not to have a cake, so my mum made one for us as a surprise.
We splurged on the catering which was well worth it as the food was delicious and Brasteds also provided staff which were excellent, and manned our free bar (another spluge)
Music is important to us and part of why we got on so well when we first met. We had Bill Downs play at the ceremony and early in our reception and Thrill Collins who really got EVERYONE on the dance floor.
How did you choose your photographer
We saw Tatum Reids photographs online and loved them. She uses light and colour beautifully and her images feel informal, when we met her she was so friendly and professional and immediately put at ease. We are so pleased we chose her, she was great on the day and we love the photos.
The Dress
Dress: Allure Addition, Button Bouquet: Daisy Says I Do, Shoes: Irregular Choice,
Stole: Vintage Fur, Hair: Flamingo Amy, Make up: Leanne Gillings
The Suit and Bridesmaids
Groom – Suit: Ted baker, Tie : Top shop, Button holes: Daisy Says I Do, Groomsmen suits: next.
Bridesmaids: Ted Baker (different styles) and Kaliko, Shoes: a variety!, Hair: Flamingo Amy and Gemma Holiday, Make up: Leanne Gillings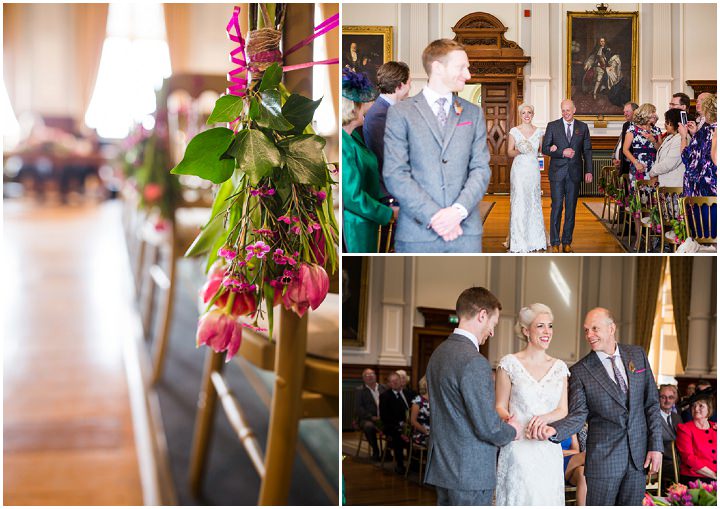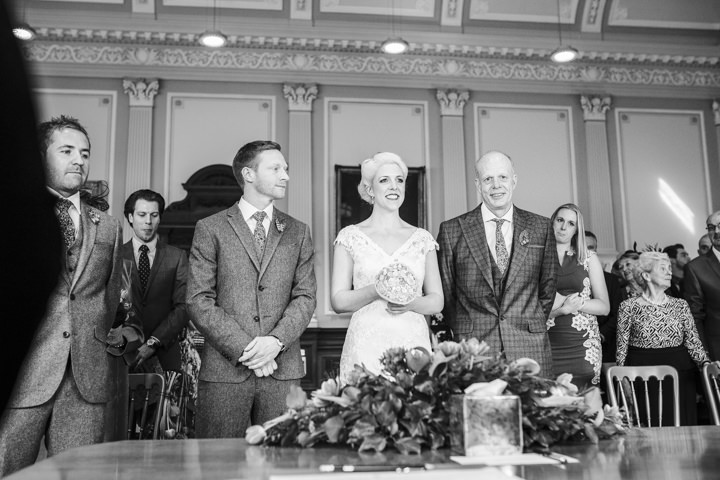 Theme or Colour Scheme
Raspberry and Soft yellow mainly but we had quite and eclectic vintage theme so quite a lot of other colours were included too.
Flowers
Lots of tulips
Decoration
We had a large mix of decorations from items salvaged on the farm and the barn, props from Ophelia Weddings based in Norfolk, items we made, paper sculptures and a large bespoke sign from Daisy Says I Do. We were concerned that the barn would feel cold in appearance and wanted it to be cosy and interesting but also wanted to keep it true to its function which is why we included items from the farm, we had an anything goes policy!
Ophelia Weddings filled our shelves beautifully with an eclectic collection of props and created a cosy nook.
Food
Main: Cannon of portend pressed confit of belly with apple gel, crispy crackle crumb and wholegrain mustard mash Dessert: Assiette of miniature puddings
Wedding Cake
My Mum made our cake and decorated it with homemade figures of us and our little cat. This was a lovely surprise
Entertainment
We had Bill Downs play guitar and sing when we all first got back to the farm, Thrill Collins performed in the evening, followed by a Silent Disco into the early hours, complete with a survivors playlist!
The Stationery
We made most of the stationary ourselves with help from our friends which was a labour of love, it took a lot of time but was worth it. Other items came from Daisy Says I Do
Personal or Handmade Touches
The whole day was a combination of both our families efforts and it made it so special, before the wedding (and after the wedding) the barn was a working farm building and we felt so pleased with the transformation that we achieved with our families.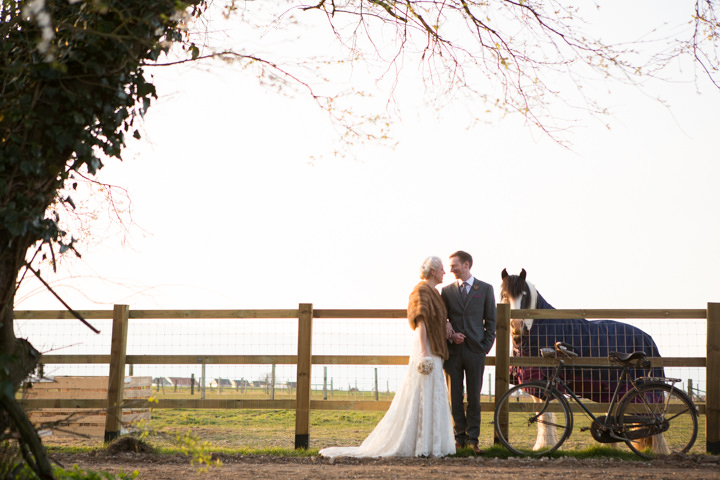 Special Moments
The whole day felt so special from beginning to end, we loved it and wouldn't change a thing! I loved going to the ceremony with my Dad, We loved the little moments when we snuck away for our photographs and a horse photobombed, the full dance floor where all our friends from different groups mixed as though they had known each other a long time. I got to stage dive! The speeches were funny and heartfelt……. so many moments!
Advice to other couples
Be flexible and go with the flow especially with a DIY wedding. If something doesn't go to plan or get done, or runs behind schedule, no one else will know! We had our caterer event manage the day and prompt our Master of Ceremonies at appropriate times. which meant that we didn't need to worry about the timings on the day and were able to enjoy it stress free. When decorating a large space, decide which areas are going to form backdrops for the day and focus on making those a feature rather than spreading decorations out too much.
Biggest surprise
Mini Surprise: The weather! Although cold it was a bright sunny day.
My mum and Dad surprised us with a vintage car which was beautiful.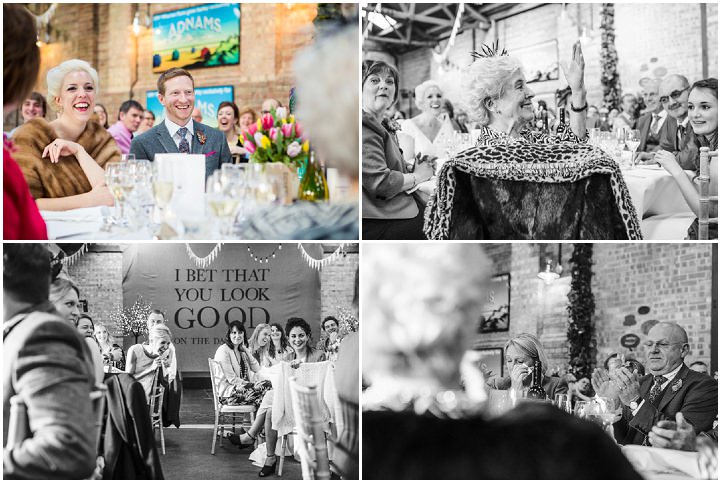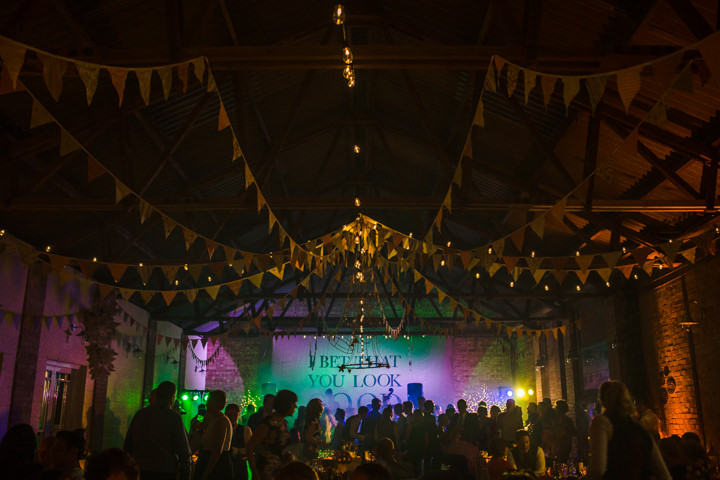 Supplier Shout Outs
For more information on Tatum's work please go to:
www.tatumreid.com /  www.tatumreid.com/blog / [email protected] / 07943426195 / FACEBOOK /  @tatum_reid / I: tatum_reid / PINTEREST
Tatum Reid photography is a Norfolk based wedding photography and captures real and emotive images (in an unobtrusive way) that tell the story of your day using soft natural light as much as possible. Tatum ensures she really understands the couple she is working with to best produce the desired images. No request is too much and she strives to ensure every image is perfect for the couple as the moments captured last a life time.