Happy Monday everyone and welcome along to another amazing week on the blog! I hope you all had a lovely weekend and are now all charged up for the week ahead, it's going to be a busy one! I have a week of wonderful weddings planned for you, starting off with this feather filled, boho inspired wedding from West Cumbria. The wedding takes place at the brides parents home and everything has been home-made, from the wedding dress to the canepes, the flowers to the decoration. A real team effort from all the friends and family, and the results are a gorgeous, chilled out wedding that I know you are going to love. Thanks to Adam from Lake District Wedding Photography for the submission.
'The best, most fun, most beautiful day ever. A perfect party to celebrate with all the people we love'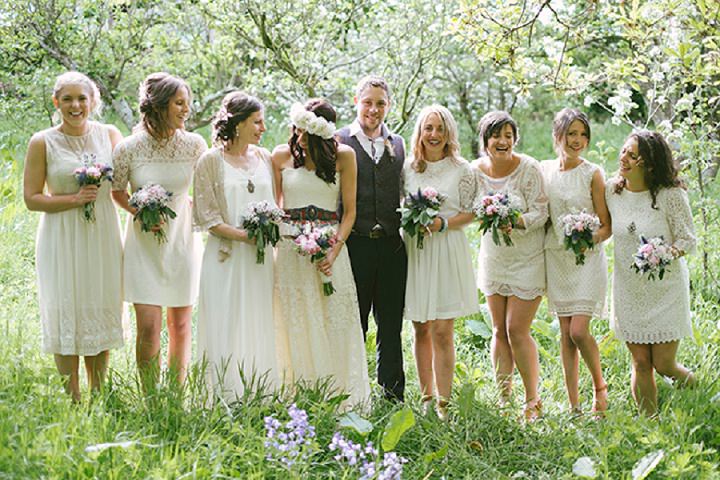 Jo and Bryn were married on Saturday May 30th 2015 at the bride's parents house in West Cumbria. 'We didn't want to get married in a church and couldn't think of anywhere better than home to get married – my parents house was such a hub for all of our mates growing up. We also wanted an outside, relaxed, informal wedding and so we got in touch with Debra Jesset, a humanist celebrant who conducted the wedding for us. We're really lucky to have a big garden where we held the ceremony, and old barns attached to the house which we cleared out and where we held the reception and evening do. We had actually originally planned to have the ceremony at a little inn in the lakes and then come back to my parents house for the reception but unfortunately the venue we had for the ceremony closed down about 5 months before the wedding and so we had to rethink it all – this was when we looked into the humanist options and it actually all worked out much better having the ceremony at home too. Although we, along with a lot of our mates now live in London, it felt really good to be really go home to celebrate our wedding. We had 105 guests in total. We had been planning the wedding for a while and I think my dad first started making things about eight months before, but really we did most of it in about five months including some structural alterations, following the change in plans as our original venue for the ceremony fell through. It definitely worked out for the best though, as what we did couldn't have been more perfect.'
How they met
Our families are from the same area and live about a mile apart so we grew up in the same place and had a lot of friends in common. We actually went to the same primary school, but as Bryn is a few years older than me, we weren't really friends but more just knew who each other was. We then got together eight years ago when Bryn was working in a local pub over the summer and gave me free drinks! We have been together for eight years
The Proposal
It was in 23rd November 2013 and we went to Edinburgh to meet up with Bryn's parents for a weekend. We arrived on the Friday night and spent the Saturday wandering around the city, going to the Christmas market and re-visiting some of the bars we used to go to. Bryn and I then headed to meet his brother and girlfriend from the station… or so I thought… We went via one of our old local bars and then walked through the Meadows where Bryn told me to sit on a bench and then proposed. I had no idea! We then headed back to the bar and I was just getting myself together to start ringing my family and tell them, my brother and sister walked into the bar, followed by Bryn's parents, brother and girlfriend and then some of our friends from school and uni arrived, lastly followed by my parents. Bryn had organised for them all to come to Edinburgh too as a surprise (good job I said yes!) and so we all had a meal and a night out together.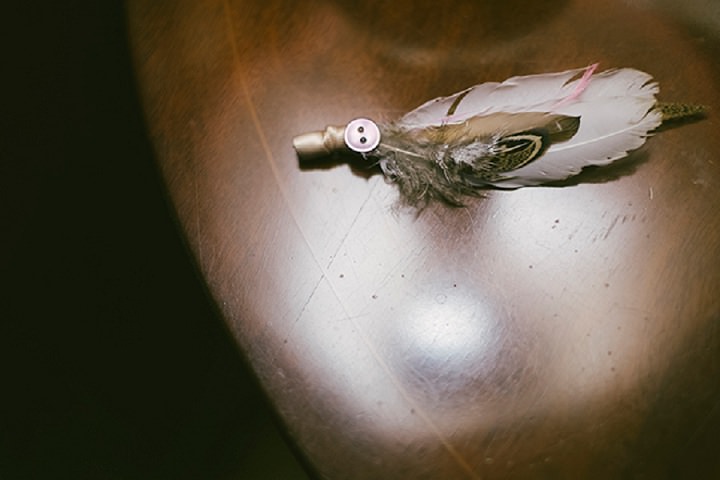 Where did you splurge and where did you save
We saved a lot of money by having everything at home, so we didn't need to pay any venue costs. We also made just about all of the decorations ourselves, and much of the food. My dress was probably a bit of a splurge in comparison to everything else, although it was still a saving compared to buying a dress from many bridal boutiques.
How did you choose your photographer
We actually just googled local wedding photographers and got in touch with Adam having seen his website and social media accounts. Adam was really lovely and really keen to do some photographs on the local beach, where we had planned to go for some photos of just Bryn and I, so it all worked out really well.
The Dress
My dress was actually made by Amanda Lynch, an amazing dress-maker that my dad knew through an old friend. Amanda actually made my sister's wedding dress a few years ago, which was stunning. We designed the dress style together, I chose a few different laces from shops in Soho and then Amanda turned it into an amazing dress. I wore a big beaded belt which I bought from Morocco when on holiday with some friends last year. My flower garland was from Rock n Rose (from ASOS), my feather earrings were from Topshop, I borrowed a silver bracelet from Holly, one of the bridesmaids, and my shoes were simple flat sandals from Office which I pimped up using real feathers and a glue gun. Amanda also made my mam's dress, which was beautiful.
The Suit and Bridesmaids
Bryn wore navy suit trousers with a white shirt, a tweed waistcoat that his mum made using Welsh tweed (Bryn's dad's family are Welsh) and brown boots. No suit jacket as we were going for a less formal feel. Bryn's mam also made more waistcoats for his dad and the ushers. The bridesmaids all wore the same the same colour dresses – cream, but all different styles. I wanted everyone to feel comfortable in a style that they would like and I felt that different styles suited the less formal and more bohemian look that we were going for. I hadn't actually seen all of the dresses until the morning of the wedding but they all worked perfectly together and looked totally gorgeous. Each of the bridesmaids also wore a chunky hamsa pendant necklace which I had bought for them (some also from Morocco).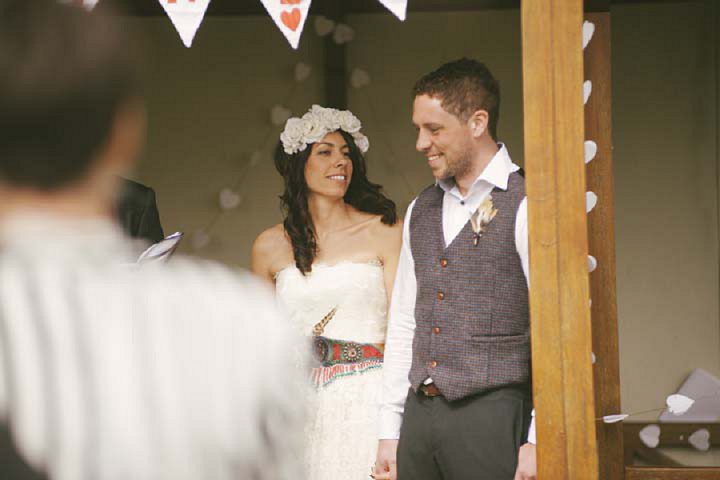 Theme or Colour Scheme
Not so much a colour theme but just as earthy and natural as possible, so there was a lot of cream and light colours.
Flowers
We had lots of different flowers, which we arranged into flower arrangements and made our own bouquets from. For my bouquet we used white freesias/ gypsophila/blue thistle/ peonie Sarah Bernhardt / dried lavender and feathers. The bridesmaids had the same but without the feathers.
For the cans and jars in the garden and on the tables we had peonie, Sarah Bernhardt. Peonie cerise/lisianthus pink and purple/small chrysanthemums white and purple/bupleurem and wild flowers such as pink campion, cow parsley, aquilegia and rape flowers for the yellow.
We also had dried lavender hanging in the barn, on the bannisters and in the toilets.
Decoration
Lots!
Bunting – My mam and Bryn's mam made loads of beautiful bunting which we used in the barns and in the gardens. My friend Lindsey also made some gorgeous heart shaped bunting which we hung around the bandstand where we had the ceremony along with some lovely stuff Bryn's mam had made which had our names on it. I made loads of photo bunting which we hung around the bar and we also had photos for place names, so everyone had a photo of themselves at their seat.
Signs – I made a love sign out of white card which I then suspended from a wooden frame and sat against the brick wall in the barn. My dad, sister and brother made a giant J and B and giant love hearts which they then painted and mounted on the wall behind the band. We also made a festival style sign post which showed everyone which way for the ceremony and which way for drinking, dancing, eating etc.
Lights – Our light shades were all big cream/white paper lanterns and we had loads of fairy lights and electric mini lanterns.
Tables – My sister came up with a little design for the serviettes and cutlery – with a piece of lavender in the ones for the girls and a little feather in the ones for the boys and we had a production line of people creating these. We also had homemade placemats with a J &B on them and filled the tables with cans of flowers.
Misc – We hung ladders from the ceiling and wrapped fairy lights around them and hung cans of flowers from them, hung old horse shoes from a bannister in the barn, along with dried lavender, and my brother created a photo booth outside the barn using an old horse cart, and hung flowers and a 'just married' sign from this. We also had huge gold helium balloons that spelt out LOVE which we had out in the field behind the barn. In the garden for the ceremony we had hay bales for people to sit on, and flowers lining a bit of an aisle, hanging from shepherds hooks. We also had hay bales around a big bonfire at the back of the barns, which we lit later in the evening and sat around whilst some fireworks went off.
Food
Homemade canapes made by myself, my mum and my mum's friend – smoked trout and cream cheese tarts (with trout caught and smoked by my dad), goats cheese, red onion and thyme tarts, marmalade glazed mini cumberland sausages and cream cheese, parma ham and sundried tomato wraps. We then had a hog roast from local butchers W Lindsay & Sons in Cockermouth, served with bread buns, apple sauce and salads. Rather than having a pudding, we had a table full of cakes, made by me, some of the bridesmaids, my brothers girlfriend, some of the other guests and then a local lady called Carole Sanderson who makes loads of lovely cakes for weddings, parties, gifts etc. For the evening food, we had a selection of pies, salads and meats – also from Lindsay Butchers.
Wedding Cake
My mum made the actual wedding cake – a chocolate sponge layered cake which had nine layers – the first three had pistachio icing between them, the second three had vanilla icing and the last three had chocolate icing. We then decorated it with icing sugar, berries, lavender and flowers.
We also had a cheese tower from Thornby Moor Dairy – a local cheese farm – which we served with biscuits and chutneys.
Entertainment
Before the ceremony our friend Susan played the harp whilst guests were arriving and getting drinks. We then had a local band and friends of the family called the Roosters play in the evening, followed by a playlist put together by some of our friends. Once we had to turn off the main music we then fired up an old vinyl player and continued to party into the night.
The Stationery
DIY – we didn't do a order of ceremony but we did do the table/seating plan ourselves. We named the tables 1 – 10 in cumbrian numbers and my dad made wooden stands with the number and Cumbrian name on. We then made matching versions of these but with names on, made of out card which we hung from an empty picture frame. When everyone knew what number table they were on, they then found their seat by finding their picture on that table.
Personal or Handmade Touches
Lots! We're really lucky to have such artistic and imaginative families and friends.The whole thing was totally personal, especially as it was at home, and you could really feel that on the day. From my sister making our wedding invitations, all the homemade decorations we did and food, to the button holes that I made with feathers matching those on my shoes and in my bouquet. One totally amazing touch was that we spent the wedding night in an amazing tree house that my dad made – inside was a gas fire, bed, homemade cushions, more homemade bunting and even a breakfast hamper pack with a kettle, mugs, bowls, cereal etc for the morning. It was amazing! We also tried to incorporate a bit of Cumrbia into it, so we had Cumbrian cheeses, and Cumberland sausages, Cumbrian ales (one homemade by a friends dad), a Cumbria flag hanging outside and the table numbers were one to ten in Cumbrian. We did pretty much all of it ourselves, most of it is all mentioned above and hopefully I haven't forgotten anything…
Just about everything in the barn was made by my dad – from the toilets, to the bar, to the tables and benches and spiral staircase. All the decorations, bunting, signs, paper pompoms, photo booth etc. with the exception of a few items I got either online on in the Oliver Bonas sale, were made by us, our families and friends.
Special Moments
Seeing everything come together and look so great! The ceremony in the garden – walking in to The Beatles 'All You Need Is Love' and walking out to Lou Reed 'Walk On The Wild Side'. A beautiful poem written and read out by chief bridesmaid, my sister Rachel. The speeches. The first dance ('All I Want Is You' from Juno) and everyone dancing all night and generally that it was just such a good party with a festival vibe which is exactly what we wanted – all of our friends and family celebrating the way we do best, with a party!
Advice to other couples
If you can, add some DIY elements to the day, little bits that are unique to you both and are talking points for your guests. That said, don't try and do everything yourself unless you have a team of people to help you! We did pretty much everything ourselves and it worked because we had loads of people on hand to help the week before and luckily we have very talented friends and family who were able to make the most amazing contributions. If we had tried to do it all without them then it wouldn't have worked and probably wouldn't have looked very good.
Biggest surprise
The best man's speech – we were all a bit worried but it was a cracker! Also, a firework going off during the ceremony, my brother and one of the ushers snuck off to set one of when we kissed, but it wouldn't light and so it then went off randomly a bit later.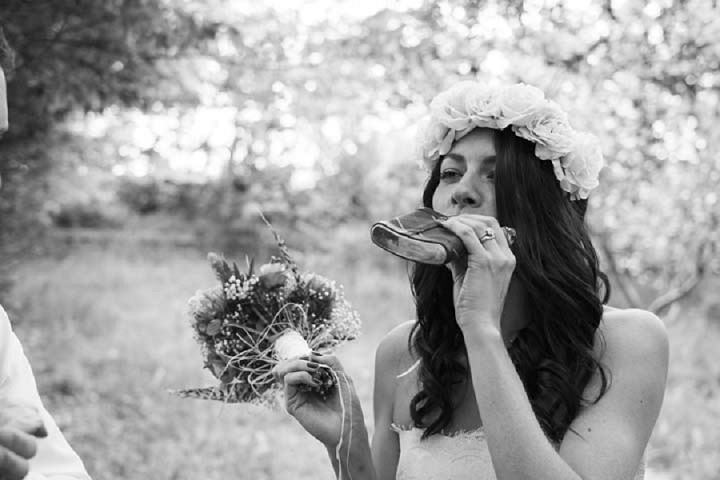 Supplier Shout Outs
For more information on Lake District Photographer's work please go to:
www.lake-district-wedding-photographers.com

 / PINTEREST / 

FACEBOOK  / I: adamldwp / @ldweddingphoto