Happy Monday you lovely people and how are you all? I hope you all had a wonderful weekend. I am kicking off this week of wonderful weddings with this fabulous woodland themed, wildlife loving wedding all the  way from sunny California. Even though this wedding took place in January the sun still shone and Jessica and Sean managed to have the outdoor ceremony they dreamed off. With beautiful accents of turquoise and coral to go with their woodland theme this tattooed bride and groom really have created a stunning day filled with gorgeous decoration ideas and so many pretty woodland details. Big thanks to Aaron from A Perect Impression for the images.
'Our tattooed "I do" was more amazing than I could have dreamed'
Jessica and Sean were married on 25th January 2014 at Wedgewood Crystal Springs, Burlingame in California. 'Our Wedgewood Crystal Springs wedding was set for the 25th of January 2014, taking a big risk because of the frequent cold and rain in the winter. It would also impact the availability of the flowers, which in turn would affect our colour scheme—you get the picture. Luckily, the day was warm, the sun was up and our florist did a fantastic job.'
How they met
Neither my husband Sean nor I can pinpoint how we first met, but the proposal was unforgettable
The Proposal
In December of 2012, Sean and I visited friends in New Orleans. When we visited Louis Armstrong Park, we were the only ones there to admire the beautiful fountains, lakes and wildlife. As we crossed a bridge that overlooked the sparkling water, Sean asked me to stop so he could get something out of the camera bag I was hefting on my back. When he asked me to turn around, he was holding a gorgeous ring. I blurted, "Yes! Is this a joke? Yes!"
Flowers
We integrated a lot of natural elements into not only our floral arrangements, but also our entire theme in general
Decoration
My mother and I gathered birdcages, nests, eggs, feathers, moss, twigs, branches, berries, tiny mice and other symbols of wildlife mixed with bright turquoise and coral. From that, our woodsy wedding with bright Frida Kahlo colors took shape. The table number stands we made ourselves, using male-and-female deer figurines on wooden bases. We also glued on pre-cut birch bark to hold the custom-made table number cards. The deer aspect didn't stop there—we included beautiful naturally shed antlers into our various aesthetics as well. We did this as a nod to Sean and my first home together—we have a taxidermy stag in our living room! Our names and wedding date were "carved" into the birch tree, with two little just-married mice poised to enter the tree through a tiny door in the back. In addition to these symbols of our relationship entwined into our special day, Sean and I also made sure to symbolize the memories of the people who could not attend the wedding physically: the grandparents lost in both of our families. We set up a memory candle display on the entry table that we designed and made ourselves with glass hurricane holders, sand, faux succulents, a rosary and framed photos of our relatives. Family is very important to us, and they made our day all the more special.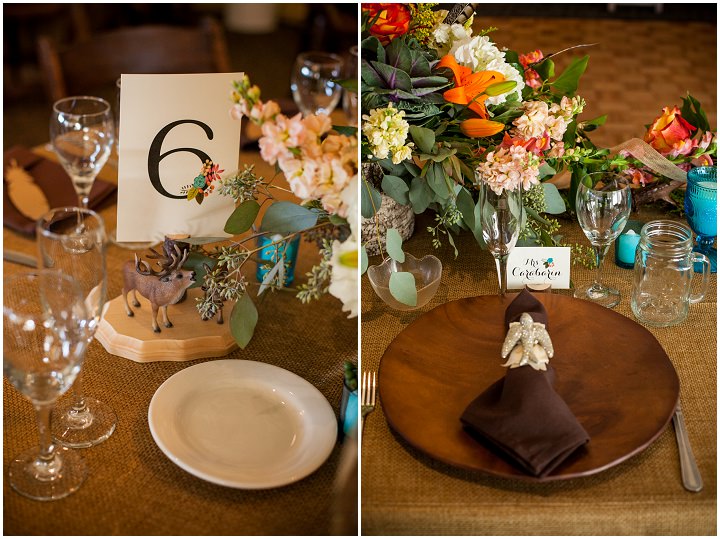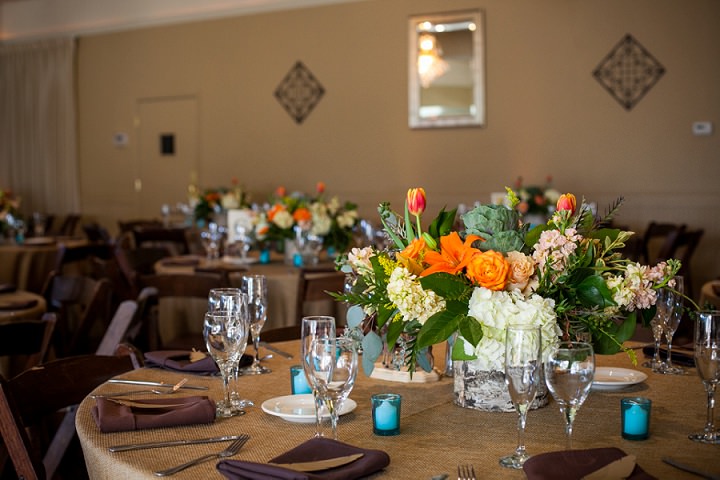 Wedding Cake
Cute little barn owls sat on top of our cake for two reasons: they fit in perfectly with our wildlife theme, and they mate for life! The rest of the cake was shrouded in fondant-fashioned birch bard, flowers and ferns.
Buy or DIY your Stationery
Sean and I are tattoo aficionados, so I immediately had the idea to have a mutual friend and tattoo artist of ours draw up our save-the-dates and invitations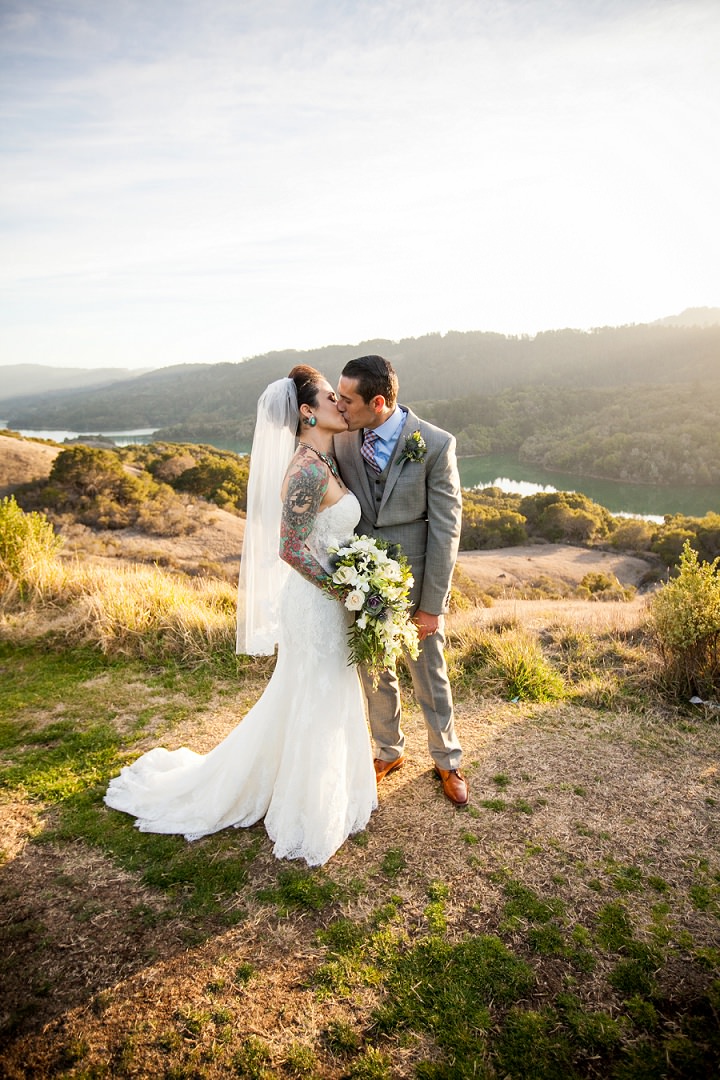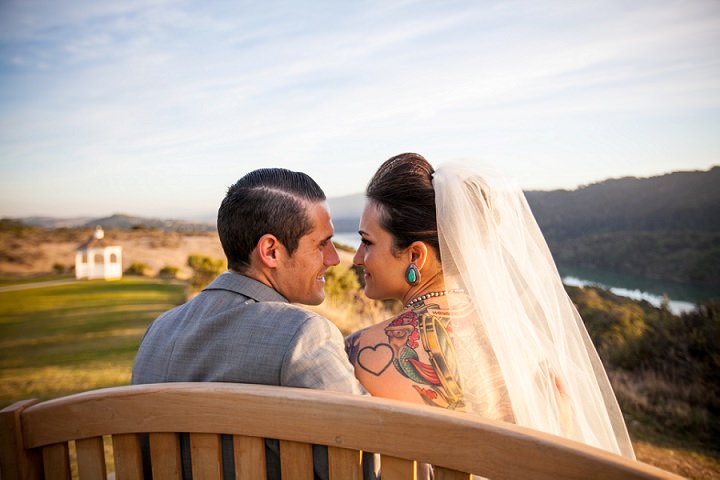 Special Moments
My favorite memory of the day was the father-daughter dance, because, unexpectedly, several of my family members were involved! When "What a Wonderful World," my father's musical cue, began to play, he was trapped behind a cluster of guests and couldn't get to me. My maternal grandfather happened to be standing nearby and swooped in to dance with me. When my dad made it to the dance floor, my mom cut in to dance with my grandfather so my dad could dance with me. So the dance culminated in me dancing with my dad, and my mom dancing with her dad! It was a surprise that turned out to be so meaningful! From booking with Wedgewood to our eclectic music choices to the best man presenting his fake full sleeve "tattoo," our tattooed "I do" was more amazing than I could have dreamed!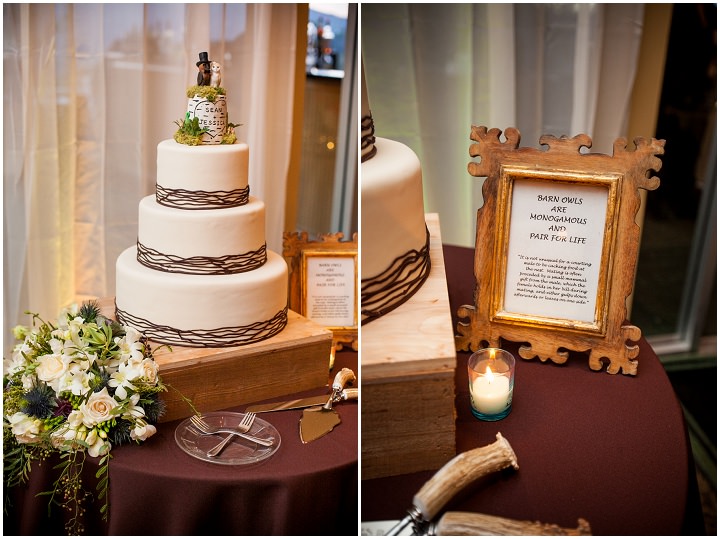 Supplier Shout Outs
For more information on A Perfect Impression go to:
www.baywed.com
www.aperfectimpression.com
FACEBOOK
PINTEREST