Happy Friday everyone and how are you all? I am so pleased it's Friday, what about you? I hope you have got something either exciting or relaxing planned for the weekend, I think we all deserve a good break. Today we are back with Lisa and Alex from 2 people 1 life, last time we saw them in Turkey for wedding 63. Since then there has been Wedding 64 in  Iraq and wedding 65 in Georgia. Today however we are joining them in Pakistan for Wedding number 66 and it's something rather special.
(In case you have missed the whole story, Lisa and Alex have spent the last two years travelling round the world getting married in every country they visit, you can read more about their adventures HERE.)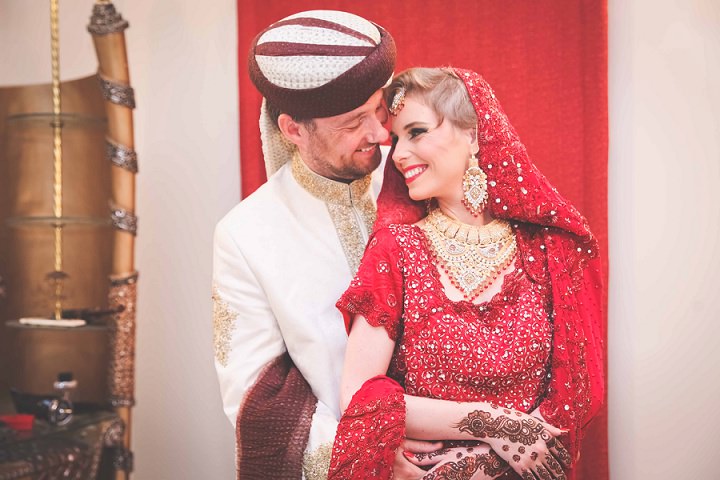 I'll pass you over to Lisa to tell you more about wedding 66……
The wedding nerves kicked in the minute I woke up and stayed with me the entire day! The wedding preparations were due to start at 5pm so we had hours to kill! Somewhat calmer, 5 'o' clock finally arrived with Uffan who took me to Rose's Salon for my Mehndi. Traditionally this is more of a ceremony where all of the women gather together and have henna applied a few days prior to the wedding. Of course we had squished a LOT of the traditions into one day, especially as we had only given Marium and IPlan Events 3 days total to plan the entire thing!
Inside the beauty parlour was a hive of activity, the smell of hair bleach and henna permeated the air and all eyes were on me as I shyly browsed through albums of incredible Henna designs. I just couldn't choose so the women at the salon chose for me, firstly suggesting a design that went from my finger tips to my shoulders with matching feet and ankles! I managed to reign them in a little bit thinking of the time and we agreed on 2 designs, one for my palms and one for the back of my hands.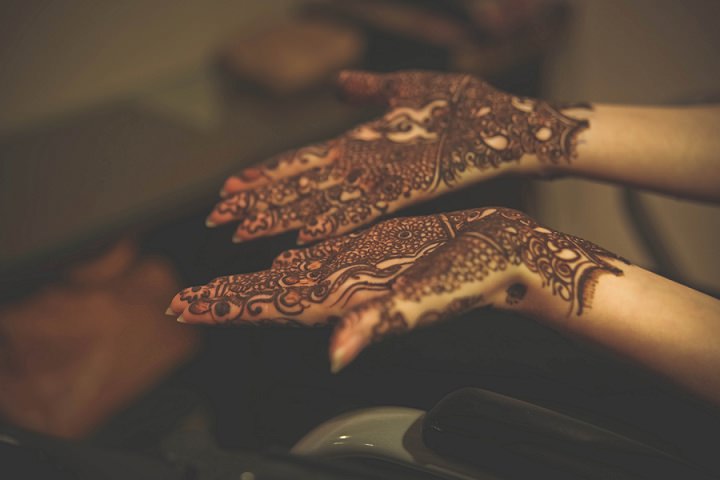 Once my Mehndi was complete I was rendered entirely useless, both sides of each hand covered in an almost permanent stain inducing goo. Next stop was Tanzila's studio to have my make up applied. The Mehndi had taken a little longer than expected so we arrived late and as the salon informed me I would be ready in around 2 hours I settled in for my transformation!
Wedding make up is a big deal in Pakistan and understandably. The bride traditionally keeps her face covered until after the legal document (Nikah) is signed and then there is an entire ceremony, Munh Dikhai, dedicated to revealing her face to her new husband. Of course, every bride wants to look her best! The girls also explained to me that brides like to be made paler for their wedding day, so at least we had that covered before we started!
Tanzilla went to work as several photographers and videographers snapped away in the background between the regular power cuts. Once finished, my eyes were dark, almond shaped and sultry and my lips huge, shiny and red! I was transformed into a Pakistani bride!
I stepped into my beautiful red dress called 'Lehenga' in Urdu. A short top and long heavily embroidered and glittered skirt. Diamantes shimmered and danced in the light as a beautiful gold Teeka was fastened into my hair and my Dupatta was draped over my head. The weight of the heavily embroidered veil was unbelievable. I could barely move my head even after it had been secured to my hair and the back of my dress to try to hold some of the weight.
I was concentrating so hard on not tripping over as we arrived that I didn't see anything going on around me, the girls directed me to an air-conditioned room where I found Alex. He looked SO handsome and royal in his Kurta and Sherwarni. The Kurta is like a pyjama suit and worn by most men on a daily basis, the Sherwani is a beautifully embroidered dress coat worn over the kurta on special occasions. He had the BIGGEST smile on his face as I entered the room and everyone gathered around us to take some pictures.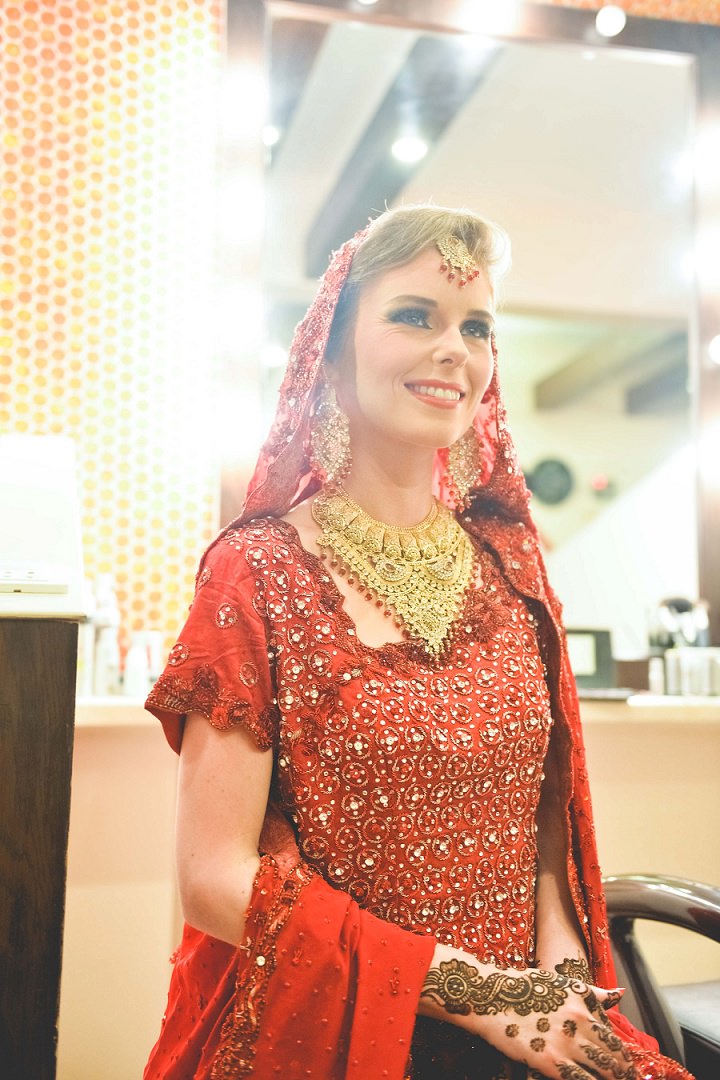 Finally it was time, Alex was taken from the room and I was left alone as he took part in his grand arrival, the Baraat! Team I-Plan had a great idea and instead of him arriving in a decorated car or on the traditional horse, he arrived in a rickshaw covered in marigolds and with the traditional Dohl (drums) playing!
Soon it was my turn to arrive at the ceremony and the girls came to collect me, they surrounded me and walked me to the start of the aisle where they boys held a red dupatta over my head and led me towards Alex. As soon as I saw the garden my breath caught in my throat and formed a lump! The tears came instantly, I had never seen anything so beautiful. Decorated rugs covered the grass the smell was heavenly and I felt so overwhelmed with emotion at the effort and passion the the team had put into this wedding, and all with such a little amount of time.
Tears blurred my vision and I am sure I had a full on ugly cry face by the time I got to Alex. So much so that he gave me the tightest hug and a kiss and reflected my glassy eyes. Everyone cheered and we clasped hands tightly as the music continued from the Dohl.
Several TV cameras were dotted around and during a break in filming Falak came to tell us that we shouldn't kiss or hold hands until after the end of the wedding. In the Pakistani culture the bride and groom don't talk during the ceremony or have any contact until the celebration is over. We hadn't been told before hand but remained respectably apart thereafter.
There were lovely traditions during the evening, the Mehndi ceremony was my favourite. I rested my hand inside Alex's and a leaf was placed on my palm. Each guest came in turn and put henna onto the leaf to wish us luck and then fed each of us sweets. The desi (local) sweets are INCREDIBLE! Balls of coconut, a heavy type of sponge, nuts and even cardamom all drenched in delicious golden syrup or [golubjam]. After several guests had fed us plenty of the sweets Tahir came along and fed Alex an entire sweet which is the size of a small donut! Its a wonder we didn't develop diabetes there and then! Once we had eaten as much as we could and everyone had wished us luck it was time for dancing.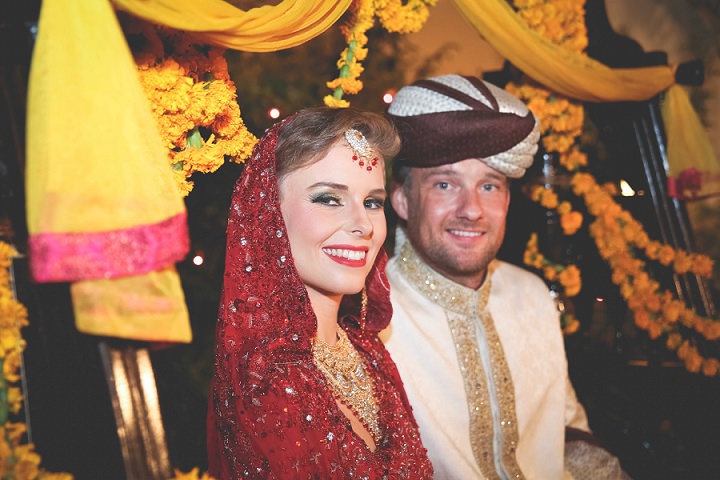 The Dohl was played and the men and women who had come along as guests took it in turns to dance, there didn't seem to be a traditional dance as such but it was all very passionate. The men in particular threw themselves into it with great fervor. The women danced gracefully in their stunning dresses embroidered in gold and bright colours until it was time to serve the food.
We ate 'round gossips' for starter, they are a crispy round shell dusted with salty spices and with chick peas inside. Next we had the Karachi specialty, Byriani. A dish of spiced rice, everyone has tried a byriani but never this good. It was the best we have ever tasted and just the right level of heat too! For desert, cones of ice-cream were served with a spoon of cooked noodles on the side to mix it with.
By this time it was 1 in the morning and as the TV crews left and the cameras stopped rolling I stripped away my heavy Dupatta and earrings and massaged my poor ears. I am so in awe of the Pakistani bride. She is beautiful, strong and committed to looking her best regardless of the pain on her special day. Once free of some of my weight we danced until we could stand no more and by 2am we had the hard task of saying our farewells!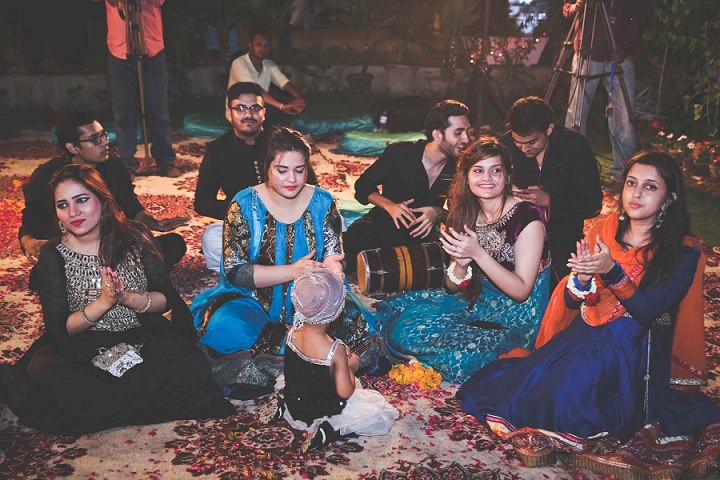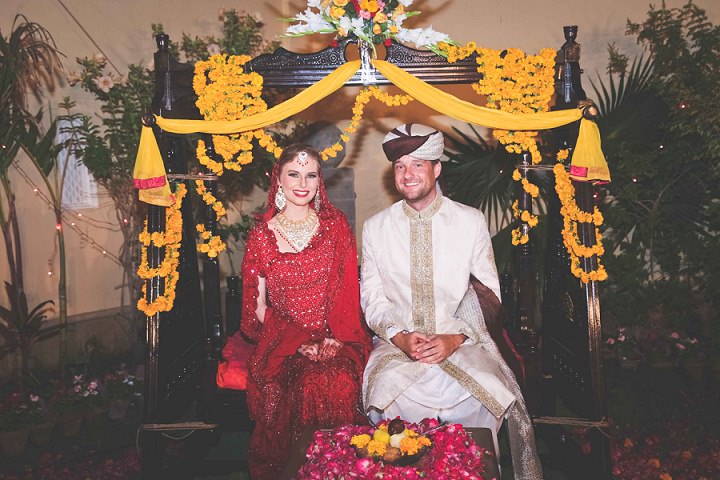 Our flight back to Peggy in Quetta left at 9 that morning which made the emotional farewells even harder as we wouldn't even get a chance to meet again to laugh and talk about the outcome of everyone's hard work.
We left our 66th wedding with colour, laughter and joy in our hearts, memories we will never ever forget and friends we will have for the rest of time! Thanks goes to such an incredible team of young, spirited individuals that we KNOW will go far!
To follow Lisa and Alex's journey go to
http://2people1life.com/blog/
http://2people1life.com/blog/the-whole-journey
FACEBOOK
@2people1life
If you have missed any of the previous weddings you can catch up HERE