Happy Monday everyone I hope you all had a lovely weekend and welcome along to another fun packed week on the Blog! To all of you mothers out there I hope you all had a fab day and were spoilt rotten! I had a lovely day with the two boys in my life. Nik, Dexter and I went shopping in the morning and then for a lovely late lunch and a chilled family evening, it was perfect!
Today I am starting the week of weddings off in style with this fabulous farm wedding courtesy of Summer from Neverland Photography. Angelica and Ed were lucky enough to find a field right next to their house and then went about filling it with lots of vintage inspired decorations and props. They managed to do it all in a record-breaking 2 months by bringing in lots of help from friends and family and the results are fab! A fun, relaxed day filled with love and laughter.
'We couldn't imagine the wedding in any way different because it was like a dream came true. We truly enjoyed a lovely sunny and emotional day with people that matter the most to us.'
Angelica and Ed were married on 20th July 2014 at local All Saint's church in Chelwood Common. The reception was in a marquee next to their house. 'We got married at our local All Saint's church in Chelwood Common which is very special and dear to us. We had a pre-drink at the coach and horses bar near by. We are very lucky that we have the most stunning field literally next to our house with a lovely pond and marquee which is perfect to a vintage theme farm wedding that we both wanted. So, really, we didn't need to spend much time or go far to research a venue. We wanted to have a very intimate day with our families and our very best friends so there were around 60 guests. We are very last minute and it took probably just about 2 months to plan. Because the wedding is held very local to us, we have a lovely community and families that helped us to organised everything in a very short period of time. The result surprised us all and we felt really blessed to live in such a lovely and caring neighbourhood.'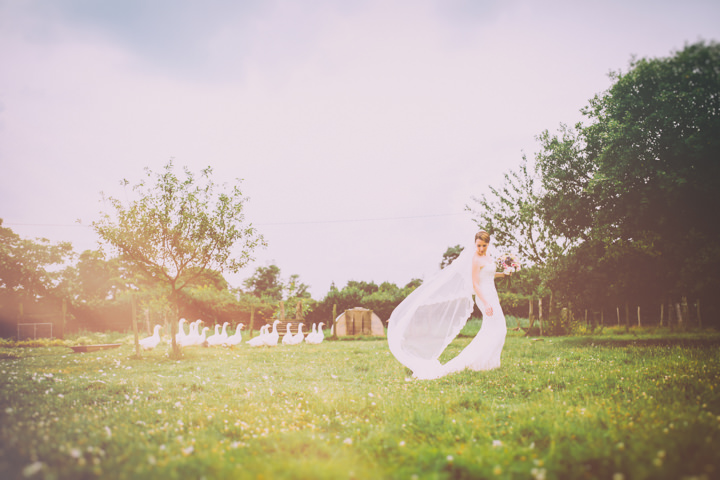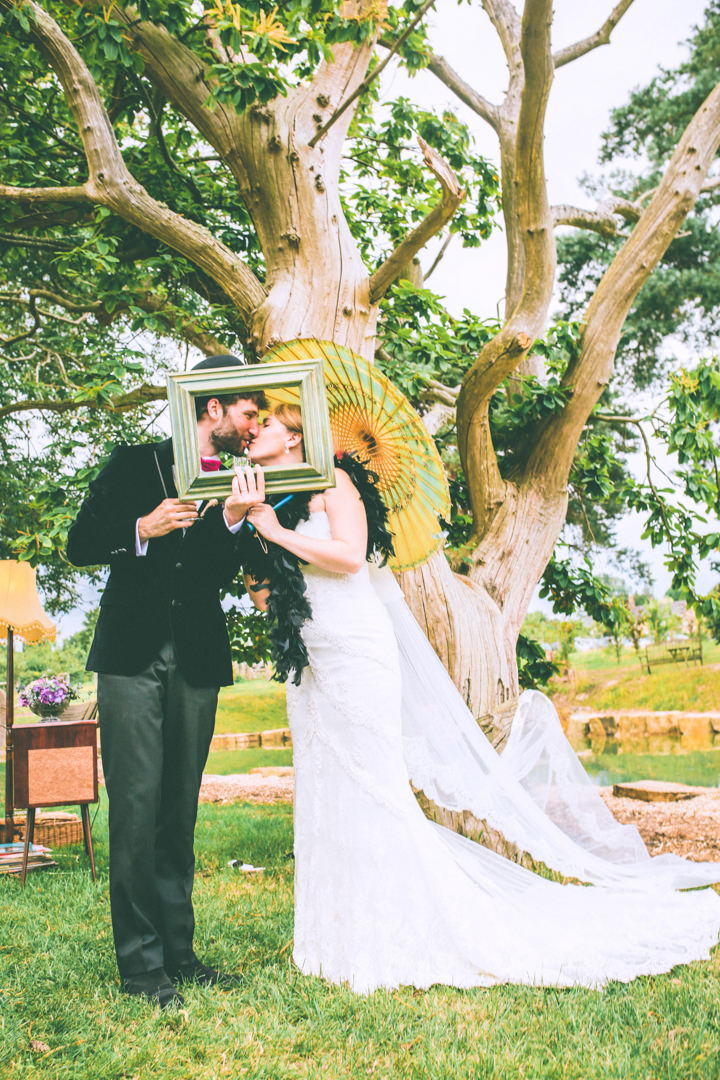 How they met
We met when we worked together in a wine shop in Brighton and we have never looked back since then! Now, we are running our very own wine place in Hayward Heath and enjoy all the beautiful surprises life brought us.
How did you choose your photographer
We have seen a lot of works of different photographers but we both fall in love with Summer's work immediately as her works capture the very fleeting moments and the emotions that we like while still being very artistic. Some of the photographers are really creative too, but they lost touch of the real stories of the day. After meeting Summer, we both assured that we found the right photographer that we can trust to record our day, someone who is also a delight to be around and a lovely guest that we would love to share our day with.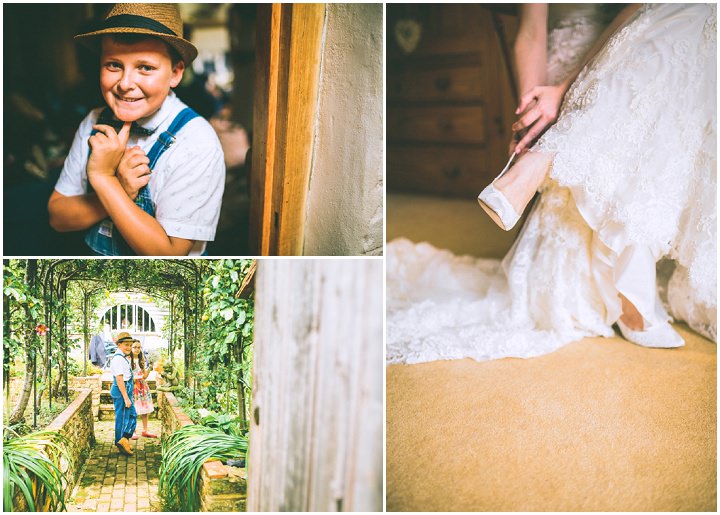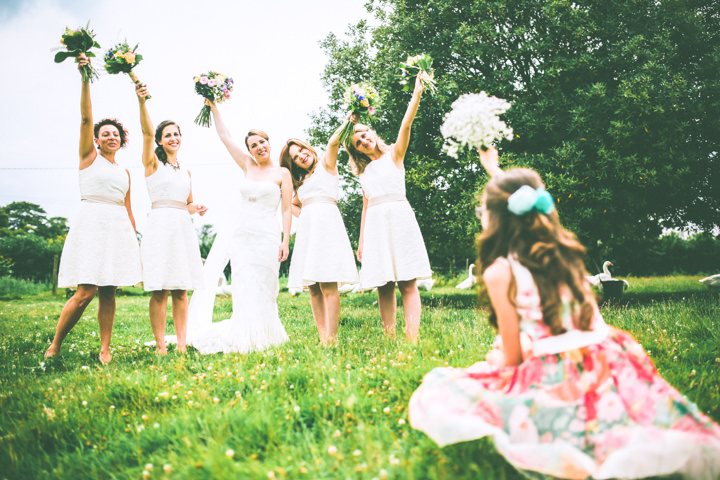 The Dress
I bought my dress from home in Italy, as I adore the soft lace they used and the elegant timeless design. I choose this one particularly because of the feather elements reminded me of our ducks and gooses. It was very fun that we took some photos with them together before I left to the church to tribute that! ☺
The Suit and Bridesmaids
We have a short, white colour theme for the bridesmaids to choose their own dresses. And it turned out very lovely.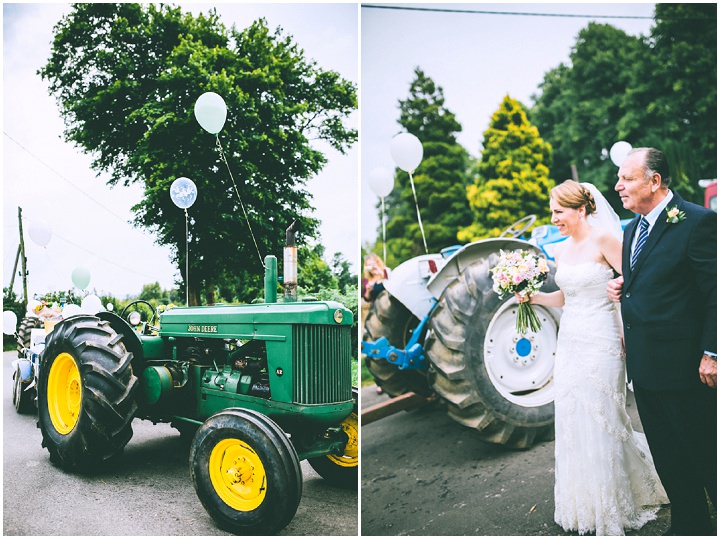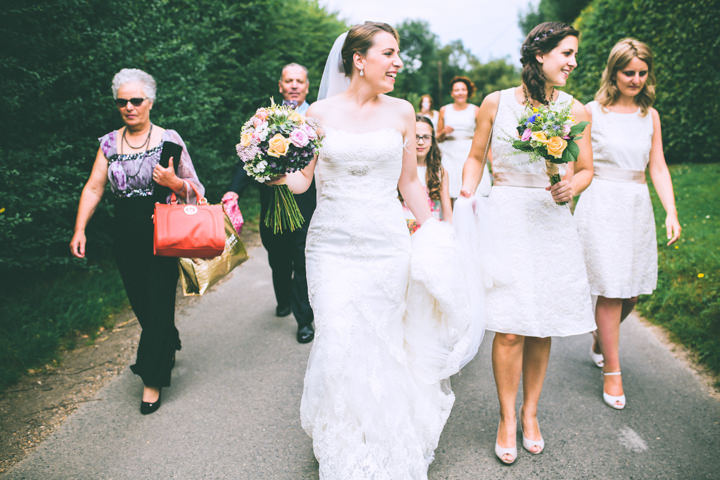 Theme or Colour Scheme
We didn't really have a thought of the colour scheme really. We had a vague idea of what we wanted which is a vintage, shabby chic look for the wedding and we just filled in the details liberally that goes with the theme. We really like that it turned out very cheerful with different lively colours but everything also comes together very well.
Flowers
All of my flowers are made by a dear friend, which is only 18! (What a talent!) The flowers have a retro style that goes with our wedding.
Decoration
We had a lot of fairy lights in the marquee and for the table, each of our guests have a unique vintage teacup to go with our rustic country theme.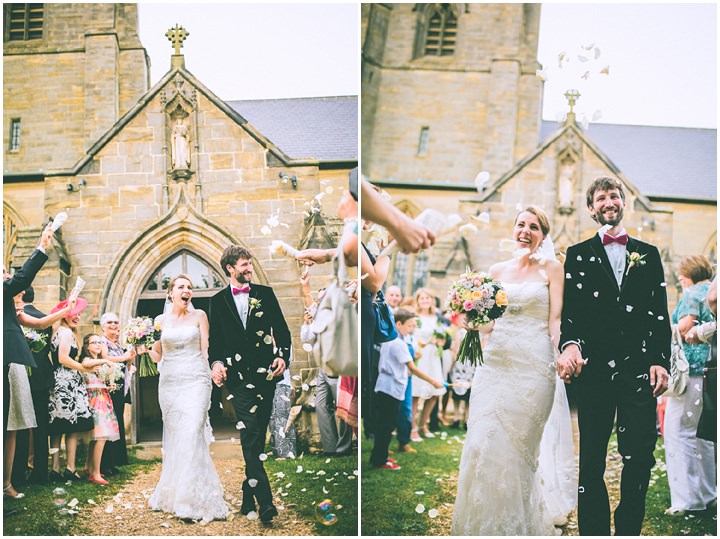 Wedding Cake
We couldn't decide on one cake so we had two! One what we called as a 'naked inside out' cake with flowers and another 'cheese' cake which proved to be really popular among our guests.
Entertainment
We had the most amazing band — The Violet Jive that really brought the dance floor alive. It has a very retro swing sound that goes with our wedding really well also it has an alternative twist which made the sound very unique to our taste. Their music was just impossible for our guests to sit still.

Buy or DIY your Stationery
We made most of our Stationery
Personal or Handmade Touches
We had this very cute farm theme, so our pitch boy is wearing a famer hat and jeans rather than a traditional little suit. Also, we didn't have a strict dress code for our wedding and we had a family dress up as pirates, which was a lot of fun!
There are a lot of postcards on each table that collected by Ed through his travelling since he was just a child sharing a lot of beautiful memories.
For the music we didn't go very traditional as well. We brought a turntable and some vinyl that we like for the guests to play themselves. It was really fun on the day to see them dance underneath the tree by the turntable.
Special Moments
It must be when I saw the tractor that came to pick me up to the church. I knew it all alone but when I saw them with the balloons, flowers and the sound of the engine that you can hear even 3 miles away, it really add an extra spice to the excitement of being a bride. It was indescribable!
Advice to other couples
Because we were so last minute, we would like to recommend all the brides to be to plan everything a bit in advance as it can be quite stressful for the last couple of days.
Biggest surprise
It has to be when I arrive at our familiar field and it totally transformed into the looks I always dreamed of for my wedding day. I have to thank again of all the friends that helped to make the day looked the way it was and we felt really lucky to have all of you at our wedding.
Supplier Shout Outs
For more information on Summer's work please go to:
www.summerneverland.com
www.summerneverland.wordpress.com
[email protected]
07875627520
FACEBOOK
Summer Neverland is a London-based unique story teller that combine natural reportage photography with a twist of fashion and fine art that has been acclaimed on Vogue, Cosmo and many other press.
'My passion lies in capturing precious moments, true emotions and details to tell the story of a wedding and to reflect the uniqueness in each couple. I specialize in creating emotive images with a delicate perspective and some unique fine art photography techniques that hardly be used in wedding photography. But what really differentiate me with a lot of photographers, I think, is I would like to spend more time communicating with the couple, getting to know their vibe, adjusting my approach from their personalities and ideas, to make sure they have a truly bespoke service that they deserve for their special day. '