We have made it to the middle of the week already, it will be the weekend before we even know it! Happy Wednesday everyone! To ease you into the day I have a charming wedding for you from Sunny Somerset. A Gorgeous Summer wedding full of fun, sun and the seaside! Colleen and Christopher chose a marquee in Colleen's parents field so they could hold the wedding all weekend long, it also gave them extra time to get the marquee ready with all their DIY and handmade projects. From Fish in vases to deck chairs, to a sand pit, even a paddling pool this wedding really takes the seaside theme to the max! Big thanks to Charlotte Razzell Photography for the images.
'Lots of fun and laughs; emotional, intense and Hot'
Colleen and Christopher were married on 26th July 2014 at Holy Cross Church, Hillfarrance, Taunton, Somerset, Our local church and the reception was held at Norton Fitzwarren, Taunton, Somerset (Colleen's Mum and Dad's house) 'The Church had meaning to me (Colleen) as I saw my parents get married there and I was christened there. It was always my local church, as we never moved, I grew up there. Chris' family if very spread out across the UK, but mine is largely located in Somerset.
We decided to have the reception at Mum and Dad's in a marquee as it meant I could get ready in my childhood home and, we could take our time setting up the marquee, exactly as we wanted (with a great deal of help from family and friends), party all night and the whole family had space to camp. We had a total of 90 guests and planning took 2 Years (slow and steady to begin with, just ideas being tossed around to attempts at growing the flowers; and then a bit more intense in the last 6 months). The preparation was as much fun as the actual day.'
How they met
At the University of Plymouth, on a camping weekend for the sailing club, 9 years.
The Proposal
It was a little bit untypical; Chris said "so what ring size are you?" as we were walking down the street Christmas shopping 2012. I think Chris didn't want to have to choose something by himself; he wanted me to love the ring shape/design etc.
But we made up for that, by going to Winchester for the day (we lived in Southampton on a boat at the time) and finding the perfect ring, and getting to carry it up to the great hall, whilst walking the dog, where we stood under the wall mounted round table and Chris officially asked me and placed the ring on my finger. We stood, as we're a shy bunch and there were other people around, and we didn't want anyone to notice, so we huddled together!'
How did you allocate your budget
In order of spend; Catering/Food (3 course, sit down), marquee and trimmings (lanterns, hard flooring for heels, generator), Dress and alterations, Alcohol, kilt hire, Hair/nails/ Makeup, Entertainment (bouncy castle) Accessorises (Deck Chairs, vases, fish etc), Flowers (for tables but also for garden grounds), Cake, stationery. We didn't budget for transport, as we were happy to get there any how, in any ones cars, as its only a 5 min drive (I was also happy at the worst case scenario – of getting wheeled in a wheelbarrow); but I was very lucky in that my Dad surprised me with a stunning horse and carriage (everyone except for Colleen was in on the secret).
How did you choose your photographer
My Mum's client recommendation, led to us contacting a photographer, but when she said she was busy, she suggested 2 friends, and after looking up the 2 friends, as soon as I saw Charlotte's website and previous work, I knew she was the one for us.
An added bonus was a free engagement shoot, which was EXACTLY what we needed as neither of us where comfortable in front of a camera/hide whenever anyone gets a camera out! It completely put us at ease, meeting Charlotte, knowing that we could trust her with the big day. She eased us into it gently, was ever so kind and supportive and her photos were just perfect, we couldn't have imagined better photos or photographer!
The Dress
Dress – Katherine Westwood via Abbi Chapel Bridal
Shoes – Rainbow club
Necklace – Own – mother of the groom's gift
Earrings – Own – My Mums from her wedding day
Rings – Earnest Jones (bride)
Bouquet – made from brooches and pendants that I had been given, inherited (a blue flower from my grandma, started the idea of having a brooch bouquet to enable me to have the brooch with me), selected at car boot sales and some silver pendants that I made, wanted to include in the bouquet and then give to my bridesmaids afterwards as 'thank yous'. My aunty gave me a locket that was my Nan's, the day before the wedding, I managed to intertwine this at last minute too. It had photos in it from when it was my Nan's of herself and granddad.
The Suit and Bridesmaids
Chris – Own Kilt (McCall's of Broughty Ferry, Dundee) smith hunting tartan
Best man – Own Kilt
Father of the groom – own kilt
Ushers and father if the bride – Debenhams hired (help the heroes tartan)
Bridesmaids – Debenhams (Principles by Ben de Lisa), with some rouched ribbon added to the waist. Jewellery – Cookson gold and handmade.
Flower girl – Debenhams (we just placed petals from our colour scheme within the dress)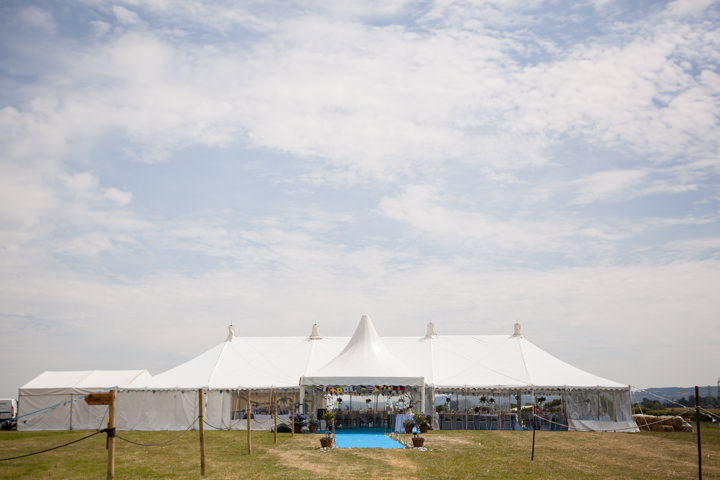 Theme or Colour Scheme
We met at a sailing club, dived and sailed together for many years and were living on a boat when we got engaged, so we decided we had to go nautical/seaside theme! Mixed blues; from baby to navy.
Flowers
Allsorts! We did them ourselves; colleen and her mum attended a few courses at Eden Floral Design in Taunton, in the 2 years running up to the wedding to learn the basics, and we had a great time doing it!
We had a trial run the summer before the wedding to see what we could grow in the garden and did so again the year of the wedding, things such as sweet peas, alliums, agapanthus cornflowers, buddleia, lavender, herbs. My mum worked really hard on this, but I think she also enjoyed it!
Agapanthus, Alliums, cornflowers, hydrangeas, lavender, roses, sweet peas, herbs; rosemary, bay. Anything we could find that was, purple, blue and white! We did a dry run to Bristol flower market a month before the wedding to get plants for the garden/paddock, and look at how the cut flowers could be brought, what was available and cost etc.
Two days before the wedding, we went to the flower market, brought everything that took our fancy. On the way home we dashed around and collected everything from mums, mine and a friend of the family's gardens – it was great fun!
Marcy, A lady from the village did the flowers for the church, she came to ours the day before and collected some of the flowers that she liked and thought she could work with.
The day before the wedding mum guided family and friends, though doing all sorts of flowers, from button holes, 'bottle' vases for the 'blue' carpet and table decorations. The flowers for the tables had hidden battery operated fairy lights scattered within and were tied into cellophane 'balls' filled with a bit of water, so that at the end of the night, we could encourage people to take the flowers away (pre-packaged!) and the flowers wouldn't interfere with the fish.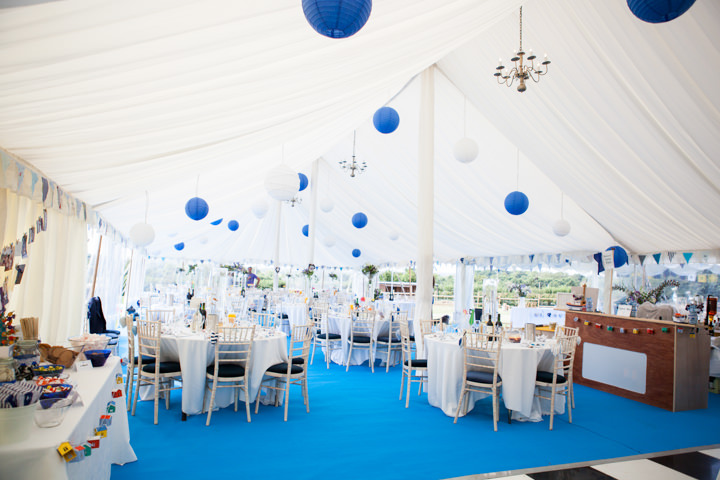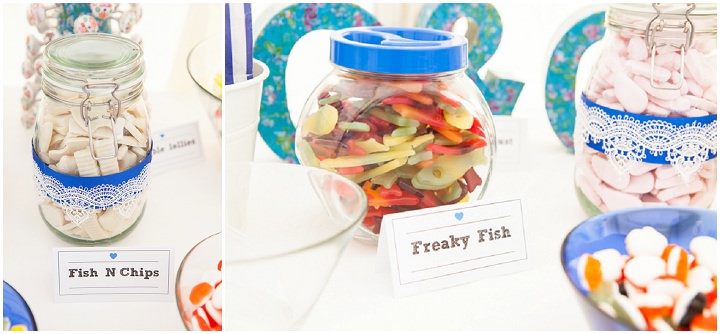 Decoration
-Favours were sorted by the mother of the groom, they were blue and white rock with Chris. We also did table flavours, with fun labels, each table had mint vodka, and butterscotch vodka; we made theses ourselves and were so easy, I would encourage everyone to make their own flavoured drinks.
-Fish were the main centre piece on the tables, and the base of the vases were circled by sand and sea shells. We collected the shells in the years running up to the wedding, from our travels and local beaches and ran them through the dishwasher. Star fish were cast using plaster, as I love seeing starfish underwater and didn't want to encourage their killing. Each vase had 2 fish from the local garden centre in, they were in the vases for less than 12 hours (this was to limit the risk to the fish being in still water that will quickly become deoxygenated) and are all happily living the wild life in mum and dad's pond! We did do a 'dry' run for this and decided to go for a larger vase and to buy spares.
-We had a selection of family weddings photos above the candy table and a 'here's how our stories began' section.
-My dad made a bar front for a table and we included some lights behind some Perspex to give it a more modern feel.
-Me and mum painted some old wood with cartoon style characters, and Chris cut out the faces, to give the beach side photo board.
-We collected together lots of outside seating, including deck chairs (with sand underfoot) and huge hay bale sofas covered in blankets and cushions.
-The mother of the bride, had spent months cutting and sewing bunting, so we covered the place in bunting; even my 'just married' willies, decorated by my sister, had bunting!
-We covered the paddock in everyone's Christmas lights – fairy lights galore. We also made lanterns for the tree by the pond; old cleaned tin cans, with holes randomly dotted all over, wire handles and spray painted cream. We used electric tea lights so we didn't have to be careful or worry about rain/fires.
-The bridesmaid's bouquets were handcrafted from feather 'butterflies'.
T-he groom, made the rope 'monkeys fists' used as table number holders.
-We had framed photos of all of our grandparents, that couldn't be with us, in the church with us.
-We created a sign out of national maritime signal flags that we made, that spelt out 'Chris and Colleen' for the marquee entrance.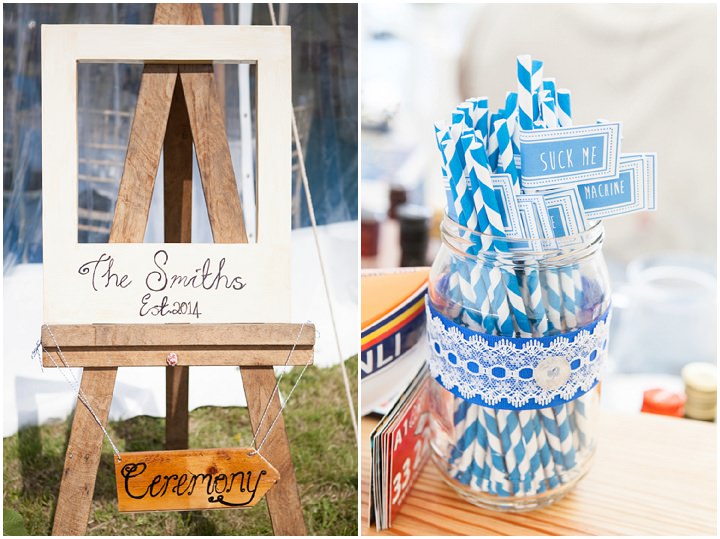 Food
Starters: Tomato & roasted pepper soup, minted pesto & parmesan shavings, Scottish oak smoked salmon on buckwheat bilinis, on rocket & marinated vegetables, Sautéed spiced Devon pork sausages with onions, capers, mixed seasonal leaves & red wine dressing
Mains: Catch of the day with provencale vegetable & lemon pesto dressing, Devon pork steak, mash potatoes & Breton cider sauce, Half a baked French camembert on warm green lentils with a fig & balsamic dressing
Puddings: Little cheese board, Lemon Tart & Raspberry Coulis, Chocolate mousse with sable biscuits and popping candy
My mum had also created a huge cheeseboard and biscuits that came out at about midnight that went down really well!
The morning after my parents cooked breakfast on the BBQ for everyone that had camped, and some that came back from surrounding B & B's, so we had time to sit and catch up over coffee, with more people. It was a lovely slow start to a massive hangover and tidy up day.
Wedding Cake
We made it; Colleen ran trials to find the right recipes, and practice icing etc. My maid of honour (Emma), her boyfriend (Luke) and Chris made the bottoms fruit layer; Chris did the top fruit layer. A Trusty Mrs Beetons recipe.
The middles layers were lemon sponge and a chocolate/vanilla checkerboard cake, made by the mother of the bride, and the mother of the groom.
They were iced by Colleen, Emma and Colleen's niece (bridesmaid Fleur); painted/washed by colleen, and put together on the morning of the wedding. The 'sand' was sugar, and the 'shells' were cast chocolate, sprayed with gold lustre. The toppers  were handmade fimo.
Entertainment
My maid of honours fiancée's (Luke) band; Woo Town Hillbillies played for a while after dinner to get people started. Myself and my brother also made 2 different playlists for the evening; suitable for dinner and boogying!
We also had song requests included in the playlists, as we asked for peoples favourite songs on the invite RSVP's.
Outside, for young and old, we had lawn games, like pick up sticks and giant connect four, we also splashed out on a bouncy castle and sumo 'hero' suits.
Buy or DIY your Stationery
DIY all the way! I couldn't have done it without free fonts from the web, pinterest, Chris and the mother of the groom! And A LOT of trial and error!
Personal or Handmade Touches
I loved making the order of services, getting all of the official bit correct with our Rev, Alison Norris, I then used pinterest as inspiration to create fun bits like our own crossword and a confetti pouch within the order of service.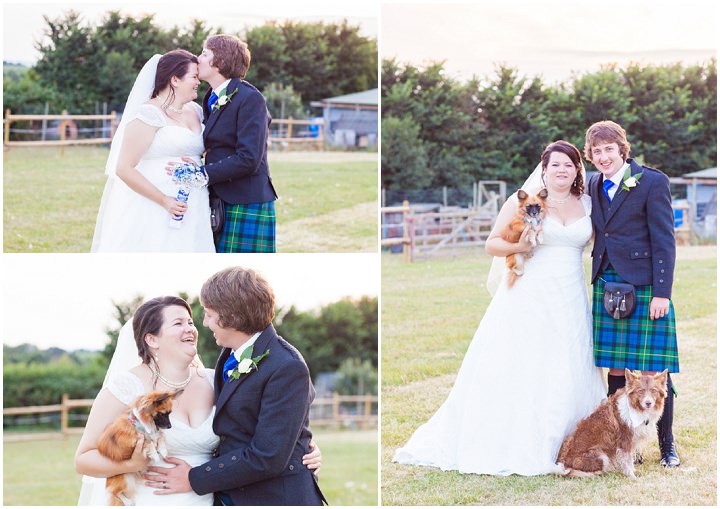 Special Moments
In the run up, seeing how willing and how hardworking family and friends are to pull together and get things done! Realising that dad had made such a special effort to hire the horse and carriage and also do a dry run with them to check the timings.
Seeing how full the church was, when looking down the aisle, I was in floods of tears, but it wouldn't have been me if I had kept a dry cheek.
The gifts from my maid of honour; we joke about me being like the Vicar of Dibley, and she had made me a tiara out of 'celebrations', it was so funny and sweet. She also carved our names into a commemorative heart chopping board, which we put next to the cake on the day.
Seeing some family and friends that had come from all over the planet; Iceland, Miami; and friends that I hadn't seen for a long time.
Finding out that the best man hadn't made it to his bed; he was found the next morning asleep in the hay barn. He also surprised us with an amazing gift; of flights to go and see him in Miami.
Advice to other couples
If you're doing things yourself, practise them, have run-throughs at home, go to courses, whatever you can to put yourselves at ease and know you couldn't have done better. Don't be afraid to try making something you've never done, if you have enough time to practice and perfect! Have back up plans if you're really worried, but at the end of the day, don't panic, it's NOT the end of the world! Have Fun!
Biggest surprise
My mum getting into one of the sumo 'hero' suits!
The Horse and Carriage ride!
Chris – "My Dad telling a joke that was actually funny!"
Supplier Shout Outs
For more information on Charlottes's work please go to:
www.charlotterazzellphotography.com
[email protected]
FACEBOOK
TWITTER
I am based in Guildford, Surrey but love traveling all over to meet sweet couples getting married to photograph their amazing weddings. My style of photography is very natural with a bit of fun and romance thrown in as well. I like to photograph in a relaxed and un intrusive way so I can capture the true feeling of the day.