Here at Boho we love hair accessories and flower crowns, they make the perfect addition to any Boho wedding. So today I am over the moon to be able to introduce you to a fabulous designer of floral hair accessories called Magaela.  Magaela brings a feminine quality with a Boho twist, a whimsical style that would suit so many brides looking for a soft romantic look for their wedding day. With so many styles to choose from there is something for everyone in this collection, from pretty pastels, to bright colours to muted autumn tones. The whole collection is absolute stunning fom start to finish.
'I started with handmade about two years ago during university studies. I started with felted earrings, later doing hand sewn lace earrings. After finishing university we moved to a little village in Austria. I don't know the language and don't have a driving license so I was quite "isolated" here. I had problems finding a job and had a few silk flowers and hair combs at home, so I made a few floral hair combs and added to my Facebook. They had big success and were sold to my friends instantly. So I started to make also headbands, wreaths and lot of other fashion accessories and sell on handmade portals. In a year and a half, it grew from a hobby to my full time job, now with my boyfriend also working with me.'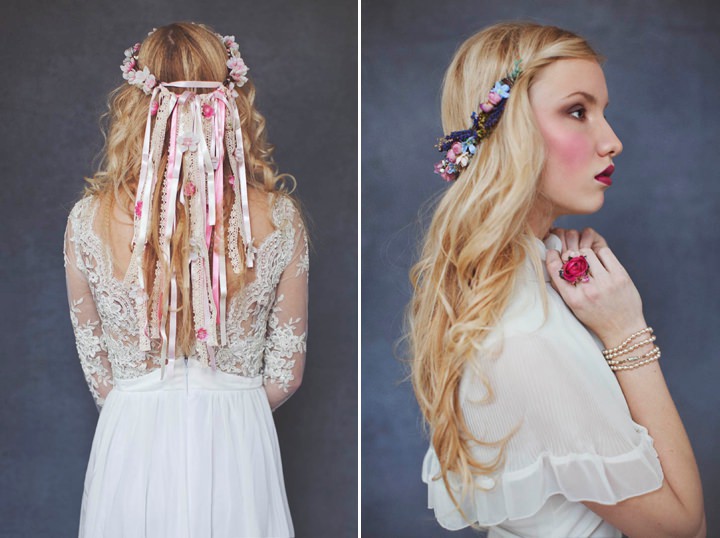 Where are you based?
Our workshop is located in our house in a little village – Deutsch Jahrndorf in Austria. It's a beautiful place and it helps me to find inspiration.
What sort of geographical area do you cover? 
I ship worldwide. For now most of my customers are from Slovakia and Czech Republic. But in the last few month I had many new customers from Australia, US, UK, France, Spain, Germany.
What were you doing before you started Magaela? 
I had a few side jobs during my university studies, I worked as a teacher of performing arts and as a florist in a few small flower shops, but Magaela is my first full time job.
How would you describe your style? 
Tender, romantic, dedicated to all fragile creatures loving theme of fairies and other mystical creatures. I try not to look at the world just with my eyes but also with my heart.
What is your biggest achievement to date? 
Doing what I love for a living.
What makes you different from your other competitors? 
I work a lot with natural materials and I customize a lot of the materials by myself. I try to stand out from the crowd and be original.
What do you enjoy the most about your job?
The diversity and freedom. And getting to know a lot of different great people as my customers and through cooperations with many different photographers and designers.
What sort of couple do you think you attract? Romantic people, fond of nature, dreamers… People who are not afraid to be themselves.
What would be your ideal wedding to work on?
I like weddings in nature, outside, in the vineyard or in an old barn. Currently I am also preparing for my own so I will have also experience from the other side ☺
What would be your ideal way to spend the day off?
I really love nature and mountains so a walk in the woods or trip to the mountains always fills me with positive energy and new inspiration.
Who would be your 5 dream dinner guests dead or alive?
Coco Channel, Alfons Mucha, Afrodita, Billy Holiday, Tomas Bata…
What would you do if you won the lottery
I would give something to people in need, invest in my company, maybe open a little shop.
If you were not running your business, what would you be doing now?
I would probably sing in a band.
For more information go to.
www.etsy.com/shop/MagaelaAccessories
FACEBOOK
PINTEREST
[email protected]
00421948008278