Happy Monday everyone and how are you all today? We have another week of amazing weddings for you starting off with this super cute village hall wedding that has been sent to me by Sophie Duckworth Photography. It's the wedding of Caroline and Jim who chose, what could be my favourite wedding colour scheme, pale grey and yellow for their gorgeous day. They carried out lots of handmade projects to make the day more personal to them and the results are fab. I am loving the flowers, billy balls are one of my favourite, the village hall reception venue is just so typically english and that ice cream van is a really lovely touch.
'A fantastic celebration surrounded by the people who mean the most to us. A one day snapshot of our relationship, personalities and journey together.'
Caroline and Jim were married on 26th July 2014 at St Mary's Church, Holmbury. Holmbury St Mary village hall. 'We wanted a traditional church ceremony and a laid-back reception somewhere pretty and quiet. It was important that the reception was within walking distance from the church and had enough space for us to have a great party without annoying the neighbours! The village hall is on the edge of a woodland which gave us privacy and guests the chance to spread out and relax in a beautiful setting. We had around 50 guests (mostly family) at the ceremony and probably another 50 friends for the party in the evening. I (Caroline!) started avidly reading Martha Stewart Weddings magazine after we were engaged in 2009 and accumulated a vast collection of ideas from the internet, but all the solid plans and bookings started around 18 months before the big day.'
How they met
I met Jim at a summer camp recruitment fair in February 2001 during my final year at university. He and two other guys were juggling with chocolates and when they caught my eye, they pelted me with them! Obviously a sure-fire winner for any chocoholic! We got together that summer working at Camp Scatico in upstate New York, where we have worked for many summers since.
The Proposal
We were working at summer camp and took a few days off to celebrate Jim's birthday in Boston. We were having dinner in the Cheesecake Factory and Jim was throwing in some odd Spanish phrases every now and again, which I put down to his quirky personality.
Eventually he asked 'Quieres casar con migo?' which means 'will you marry me?' Although my mum is Spanish and I have a decent grasp of the language, I still had to double check that he was saying what I thought he was saying!
The 'ring' was made of tin foil (a nod to the foil rings presented at the wedding booth during the annual carnival at summer camp). It was presented in a little box he'd bought in Mexico when we'd been travelling the year before and decorated with a skeleton bride and groom and the words 'amor eterno' or 'eternal love'.
How did you allocate your budget
There were certain elements which were non-negotiable. We wanted a great photographer who could shoot photos in a certain style and really capture our day and our personalities. We also wanted live music, so a band which could play a wide variety of tunes to please everyone was important. Not wanting anyone to go hungry, delicious unpretentious food in abundance was key. Our honeymoon was truly the trip of a lifetime with a price tag to match, so we decided to budget for it separately.
How did you choose your photographer
We had a particular style of photography in mind – very natural, spontaneous and details-orientated – and didn't want to settle for anything bland. It took a while to find Sophie and as odd as it sounds, as soon as I saw her cute logo upload on her webpage, I knew she was the one! Her style was exactly what we'd been searching for and then through email exchanges and meetings we found her to be nothing short of absolutely lovely and accommodating to our needs. We feel really lucky to have found her!
The Dress
My dress was Tia by Benjamin Roberts, purchased at White Dresses and Tiaras, Crawley. It was the second dress of about 25 I tried on in various bridal shops. I had a bolero jacket made by the bridal shop's seamstress Paula Miller in the same lace as my dress. I chose a veil with tiny pearls by Nieve Couture to match my jewellery and hair accessories.
I bought a freshwater pearl hair 'vine' online from Etsy for £14 after seeing a very similar one for £130 in a bridal shop! My shoes were by Debut at Debenhams and another bargain at £34!
The Suit and Bridesmaids
Jim is Cornish and we'd long agreed that he it would be lovely if he and the groomsmen wore kilts in the Cornish national tartan, with sporrans, Prince Charlie jackets and sgian dubh knives – the whole hog! Turned out to be one of the hottest days of the year, but they looked fantastic! The outfits were hired from Cornovi Creations in Cornwall.
I didn't want my three bridesmaids to all be matching as they are 38, 21 and 7 years old. Susie and Sophie, the adult bridesmaids, wore dresses by Phase Eight in the same colour and fabric but different styles, with shoes from Next. Katie wore a dress and shoes from Monsoon which I chose as there were some sweet lace elements similar to my dress. Hair accessories were from Debenhams and Monsoon.
Theme or Colour Scheme
The colour scheme was soft grey and yellow and was decided upon quite early on. We knew we wanted a laid back, handmade look to the wedding with some quirky features to reflect our personalities and adventures together. The last thing we wanted was for our guests (or us!) to feel they couldn't relax and be themselves on an overly formal, stuffy occasion.
Flowers
Flowers were very last minute on our part and put together by Dorking Flowers in Dorking, Surrey. The flowers I had wanted in my bouquet (ranunculus) weren't in season, but our florist put together bouquets and buttonholes using lovely bright yellow pompom 'billy balls', which I had wanted with silvery eucalyptus, creamy stocks and white roses, bouvardia and lisianthus. I also had some gorgeous white peonies in my bouquet. These flowers were also used in two larger arrangements for the church.
We bought a large quantity of the larger flowers and foliage which my mum arranged in glass jars for the reception centrepieces.
Decoration
I had so many plans for all the handmade decorations I wanted, but had to curb my desires due to time constraints and my own sanity! I did have many family members and friends collecting glass jars of various sizes, which were variously decorated with glitter, ribbon, tissue paper and doilies – a real craft fest! These were then filled with either flowers or candles for indoor and outdoor decoration. The table centrepieces were slices of wood which I managed to obtain for free from some nice men cutting up a fallen tree after a storm. There was liberal festooning using fringed crepe paper streamers and the type of old-fashioned tissue paper honeycomb garlands we loved from our childhood.
I spent months trawling charity shops to find retro glass cake stands and also found a couple of old suitcases for cards and the seating plan. My late, great auntie Carmen's hand embellished table coverings made an appearance at our dessert table.
Food
We found Bricks Caterers in Cranleigh, Surrey online and originally planned to have a sit-down two course plated meal. But once we sat down for our meeting and saw the barbecued food they could provide, we quickly changed our minds and realised that eating from shared platters family-style was more 'us'. It was great to have guests arrive to see the grill fired up outside the village hall.
I love cake! We (well, I) had long decided I wanted a dessert table so that guests could help themselves to whatever they wanted with plenty of our favourites to choose from, so we provided dessert ourselves buying some lovely cakes from the farm shop down the road.
Wedding Cake
We're both teachers and our fab Cookery teacher, Janet Aslett, made our two tier wedding cake. We had a larger chocolate fudge base with lemon drizzle cake on top. The whole cake was covered in white chocolate ganache and I made some little felt birdies as cake toppers. I'm just gutted that my dress was so fitted I wasn't able to have more of it!
Entertainment
The son of a work colleague is in a great band called The Happy Jacks and I had them in mind after they played at another colleague's wedding. They play a diverse playlist with all the styles we love from The Beatles to The Jam to Kings of Leon.
During 'cocktail hour', the meal and between sets, we played music from an ipod which Jim painstakingly chose.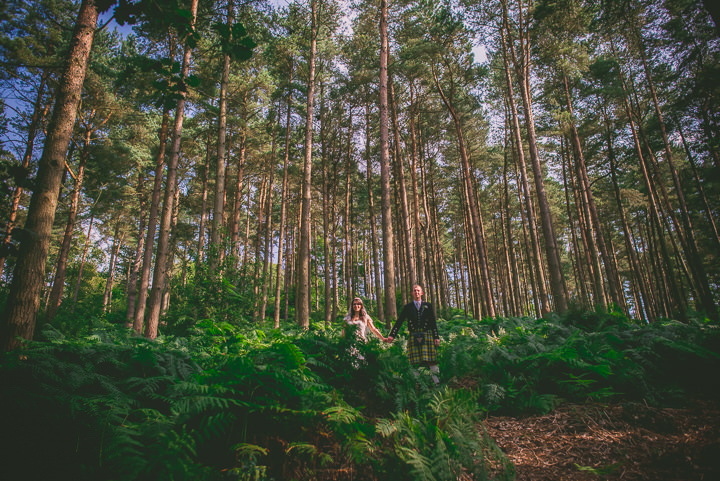 Buy or DIY your Stationery
I made every invitation and thank you card, which took forever as I was very particular about what I wanted! I chose soft grey card to match our colour scheme, designed other elements on the computer and hand calligraphed the fronts of invitations and each address.
Personal or Handmade Touches
We wanted to include as many personal touches as possible, so lots of decorations were hand-made as previously described.
-My wonderful colleague made 100 badges for guests to choose and wear using a badge machine borrowed from school and old Sindy and Beano annuals and comics I bought in charity shops.
-We also made and bought props for a 'photo booth' area for guests in the entrance of the village hall.
-We've done a lot of travelling, so we created a giant world map canvas pinpointing all the places we'd visited together over the years with an accompanying photo. It was lovely to have guests poring over it, because although they know we love to travel they got more of an insight into our shared interest.
-We had a corner of the hall set up for cards, gifts and our guest book. We strung up photos of Jim and me from childhood to now, meeting together in the middle. Our parents' own wedding day photographs were reprinted and placed in silver frames next to our guest book, which was also handmade to a degree, using a scrapbook we found in Belgium and more photos of us inside.
-Two of our most treasured handmade possessions also made an appearance in this corner. Monkey and Badly are two sock monkeys which Jim and I made for each other early on in our relationship, and have travelled around the world with us on our various trips and time abroad. We couldn't have had our day without them!
-Our wedding vehicles were chosen for their classic styles and complemented the vintage ice cream van we hired. My big brother Adam spent months doing up his white Triumph Herald to drive me to the church in with our dad. Our photographer Sophie's husband Jon provided (most generously, free of charge) their fantastic 'rat look' VW camper van to drive my mum and the bridesmaids to the church in. It was the coolest convoy ever!
-Jim's wedding ring was chosen to reflect his Cornish roots and is made from silver and Cornish tin and supplied by the only jeweller currently using this material in wedding rings, Canary Blue in Truro, Cornwall.
-As a further nod to our Cornish and Spanish roots, as well as wine, beer and soft drinks we also offered guests Cornish mead and Torres brandy to drink in the evening.
Special Moments
We both thought having an ice cream van outside the village hall would be a nice alternative to canapés on a hot summer's day. We found Carnival Ices online and chose a red and white 1965 Bedford van to hire. As the van had to travel from Eastbourne, we had to pay extra for a truck to haul it up to Surrey but it was definitely worth the expense. We had kept the van as a surprise from guests and they were having drinks at the local pub when we drove up, horn tooting as we hung out of the serving window! People's faces were a picture, so it's created a fantastic memory for us.
On a more personal note, Susie, my chief bridesmaid, had been extremely ill after an emergency lifesaving operation only a month before the wedding. She was determined to be out of hospital and walking down the aisle with me, but it was a very close call as she also twisted her ankle three days before the wedding! The fact that she was able to be there at all, never mind in her dress hobbling on crutches on the arm of the usher, meant the absolute world to me.
Advice to other couples
If you are planning on including a DIY element, start preparations as soon as possible to avoid the emotional meltdowns I experienced! Take offers of help when they are made, as people genuinely do want to get involved. Look into local suppliers as cheaper alternatives and don't be afraid to ask for a discount. Make a list and check it twice – and thrice! – as it's satisfying and reassuring to tick things off a list. Make sure you are planning the day YOU want, not anyone else. You can't please everyone – people will appreciate you trying to be accommodating, but it's your special day so deal with unreasonable demands politely but firmly.
On the day itself, try to take a step back every now and again and soak it all in. I had all the best intentions of doing this and my day still feels like it passed in a 5 minute blur! Take time to talk to as many guests as possible as some will have taken the time to travel long distances to be there for you. Above all, make time for each other, just the two of you. It's your day, after all!
Biggest surprise
Jim wrote to his football team (Arsenal) and our favourite band (The Stereophonics) and read both the personal responses during his speech. I'm not sure everyone was as excited as us, though!!
I secretly met with the band's singer the week of the wedding after asking if I could sing a few numbers with him. Early on in their set, I took to the stage to serenade my new husband! It probably wasn't a huge surprise to Jim as I'd sung at my brother's wedding, but the rest of our guests didn't have a clue.
The best surprise for others was the ice cream van – priceless!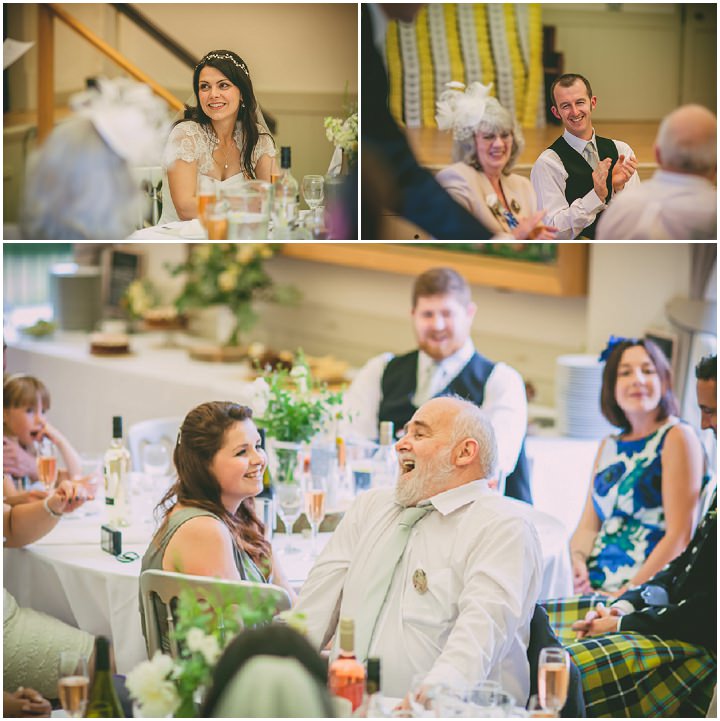 Supplier Shout Outs
Make up by Ginny at Benefit Reigate – Ginny was absolutely lovely to work with, from our first meeting to colour matching appointments to the day itself. She did make up for me, my mum and the bridesmaids and definitely helped keep me calm, even sending me sweet text messages before and after the wedding. A definite recommendation, she is available to do make up in the Benefit Boutique in Reigate or by travelling to your location.
A special shout out must also be given to the wonderful B&B I stayed at the night before the wedding and which Jim and I spent our wedding night at.
Dicks Hill B&B www.dickshill.info has both one end of a gorgeous country cottage to hire as well as a gorgeously cosy, self-contained unit where we stayed. After emailing and meeting Andrew and Carol Huddle, they offered the 'cottage end' on the morning of the wedding for myself and my bridesmaids to get dressed in and for my parents, brother and photographer to relax in as we all got ready and had photos taken. It really was a very generous offer and made things run so much more smoothly as we were having hair and make-up done in the separate unit.
We were even given a lift to the end of the track as the suspension on the wedding vehicles wouldn't have managed it otherwise!
For more information on Sophie's work please go to:
www.sophieduckworthphotography.com
[email protected]
FACEBOOK
TWITTER
+447725004502
'Based in Surrey, but travel all over the UK for weddings, and the odd destination one too, I've shot weddings in Paris, Melbourne and Vegas too! I focus on a very informal and fun style, all of my clients are very relaxed and just want their photos to reflect their passions and their loved ones. I work closely with each of my couples to make sure they get the most out of their day and me. I love creating the odd wow shot, but mainly keep as unobtrusive as possible, watching out for those key moments to treasure for a lifetime!'