Happy Friday everyone, lets get a big woo hoo for the weekend! I have a cracking wedding for you today thanks to Laura Debourde Photography. It's the wedding of Jessica and James who got married in Islington in London and chose a super cute 100-year-old cinema to hold the ceremony in. They made the day completely personal to them by carrying out lots of handmade projects and working together as a team to create all of the little wedding details that made the day so special. With lots of pretty peach and pops of turquoise, bunting and balloons I just love the whole look of this wedding, I'm sure you will too.
'Absolutely everything we could have dreamed of; fun, romantic, full of beautiful guests and great experiences coming to an explosion of wedding bohemia and on top of that we got married!'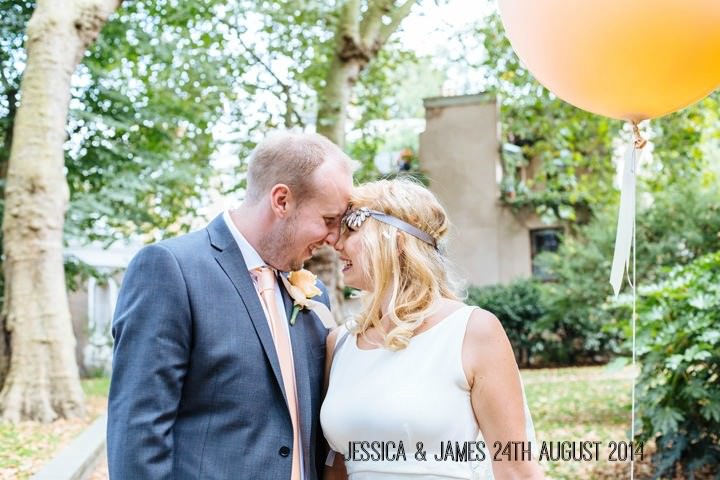 Jessica and James were married on 24th August 2014 at Screen on the Green, Islington with the wedding service Gallipoli Cafe Islington the wedding 'breakfast' was held at The Chapel Bar. 'We wanted to marry somewhere unique, and somewhere when we walked into we just knew it would be perfect. That place ended up being Screen on the Green. An impressive 100 year old cinema in Islington. When we went into the cinema, and instantly we both got Goosebumps and tears welled up in our eyes. We knew we had to book it, and were willing to have a humanist ceremony if it meant to we could do it there! It is actually a licence venue now so we got to make it official on the day! Hurray! Later we realised it was the best choice as the staff wanted to work with us and try and make it the best possible day for us. We could even have our names up on the old style front, we could put our own posters in the advertising holders, serve drinks and popcorn and make our own movie! We had 100 guests for the day and a further 40 for the evening. We only really got going when it hit a year to go… but we didn't rush ourselves, taking our time to make the right choices. As we made lots of things ourselves we had to be relaxed and not rushed! We are very organised but fun type people so like to take everything in our stride. Our family were asking if we had sorted things yet, we often replied 'all in good time!'That didn't help their nerves!'
How they met
We knew each other through a mutual group of friends we had when we worked at Sainsbury's when we were both studying, although we hadn't really spoken there and wasn't until we had both left that we actually spoke and then got together. It all really started at Notting Hill Carnival 7 years ago, where we shared our first kiss, then the next day we went on our first date and we have been inseparable since! We wanted to get married on our actual anniversary date but in 2014 it fell midweek so we decided to have our wedding on the bank holiday weekend and take our mini-moon over the date and celebrate both things together!
The Proposal
James- It was Christmas day 2012 and I made poached Eggs and salmon on toast for breakfast, and after some champagne I asked to swap presents. I came back into the room and Jessica was sitting on the floor so I got down beside her and pulled out the box and asked if she would spend the rest of her life with me. She said yes and cried lots. When that was done Aladdin's 'A Whole New World' came on in the background and it was perfect. I choose Christmas Day because to me she is Christmas! (She absolutely loves it – not that she is a tree!)
Jess – It was a beautiful proposal and I will remember it forever.
How did you allocate your budget
We knew we didn't want to spend lots of the wedding and are both budget buddies, shopping for good deals and the like. We are both creative and knew most of the wedding would be a DIY affair so this would keep our costs down quite a bit.
We knew we wanted an open bar, so straight away we budgeted for that. We love entertaining so food and drink was important to us.
We set out to spend around £10,000. So we were working to a tight budget as far as wedding venues are concerned. However we didn't want the big style wedding so this didn't break any hearts or our piggy bank!
Jess was meant to spend £500 on her dress, however her expensive tastes got the better of her!
We were not able to afford suits for all the ushers so asked them to wear their own grey suits and we budgeted £100 each for the bridesmaids as there were fewer of them.
Jess did her own make-up as is not too shabby at it and was a bit worried about not looking like herself and having to re-do it anyway!
Jess had our friend Kirsty to do her hair and the bridesmaids and mother of the bride on the day. She knew exactly what style I was going for and was an asset to the day and the hair!
Our good friend and whom was also one of the Bridesmaid's, boyfriend , is a London taxi driver – and what better way to arrive at a London venue than by taxi! We asked him to drive Jess and her mum there. He was so happy to do so which was wonderful for our friend and budget too! My bridesmaid was so sweet as she decorated inside his car as well by adding photo boards of James and I. It was so sweet and really put me at ease to see his face! Our friends had other cab drivers they knew so in the end there were three cabs with the bridesmaids in as well! Just another example of how wonderful our friends are.
We did contemplate hiring a wedding planner just to over-see the three venues on the day making sure each was set up how we wanted it to be, but we had wonderful friends to help us with this so we were able to save on that too.
How did you choose your photographer
We found Laura on a website and immediately lusted over her photos, she had only started out but had captured so many different weddings. She has very light smiley unposed photos capturing moments and this is the style of photography we wanted. She was so happy and friendly and wanted to be part our day which was really nice to hear. When we met her for the first time we instantly knew how much of an asset she would be to our day and could easily fit it with our friends!
We did a pre-wedding shoot in the cinema and surrounding areas and we really recommend doing that!
Wedding video: We weren't able to also afford a wedding videographer and had come around to the idea of setting up a camera on a stand for the wedding and also asking our friends to film bits of the day, but Joe Bernardes came to the rescue. As we were getting married in a cinema we wanted to show a short film, and again were doing this ourselves before Joe offered to help here too.. and thank goodness he did!
We created a short video to 'Love is an Open Door' from the  film Frozen! We rocked up at the park and were actually told at one point to leave, thinking that we were a professional crew! Our friends, mainly our wedding party came out at short notice to create a video, it was the creativeness and hard work of our friends and Joe Bernardes that gave us such a brilliant result. It was such great fun and we are glad we did it. Here it is.
The Dress
My dress is called Acanthus and was from the Lara Hannah collection. I bought it from a lovely lady called Karen at Rock the Frock. It's a vintage inspired shop with a selection of beautiful dresses, short and long and has beautiful accessories. In her collection of dresses there was this lovely column, 1920's/30's inspired silk crepe gown with a small train and notes of lace. I asked if I could possibly try it on . As soon as I saw myself in the mirror and my family welling up in the background along with my own tears filling my eyes I knew it was the one! After trying on about 60 dresses I realised in one moment that I was going to be bride!
My shoes were actually bought by my sister, which she didn't realise would mean two pairs!I fell for these gold, 1920's style strappy heels from a high street shop called Linzi's . I then saw sparkly pointy heels and wanted those too! Dilemma! However my sister was very kind and bought both pairs, sighting that she thought she was going to have to pay for designer shoes and had saved herself a small fortune!
My accessories were a mixture of old and new. My sister bought me a pair of diamond drop earrings, my mum bought me a bracelet which was given to me on the day.
I also wore a bracelet that James gave to me years ago along with my rings.
The Suit and Bridesmaids
James: I am not one for suits, I don't need to wear one at work and I rarely wear one on any other occasion. I set out to find something that would great on the day, had something different about it and suited the style of the day. I did think about top hat and tails, a kilt, a laid back tweed style jacket with red trousers and an open shirt, but felt it wasn't summery enough and would blend with our colour scheme.
I saw a grey French Connection suit in Selby's on Holloway Road and on closer inspection it had an almost patchwork, tweed style grey pattern with peach threading through it, and the inside of the jacket was also peach, as that was our main colour I thought it was meant to be.
We bought the ties from an online site, they had the exact peach and yellow we wanted. I bought spiderman cufflinks online to go with my spiderman t-shirt. This was to run with our super-hero idea.
We had 7 ushers and 2 best men, and also had a page boy too!
We had 6 bridesmaids including Jess' sister as the chief bridesmaid. We didn't want the bridesmaids in anything that looked like a bridesmaid dress, and wanted to be loose on the styles and colours. We wanted the colours to be white, creams, soft yellow, golds, tiffany blue and peachy shades. It was up to the bridesmaids to pick out what they liked. We budgeted around £100 to each maid and we were so pleased with the final result and the styles and colours complemented each other. Our main aim was to make sure everyone felt confident in their outfits and hopefully we achieved that!
Theme or colour scheme 
Jess: I love the colour peach so that went in the mix of colours, we didn't want to be limited to one colour seeking more of a confetti throw of summer hues, so had whites, creams and soft yellows too. I wanted to find a contrasting colour that would add that 'pop' to the light pastels so as the jewellers Tiffany's means a lot to us, we chose the tiffany blue shade. Obviously having booked a cinema, we were cautious about becoming too cinema themed, although it can be fun, we had three venues and didn't want to over-do anything. So chose to leave this out, choosing items we could transport to each venue easily and that would blend with the already quirky venues we had chosen.
Flowers
The flowers were an important feature for our day and another chance to use our creativity. As we were doing it all ourselves and with three venues to decorate we had to get creative and hold back on some of our floral dreams. We did not have a planner or time beforehand to dress the venues, so we bought vintage style vases and used the hand ties as table centres in the restaurant and bar decorations at the evening venue.
I wanted to have my favourite flower – peonies in hand ties bouquets for me and the bridesmaids, I added garden roses in cream, yellow and peach along with spray roses, gerberas and eucalyptus leaves for added foliage. I added a sprig of lavender to my bouquet and James' button hole for calming, and my mum is always growing the stuff.
Decoration
We went for giant balloons, we then added coloured ribbons to the rope to hang loosely and weighted them down with a lace patterned pot from Ikea.
We went through hundreds of ideas, and we wanted to do everything, but of course we didn't have the time so choose a few things to work on. Jess painted the wedding invite on a big canvas and this was used as a feature in the evening venue.
We asked our friends mum to create bunting for us. It went on for metres and metres and had lace, silk and patterned material in the colours of our wedding. It even had our j&j symbol. It was so beautiful and we will enjoy this for our lives and is a perfect memento of the day. Currently some of it now hangs in our bedroom and we will bring it out at parties.
Food
The food was one of our top prorities (as well as the alcohol) and we wanted to fill our guests stomachs up!
We had our 'wedding breakfast' at Gallipoli, which is the yummiest Turkish food! We had cold mixed mezze laid on the tables for when the guests arrived there! Instead of a pudding we chose to serve our wedding cake with cream and summer fruits.
In our evening venue we decided that we couldn't leave the baklava out from earlier so had that with other English, Turkish, east-end, jewish style food like roll mops, fish and chips and profiteroles. – A real combination of food from the population of the east end, and that were foods which we both love.
I had wanted a cheese board tower, as there were a few cheese loving guests. However, as I was running around enjoying myself too much I forgot to actually decorate it!
Wedding Cake
The wedding cake was a tower of vanilla, red velvet and chocolate sponge, covered in meringue and lovingly created by Jess and James' mums, overseen by Jess of course. It turned out to be better that we could have imagined!
We served this as our dessert and brought our own fruit and cream with us!
Entertainment
We didn't book any 'entertainers' or anything like that, leaving it to our wonderful guests to enjoy themselves. Although, Senal the restaurant manager at Gallipoli had other ideas, and got James to do an impromptu belly dance, to which James took to very well, and we hadn't even got to the party venue yet!
Buy or DIY your Stationery
We knew right away that the majority of our wedding would be creative and we would be the ones to create it!
We designed and created the invites after numerous sketches and used this as the base for the stationary through the wedding including the order of service, cd cover and menu for the restaurant.
We also created stickers to put on the envelopes of the invites and added these to the popcorn boxes for detailing. The J & J symbol becoming associated with us and our wedding.
Personal or Handmade Touches
-The table plan and favours went through a number of changes too.
-The seating plan incorporated the colours and ribbons we had in the wedding, along with an ornate frame to match the restaurant. It features printed cards with the same font we used throughout, pegged on to the ribbon with guests names on, we chose not to have table names so laid it out as a plan of the restaurant.
-The flowers were designed and created by Jess and James helped her in the final hour bringing the last minute touches together.
-The posters for the cinema came courteously of Laura De Bourde's pre wedding shoot with us, which James blew up, laid out movie poster style and had printed for us.
-Our cake was made by our very talented mums, overseen by Jess and tasted by everyone!
-Jess made her own head piece and perhaps would have made her own dress if she wasn't so indecisive!
-The boys decorated the cinema themselves blowing up the balloons, adding ribbon and adding fairy lights to the stage.
Special Moments
Jess  Everything! I remember doing my 'pre wedding interview in the store room behind the cinema and hearing everyone laughing and singing along to the music and having a good time, thinking I just wanted to get in there and see James'.
Then walking up the aisle, seeing friends and family then looking up and seeing James on the stage, feeling the happiest I have ever felt in my life so far!
The Belly dance.
At the end of the night everyone telling us to leave the club and let them sort out everything so we could go and enjoy the rest of the night. Just knowing how wonderful our friends and family are and how much they cared for us throughout the process was lovely.
James Seeing Jess walk down the aisle.
Being in the restaurant and chatting to the guests, feeling really relaxed and happy.
Our luxury hotel!
Advice to other couples
If like us you didn't have a fixed idea on what you wanted your wedding to be like, look around and get an idea of the sort of things that are important to you and your wedding. It's your day and even though it might be stressful at times and people may put in their two pence, remember they only care. If you stick with what you want then on the day everyone will enjoy it more because you have been yourselves, and it will be a reflection of the lovely people they know. Then more importantly you'll have a good time too!
We wanted to do all sorts of unique things but our budget meant some things had to be left out or tweaked. Just remembering why you are doing this in the first place, takes away any bride/groomzilla moments.
We had some good advice to take a moment to look around and take it all in. We had a quiet moment taking some extra photos away from everyone; it was both really fun and nice to be just us two. It's well worth it!
Supplier Shout Outs
For more information on Laura's work please go to:
www.lauradebourdephotography.com
www.lauradebourdephotography.com/blog
@lauradebourde