Well Hello and welcome to the mid-week point, from here on in we are all one step closer to the weekend! Today I would like to introduce you to Beaulieu Wedding Photography, who are Lou and Tim a lovely couple who specialise in documentary and fine art photography. Lou and Tim are based in Nottingham and bring with them a wealth of experience, along with a real passion for photography and their work.
Beaulieu consists of myself and my partner Tim. We have a contemporary documentary style and photograph weddings throughout the UK and abroad. Tim and I work together to capture the different sides of the day and to ensure we don't miss any special moments. Between us we've been studying and practicing photography for many years and had our work exhibited and published. We love photographing weddings; the chance to meet new people, travel to new places and tell the unique story of each day with our photographs.
Lou has been kind enough to answer some questions for me and share with us her favourite images.
How long have you been taking photos for?
I've been taking photos for as long as I can remember. I've always had a particular love for documentary street photography, absorbing myself in new environments and capturing life's natural moments. These unscripted moments create powerful, memorable images. Weddings offer the same opportunities; to blend into the atmosphere and capture all the faces, emotions and moments in one place, in one day.
Like me, Tim also began with a love of street photography, but has taken it in a more conceptual direction with his personal work. He has travelled the country to find his subjects and had his work exhibited in London and the Midlands. Tim's style and passion for photography perfectly compliments my own and when I began Beaulieu, it was a natural decision to have him photograph weddings with me.
When did you start your photography business and what made you start?
Shortly after graduating from a diploma in Photography, I was asked to photograph a wedding. Having never before considered wedding photography, this was both a daunting but exciting opportunity. Thankfully (apart from the downpour!) capturing my first wedding day went fantastically well and the couple loved their photos! Before long I was being recommended by friends and getting referrals from clients. Before I knew it I was a practising wedding photographer and I set up my business Beaulieu Wedding Photography in 2008.
Where are you based?
We're based in Nottinghamshire, in the East Midlands, but we're happy to travel throughout the UK and abroad.
How far will you travel for a wedding?
We love to travel to new places and will go anywhere for a wedding! We've photographed weddings across the country, from St.Andrews in Scotland to the Isle of Wight.
How would you describe your style?
Our style is a balance of pure documentary and fine art photography and our philosophy is to capture the couple's day as it really happens, and not how we think it should happen. We know from experience that each wedding will be unique and so we strive to retell the complete story of the day without any prompting or staging.
We believe a wedding day should be captured with photos that don't date and so we create images that have a timeless quality but with a contemporary feel.
What is your favourite bit of technical kit?
Apart from our Canon cameras and lenses, I think my favourite kit is our iMac! A bit unoriginal but I spend many hours in front of it and it makes life, and work, much easier!
What makes you different to your competitors?
This is a difficult one as there are some very good wedding photographers out there. However, I truly believe that our images and style stands us apart from the crowd, together with our ability to discretely but creatively photograph a day.
We make sure that we know as much as possible about the couple's day, and if we can, meet with the couple to get to know them and make them feel comfortable with us before the day. We understand how much thought and planning goes into making a wedding day perfect and we care just as much about our photos.
We genuinely love what we do and pride ourselves on working hard to achieve a timeless and unique record of the day that each couple will adore!
What do you enjoy most about your job?
We love meeting new people and visiting new places! We've met some wonderful people over the years, not just the brides and grooms but also their families and friends who are always so welcoming. We've had some fantastic experiences so far and it really is wonderful being a part of one of the most important days of someone's life.
What is your biggest achievement so far?
Making a bride…and groom cry whilst looking at their photographs! (Happy tears of course!) Also being asked to photograph the weddings of a few of our closest friends. This puts a lot of pressure on us but certainly worth it, being at the heart of a friends wedding in this way is so special and a real privilege.
What sort of couple do you think you attract?
For us, the most important sort of couples to attract is those who are passionate about photography and believe it's a really important aspect to their day rather than just another box to tick! Couples that come to us are usually on the same wave length as us and want to have the full story of their day photographed in a relaxed and informal way. Our couples always comment on how much of the day has been covered, even parts they didn't see, and how we managed to capture the essence and atmosphere of their day.
What would be your ideal wedding to work on?
It's hard to say, we just love each wedding to be unique, which they usually are! Perhaps a celeb wedding would be pretty exciting? Or we wouldn't say no to a wedding on the beach in the Bahamas!
Which celeb would you like to photograph?
That's a tricky one!…probably someone with a very good eye for style and a true interest in photography. Someone I admire and would love to meet (if I don't get too star struck!). I hear Benedict Cumberbatch has recently got engaged?…
Who is your favourite photographer and why?
A lot of our influences don't come from wedding photographers, but more from the Art world, such as Alec Soth, Mark Power, Sam Taylor Wood, Gregory Crewdson…just to name a few! It's too difficult to name just one! We have a huge collection of photography books between us which we regularly delve into.
If you were to get married who would take your pictures?
As Tim and I are a couple, and obviously photograph together, we get asked this question a lot! For us, it would definitely be Australian wedding photographer Jonas Peterson. His photographs are just incredible and we regularly follow his work. As long as he doesn't mind jetting over to The Midlands!
What in your opinion makes the perfect photo?
The perfect photo?…one that is natural, that captures a truly special moment, and one that you never get bored of looking at. Also a photo that makes the bride and groom shed a tear is always a winner!
What is your favourite photo that you have taken?
I would say that one of my favourite photographs at the moment is from one of our recent weddings, taken during the Summer in Buckinghamshire. It shows the bride being helped out of the wedding car by her bridesmaid and through the window you can see the light falling on the bride's fabulous engagement ring!
I think this image is so elegant, capturing the natural moment of the bride arriving and leaving the wedding car. I always think each wedding has it's own colour palette, and I just love the colours in this photograph.
To see more from this wedding, please see our Buckinghamshire Wedding Photographer page.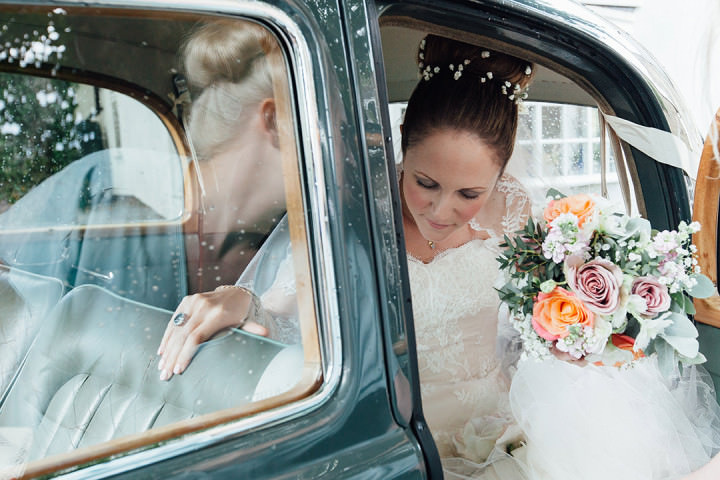 What advice would you give couples when choosing their wedding photographer?
I would make sure that you're both reading from the same page, so to speak! Make sure you like their style and philosophy and that they can provide the service you think is right for you and your day. Don't just make a quick, easy choice. Apart from coming away from the day with a new husband or wife, the photography plays such an important part and is a lasting memory of your day.
Can you give me some information on your pricing structure?
Our wedding packages start from £1,650 and go up to £2,950. This includes two photographers (myself and Tim) photographing your day from beginning to end. Our first Collection includes an online gallery of your final images, and a copy of your images on a personalised USB. Our other Collections include extras such as books, albums and prints. You can also book us for an Engagement Shoot.
What is your ideal way to spend a day off?
Probably to head into town, to a favourite cafe or restaurant, and let the hours pass by why we indulge in food, drink and our each others company! On a more extravagant scale, our favourite place in the world to go is Paris, enjoying food, wine and photography exhibitions, what more could you want!
What can you never leave the house without?
Definitely our iPhones…sadly!
What would you do if you won the lottery?
Probably travel the world and photograph it to our hearts content without the worry of making money.
If you weren't running your business, what would you be doing?
If we hadn't gone down the wedding photography route, we'd still be trying to do something creative. We both have a passion for art photography and we would probably be working in this industry, aiming to have more work published and exhibited.
For more information on Beaulieu Wedding Photography 
www.beaulieuphotography.com
[email protected]
www.facebook.com/beaulieuphotography
www.twitter.com/beaulieuphoto
07931 707 676
01159 333 148