I am incredibly excited about today's real wedding as it is by the Hugely Talented and Totally amazing Jonas Peterson. Jonas is in my opinion the very best in the business, many of the wedding photographers I meet count him as their main inspiration and who they aspire to be like, so this man totally knows what he is doing when it comes to weddings. (I featured Jonas a couple of weeks ago in my Fabulous Photo feature) So it is a total honour that Jonas has let me feature this totally gorgeous wedding on the blog today.
Jonas is based in Brisbane Australia, but lives in Sweden in the summer months, so is also available for European photography. His work sees him travel all around the world, so it isn't impossible to think that you could book him for your wedding photography!
Today's wedding is that of Matt and Angie who got married in Bali. I'm  sure you will agree with me it is totally stunning, an amazing couple who are both just gorgeous! The wedding is so beautiful, laid back and chilled and set in an amazing location with such wonderful views….simply perfect!
Jonas tells us about the wedding:
When Matt and Angie met at the Glastonbury Festival it was love at first sight. Only one problem; Matt had just moved from the UK to sunny Australia. Six months later Angie followed her heart and joined Matt down under. When they decided to get married they found themselves in a bit of a pickle. They needed a spot somewhere in between the UK and Australia, so that family and friends, both old and new, would be able to join them on their big day. The answer was Bali. On the day the 38 guests joined Matt & Angie at Villa Pemutih in Bingin. Overlooking the Indian Ocean – and with monkeys in the trees – we all experienced a very special day. Angie wore a vintage 1950′s dress she found in London, the girls got their stunning purple dresses made after they arrived in Bali and the boys looked equally dapper in grey and blue. Everything had a local touch, even the welcome drinks tasted of Bali with ginger and lemongrass keeping people cool in the tropic sun. Both Matt and Angie are in to yoga, Angie even teaches classes in Sydney. The ceremony even started with all the guest doing a two minute "om" together with their eyes closed. It was also the first time I've seen a groom standing on his head in the bathroom while the guests were arriving outside and it still made perfect sense. In fact, most things made perfect sense, during the speeches groomsmen and bridesmaids shared photos and clips from both their lives on a huge screen.
It was truly fantastic. Come to think of it, everything was perfect.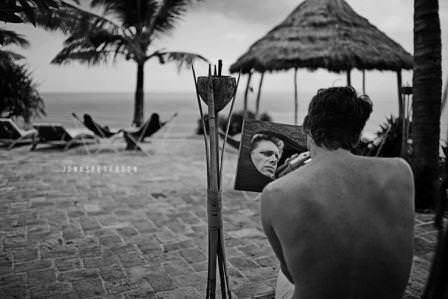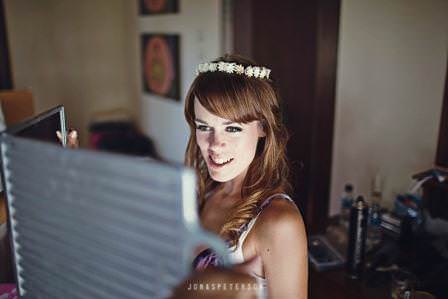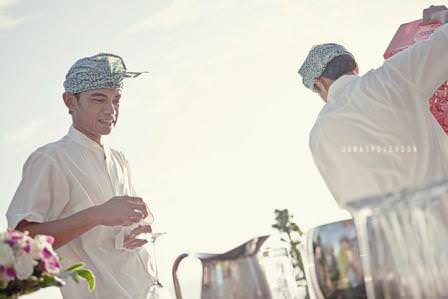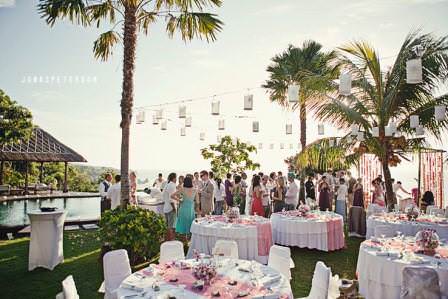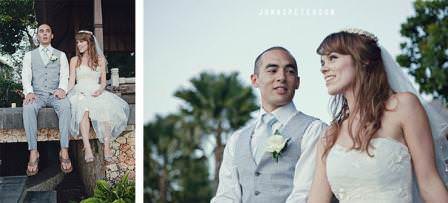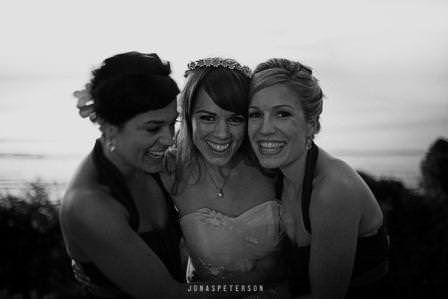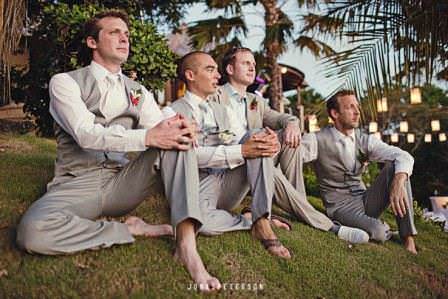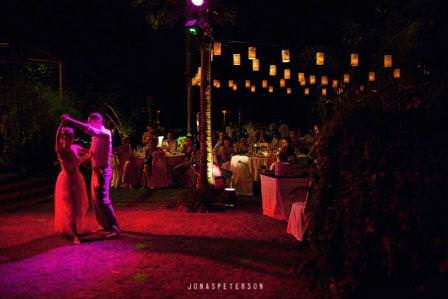 I'd like to say a HUGE thank you to Jonas Peterson for sharing this wedding with me, I am such a massive fan that it has given me great joy to feature his work. I'd also like to congratulate Matt and Angie on their wedding it was such a stunning day, I hope you have many years of happiness together.
for more information about his work go to:
www.jonaspeterson.com
Jonas on FACEBOOK