Merry Christmas Everyone! With just two more sleeps to go before the big day I thought I would share  some festive cocktail recipes with you. These Christmas cocktails can be used at home, with friends or at your Christmas wedding. As I know that not everyone wants to get drunk at this time of year and some of you may want a non alcoholic option, I have also added these in too. I do love a cocktail, I love the variety and the fun element it gives any celebration, so I hope you like this selection. Merry Christmas everyone, enjoy! xx
Raspberry Pomegranate Champagne Cocktail
Ingredients
1 pint raspberry sorbet
8 tablespoons pomegranate juice
4 tablespoons pomegranate seeds
chilled champagne (non-alcoholic option soda or spring water)
Instructions
STEP 1) Freeze your glasses until frosty.
STEP 2) Add 2 tablespoons of pomegranate juice to the bottom of each glass.
STEP 3) Add a few small scoops of the raspberry sorbet and 1 tablespoon of pomegranate seeds to each glass.
STEP4) Top with chilled champagne or soda/spring water
Cranberry & Rosemary White "Christmas" Sangria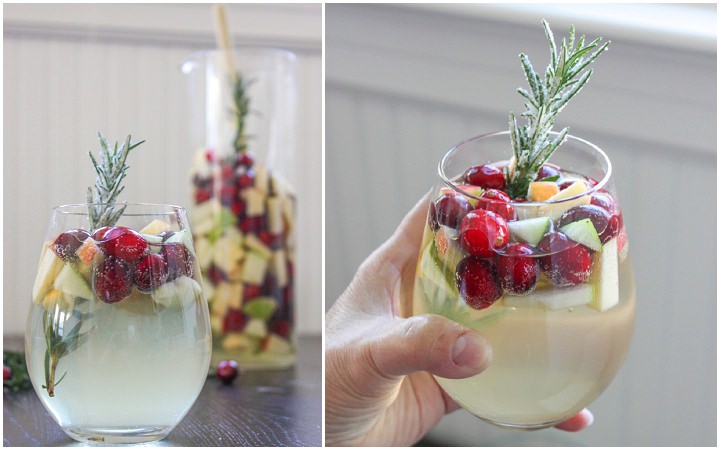 Ingredients
1 Granny Smith Apple
1 Braeburn Apple
1 heaping Cup Fresh Cranberries
1 large Sprig Rosemary
½ Cup White Grape Juice
¼ Cup Sugar (more, for garnish)
1 Can Club Soda
1 Bottle Pinot Grigio (non-alcoholic option white grape Shloer or ginger ale or apple juice)
Instructions
STEP 1)  You need to chop up the apples
STEP 2) Add the other fruit, apples, sugar and rosemary to a large pitcher
STEP 3) Add the wine or non-alcoholic option to the fruit and sugar mixture, stir thoroughly so all the ingredients are combined
STEP 4) Place the pitcher in the refrigerator to chill
STEP 5) While that chills, make the garnish. To do this, simple place about 1/2 cup of granulated sugar in a shallow bowl. Lightly wet the rosemary and then give it a good shake to remove any excess water. Then roll the sprigs in the sugar until they are coated as you please.
STEP 6) Once the pitcher has chilled for about an hour, it should be ready to serve.
Watermelon Lime Frosty (or Margarita)
Ingredients
3 cups watermelon, cubed and frozen
1 ripe banana, peeled and frozen
2 tablespoons agave nectar or maple syrup
Zest from 2 limes
Juice from 2 limes (about 4 tablespoons)
1/2 cup water
For margaritas: add 3-4 shots of silver tequila
Instructions
STEP 1) Blend all ingredients until smooth, adding more water as needed to keep the mixture moving.
STEP 2) For margaritas: add 3-4 shots of silver tequila
STEP 3) Sometimes add more watermelon than called for to thicken this up, or to make the drink appear more pink. This has to do with how juicy or bright your watermelon is to start with and the measurements provided in the recipe is a great place to start, but it's really easy to add watermelon for your own preferences.
Strawberry Smash Cocktail
Ingredients
1.5 oz vodka (leave out the vodka for the non-alcoholic version)
5 strawberries, leafy ends removed
5 fresh basil leaves
1 lemon (plus more for garnish)
drizzle honey
club soda
Instructions
STEP 1) In a mixing glass, thoroughly muddle strawberries with the basil.
STEP 2) Squeeze in the juice of one lemon and a drizzle of honey.
STEP 3) Swirl with vodka.
STEP 4) Fill a collins glass with ice and pour your mixture into the glass. Top it off with club soda.
STEP 5) Mix by pouring the drink back into your mixing glass, then back into your drinking glass. Garnish with lemon round and a strawberry.
(Recipe: www.cookieandkate.com)
Mulled wine cocktail or Mulled apple juice
Mulled Wine cocktail
Ingredients
100g/4oz light muscovado sugar
1 star anise
1 cinnamon stick
4 cloves
150ml water
1 lemon
2 clementines
150ml Cointreau
750ml/ 1¼pint bottle light red wine, such as Beaujolais
Twist of orange zest and a star anise, to serve
Instructions
STEP 1) Put 100g light muscovado sugar in a pan with 1 star anise, 1 cinnamon stick, 4 cloves and 150ml water. Bring slowly to the boil, stirring to dissolve the sugar.
STEP 2) Simmer for 2 mins, then pour into a large jug and leave to cool. Add 1 lemon and 2 clementines, both thinly sliced, to the jug along with 150ml Cointreau and a 750ml bottle light red wine, such as a Beaujolais. Stir well, then cover and chill for at least 2 hrs or overnight if you can.
STEP 3) Serve chilled or over ice, with a twist of orange zest and a star anise. If you'd like to serve a traditional warm mulled wine, there's no need to chill – simply warm through without boiling and serve in heatproof glasses.
Mulled Apple Juice
Ingredients
1l apple juice
strips of orange peel
1 cinnamon stick, plus extra to garnish, if you like
3 cloves
sugar or honey, to taste
Instructions
STEP 1) Simmer the apple juice with the strips of orange peel, cinnamon stick and cloves for about 5-10 mins until all the flavours have infused. Sweeten to taste.
STEP 2) Serve each drink with a little orange peel and a piece of cinnamon stick, if you like.
So which is your favourite? will be trying any of these out over the Christmas period? they could also work for weddings! If you have any other ideas or recipes then do feel free to share them. 
Merry Christmas
Big Boho Love
Kelly xx