I am finishing off this rather cold wintry week with a simply stunning wedding, all the way from Oklahoma. Bringing with it some much need sunshine, this US wedding mixes a little bit of Southern country with a little bit of English charm, as the bride Nicole is from the US, while Jamie the groom is from the UK. Both met and now live in the UK, but Nicole felt it was important to get married in her home town of Oklahoma. Mixing vintage with boho this outdoor wedding is just beautiful, filled with so many pretty details, and homemade touches, Nicole has done a fantastic job of pulling off such a gorgeous wedding from such a long distance away, and all for under $8,000! This wedding is everything that I love, even the pet dog got in on the love during the ceremony. Big thanks to Blue Elephant Photography for the amazing images. Happy Friday everyone!
'Absolutely amazing! I remember turning the corner and thinking it all looked like a film set – which is saying something as I work in the film industry. It was stunning, and it was all from the hard work of our loved ones.'
Nicole and Jamie were married on the 26th June at Little Red's Farm at Glory Acres, Yale (just outside Stillwater) Oklahoma, U.S.A. 'This is my sister's farm. We got married in her field and the reception was held in her back yard. I've been living in the UK for 10 years now, but I knew it was important to be back home for our wedding. I spent my summers as a kid in the Oklahoma countryside and it always takes me back. I really wanted to share small town America with our British friends and family so we had 50 guests. We had about a year between our engagement and our wedding day but living so far away made it difficult to plan the wedding in bite sizes throughout the year. Instead, I spent about 2 weeks over Christmas making all the initial plans and then arrived 10 days before the wedding for a mad wedding marathon.'
How they met
Jamie and I met in 2005 at a student bar at Kings College, London. Neither of us were students there. He had just graduated from Newcastle University (he's British) and I was in the UK on a scholarship for a year. We both remember the moment we saw each other and we've been together ever since.
The proposal
We were sat in the pub on a Sunday afternoon and I said to Jamie, "You know, I want to marry you." And he said, "Well, let's get married then". 3 months later we had our engagement party at the very same pub, and my little sisters had flown over to surprise me. Little did I know that Jamie was going to get on one knee and give me my great grandmother's ring. It had been given to her as an engagement ring by her great aunt and been in the family since 1880. It was a really amazing moment and I'm glad my sisters were there for it. Low key, but that's just us.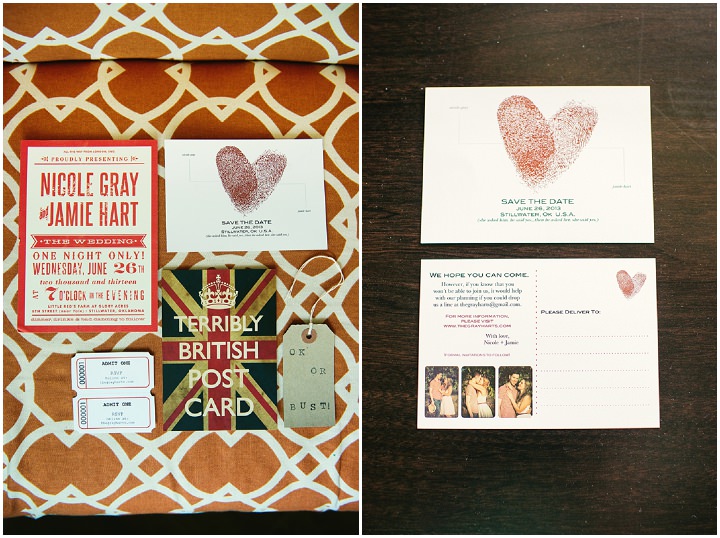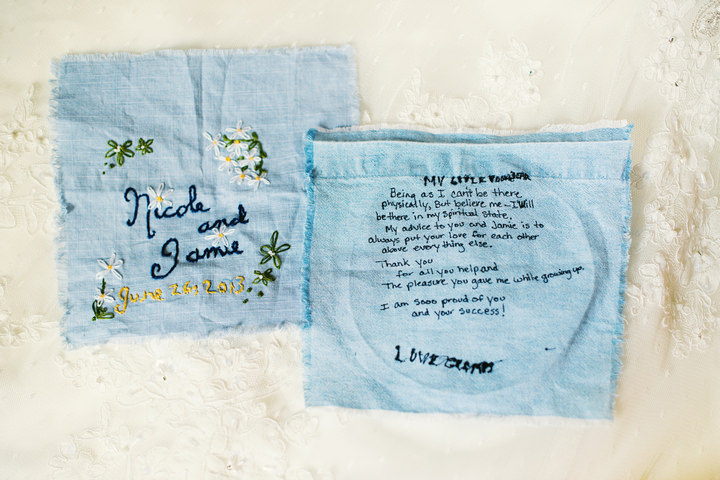 How did you allocate your budget?
We had a really small budget, but that just kept us being creative. We had £3,000 so about $5,000 – though I'm pretty sure that my family's help here and there it was about $8,000 in the end.
Why did you choose your photographer?
Well, Blue Elephant Photography are known as the best wedding photographers in the area, but I was lucky enough to know Kristine through my sister. I was already familiar with their style and once we met, I know it was going to be a great collaboration. I'm not a traditional bride and didn't want the traditional posed photos. I knew that they were a team that they would be comfortable thinking outside the box and would enjoy being challenged creatively. Plus, as I was planning a wedding from overseas, Kristine was helpful at sending me local contacts and blogs for inspiration. She really made things so easy for me. My mother gifted the photography fees for us, saying she thought it was the most important thing, being able to have beautiful memories of the day. She was so right!
The dress
I was really surprised when I found my dress at Alfred Angelo. I usually avoid chains, but with it being a small town and gave it a try and found the one (and saved 50% of my budget!). I did little things to customise it – like taking out the panels to make it backless. My shoes were blue denim sling-backs but Guess. I wore two turquoise necklaces, a nod to my Native American heritage. (I know I don't look it but my Great-Grandma is Pawnee Indian). One strand was from tribe and the other was my something borrowed from my great aunt. My ring was made by my grandma's brother and was a gift from her. My bracelet was new and designed by Lucky Jeans.
The suit and bridesmaids
Jamie is a sharp dresser, so I left him to decide what he and the guys would wear. I had very little input as I knew they'd all look good in whatever Jamie had in mind. It was important to Jamie to wear something by an English designer, but he had a hard time deciding on what to wear. After going through about 5 different options from January to June, he landed on this Blue Cotton suit from Reiss. It really stood out in the pictures and the cotton was a good decision in the 100 degree Oklahoma heat…even if he bought it 2 days before he flew out! My wedding party was made up of my sisters and I told them they could wear whatever they wanted. I didn't have wedding colors and didn't care to have a matchy-matchy wedding. To my surprise, they all picked out the same orange silk dress! How often do sisters ever agree on the same thing? The youngers picked a halter dress with pockets and my older sister went for a sexier straight cut dress. They looked beautiful and the color worked great outdoors.

Theme or colour scheme
I really wanted the outdoor setting to stand out so I kept things bright and cheerful. My style is a little vintage/a little boho so I just kept things simple. The flowers were all wildflowers that are indigenous to the area. The jam was homemade and from handpicked fruit from Oklahoma (like blackberries and sand plum).
Decoration
We used jam jars for EVERYTHING! Lanterns, flower containers, drinking glasses, you name it! We also used rustic and vintage pieces wherever we could. We had a tin pale full of shelled peanuts. Clocks were placed around the place, all set to times that represented an important date in our relationship. For example we met on April 16th, so the clock read 4:16. My mom also made all the bunting (which was another English touch). I swear she must have made a mile of it!
Flowers
Again, I wanted it to be bright and native to Oklahoma. I wanted the flowers to feel relaxed and hand picked. We had a few Dahlias and Sunflowers, Zinnas, Stocks, Hypericum Berries, Wax flowers, Vikings, Monte Cristo, Daisies, Snapdragons, Salidago, Queen Anne's Lace, and Cotton Blooms. My grandpa used to work with Cotton plants so it reminded me of him and my summers in Oklahoma. It can be hard to find but I'm glad we had some. I asked the florist to make our bouquets, headpieces and the boutonnieres.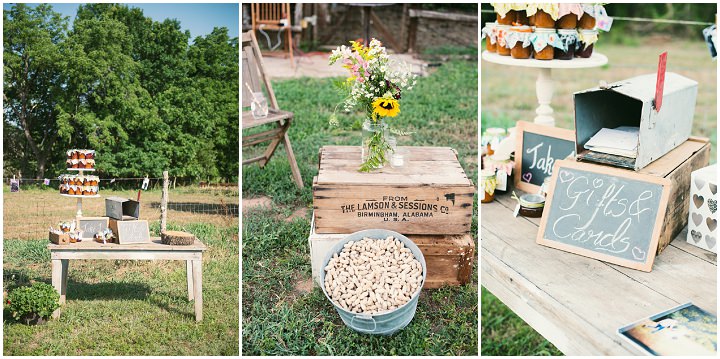 Food
BBQ! And it was so good. I loved that we put in the BBQ sauce in a tea pot – a little Southern/a little British! Plus all the trimmings. We did a kinda informal cocktail hour while we were having our pictures taken. My aunt made 3 different cheese balls for every table, plus spiced pecans from Grandma's tree. We served Pimms to bring a little of the English summer to Oklahoma. Jamie's request and planning contribution was the wheel barrow full of American craft beer, a lot that was brewed locally in Tulsa, OK. For dessert, we had a beautiful cake by Cake Crazy. American cakes are very different from English cakes, mainly in their crazy flavour combination. Our wedding cake was a white cake with buttercream frosting called "Plain Jane" but I also wanted the guest to have other fun flavors to try. We had mini cupcakes and cake balls in Red Velvet, Peanut Butter Cup, Triple Chocolate, Strawberry with White Chocolate, Orange and Margarita.
Entertainment
A mechanical bull! It was a gift from my aunt who couldn't wait to see the Brits have a go on it! We also had a snow cone and popcorn machine in the outdoor cinema area. Jamie and I met on the dance floor and love a chance to cut a rug. We (with the help of the best men and some ice-cold beers) built a dance floor out of pallets and plyboard. We asked our guests to send us tracks that meant something to them and created an ultimate playlist. It was one of my favourite memories from the night – the lights strung across the dance floor singing "Black Betty" with my sister.
Personal or handmade touches
There were LOADS – and I do think that's the great thing about a DIY wedding. As you're doing everything yourself, it allows you to have more time to think of how you'd like to include the personal touches.
• There was a single rose at the back of my floral headpiece. This was from a rose bush my grandma planted the day I was born.
• My grandpa passed away a few months before the wedding. We were really close and I was touched with ways that my Mom and sisters included him. Everyone remembers him in his denim work shirts. Mom made each of us a strand with braided stands of one of shirts and added beads and his initial to it. My sisters wore theirs as bracelets and I wrapped mine around my bouquet. Grandma also printed and laminated a small photo of grandpa and placed it in my shoe so grandpa could walk down the aisle with me. The most touching was a letter that grandpa had written for me to read on my wedding before he died. My aunt wrote it on a square of his shirt and pinned it into my petticoat. There were lots of little ways that he was there and it really helped to make it feel like a celebration.
• All the flowers at the alter come from grandma's backyard.
• The centrepiece was placed in an old ice cream bucket – this was a nod to grandpa who made the best homemade ice cream every 4th of July.
• Music is a big part of our relationship so instead of reserving the key songs to Procession (Cat Stevens The Wind and Bright Eyes "First Day of My Life" – it was a LONG aisle) and First Dance (The Ravonettes "Be My Baby") we played the short listed music before the ceremony and after while we were doing the family photographs. It just made it all last longer and all the special songs made it into the ceremony.
• Jamie and I ate off my great grandma's wedding china. I would have loved to have used all of it but it was small place setting and grandma would have killed me if anything broke!
•We had photographic bunting across the dessert table – pictures from the past 100 years of couples for all sides of the family.
• I took out the 'Alfred Angelo' labelled ribbon in my train and replaced it with some lace ribbon from my great grandma's sewing box. Was much prettier on the dance floor and a simple way to customise a dress bought from a chain.
• Oh yeah, we had red Solo cups not because we're cheap – but because the Brits always saw them in teen films and thought they were quintessentially American. I loved that!
• Jamie gave his best men western belt buckles to mark the day. When my aunt heard about this, she bought Jamie one. I loved that when I first saw them at the alter, they were all wearing them. I thought they looked great!
• The mustang belongs to my sister. I loved that she decorated it with the traditional "Just Married" trimmings
Special moments
In the absence of my grandma, I was walked down the aisle by the 3 women who raised me. My aunt walked me from the house to the aisle where she handed me over to my mom. My mom walked me down the aisle and handed me to grandma who handed me over to Jamie. Not being traditional, I would have walked myself, but it really meant so much to share that with my "3 Moms".
My sister also wrote some touching prose that she read during the ceremony. She got choked up half way through and there wasn't a dry eye in the crowd!
Also, we had asked my mom to do a reading that really didn't mean anything to us, but knew it would make the family happy. Mom was the first called up to the alter. She said, "Well, I was asked to do a reading, but I seem to have misplaced it!" Then, she spoke from the heart and it was so touching – much better than the cliché reading we'd given to her!
Biggest surprise
Definitely when my sister's labrador crashed the ceremony! Half way through Jamie's brother's reading, Maisie came wagging down the aisle, got right between us and looked at me, then looked up at Jamie. She gave her blessing by resting her head on Jamie's knee before trotting off again. I swear – you couldn't train a dog to do that if you wanted. It was surreal!
Advice for other couples
Find a way to make the planning process fun. It can easily get stressful and make what should be a great celebration of you and your partner a chore. I'd also say to stay true to the vision you and your partner have for the day. There will be many opinions and times when you'll want to please everyone – but this is one day that is all about you (and him) so make sure that you're having the day of your dreams…not anyone elses. It was by staying relaxed and calm that I was really able to enjoy it! I kept telling myself I can't control everything and that some of my ideas will have to go…and it ended up being better than I could imagine. And honestly, some of the best moments were the spontaneous, uncontrollable, or just plain mistakes – its what made it real.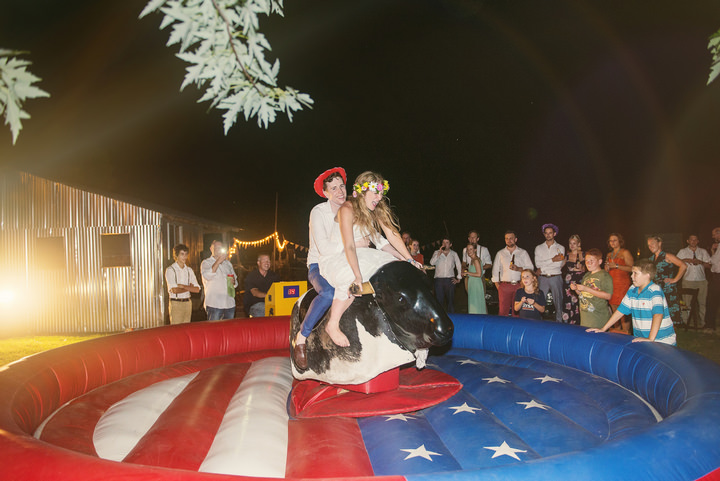 Supplier Shout Outs:
For more information on Blue Elephant Photography go to
blueelephantphotography.com
www.blueelephantphotography.com/blog/
FACEBOOK
@bluely