Happy Monday everyone! I hope you all had a good weekend? It may be cold, wet and a  bit grey outside but I am starting the week by taking you on a little trip to Greece; Cephalonia to be exact! You will remember Carys and Aaron, as Carys is one of my Boho brides, she has been sharing her wedding planning story with us for the past year. In September Carys and Aaron were married in their fairytale destination and today Carys is here to tell us all about her fabulous day!
'Our wedding was like the most beautiful Greek fairytale. Standing outside the perfect little chapel saying our vows surrounded by our loved ones we truly felt like the luckiest Mr and Mrs in the world.'
Carys and Aaron were married on 5th September. 'Our ceremony was at the beautiful little 15th century chapel of the Virgin Mary in the village of Assos, Cephalonia, Greece. The reception that followed was at Odysseas' Taverna on Saint Jerusalem Beach, Cephalonia – without doubt the best Greek taverna on the whole island.
Since we started dating in 2003 we have both fallen in love with Greece and we spend every summer travelling around the beautiful country exploring new places. After Aaron proposed to me whilst on holiday in the Peloponnese last year, we knew that we wanted to get married where our hearts belong – in Greece. We have many favourite places dotted around the mainland and the islands but we decided to get married on Cephalonia because it was the first island that we travelled to together in 2004, after I had read Captain Corelli's Mandolin and realised how much I wanted to see this incredible island. It was on Cephalonia that our love affair with Greece began. It would not have felt right to get married anywhere but Greece!
We had 26 amazing family and friends join us in Cephalonia for a very special week of celebrations.It took us around 12 months with plenty of breaks away from the planning during that time which I think kept us sane! We could not have planned any of it without our amazing wedding planner Rachael Antonatos and her team at Cephalonia Concierge; a wedding events company based on the island with expert local knowledge and experience of some of the most beautiful weddings held on Cephalonia. Rachael helped to make all of our ideas, dreams and wishes for the day a reality.'
How they met
Aaron and I met in 2003 after Aaron's sister Kirsty, who was my colleague at the time, introduced us on a night out at a local pub. I was instantly attracted to his dazzling blue eyes and beautiful smile. Encouraged by both Aaron and I, Kirsty aka cupid, started to arrange a couple more nights out after that and we were dating within a few weeks. Ten years later and we have finally tied the knot with cupid herself Kirsty as one of our beautiful bridesmaids.
The proposal
Two words describe the proposal – total shock! Aaron had been working away in Dubai for a while and so he had arranged a trip to the Peloponnese as a treat when he had finished his contract for us to spend some quality time together. After a couple of days exploring this stunning part of Greece we discovered the most incredible byzantine fortress in the village of Methoni where Aaron suggested we return to later in the week to watch the sunset. A few lovely days went by before we drove to Methoni one evening to watch the sun go down. Sat on a little wooden jetty listening to the boats bobbing on the Ionian and taking in the view Aaron suddenly got down on one knee to my complete shock and amazement! It was the most wonderful of moments. After much hugging, kissing, crying and phone calls back home we went to the village square for a meal. As we sat down the waiter handed us our menus and on the cover of the menu was printed the following quote 'You cannot discover new oceans unless you have the courage to lose sight of the shore'…I will never forget reading that. After ten years of great times and some really tough times, it seemed fitting to read that quote that night on the cusp of a new chapter in our lives together.
How did you allocate your budget
We decided on the maximum amount we wanted to spend on our wedding day with some money reserved for a UK celebration party on our return. We didn't break our budget down into separate components. We knew that food and drink would be a priority with our budget as Greek cuisine is such a big part of our passion about Greece and we wanted to have the very best food and drink for our guests, many of whom had never travelled to Greece before. We kept our travel costs separate to our wedding budget.
Why did you choose your photographer
With many artistic friends and good photographers amongst our guests initially we were not sure if we would have a professional photographer. However the more we thought about it, the more we realised that we wanted our guests to be able to relax and enjoy the wedding, and with us travelling away to get married it was really important to have beautiful photographs to share with family and friends who couldn't make the trip on our return. Our wedding planner Rachael had worked a lot with the wonderful Vasilis Loukatos over the years and when we looked around at other photography options and packages we realised that Vasilis was definitely the best. Vasilis' local knowledge of the island and the locations was key to our beautiful photographs.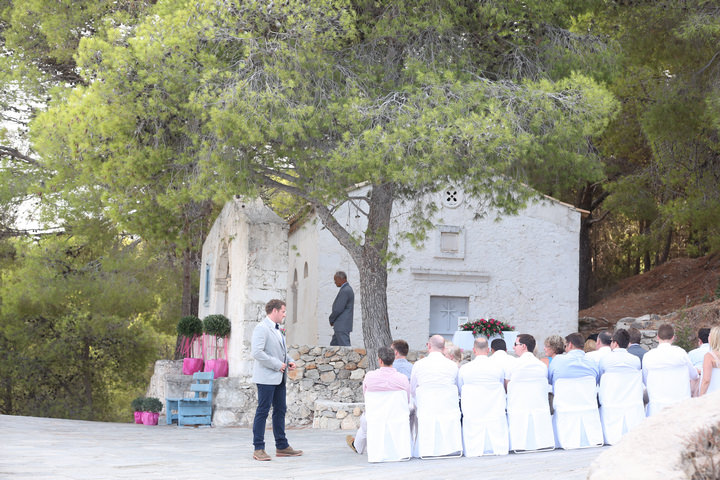 The dress
My dress was the 'Devesa' Grecian dress by Pronovias which I fell in love with the minute I saw it on the mannequin in the bridal shop. It was so comfortable and light to wear on the day. I wore the 'Cooper' headband by Flo and Percy as I loved the simple Grecian style. My fuchsia pink shoes were my something old; they are my favourite pair of shoes from Oasis which I have worn and worn over the years so I knew that they would be comfortable! For my jewellery I decided that I wanted to wear something from home so my earrings and bracelet were by Carrie Elspeth, a local Welsh jewellery designer. My beautiful clutch bag was from Coast.
The suit
Aaron looked very handsome in a nautical blazer and shirt from Ted Baker. His navy trousers were by Ralph Lauren with beautiful brogues by Loake shoemakers. He completed his look with a Savile Row bow tie.My beautiful bridesmaids Catie and Kirsty were my something blue. They looked very Grecian in sapphire maxi dresses with embellished detail by Red Herring and wedges from Dorothy Perkins. My flowergirl Catya wore a beautiful white and royal blue summer dress from John Lewis and white leather gladiator sandals from Monsoon. Catie and Kirsty looked like Grecian goddesses thanks to Amanda Theodoratou of Kefalonia Wedding Hair who gave us all the most amazing braided hairstyles.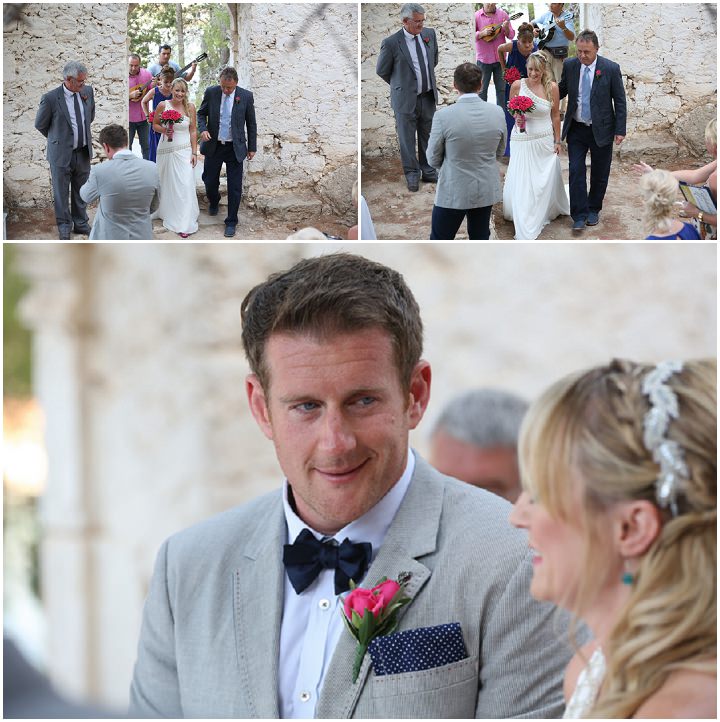 Theme or colour scheme
The theme for our day was authentic Greece so when we were planning I kept picturing the traditional white washed houses with blue wooden doors and fuchsia pink bougainvillea growing outside – blue, white and pink were therefore our main colours. Olives are obviously a huge feature in Greek life and culture so our floral bouquets and buttonholes were wrapped with olive leaves and we had olive planters placed outside the chapel.
Decoration
With scenery like we had in Cephalonia we wanted to keep decoration simple in order to appreciate the stunning views during all elements of our wedding. At the chapel we had simple white covered chairs for our guests, olive planters at the entrance to the chapel and a beautiful ceremony table with a large candle surrounded by pink roses and olive leaves as our table decoration. At the taverna we kept it very traditional, with a long table under the beautiful fig tree facing out towards the Ionian Sea. The fig tree was a real feature and so we hung wooden hearts, pom-poms and lanterns from the branches. Rather than white linen we decided to have the traditional blue and white taverna tablecloth with lanterns and fuchsia bougainvillea along the length of the table. At the taverna there was a beautiful canopied area under the vine leaves where we hung lots of bunting and danced the night away! Bliss.
Flowers
We had fuchsia pink roses wrapped in olive leaves. A local florist on the island made our bouquets and buttonholes and this was all arranged through our wedding planner Rachael who took care of it all for us.
Food
Following the ceremony we had peach Bellini's and canapés served outside the chapel whilst we overlooked the beautiful harbour of Assos before we went to our sunset reception on Saint Jerusalem beach where we tucked in to a traditional Greek banquet at Odysseas' Taverna. At the taverna we enjoyed homemade stuffed feta and olive bread, tzatziki, spinach and feta cheese pies, stuffed vine leaves, whitebait and Greek salad, before moving on to traditional spit roast lamb with lemon and herb potatoes for the main. There was just enough room left for fresh fruit platters and wedding cake.
Wedding cake
In Greek weddings the first taste of marriage must be sweet so as soon as we got to the taverna we had to cut the cake and enjoy a generous slice! We wanted to keep the cake very simple and light with the summer heat so we had a two tiered victoria sponge cake filled with buttercream and raspberry jam and decorated with pink roses and olive leaves. It was beautiful…there wasn't a single slice left!
Entertainment
At the ceremony we had the most amazing traditional mandolin band. Their wonderful music kept our guests entertained until I arrived when they then walked behind me up the winding hill to the chapel so that my guests could hear us coming before they could see us. After the ceremony the mandolin band played and sang traditional Greek songs for our guests whilst we had photographs taken and enjoyed champagne and canapés. At Odysseas' taverna we had a local legend DJ Thomas play all night; with a mixture of traditional songs, our playlist and a lesson in Greek dancing thrown in once the ouzo was flowing he helped to make the night truly unforgettable.
Buy or DIY your Stationery?
In keeping with the travel theme we had beautiful bespoke passport wedding invitations made by Ditsy Chic. I made luggage tags for all of our wedding guests along with handmade Cephalonia travel booklets containing top tips of places to visit on the island and a little lesson in Greek!
Personal and handmade touches
We had lots of little personal touches throughout the day from a special reading by my best friend Catie during the service from the book that started the love affair with Greece, to our personalised playlist at the taverna. Amongst our favourite personal touches were:
• Our handmade Order of Service paddle fans for all of our guests to keep cool during the ceremony with individual silver anchor charms and our favourite poem 'Ithaca' by the Greek poet Cavafy printed on the back.
• A wooden 'Here Comes The Bride' sign painted to match our wedding colours, which our flowergirl Catya did a brilliant job of holding up for everyone to see as we walked towards my groom.
• Hand painted pebbles from the beach as place settings. It's been really lovely seeing these pebbles in our wedding guests' houses as a little memento since we returned home.
• Sugared almonds are a traditional wedding favour in Greece so Rachael and her team had them wrapped in fisherman's net and tied with shells, which made for a really lovely nautical treat at the table for our guests.
• Wooden hearts on the table with the Welsh word 'cwtch' painted on which means cuddle!
• We used local postcards purchased on the island in the days before the wedding as cards for our guests to leave us messages.
• A mini bottle of Ouzo was waiting at the taverna for all of our guests (the bride's drink of choice!) to toast to the day.
• We had personalised 'Carys & Aaron' bunting hanging amongst the vines at the taverna.
Special moments
There are so many special moments from our day but three stand out for us. For me in particular, despite it being a very nervous drive from the hotel to the church along the winding coast road, it was a very special moment to be in the bridal car with both my Mum and my Dad; the three of us in Greece together for the first time.
A very emotional moment for me was when I arrived in the village. The path to the chapel is long and winding and so as I started to walk with my Dad and my bridesmaids with the mandolin band playing I could not see the chapel or our guests. I will never forget that moment when we turned the corner and they came into view…I could see Aaron stood there waiting at the chapel with the sound of the mandolin behind me playing 'Pelagia's Song' from Captain Corelli's Mandolin. It was a breathtaking moment that had both Aaron and I in tears. It truly was so special.
The other special highlight for Aaron and I was the approach to the taverna for our reception. We had gone for photographs on a private beach whilst our guests had been arriving and settling in at the taverna. When we arrived at the gates to the taverna and we got out of the car we could see our guests all stood around the beautiful long table under the fig tree smiling and clapping as we walked towards them. It brings a lump to my throat just picturing that moment again. We both squeezed each other's hand and grinned from ear to ear, we just could not believe how truly perfect it looked and could not wait for the party ahead!
Biggest surprise 
Other than the large scolopendra running up Aaron's leg at our reception much to the horror of his friends stood around him, I think the biggest surprise of the day was just how perfectly it met our expectations. It was exactly what we had dreamt of all along. It was so relaxed and effortless. From the stunning simplicity of the chapel to the big fat Greek party at the taverna – we kept looking at each other and saying 'we've really done this!' And we would do it all again tomorrow if we could.
Since we have returned home we have been so surprised and overwhelmed by the number of our guests who have fallen head over heels in love with Greece and are already planning their trips back to Cephalonia next year. That means the world to us.
Advice for other couples
• Do what you love to do on your wedding day – nothing else matters.
• If you get married somewhere that means something special to you both you will instantly feel happy and at ease, no matter what the day may throw at you.
• If you are getting married abroad make sure you delegate; you really won't have time to be a holiday co-ordinator/tour guide for your guests as well as a wedding planner/nervous bride to be!!
• Everyone said to me before the day that I must make the most of every minute and they were so right – I have never ever known a day to go so quickly, it was as if the day was on fast forward and all I wanted to do was keep rewinding so that I could enjoy it all over again!
• So your big moment has arrived, all those weeks and months of dreaming and planning and now it is here – Take a deep breath and RELAX!! I really wish I could have reminded myself to do this as in so many of our photographs at the chapel I'm looking really, really nervous!
• If you have specific ideas in mind of what photographs you want make sure you give your photographer this information before the big day; on the day itself you will forget all this. Our ceremony was at 5.30pm and so time was really against us with the light and I completely forgot to ask for all those shots that I'd been picturing because I was so caught up in the moment.
• Take time to step back briefly together throughout the day and appreciate all that you see. It is your day; you have made this happen.
• Finally, make sure you have something relaxing and stress-free planned for the next day! When we woke up the next morning we were absolutely exhausted after months of planning, the build up to the wedding and the excitement of day itself – we went for breakfast at our hotel, said goodbye to all of our guests and drove to a beautiful remote beach where we just slept all day! It was exactly what we needed.
Supplier Shout Outs