One of the things I love about wedding blogging is sharing all different types of weddings, not only BIG fancy weddings with a ton of details, but DIY weddings that have a load of personality injected into them. I also love showing you weddings with smaller budgets, proving that you don't have to spend a fortune to have a magical day. Today's wedding is one of those, and came in under budget at $5,000 thanks to the couples' amazingly generous family and friends. This wedding has so many amazing features, a super fun and laid back bride and groom to start with who really throw themselves into the wedding celebration (see the limbo loving bride!), popcorn and candyfloss, a rainbow colour scheme, a tug-of-war and a DeLorean (as in Back to the Future). Big thanks to Kristi the bride for sending in her amazing wedding, all the way from New Jersey (I love all my international readers) and thanks to Jon Stars for the images.
'The theme of our wedding was "have fun", and we had so much fun. Our friends and family enjoyed a casual ceremony and family reunion style reception.'
Kristi  and Josh who were married on 9th June at Malaga Camp Meeting in New Jersey with the reception at Parvin State Park. 'My (Kristi) family has gone to Malaga in the summer for generations. The state park is nearby and was perfect for the laid-back, family reunion feel we were aiming for. The land in the state park was formerly owned by my great-great-great-great-great-great grandfather. We had 200 gusts and it took 10 months to plan.'
How they met
We met in 2008 at our first college dance. We dated through college, and got married the June after I graduated.
The proposal
It was raining, and I didn't think I was going to get engaged anytime soon. Josh had convinced me that he was not going to propose, probably for at least three more months.
I saw him only once every few months, so I was disappointed when the first words out of his mouth when he arrived on campus were "Lets go for a walk!"
It was raining, and cold, but I agreed. We walked for a few minutes, and at our special spot on campus, he handed me the leftovers of a roll of receipt paper. Since it was rolled up, I couldn't skip to the end, but when I got there, he was down on one knee, and asked me to marry him.
It stopped raining just in time for Josh to put the umbrella down and put his great-grandmother's engagement ring on my finger.
How did you allocate your budget?
We had a $5,500 budget but came in under $5000 thanks to the creativity of many loved ones who generously gave of their time and talent to make our big day possible.  Our main expense was food.
Why did you choose your photographer
Pictures are the main way we will be able to remember this important day – it was important to me to have a good photographer, and fortunately, Jon Stars is a dear friend of mine and the most talented photographer I know. I knew he would capture the joyful mood and fun action of the day, and he did.
The dress
I was a bit non-traditional in my wedding dress. I wanted a summery, boho dress and found a sundress on eBay for $15. It was beautiful by itself, but my talented sister-in-law, Amanda, made it all the more meaningful and beautiful by adding lace and other details to the top from her own wedding dress. I wore my mother's veil, and silver flip flops.
The suit?
Josh found his vest on eBay, bought some pants from H&M, and the bridesmaids wore sundresses from fashionjunkee.com
Food
Barbeque and fried chicken, fruit, dinner rolls, and other picnic food. We had desserts such as donuts and wedding cake from my parents' bakery, and other fun treats like cotton candy and popcorn.
Wedding cake
My dad (a third-generation bakery-owner) stayed up nearly all night perfecting my wedding cake. He had never designed a cake with a tree on it, but he knew that's what I had my heart set on. It came out perfectly too.
Entertainment
Corn hole, limbo, moon bounce (I didn't dream of my wedding day much as a little girl, but I had always wanted to have a moon bounce at the reception!), dancing, playground, frisbee, bubbles, soccer, hula hoops, jump ropes, table games
Theme or colour scheme 
I couldn't pick one colour, so my uncle suggested using a bunch of bright colours. The bridesmaids picked their favourite colours and our bright colour scheme ended up adding perfectly to the day's happy, laid-back mood.
Flowers
My sister-in-law Amanda ordered the flowers from the grocery store and arranged them herself. I wanted a wildflower look so she used asters, gerbera daisies, sunflowers, carnations, lizianthus, and baby's breath
Did you buy or DIY your Stationery
Everything was designed by my brother David at www.dwehaus.com.
Personal / handmade Touches and Decoration
My brother David of www.dwehaus.com  did all of our artwork. He designed the programs which we assembled into fans, buttons for all of the
We made centerpieces out of baskets that held sugar cookie favors from my parents' bakery
My sister-in-law Amanda designed and created the wedding dress and flower girl dress.  The flower girl's dress was gypsy wedding inspired, containing over 20 yards of fabric! It cost more than my wedding dress
Josh's sister Cat made a tie for her son, the ring bearer
Josh's sister Jen made the ring bearer's pillow
Our friends ran the DIY photobooth, videotaped the ceremony, worked shifts at the cotton candy and popcorn machines, and DJed the reception with my brother Rich
A team of loving friends worked for hours to decorate the reception site. They tied twine between trees and hung a photo from each year of our lives to create a timeline, ending with photos of us together once our lives joined.
I made all of the feather boutonnieres.
The matron-of-honor and I created bunting that hung in the reception pavilions. We also made twine lanterns which were hung from trees to frame the pine needle dance floor.
I walked behind a streamer banner to remain out of view as the wedding party entered the ceremony site.
My brothers and I made a wood direction sign for the reception site
Josh and I rode in my parents' DeLorean (As in Back to the Future) after the ceremony
We had a camp meeting hymn sing in lieu of a traditional prelude. Friends and family led the guests in singing as a quartet with piano, organ, and four-string banjo.
We wrote our own vows
The cake toppers were wooden love birds, and a wooden birdhouse sat nearby with the name of our college on it
We had photos of our parents' and grandparents' weddings on the table with our wedding cake
We did not have assigned seating – we wanted our guests to enjoy our games, and enjoy spending time with each other, since many of them had not seen each other in years. Many reported to us later that they had so much fun spending time with loved ones that day.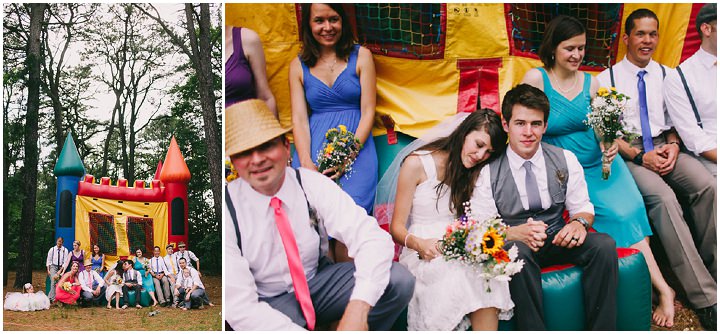 Special moments
I was so nervous walking down the aisle. My mom later said she could see my bouquet shaking. As soon as my dad gave me away, I couldn't resist but to give Josh a big hug. Our wedding guests chuckled, and my nerves completely melted away.
We felt so blessed to have beautiful weather for our outdoor reception, and we loved seeing so many friends and family members gather in one place.
Josh is half-Paraguayan, and did a beautiful, traditional dance with his mom for the mother-son dance.
I owned everyone in limbo, in my wedding dress.
My side also won tug-of-war.
Advice for other couples
Don't do anything just because that's "the way everyone does it." That's just good advice in general, I suppose, but it certainly applies to wedding planning. Deciding what to have in your wedding is only half the battle. Will you purposefully exclude anything?
Develop a wedding philosophy or set of goals before you begin planning. This made decision-making much easier for us and helped us stay within our budget. We wanted to have as much fun as possible, bring glory to God, and honor our friends and family.  For example, when a decision arose, we could ask, "Will this make our wedding a better experience for our guests? Will it help us reach our wedding goals?" Usually answering those questions made the decision clear. Often the answer was "no" and that helped us stay under budget!
Planning a wedding really does take a village. That's the other way we were able to save so much on expenses. Feel free to ask friends and family for help.  They will likely be honored to help out.
I also organized wedding plans into written form that could be dispersed to those involved. Itinerary, decorating guide, ushering guide, etc. As things got busier and more stressful, I had less questions to answer because everyone could refer to their packets
Biggest surprise
I managed not to cry the entire day and then cried the entire hour drive to our honeymoon. (Poor Josh! What had he gotten himself into!?)  It was such an emotional and joyful day, and I finally had time to let it all sink in. The way all of our relatives and friends generously loved on us that day was so beautiful and overwhelming!
Supplier Shout Outs
So many people poured into this day, and we cannot thank them enough. It was a humbling but joyful experience.