Today I am delighted to be able to bring you the 2013 bridal gown collection from UK based wedding designer Stephanie Allin. I featured Stephine's work last September and at that time she ha been inspired by the Jazz age. This time she has taken a trip to Morocco and been influenced by what she found over there, which is where her new Collection Night and Day has stemmed from.
'Our latest collection has been inspired by the romance of beautiful Morocco.  Morocco is an oasis of variety and colours, from the beautiful tiled Riad courtyards, tapestry of the Mosques and the old palace ruins.  I really enjoyed incorporating the soft pinks, nudes, blues and golds into this years collection. Morocco is calm, inviting and pulsates traditional undertones much like our 2013 Night and Day collection.' 
A Few words from Stephanie………….
These days brides are aspiring more than ever to be unique.  This is sometimes easier said than done as ultimately, most girls still want the traditional elements of a wedding dress but with a modern twist.  This is the reason for me creating various pieces for brides to be able to change their look throughout the day including jewelled shrugs and detachable skirts.
I get my main inspiration from brides.  I love being in either of my shops and chatting with brides and finding out how they feel and what they want.  I also keep very up to date with fashion and this definitely filters through to my designs with the use of colours and shapes.
I strongly believe I have the best job in the world!  I knew I had to work towards my strengths and designing well made, luxurious clothing is what I am good at! Being a bridal designer brings you great joy because you're creating not just any dress but a dress the bride is going to treasure for the rest of her life.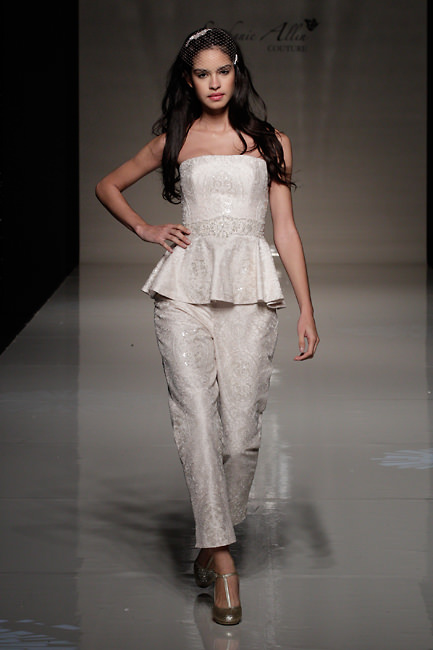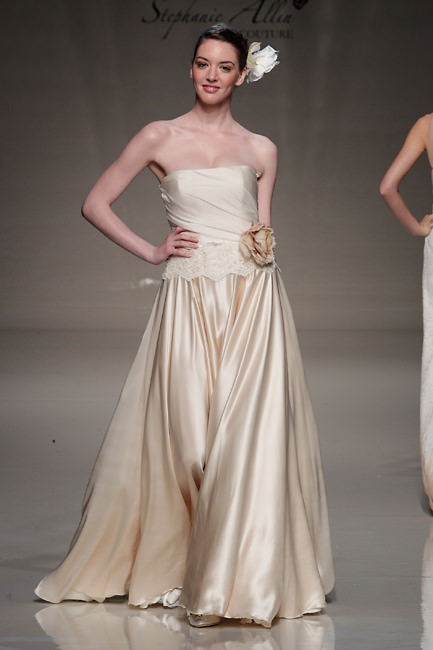 Fore more information go to
www.stephanieallin.net
[email protected]
FACEBOOK
TWITTER
A full list fo stockist can be found HERE
Photos from the White Gallery