I get sent so many California weddings and I have to admit I just love them! There is something about the sunshine in California that really makes a wedding special, that and the laid back vibe that a California wedding has! Today's wedding comes from California, and it's a real stunner! Fairlight and David were married on 10th November 2021 in Temecula and they held the most delightful fairy tale wedding you have seen. With a horse drawn carriage and the most amazing flowers, this wedding is quite something. The autumn theming really adds that extra element to the day, with cute pumpkins added to the stunning flowers for some gorgeous decoration. Ever After Photography was there to capture the day for us.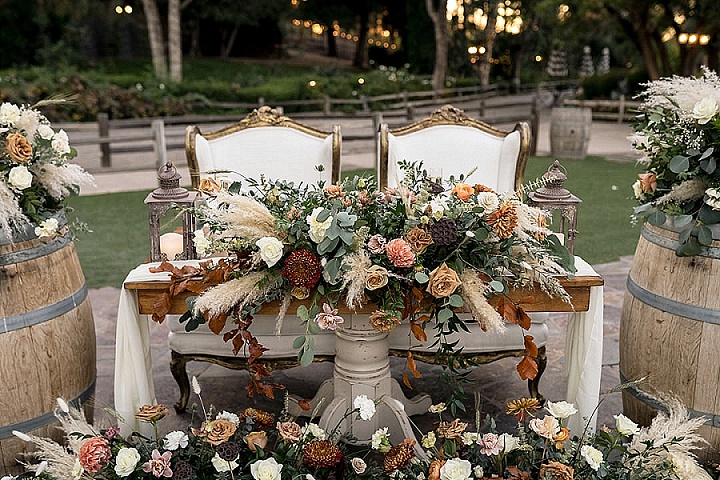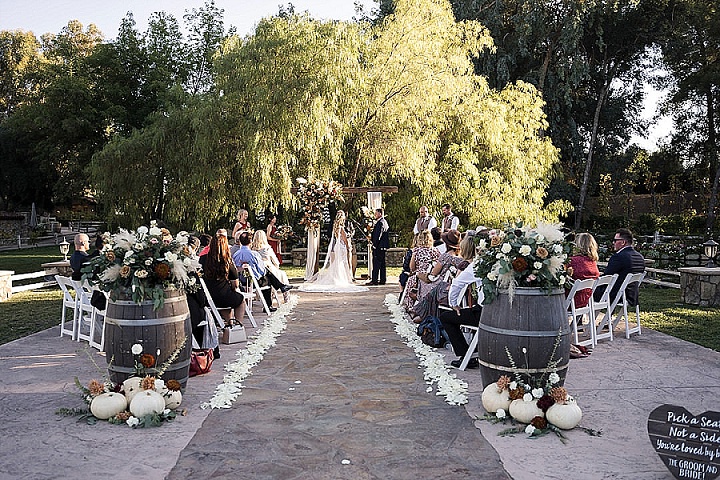 Nikolette from Ever After Designs tells us more
You could tell right away that Fairlight loved fairytales! Her wedding was straight out of a story book. Every detail seemed to be magical in some way. Pumpkin accents, dinosaur cake topper, cowboy boots.. Even fire on water during the reception! One of the many unique details that stood out to me the most were the paper roses sprinkled into her incredible bouquet. She had specifically chosen her favorite childhood stories to be made into roses. She made her grand entrance to the aisle in a beautiful carriage pulled by enchanting white horses. They even delighted their guests with the most memorable choreographed dance. Everything about this wedding screamed romance. Their love was inspiring, the details were elegant and the day was perfect!
How they met
Neither of us were looking for a relationship at the time. We both just happened to venture out to go watch a football game at a restaurant and struck up a conversation. We didn't even exchange numbers that night but happened to see each other at the same place a few nights later which we then decided to plan a date. From then on we quickly fell in love! Two years later, he planned a trip to Las Vegas to propose to me while on the gondolas at The Venetian. We didn't even realize there was an audience. It was amazing!
The Outfits
Choosing the fall season with the burnt orange and navy blue colors really made it easy to decide on our overall look. We knew we wanted everyone in the wedding party to wear boots. The guys wore boots with navy blue slacks, brown tweed vests and matching ties to the ladies who also wore boots with their rust colored dresses from Azazie. The groom looked dashing with his caiman boots and wore a navy blue jacket over his vest to be a little different from the groomsmen. Even though there was a little bit of a fairytale vibe to our wedding I didn't want to do a ballgown or princess look, however I did wear a tiara and opted for lots of lace with an Essense of Australia fit and flare dress. My fairy godmother seamstress even custom made me a cathedral length detachable cape from a veil. It was perfect!
Theme or colour scheme
We wanted an intimate fall wedding that was somewhat rustic with a fairy-tale twist. We met while watching a Denver Broncos football game so I based our wedding colours off of theirs…but burnt orange and navy blue with touches of gold. Since I'm a teacher who loves to read we had a slight literary theme with books. Our invitation was shaped like a fairy tale book with a bookmark as the RSVP insert.
Decoration
Our venue itself was gorgeous! It was a winery with a lake so it really gave us that rustic fairy-tale vibe. For the ceremony there was a large wooden "arch" that the florist decorated with two huge swags of fall flowers and sheer ivory drapery. She also added small clusters of white pumpkins at the beginning of the aisle and more fall flowers sitting on top of wine barrels. Being that the space was all outside and in a large area, the rows of chairs were placed at an angle (as opposed to straight horizontal rows) giving it a more intimate feel for the 50 guests. Instead of programs, I DIY'd a time line/schedule of the big events on a stained pallet. Everything from the ceremony site was then transferred to the reception site where another pallet was used for the seating chart. Each table had a lantern on top of a stack of vintage books along with gold votives. One of my favourite DIY projects was our signature drinks sign honouring our pups.
Flowers
The flowers were amazing! They were beyond my expectations! Originally I was only going to use fresh florals for the bouquets only, but I'm so glad we ended up doing more! I wanted fall flowers so had orange ranunculas, toffee roses, blue thistle, scabiosa as well as burgundy and bronze mums and orange dahlias in all of the arrangements. The groom was born in Nebraska so we had wheat and bunny ears as well as pampas grass and lotus pods. To tie in a little of the literary fairytale theme, the bouquets had paper flowers made out of book pages tucked in them. Clusters of white pumpkins topped off the formal fall look!
Personal Touches
Having a small wedding party with only two on each side and a guest list of 50 of our closest friends and family really made the entire day very personal for us and our guests. We had a lounge area with a couch in front of a waterfall with fire and as each table was excused to line up for the buffet they first came to the lounge area for a picture. This way, we got to greet and get a picture with every one of our guests without having to go around to tables. Other ways that we personalized our day was by having a friend marry us and we each wrote and said our own vows. Music played a big factor as we picked out so many meaningful songs as well as played guests' song requests that we asked for when they RSVP'd. We also personalized the day by incorporating some of our favourite things. I love to read so we had stacks of books for the table centrepieces and book page flowers from special stories inserted into the bouquets. He loves dinosaurs so we had copper bride and groom T-rexes as our cake topper, the Jurassic Park theme song when he walked down the aisle with his parents and we did a fake first look where his friend wore an inflatable dinosaur costume! We also personalized our day with our drinks. During the ceremony we did a wine unity where we blended a white and red wine to drink. For the reception we had two signature drinks named after our dogs and a sign with their pictures and since we like to drink tea we got tubes of tea leaves as our favours thanking everyone for celebrating our uni-tea!
Special moments
When we booked the gorgeous venue, we opted for a horse and carriage ride for the bridal entrance and our post ceremony exit. We kept it a surprise so it definitely made for a dramatic entrance and was very special to have for our first moments as Mr. and Mrs. We did a first look which was one of our most special moments of the day. It allowed us to have some time together and get emotional without people around. Then for the ceremony entrance I came around the lake in the horse and carriage accompanied by my son which was also a very special moment that brought a lot of tears to the guests. Another anticipated moment was our first dance as we choreographed a dance a few days before and only practiced a handful of times. It ended up being perfect and everyone loved our lifts. However, the last dance of the night was on the dock to the song, "Today Was a Fairytale" and it just summed up the entire perfect day!
Advice for other couples 
Due to the pandemic, we ended up having an extra year to plan our wedding so our total engagement was a little under two years. The extra time definitely did help with a lot of the details and costs. Also, having a small wedding party consisting of people who are truly there for you matters. Originally we were not planning on doing a First Look but due to the time change in the fall, we decided it was best for the sake of getting pictures. We would highly recommend doing this as it ended up being one of our favourite parts of the day!
Supplier Shout Outs
Ever After Photography