Happy Friday everyone! Am I glad its Friday! It's the end of term here in Sheffield so the Easter holidays start here! I'm excited for no school run for a couple of weeks and Easter themed day trips planned here and there. The 2nd week of the holiday we are off to Cornwall, which I am excited about! But enough of all that I have the most delightful wedding to share with you today. Preston Court, where today's wedding takes place, is quite possibly my favourite wedding venue in the UK. I've said it before and I really can't think of anywhere I like more! A beautiful area for an outdoor wedding, that is actually licenced! A big barn reception area with the most ornate decoration and it's own carousel! What's not to love!!! Tammy and David fell in love with Preston Court when they first went to view it and the rest is history. They held their stunning, colour filled, fun fair themed wedding and hired in Paul Fuller to capture the day for them and what  day it was! Full of fun, smiles and so much happiness.
A magical day filled with so much love and happiness. We were surrounded by all our friends and family having the most wonderful time in the sun in the beautiful Kent countryside.
Tammy and David were married on 10th September 2022, with the ceremony Preston Court in Kent. 'Preston Court was the only venue that we visited when we started to plan our wedding and we fell in love with it straight away. This beautiful location had so many different areas it allowed us to plan our day so that guests could move from the ceremony to the barnyard and have all the 'fun of the fair' with the magnificent carousel available to ride on. We also loved that our guests could camp on site in the beautiful glamping tents available on-site. For the Day we had 70 guests and for the evening we had an extra 50, so 120 in total. We started planning the wedding from the day we booked the venue in August 2021, so probably a year in total to plan.'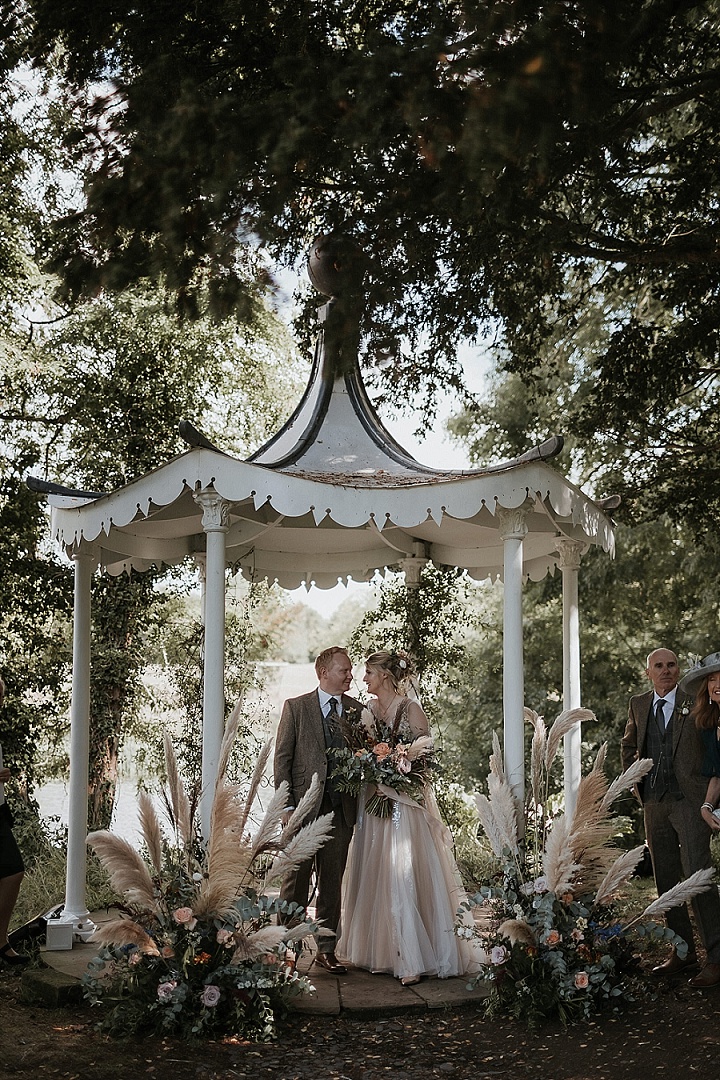 How they met
We met on Tinder over Christmas in 2019, just before Covid-19 hit and forced us to make the easy decision to move in together during lockdown. Dave planned an amazing first date at Immersive Gamebox we took an Alien Aptitude test. When we scored a B+, I remember thinking this one's a keeper!
The proposal
We had only been together for a year and a half when Dave proposed in June 2021. He'd planned a long weekend for us to stay with some of our friends in a house on the beach in Whitstable with our parents joining us at the end of the weekend as they lived nearby.
We had the Friday night to ourselves to settle in, so we went for dinner and then walked back to house to enjoy the sun setting over the beach. It was while we were sitting outside in our comfy clothes drinking mint tea that Dave pulled out the most beautiful ring I'd ever seen and asked me to marry him. I was totally shocked and after a few questions like, 'Are you sure? Are you serious? Is this happening now?' I said YES!
How did you allocate your budget?
We started with the parts of the day that were most important to us, the venue, the food and the band. From there we looked at the other elements of the day and started to map out the budget from there.
Where did you splurge and where did you save?
If I'm honest, I think we splurged everywhere. I lost count of the number of times I said, 'let's go for it, we're only doing it once', but I honestly wouldn't have changed a thing.
We definitely splurged on the food – this was such an important part of the day for us! We wanted our guests to be well fed with really interesting and beautifully crafted flavours that flowed throughout the day. From the canapés after the ceremony to the tasting menu for dinner and the evening tacos and churros served from the taco truck.
Another area we splurged on was the dress. I've never been someone who imagined themselves getting married in a big fancy dress. So initially, I was happy to find something on the high street but after a few failed online orders, I reluctantly went to try on some wedding dresses in a local bridal shop with some friends – I actually think I came out in a rash at the thought of trying on dresses in front of a group of people. That said the team were amazing and made me feel so relaxed, so when we found the dress, I just knew that that was going to be the one.
We saved by choosing not to have a videographer on the day. Paul, our photographer provided a beautiful slideshow set to music which was just as good and allowed us to focus out budget on the photos from the day instead.
How did you choose your photographer?
Paul Fuller was recommended to us by one of Dave's work colleagues who'd seen his work and said how brilliant he was. We loved his portfolio and the natural outdoor shots he was able to capture. We wanted our photos to be a collection of moments throughout the day, and we wanted to work with a photographer who could capture the emotion behind every frame.
The dress 
My dress was from Blush Bridal in Leigh-on-Sea. The dress was by Willowby by Watters. My shoes were cowboy boots from Sophia Webster. My accessories were a mix, my necklace was from Daisy London (the first gift Dave ever bought me with pendant inspired by my love of the sea). My watch used to belong to my grandmother and was given to me by my mum on the morning of the wedding. My bracelets were from Hermina Athens and Soru Jewellery. 
The suit and bridesmaids
The suits were from Dapper Chaps Formalwear. Dave was keen to make sure we could provide suits for all the groomsmen, so that everyone would look the same. Dapper Chaps provided great quality suits that allowed us to do this at a really reasonable price.
The bridesmaid dresses were from ASOS. With my bridesmaids travelling from Scotland and Canada this made it really easy to order something that would work for everyone.
Theme or colour scheme
We wanted a very whimsical, bohemian feel with lots of colour coming from our flowers and natural surroundings. We didn't really have a colour scheme, but we knew that we wanted the day to be filled with colour, and maybe loosely tied into 'fun at the fair' theme as we had a selection of fairground games for our guests to play.
Flowers 
Wild style flowers with beautiful blush, peach and purple and lots of textural dried elements and pampas grass. Blubelle Creative did an absolutely stunning job. Helen and the team were so easy to work with – love them to bits!
Decoration 
Very simple decorations with light up trees covered in moss as our table centrepieces and a selection of flowers in small jars to decorate around the tables. In the barn we also had lanterns in blush colours to light up the tables during the meal and whilst dancing.
Food 
Will Burnett Chef prepared the most magnificent feast. We can't recommend them enough; the pre-wedding tasting was better than being at the chef's table in most restaurants. The standard of food and service and the friendly approach to working with us on the menu was truly exceptional.
A selection of canapes after the ceremony to keep everyone fed for the speeches before the main meal.  
A really exciting tasting menu of five courses with the best desert ever – black forest trifle!
Chickpea Panisse, walnut ketchup, smoked cheddar
Heritage tomatoes, charred focaccia, goats cheese, pickled onions, basil
Roast chicken breast, chicken thigh croquette, potato terrine, chicken sauce, carrot and mustard puree
Blackberry and lemon marshmallow
Black forest trifle, kirsch
For the evening, we hired their taco truck for an evening of tacos and churros. Just what's needed when you're dancing your socks off!
Wedding cake
The wedding cake was created by Melissa Rayner (Fairy Dust Bakery). This changed a few times over the summer as I saw all the wonderful things Melissa was creating for other weddings. However, we decided on a three tier fully iced cake with gold leaf and lemon & elderflower, chocolate and vanilla sponge tiers. We added a wild meadow feel thanks to the gorgeous flowers from Blubelle Creative and the personal touch with a gate we created for a model of our cat to sit next to (can you see her?)
Entertainment
Fairground games provided by Salty Carnival Kiss (who also did our lovely lanterns in the barn and helped to setup all of our table decorations – an absolute joy to work with)
Jordan Hemmingway (Singer/Songwriter) – Our lovely friend Jordan was someone who I discovered on Spotify after seeing one of his songs being used in background of a wedding shoot. He's worked with a whole host of amazing musicians and producers, so I reached out to him to ask if he'd play at our wedding, with no expectation that he'd say yes, and he did! We've been lucky enough to see him play a number of times now, and he gets better every time. It was such a treat for him to play for our guests in the barnyard while the barn was being cleared to make space for the dancefloor.
The Wedding Crashers (Band) – The perfect mix of pop/punk/80s style songs done in a rock n roll way. Three really great guys who did a fantastic job of getting everyone on the dancefloor – they played the best songs, so much fun!
Who supplied the stationery?
Tavern Creative – My friend John Lally runs this fantastic stationary business in Ashford, Kent. The team were an absolute dream to work with, even with all of my last-minute amendments/changes, and gold foil. They really deliver a totally luxury experience. Nothing was too much trouble and the stationary that was created was simply beautiful – they did everything from save the dates and invites to the order of service, menus, signage for the day and even thank you cards after the wedding.
Where are you going on your honeymoon?
We're just finalising our honeymoon for this summer. We're planning to take a trip to South East Asia to explore Thailand, Cambodia and hopefully meet the endangered orangutans in Sumatra.
Personal touches
There were lots of personal touches throughout the day, but the main one would be the dice game that we often play with friends which we placed on each of the tables for guests to play during the meal, with a limoncello shot as a forfeit.
Special moments 
The whole day was incredible special, but one of the highlights and the biggest surprise on the day was our celebrant, who was such a wonderful person and so enthusiastic about our love for each other. Obviously, you don't get to pick the celebrant you have on the day, so after planning the day from start to finish it was lovely to have an additional sprinkle of magic that no one had planned for. He was brilliant!
Advice for other couples
Try to use suppliers who have worked in your venue before – this made everything so easy for us because all of our suppliers knew each other and they knew the space and the setup for the day, as they'd done it so many times before. Trust in your suppliers, you've picked them for a reason, they won't let you down.
Try to find time to have little moments with just the two of you during your wedding day. The day goes by so quickly and with so many people to see and talk to, it's really lovely to share a few moments alone together to soak up all the love and happiness on the day.
Enjoy the process, have the food tasting, sample the cake, drink the wine – it's so much fun planning a wedding, enjoy every minute.
Supplier Shout Outs