Today I am taking you off to Hertfordshire for this gorgeous styled shoot, full of disco inspiration and cool autumn vibes. The shoot took place on 11th October 2022 at Offley Place. With the inspiration being boho and disco balls the shoot soon evolved into a celebration of autumn styling, mixed with the glitz and glam of the disco era. I just love the use of disco balls and smoke bombs in this shot, I am a MASSIVE fan of the disco ball, and think every wedding looks better for having them around! Big thanks to Sam at Rose Rae Photography for her ideas and gorgeous photos.
Autumn Boho disco – Autumn toned colour palette – Disco balls – Super fun vibe with smoke bombs and prosecco spray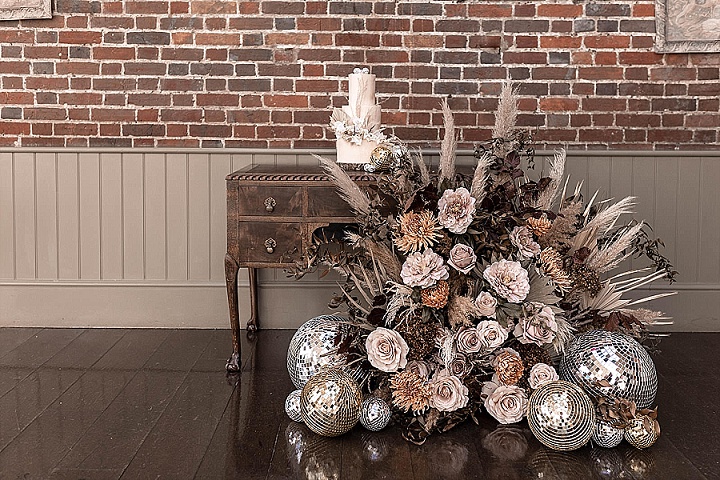 Sam tells us more about her inspiration behind the shoot
When searching for a venue for this shoot I was really looking for beautiful light. I instantly fell in love with the conservatory at Offley Place.. the brick work and sage green stole my heart! The other bonus was the sweeping staircase as I really wanted a show stopping installation at the foot of the stairs and a dress that would dramatically cascade down the stairs. Both of these were part of the original brief when sourcing suppliers for the shoot. There was beautiful space for bridal prep and also our outside fun bridesmaid portraits
My inspo was boho and disco balls and then just evolved from there.
I really wanted to showcase some lovely local suppliers and really wanted to deliver boho but with a glitzy and fun side with a tonne of disco balls. Enter Autumn disco…. pampas florals with autumn hues alongside a sage/olive vibe to make the disco balls pop.
Lauren of Victoria + Claire… absolutely nailed the brief and colour board that I sent her. With every 'scene' we started I was happy dancing all over the place! I was also super keen to have a tonne of fun on the 'bridal party' vibe and wanted prosecco spray and smoke bombs.
I feel like the brief was covered in every which way; I really wanted to get fabulous people together to create amazing content showcasing a really fun vibe.
Supplier Shout Outs
Rose Rae Photography
www.roseraephotography.com / www.roseraephotography.com/blog / [email protected] / FACEBOOK / INSTAGRAM / PINTEREST