Happy middle of the week to you all, I hope you have all had a great week so far? I am taking you off to beautiful Florida today for the delightful wedding of MaKenna and Kevin, who were married on 11th November 2021 in Englewood, Florida. Their wedding was a real celebration of their love, you can just tell how besotted they are with each other through these beautiful photos by BYWATER Collective. The tropical theme works perfectly for their beach ceremony, which is a pure delight! Followed by a big old party, they look like they are having an absolute ball. I hope you love this wedding as much as I do.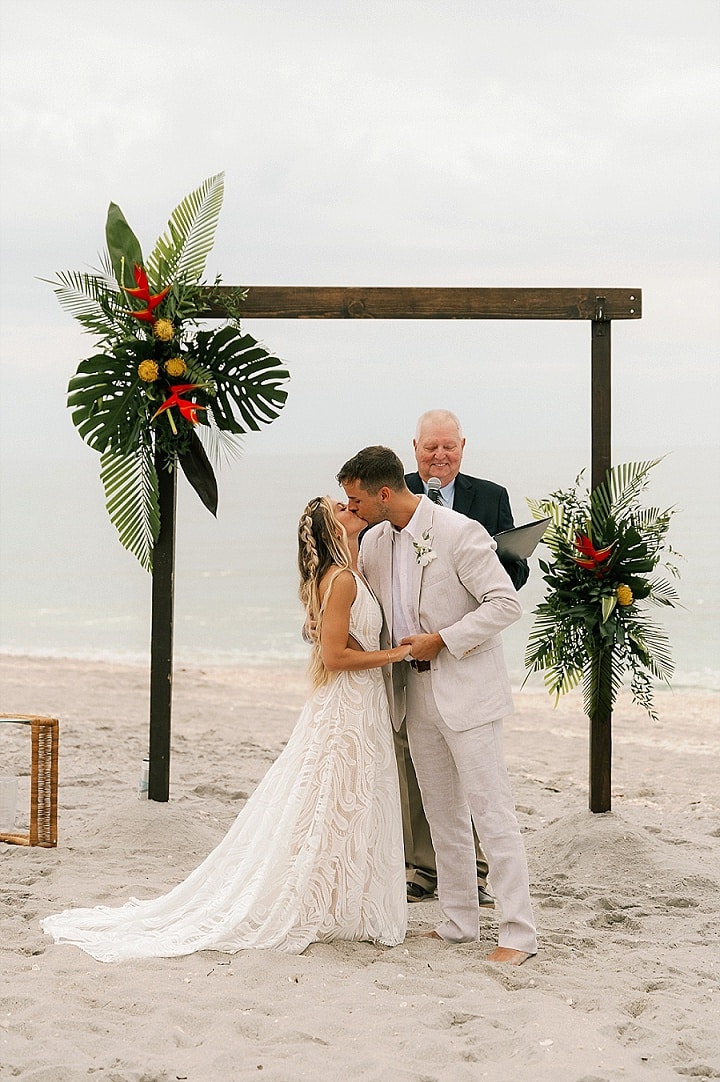 BYWATER Collective tell us more about the wedding
Makenna and Kevin looked forward to spending every spring break on this beach. The beach behind Makenna's family's old beach house. They loved it so much they knew behind that house is where they wanted to get married!
Kevin and Makenna are sure about two things — their love of God and their love for one another. Both could be felt on their wedding day. It was cloudy but warm and the birds were out. Makenna got dressed in the upstairs bedroom with her sisters, while Kevin and his brothers got ready and finished their vows and speeches downstairs. The ceremony site and reception details were adorned in tropical florals and organic decor – beautifully and intentionally set up by So Staged Sarasota. Their families had rented the old beach house for the week so their parents were there from the time the sun came up, putting finishing touches on the tables and counting down the minutes until guests arrived.
A little after 3pm, Makenna ascended down the stairs in her wedding dress (the same stairs she and her sisters used to get in trouble for playing on when they were little). After a squeeze from her mom, she met Kevin in the courtyard to exchange vows and see each other for the first time.
The ceremony was special and sincere. The bride and groom chose to do a foot washing ceremony so their first act as husband and wife would be one of service. It was beautiful! Their reception was… everything. From the heartfelt toasts (and poem from Kevin's brother and best man!!!) to the absolutely relentless dance floor (thanks to Jay from Rig Entertainment!) – no one could possibly forget that night.
Suppler Shout Outs