Welcome to HOT Friday! It seems that everywhere in the UK is having a heatwave today, it's blooming boiling! So I hope you get to make the most of it if the weather is good where you are. I am very excited as it's Dexter's 8th birthday this Sunday. He has a party with 24 of his school friends and then we are going out for a steak dinner (his choice) to also celebrate fathers day! Happy days all round! In keeping with this gorgeous weather I have this very sunny styled shoot that took place in June 2021 at Chippenham Park, in Cambridgeshire. The shoot was arranged by Chippenham Park Events to showcase the flexibility the venue gives, both indoors and outdoors. It took two different themes, Boho Chic and Rock and Roll to illustrate how different couples can utilise the venue's wonderful surroundings. I just love the edgy nature of this shoot, the sequin dress, the boots, the headdress all look amazing. I'd love to know which is your favourite look.
Boho chic mixed with edgy rocker vibes.
Beccy from Chippenham Park Events tells us more about the shoot
Chippenham Park is known for being an absolutely stunning countryside wedding venue nestled in the heart of Cambridgeshire. This it is. But it also versatile and the perfect venue to create your own unique style. We wanted to showcase how to classic florals and pretty centrepieces work alongside that slightly quirky/not your typical wedding vibes!
We wanted to create an epic fusion of classic mixed with elements of modern/out there inspiration. Our mood board was full of smoke bombs, sequins, denim jackets, show stopper bridal bouquets and Dr Martens. Whilst still incorporating the delicate English countryside colours, intricate wedding dress, detailed hair styles and romance!
We think the shoot is stunning! As always, this team completely nailed the ideas we had in our heads and accomplished this stunning selection of photos to showcase Chippenham Park and just what it can offer – should you dare! We've got the scenery now you can bring the edge!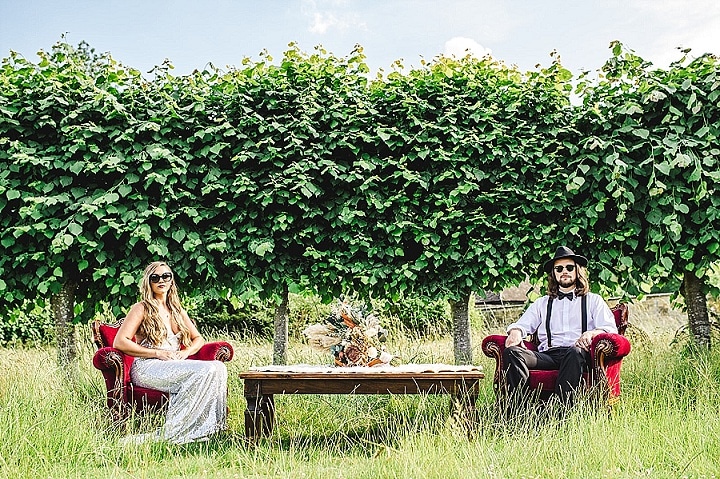 Supplier Shout Outs
Chippenham Park Details
www.chippenhamparkevents.co.uk / [email protected] / FACEBOOK / INSTAGRAM / TWITTER / PINTEREST