Today I am taking you back to the spring with this gorgeous styled shoot, when the weather was warm, the sun shone and there was no talk of the artic blast we have been promised here in the UK this week. The shoot took place on 9th May 2021 at Newlands Bishop Farm Weddings Venue, Solihull, West Midlands. The shoot is a celebration focusing on a couples individuality. Creating a space that is unique to them and enhancing their personalities within their chosen decor. Here we see muted, earthy tones, a beautifully decorated Tipi, modern and super stylish wedding cake and the star of the show the cutest Shetland Pony you ever did see. Kelly Hiscox Photography has worked tirelessly with her team of expert suppliers to create this beautiful shoot that is sure to inspire you on your wedding journey.
Set in a beautiful Tipi Wedding Venue in the West Midlands, a wildly romantic, free-spirited, and whimsical wedding shoot with a festival boho-inspired theme. This shoot brings a colour palette of beautiful rustic warm tones, dried flowers, a Shetland pony, and some festival vibes!
What made you decide to do the Shoot?
I love to showcase my creativity in my photoshoots, and organising a styled shoot is the perfect opportunity for me to do this. I asked a photographer friend of mine, Dita, to be involved, we both have different styles of editing, but both loved the theme and wanted to inspire soon to be weds to be adventurous with their styling. I also wanted to inspire couples to be adventurous when it comes to their wedding photography poses and ideas. In my style of wedding photography, I am to capture you and your partner in a way that reflects your personality, if you're both silly, then why not dance like crazy? If you're cuddly, why not snuggle up on the grass together? I wanted this gallery to show that you and your partner can confidently be yourselves on your wedding day, and your photographer will LOVE it!
What was your inspiration behind it?
Our inspiration was a love of warm earthy tones, dried flowers, and free-spirited couples! One of my goals is to shoot in the dessert, naturally I gravitate towards warm tones and love to edit images with a style that compliments this, which led to us choosing the warm colour palette. The venue itself was the perfect location for the shoot. I wanted the ceremony set up to have a magical and whimsical feel. The woodland was amazing for the ceremony set up, which was beautifully styled with an arch, drapes, flowers and benches to create the aisle, and I just loved the input from Bobby the Shetland too! I've always wanted a bride to bring their horse to their wedding, so for a micro wedding set up, a mini pony sounded perfect! I absolutely love movement shots that have an editorial feel, so when Dita found Becky from Lavelle Couture, we had to choose THE dress which guaranteed stunning captures of movements and had a super sexy thigh split. Encompassing the relaxed and free-spirited vibes, it only seemed fitting for the evening meal to be homemade pizza and beer!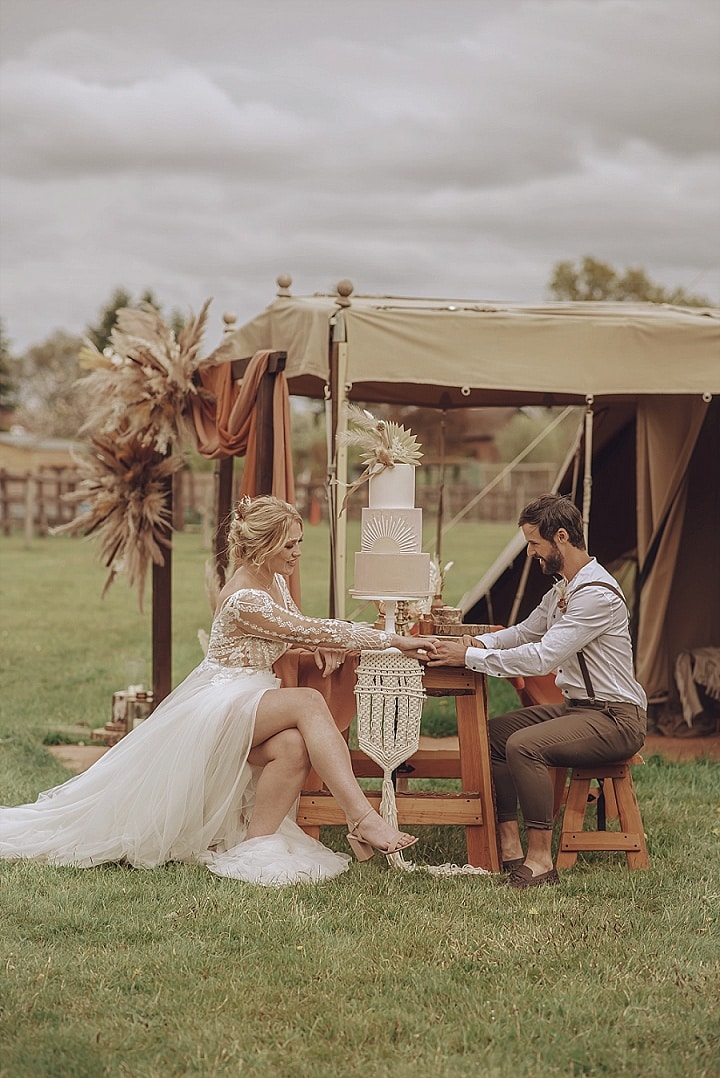 Supplier Shout Outs
For more information on Kelly Hiscox Photography go to
www.kellyhiscoxphotography.com / www.kellyhiscoxphotography.com/blog / [email protected] / FACEBOOK / INSTAGRAM / PINTEREST