Happy Thursday everyone! Today is a good day as Nik and I have taken the day off to go and watch the new James Bond film. I'm very excited for a day at the cinema. I go to the cinema a lot with Dexter but to go and see a film that isn't a U or a PG will be a real treat! We are heading off for brunch first, as you know I am always happy when my belly is full. I will let you know my review of the film tomorrow. Moving on to today's wedding and it's the turn of Katie and Arjan. They were married on 16th July 2021 at St Mary's Church Cogges with the reception at The Blue Boar in Witney, near Oxford. They had 50 guests and it took 6 months to plan. It's so good to feature a wedding that happened this year, I hope to have many more 2021 weddings to follow in the coming months. Big thanks to Hannah Christine for the glorious photos.
 An intimate, family-oriented, countryside wedding where the warm, radiant, weather matched the feeling of the day between us and amongst the guests. It also ended up – even to the tiniest unintentional detail – becoming a day that very much reflected us and our love for one another on which everyone commented on that they could clearly see.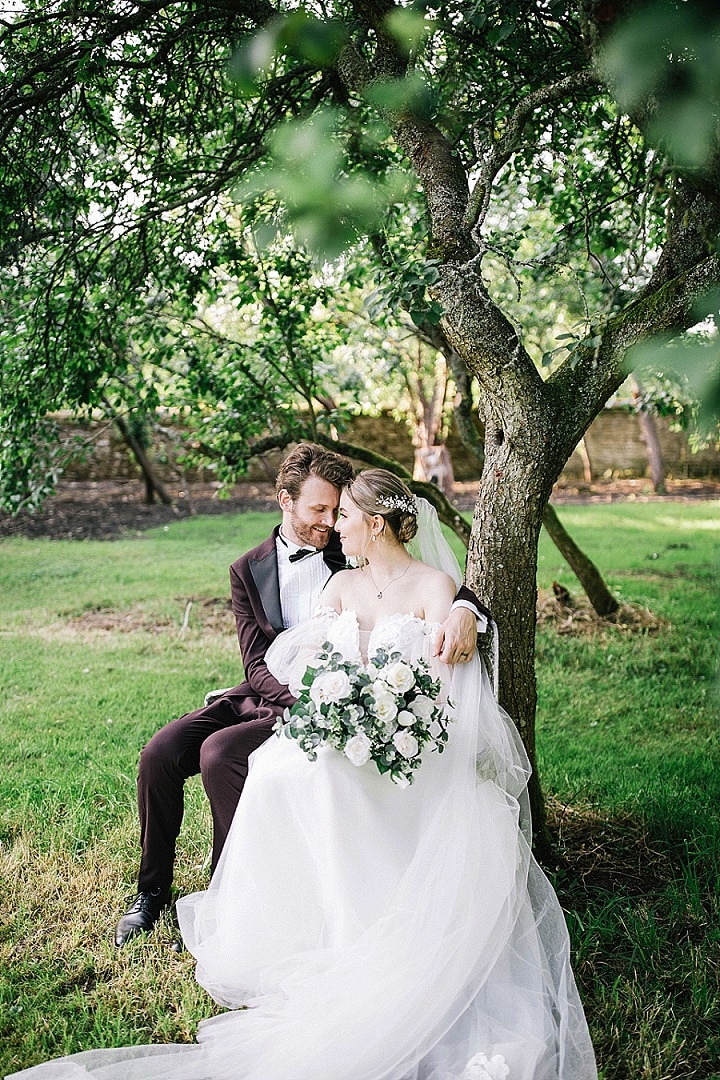 How they met
We met at a small university in 2019 where we both studied Theology. A long story cut short (involving bringing a hair dryer to an audition and accidentally being hit in the face with it amongst other things) we ended up talking and could not stop. According to our friends they were standing right next to us – shouting our names loudly – to try and grab our attention, but they eventually gave up as we were just completely lost in our own little world together. As our friendship (and attraction) grew over the next year, it was thanks to a global pandemic that Arjan found the opportunity to ask Katie on a date – although it took Katie 7 hours into the date to realise that it was one!
Longing to be together in person for the first 3 months of our relationship, we were finally reunited on July 17th 2020 in Schiphol airport. And in exactly one day less than a year from that date, we got married!
The proposal
We went to Richmond Park – our favourite park in London. Arjan took Katie to a secluded spot in the park to have a nice picnic (even though it was in the middle of winter). Throughout our relationship we had a diary that we sent back and forth to one another when we were separated by distance, and it was Arjan's turn to complete an entry. He handed Katie the notebook and asked her to turn around and read it out loud. During this time he prepared rose petals and a banner that said "Will you marry me?". Arjan ended the entry with a poem, with the last line being "Now if you turn around and see…", and as Katie turned around, Arjan was on one knee with the ring box in his hand and asked "Katie Goodwin, will you marry me?" There were a lot of tears, kisses and hugs and we celebrated with the picnic afterwards and pizza from a real pizzeria – our first date having been eating frozen pizzas at a "pretend pizzeria" over Zoom that we created.
How did you allocate your budget?
We had an incredibly tight budget as we had two weddings planned – one in the UK and one in the Netherlands. We knew however that we wanted to have our days well documented to look back on.
Where did you splurge and where did you save?
We tried to do everything as creatively and budget-friendly as possible – besides our photographers who we knew were worth every penny. As a recent graduate and someone who was still a part-time student, we did not have a lot of money to spend but had some incredibly generous donations from some of our loved ones which was a huge blessing.
How did you choose your photographer?
We were looking around and one of our bridesmaids had just recently been a bridesmaid for someone else and referred us to Hannah who photographed that wedding too, due to us being so similar and believing we would get on really well due to our love of Marvel, cats, and our shared faith as Christians. When we contacted Hannah and had our first chat we were sold and were so excited to have her as our photographer! 
The dress
I am unsure who my dress is by as I got it from a supplier on Etsy who was not the designer. Bridal boutiques were closed as we were in the middle of a lockdown, and I desperately needed a dress so I ordered one on Etsy (although it was super risky as I couldn't send it back). However it was the perfect fit, super budget-friendly, and absolutely BEAUTIFUL! My veil was from Britten, my hair piece and earrings from Liberty in Love, and my shoes from ASOS. 
The suit and bridesmaids
Arjan's suit was from Moss Bros and our bridesmaids bought their own dresses. Majority were from ASOS with one or two being from JJ's House.
Theme or colour scheme
We had white, champagne (with hints of pink if the bridesmaids wanted), and a pop of burgundy for Arjan's suit and the groomsmen's ties.
Flowers 
For the bouquets we used artificial flowers as we wanted to use them for our Dutch wedding too. The bridesmaids had gypsophila whilst I had white roses (for England), white tulips (for the Netherlands), and gypsophila and eucalyptus. For the church we had two ladies from the church we were getting married at do them for us as they were previously florists and we trusted them into their hands. We split the cost with another couple who was getting married on the same day.
Decoration
A lot of fairy lights, candles, and white flowers. We wanted to keep it neutral yet magical.
Food
Our first date involved pizza, celebrating our engagement involved pizza, so of course our wedding day had to have pizza. The Blue Boar were so sweet and surprised us with heart shaped pizzas for us as the bride and groom. 
Wedding cake
One of our bridesmaid's sisters is an incredible baker – all self taught and truly gifted! We had three different flavours, one for each layer. We chose each layer's flavour with a particular meaning. The bottom layer was stroopwafel flavour – a Dutch snack that Arjan's grandfather gifts us every time we visit. The next was Kinder Bueno flavour – some of our most meaningful dates coincidentally ended up with us ordering a kinder bueno cookie dough from one of our favourite dessert bars. Finally the top layer was raspberry and coconut – a flavour of cake we had never tried before but have been wanting to for what felt like a long time, just like our desire to be married! 
Entertainment
Honestly? A lot of it was just friendship! Our wedding was one of the first times our family and friends could all be together since the start of the pandemic and so there was a lot of catching up to do. We also played the shoe game which was a lot of fun as there were a lot of our loved ones who still hadn't been able to get to know us as a couple yet. 
Who supplied the stationery
We found Snapfish to be really reasonable in price so we printed our initiations and Order of the Days through them. 
Where did you go on your honeymoon
We kept it local and went to a small village outside of Bath – a part of the country we had never been to before.
Personal touches
Our table names were places that were significant to us in our relationship, with a picture of us at that location. We build and made a wooden sign for our wedding with 1 John 4:19 on it, "We love because He [God] first loved us", our reading at the wedding and a truth we hold onto and wanted to share with others on our wedding day. We also had a polaroid guest book, and as Christians instead of having speeches had loved ones pray for us and share if they believed that God had anything for them to share with us as we entered married life.
Biggest surprise
How genuinely happy people were for us and the expression of that. Perhaps this is because our relationship started in a pandemic and so we haven't really been able to see many people, but it was a blessing all the same to share in their love and joy. Also how quickly the day goes by! Treasure every second. Take time to let things sink in if you need to. Remember the sights, smells, sounds. Be intentional with cherishing every moment.
Special moments 
Instead of a first look we wanted a first prayer. Arjan was led to wear I was waiting in a beautiful garden, we closed our eyes, held each other's hands back to back and prayed for the day, for God to be glorified not only on our wedding day but in our marriage, and that we would seek to love each other how God loves us, by laying our lives down for one another every day. It was very special to have Arjan's family there, as we had not been able to see them for half a year, and for the restrictions to allow them to come over. The best man speech was also really moving for Arjan. Having some set aside time together to take in the day was also really special – advice given to us that we would pass onto others! It was also incredibly special to have our loved ones pray for us and share with us throughout the day, whether as a part of the ceremony, reception, or just throughout the day. It was also special to read through our guest book on our honeymoon, seeing the pictures of our smiling loved ones and receiving the love and well wishes again. 
What advice would you give other couples?:
1) It's about the marriage, not the wedding day – you will be a bride/groom for a day, but a wife/husband for life. This is why you are getting married! To love your spouse for life, no matter what! That is a big commitment and not something to take lightly. Whilst there is a lot of practical planning to do for your wedding day, we highly encourage you to prepare yourself for marriage more.
2) If anything goes wrong, embrace it. No matter what happens enjoy the day, enjoy each other, and enjoy your loved ones. This will be how memories are formed of the day and what you will look back on, not whether the decorations fell down or you tripped walking down the aisle – if anything you will laugh about it!
3) Don't be swung from left to right due to people expecting you to do x, y, and z. You may be surprised about where these voices come from, but do not back down – this is a day celebrating your united love, and your guests are invited to celebrate that with you, not for them to plan their own wedding or ideal day out. However, love others in the process. Don't burn bridges. Be gracious and kind, and the frustrations will pass.
Supplier Shout Outs
For more information on Hannah Christine go to
www.hannah-christine.com / www.hannah-christine.com/blog / [email protected] / 07956015054 / INSTAGRAM / PINTEREST

I'm a documentary style, natural light photographer in London, but I also travel around the UK. I love working with relaxed and adventurous couples, who aren't afraid to break from tradition a little bit.

 

[jprel]