With the news that small weddings are now allowed in the UK, some wedding plans may be looking to change to accommodate the new rules. Small weddings can be just as amazing as a big, large scale affairs. Intimate weddings can be more personal and easier to organise. Elopements are also incredibly popular at the moment. Today I have invited Lena & Carsten from Denmark onto the blog to tell us all about choosing the Danish Islands as an option for your small or intimate wedding. As wedding planners at Nordic Adventure Weddings they offer expert advice and  a number of options for planning a unique, intimate, fun filled wedding.
Make your wedding fairytale dream come true – Get married in Denmark. Small intimate weddings and elopements, honeymoon, and vows renewal on Danish islands.
Love is the experience of a lifetime, but as is a small intimate wedding abroad, especially on Danish islands.
Your wedding day is your special day, but to make it unforgettable, have you ever imagined eloping abroad or having an adventure wedding? Imagine having a Nordic wedding and embracing a totally different part of the world!
Denmark is the perfect country for an adventure wedding because it is full of history, beauty, culture, and nature. Also, its laws make it easy for international couples like Courtney and Patryk to get married.
Møn Island Intimate Wedding
For a small intimate wedding abroad, Møn Island can rejuvenate you with its peaceful nature.
Møn island is characterized by steep cliffs and a neverending shoreline. Located in the south-eastern part of Denmark, it is an island full of beautiful landscapes like meadows, ponds, steep hills and woodlands.
Møn's Klint spans for over 6 km and peaks at 128 meters. Møn's Klint (klint means cliff in English) is a collection of chalk cliffs that last for days.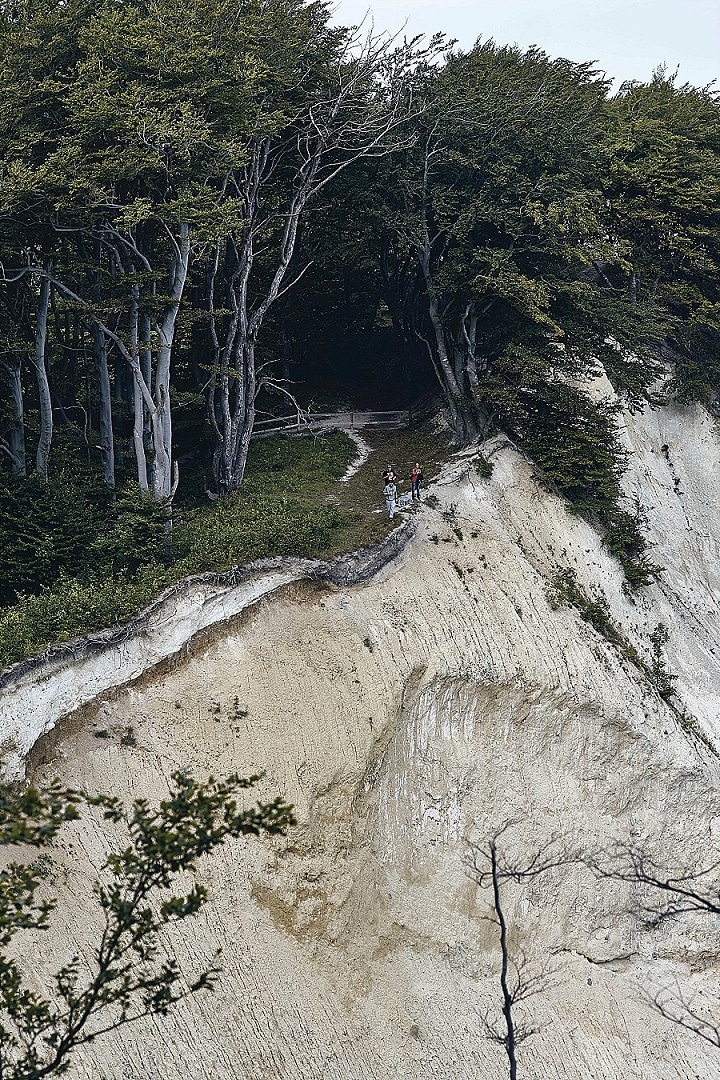 Møn's Klint came into existence over 11,000 years ago after a glacier melted. It is full of fossils as it contains many shells from creatures that lived more than 70 million years ago. Imagine getting married at these hills and having that as a backdrop!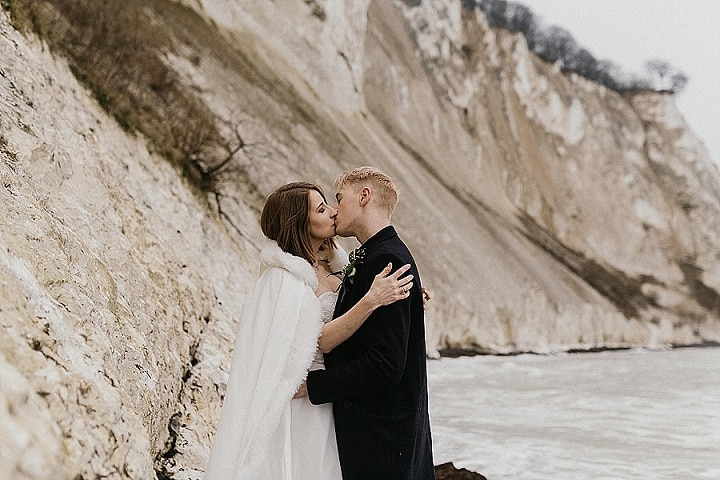 For couples considering a small wedding abroad, Møn's Klint is a perfect location to get married all through the year. Whether it's winter, spring, summer, or autumn, Møn island is full of scenic nature backdrops and paths.
Møn's most frequently visited towns are: Stege, Nyord, and Klintholm Harbour. These towns have their unique cafes and restaurants where you can recharge your batteries before getting back to exploring the island's wonderful nature.
For couples looking for an adventure wedding, riding mountain bikes or hiking along this persevered natural area is an experience that you'd never forget. Close to the peak of the chalk cliffs is the Møn's Klint Geocenter, a community science center located that offers many experiences such as mountain biking tours along the Møn's Klint and the nearby Klinteskoven Forest. You can soak in the greenery while being on the edge of the coast.
A romantic portrait of a couple stargazing at Møns Klint by Morten Pihl
While during the day, Møn is full of beautiful sights and colors, at night, Møn and Nyord town are amongst Europe's top places for stargazing and admiring the Milky Way galaxy, especially during the summer and early autumn months. Stargazing with your loved one is a perfect way to end a day full of adventure.
One of Anton & Dennis' wedding portraits at Møn's Klint, they made their day special with an adventure elopement photographer that was able to capture their stunning moments.  Danish islands are a common destination amongst same-sex couples eloping abroad.
Lolland-Falster Island Wedding
As you can see, Denmark's liberal laws also make it a top destination for same-sex marriage for couples like Anton & Dennis.
One of the biggest attractions of Lolland-Falster is the contemporary art installation Dodecalith which translates to 'Twelve Stones' in Greek. Each of the heads is about 7-9 meters tall and weighs about 25-45 tones.
Lolland-Falster is also home to the world renowned Frederiksdal cherry wine that's created using the native Danish stevnsbær cherry.
Lolland-Falster is full of things to do, from cycling to horseback riding to hiking to water sports to golf and romantic beaches.
Courtney & Patryk eloped abroad to Maribo town on Denmark's Lolland-Falster Island to get married without facing difficulties of being from different nationalities. Nordic Adventure Weddings can help you organize your elopement to the Danish Islands.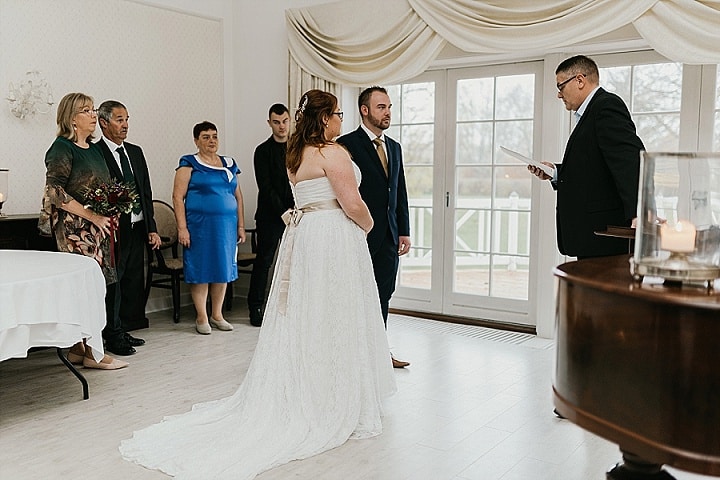 Bornholm Island Wedding
Bornholm island is slightly further outside of the heart of Denmark and it is even more remote than the other islands. To get there, you need to go via a ferry ride from either Sweden, Germany, or Denmark.
Bornholm is an endless source of natural backdrops, like rocky coastlines and breathtaking sunsets, that can make your wedding photography special. On a local level, the island is known for its dairy products and arts and crafts (pottery and glass production)
Bornholm provides you with a serene getaway and beautiful, natural backdrops for your wedding photography like rocks and breathtaking sunsets.
Couples that are thinking of a Scandanavian wedding will feel the preserved Nordic nature and culture of this stunning island. Full of history and greenery, Bornholm Island is a getaway for the spirit and mind.
Couples will want to visit natural sites like Opalsøen Lake which is surrounded by beautiful hiking trails that, at the peak, have breathtaking panoramic views of the surrounding area, including the Hammershus Castle Ruins. Hammershus Castle Ruins is the largest Medieval fortress in Northern Europe. In fact, Bornholm Island has been fought over by many countries across the centuries for its prime location in the Baltic Sea.
For newlyweds, Bornholm is a breath of fresh air. Bornholm's remoteness means that nature is absolutely beautiful and pure while the air is fresh and clean. Couples that just want an adventure wedding and are dreaming of elopement abroad will fall in love with Bornholm.
Zealand Island Wedding Abroad Ideas
Zealand Island, Denmark's largest island and Europe's 4th most populous island (after Great Britain, Ireland, and Italy's Sicily). Copenhagen, Denmark's capital, is partially in Zealand and partially on Amager Island. From Zealand, it is easy to get to Funen Island via the Great Belt Fixed Link and to Lolland-Falster via the Storstrøm and Farø Bridges.
The most populous cities in Zealand Island are: Copenhagen, Roskilde, Hillerød, Næstved, and Helsingør. These cities are full of history, arts, architecture, and beautiful natural sights as well. There is plenty to see and do before and after your intimate Scandanavian wedding.
Couples searching for elopement abroad particularly like Helsingør (Elsinore in English) as that is what William Shakespeare based Hamlet's Elsinore Castle on.
Hamlet's Elsinore Castle
While the locals know this as Kronborg Castle, the rest of us happily call it Hamlet's Elsinore Castle. Every year, Hamlet is performed in the castle's courtyard, a tradition that has been going on since 1937.
If you are a Shakespeare lover, why not be bold and get married in Hamlet's Elsinore Castle itself like Julia & Maximilian did? Book your slot and an adventure elopement photographer for your small intimate wedding abroad and create memories that will last a lifetime.
Helsingør city also has other cool spots. For a more architectural backdrop (but also worthy of a visit) there is the Maritime Museum of Denmark which contains nautical specimens dating back to the 15th century.
The city is full of picturesque corners and an adventure wedding photographer could easily use to create the most stunning wedding photos for you.
Stevns Klint and the Old Højerup Church
About 1.5 hours from Elsinore is Stevns Klint, one of the key attractions of Zealand Island, a white chalk cliff that stretches (about 15km+) along the seaside.
Stevns Klint is valued by archeologists as it offers evidence of the meteorite that crashed into the Earth and ended the Cretaceous dinosaur period about 65 million years ago causing the largest mass extinction by eliminating over 50% of life on Earth.
On Stevns Klint is the Old Højerup Church where couples like Tatiana & Jakub are eloping abroad to get married. The church is on top of the cliff and when you exit the church there is a full sea view.
Vordingborg
While Vordingborg is on Zealand Island, bridges link it with Lolland-Falster island which is less than 40 km away. The city is symbolized by the Vordingborg Castle which dates back to 1175. The castle's main tower is called the Goose Tower (Gåsetårnet) and is 26 m tall.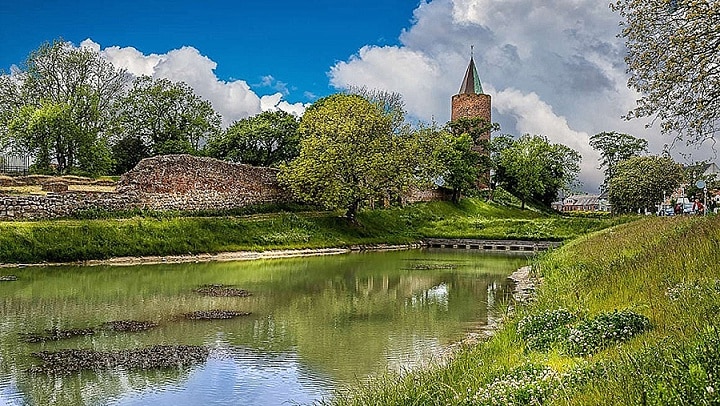 Surrounding this historical castle is pure green nature that would inspire any adventure wedding photographer to take the most beautiful photographs.
Funen Island
Funen Island, also known as Fyn Island, is another favorite destination among couples eloping abroad. Specifically, Funen is an archipelago of 50 islands and it has over 100 castles!
Couples like Marina & Daniel elope to Funen island and get married at historic locations such as the Hvedholm Castle.
With so many castles, Funen also has many gorgeous gardens. In fact, Funen is known as "Denmark's garden island." Its most famous gardens include Broholm Park (located near Harridslevgaard Castle) and Sanderumgård Garden. Couples eloping abroad to Funen Island will be astonished by its beauty and history.
More Adventure Wedding Ideas
Jutland Peninsula
The northern region of Denmark is a peninsula commonly referred to as Jutland. It is full of eye-catching locations like Løkken and Aalborg.
Victoria & Martin in walking through the streets of Løkken, North Jutland
Aalborg, a city in Jutland, is another popular city amongst couples eloping abroad. Josephine & Anders chose a Danish church in Aalborg for their ceremony.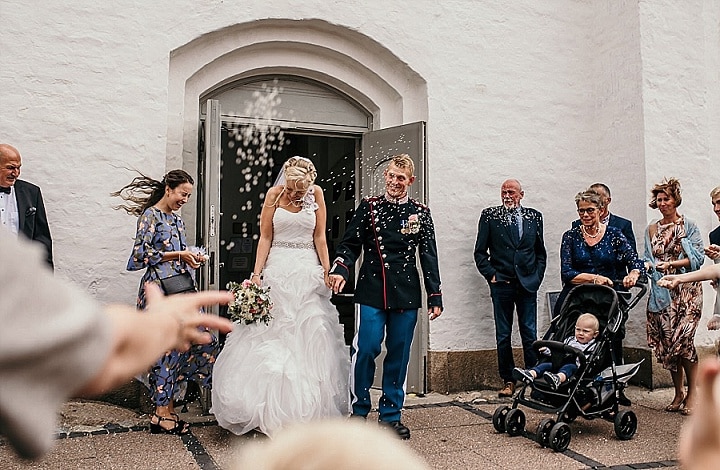 Aalborg is also popular amongst couples eloping abroad with a more modern approach to marriage like Elena & Andre.
Quick Wedding in Copenhagen
While a small intimate wedding abroad will be great on a remote Danish island, the truth is, you can probably find your dream location anywhere in Denmark! The country is simply beautiful.
For example, getting married in Copenhagen is popular amongst couples that want to have a beautiful, but fast, wedding and then explore the capital city.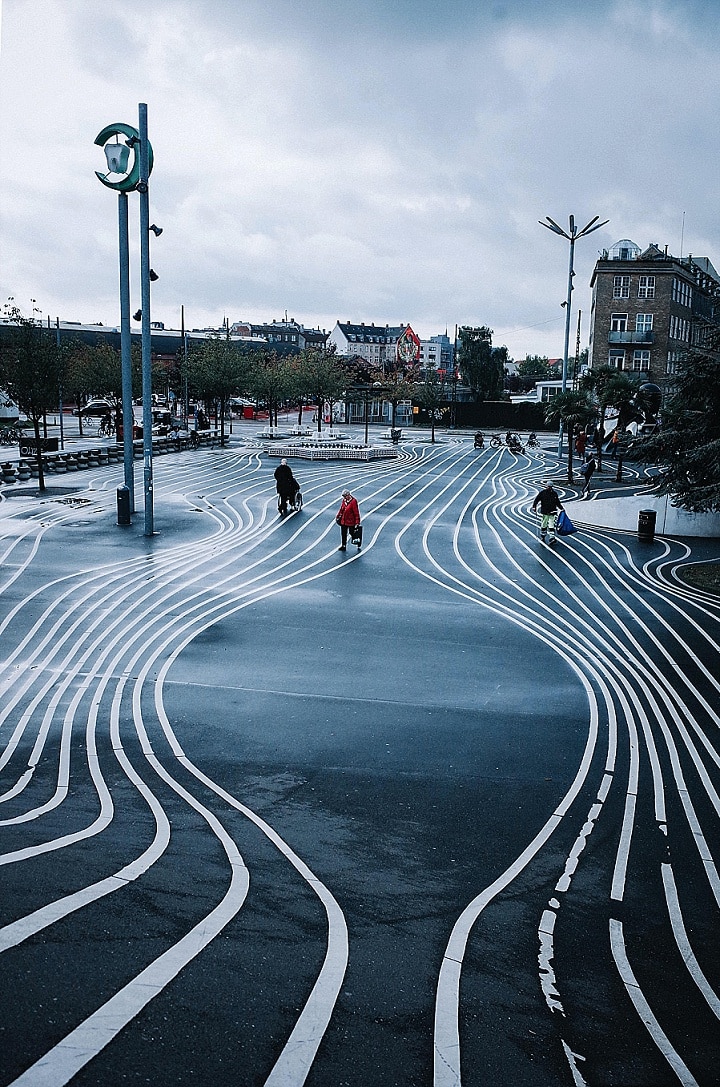 But, even if you prefer to stay a little closer to Germany, there are beautiful locations for your Nordic wedding, such as in the cities Ribe or Tonder.
Are You Ready to Elope?
Denmark's beauty is undeniable. Its culture, nature, and history will make your small wedding abroad truly unforgettable. Its full-year 'round picturesque towns make it perfect for eloping at any point, Christmas-themed weddings are even a thing.
Nordic Adventure Weddings' bespoke services will help you plan your small intimate wedding abroad.
www.nordicadventureweddings.eu / www.nordicadventureweddings.eu/blog / FACEBOOK / INSTAGRAM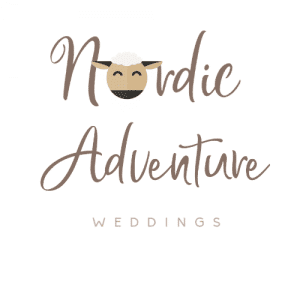 This is a sponsored post