Happy Monday everyone, I hope you are all having a lovely Bank Holiday Monday? It's a busy and exciting week on the blog this week as this week sees the launch of the new blog design. I have been letting out a few sneak peeks over the last few days so if you have caught any of those on social media you will know that the new design is pretty different to the old one. We have gone for a totally new look and feel, so I really hope you like the new direction that I have taken the blog in. The new look Blog will be launched later this week so do keep an eye out and let me know you thoughts.
Today I have this gorgeous country wedding, brought to you courtesy of Joanna Bongard Photography. It's a lovely relaxed day, where Alicia and Thom decided to try and make as much as they coul to keep the costs down. They did this with great success and the results are gorgeous.
'It was genuinely the most perfect day of our lives. The guests, the photographer, the church, the marquee, the food, the entertainment – our faces were aching from smiling so much'
Alicia and Thom were married on 20th June 2015 at St Mary the Virgin church, Hawkesbury Upton, Badminton. The reception was held on Grandma Peckett's field, Hawkesbury Upton, Badminton. 'My grandma lives in Hawkesbury (South Gloucestershire) and we loved the little church on the hill. The area is rich in Peckett ancestry and I even have ancestors buried in the church grounds. As soon as we started thinking about having the wedding there, we came up with the idea of putting a marquee in Grandma's field and have everyone walk down from the church through the picturesque country lanes. We began planning it pretty much after we got engaged so it was around a years worth of planning and we had 150 guests'
How they met
We met 9 years ago when working in an office together. Since then our friendship built, our circumstances changed and we slowly but 100% surely realised we were in love (6 years later).
The Proposal
took Alicia away to Crete as a surprise for her birthday. I booked the time off work with her boss without her knowing and managed to get her onto the plane before finding out where she was going. With all the hype of the birthday surprise, Alicia was in no way expecting what was to come later on in the week – My master plan! The plan was to propose on the beach one night but the night he had planned didn't turn out too well after we went swimming in the hotel pool, which had just been chlorinated. We both came out with sore swollen eyes and ended up going to the pharmacy instead. The next day we chose a posh restaurant, which was overlooking the beach and after we'd eaten, we walked down to the beach where I finally mastered the traditional 'down on one knee' proposal under the stars. Alicia was completely balled over, cried her eyes out and said, "with all my heart, YES!!!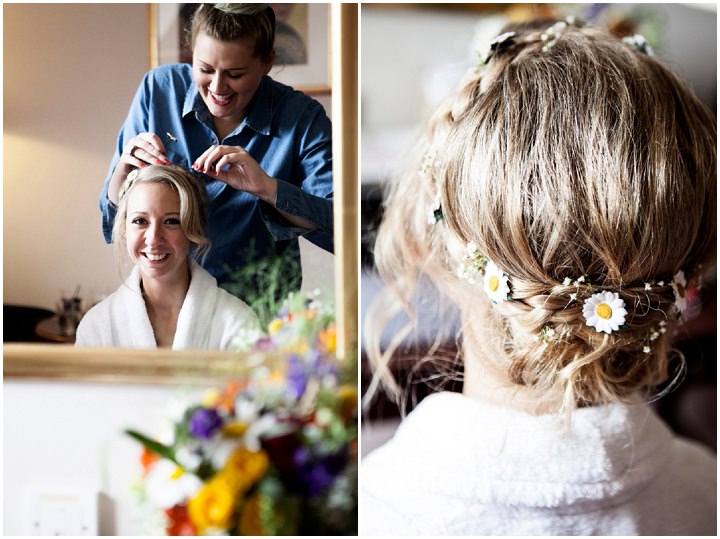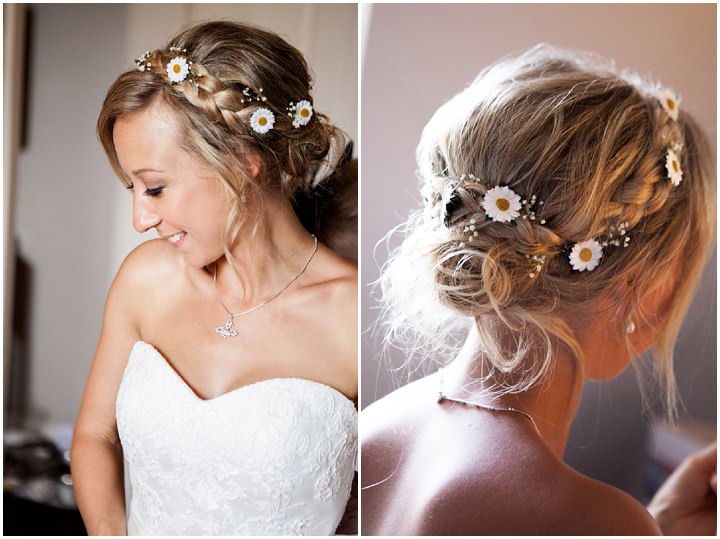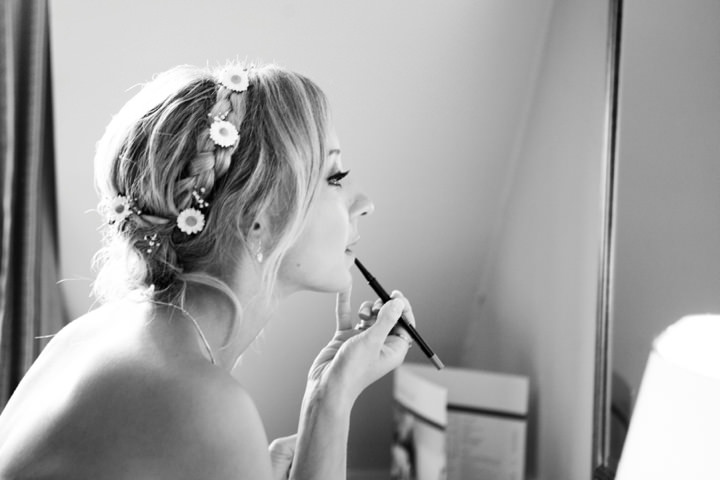 How did you allocate your budget
We were very strategic with our money. We were conscious that this year was the year we were going to buy our first house so we needed to be pretty strict. This gave Alicia the best excuse to make EVERYTHING for the wedding – she loves making things. From the vases to the confetti cones, nearly everything was made from natural resources and recycled products.
Where did you save/splurge
We splurged on the marquee. We had to make sure the guests were comfortable no matter what the weather had in store for us so this was a necessity. Saying that, the marquee team were amazing and kept prices as low as they possibly could. The hotel was a little splurge too just because we ended up with 8 bridesmaids and needed the room for us all (along with Mother of the Bride) to get ready in. Other than that, no splurging necessary. We wanted to make it as natural and bohemian as possible. We may have spend a little on the wedding dress too but that was a treat from Mother of the Bride
How did you choose your photographer
Jo is an old friend of Thom's through the music circuit and we were fully aware of her incredible photography skills, more than certain after seeing her photo's from our friends wedding the year before. She has this amazing fresh, glow to her pictures that were perfect for our natural wedding theme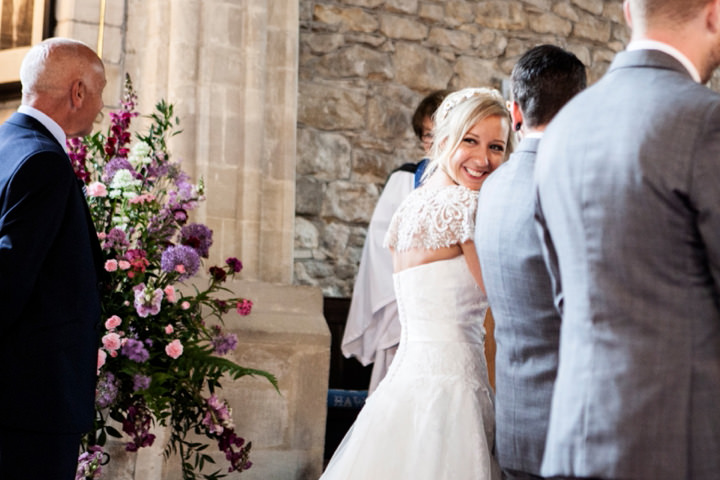 The Dress
The dress was from the Opulence range by Nathalie M. Our local wedding boutique's owner asked me a few questions about the wedding theme, she picked out a dress, I tried it on and fell in love. The shoes were Flo by Rachel Simpson and were the comfiest most beautiful shoes I have ever worn! They lasted the whole night – easy. My necklace was a gift for my 30th birthday from my older brother, his girlfriend and their newborn baby. I've never been able to afford anything Viv before so thought I would make the most of their generosity and my first gift from my first nephew
The Suit and Bridesmaids
The suits were a massive bargain from Slater's Menswear in Birmingham. Although, choosing the suits were left to Thom's discretion after he told me it was wasn't fair that he didn't get to see my dress so I shouldn't get to see his suit until the big day too. It was worth the wait! He did very well! As for the bridesmaids, we had a friend of the Peckett's who makes clothes for the dance school she is part of. She took on the challenge of making 8 bridesmaid dresses and did an amazing job. We appreciate her time and effort; she was non-stop the whole time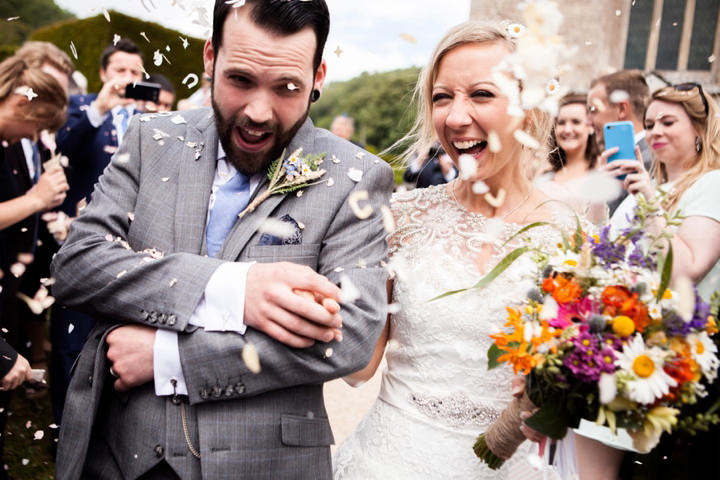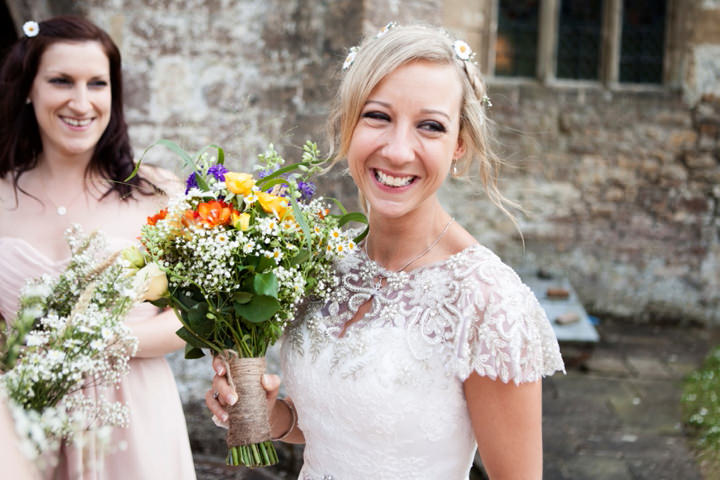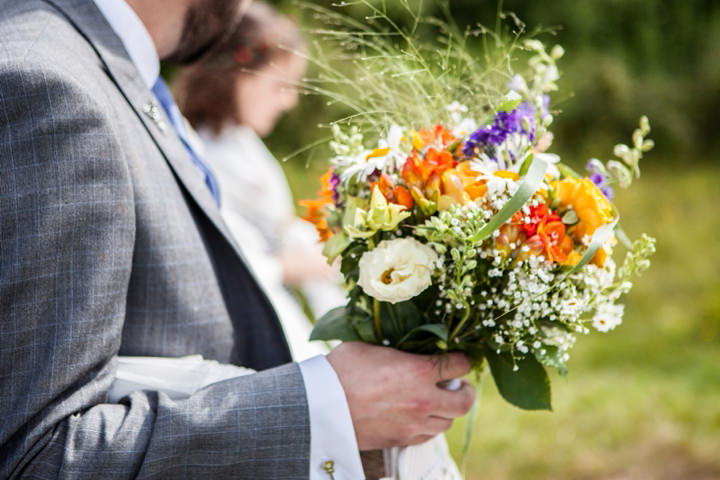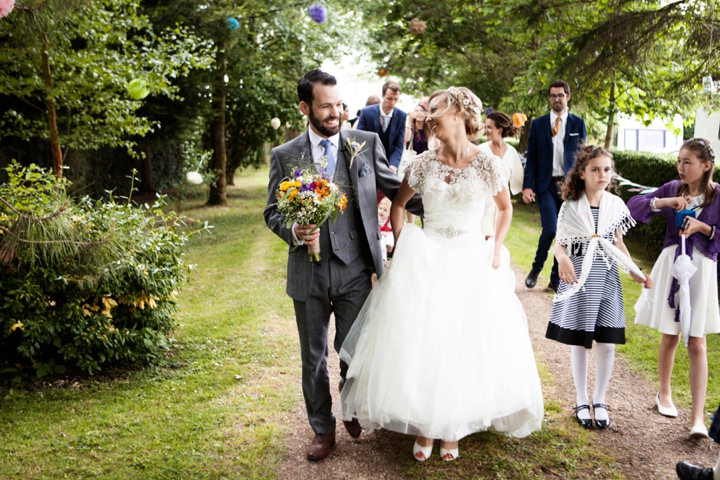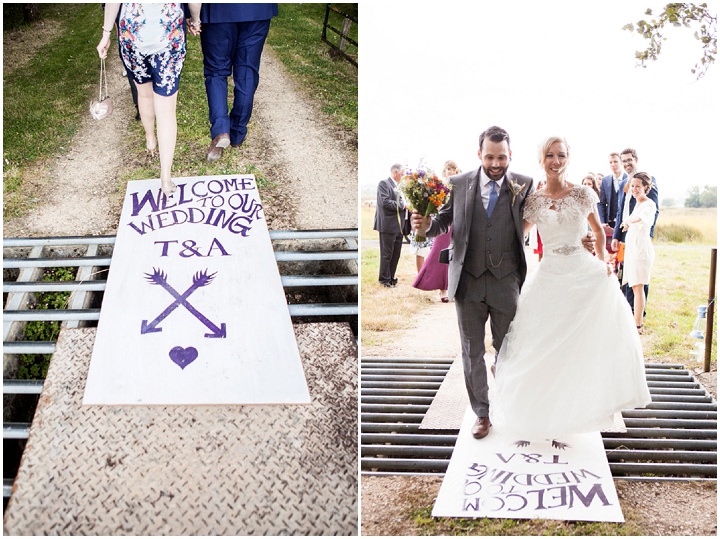 Theme or Colour Scheme
The theme was natural, bohemian daisies. We had daisies in our hair, the placemats had daisies intertwined in the hessian and the bouquets were full of them! We used daisies from Grandma Peckett's field and the surrounding common. The bridesmaids were in a soft blush to match the hazy whimsical meadow setting
Flowers
We are big on colour so the flowers we used on the tables were wild seasonal pickings which I think made the atmosphere more relaxed for our guests – it didn't seem too informal. We had Marigolds, Buttercups and Forget-me-nots…etc. Oh and of course, Daisies.
Decoration
Thom: After seeing how beautiful the marquee was after installation, the tissue paper pom-poms that were made to hang were instantly made redundant. The ivory drapes and brass chandeliers kept with the relaxed theme so we kept it simple and hung the (all colour) pom-poms down the driveway leading the guests into the field.
Alicia: We have a major obsession with Cornwall as the Cattell's have been going pretty much every year of our lives so we set up a 'Cornwall' Tent which was filled with Cornwall related goodies from fudge and pasties to scones with clotted cream and a Cornish cheese selection. Alicia: The vases on each table were made with used jars and covered with a band of hessian with a 'T&A' printed on in white acrylic paint. We then filled the bottoms with seashells from our favourite beaches in Cornwall. We also thought we'd throw in some fun for the guests and filled small canisters on each table with jelly beans – some normal flavours, some rancid (grass, skunk, old socks… etc.) and let the roulette games begin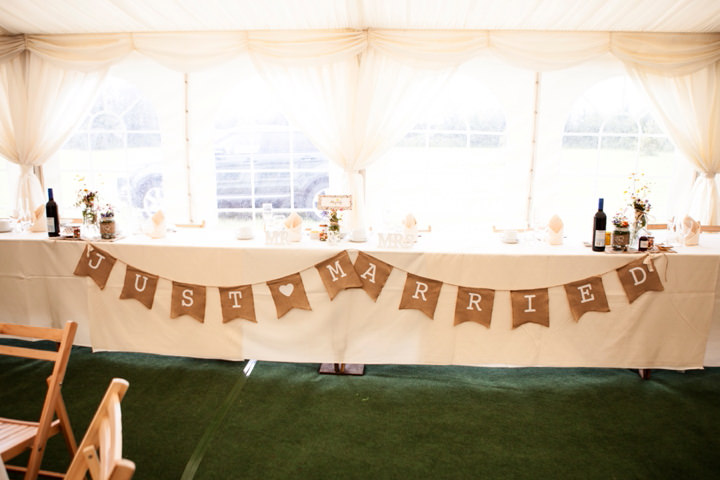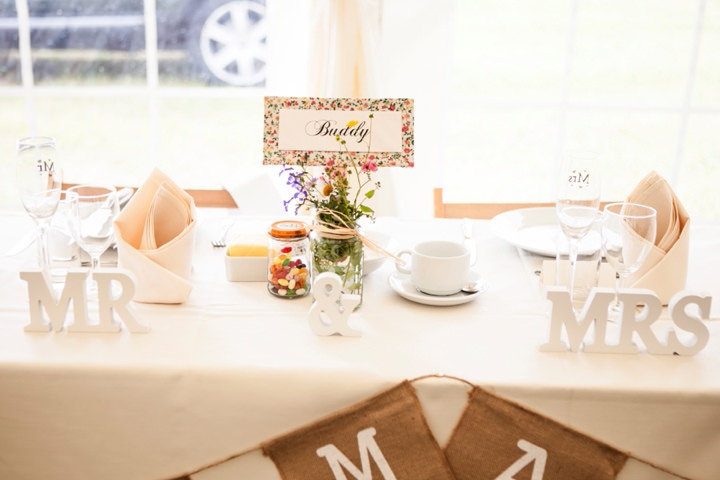 Food
Thom: One of the best ways to get people talking is to share food, so, we opted to have the 'Carve your Own' wedding breakfast. The caters slow cooked a joint of beef for each table and we chose a suitable carver from each of the guest tables to cut the meat by leaving an apron and carving knife on their plate when they arrived. The caterers also lay bowls of new potatoes, roast potatoes, seasonal veg and beef gravy on each table for everyone to help themselves. We had a lot of vegetarians so we had a vegetable pie brought out for them but kept them involved with the sharing by having them help themselves to the sides too.
Wedding Cake
Alicia: My Auntie is a master of baking/decorating. She went above every expectation to provide us with the most spectacular wedding cake of all time. We asked her for something floral and colourful and she gave us an absolute masterpiece. It must have taken her weeks to make so many individual flowers and attach them to the four tiers she had baked. Not only did she do an incredible job with cascading hundreds of flowers around the cake but she also went one extra step and created a mini version of us, sitting on a bench with our cat Millie and Thom's guitar resting on the back to place on the top. Perfect
Entertainment
Thom: Well I've been playing in bands since I was 14 years old and have met some amazing and talented friends on the way. Years ago my band played some songs at our friend Alan's wedding and I thought this was the perfect time for him to return the favour. My band played a 5 or 6 songs to begin with and then Alan's band 'Tangled Hair' took to the stage. Their own take on songs like 'Love is all around' and 'Baby I love your way' by Big Mountain was a perfect end to the day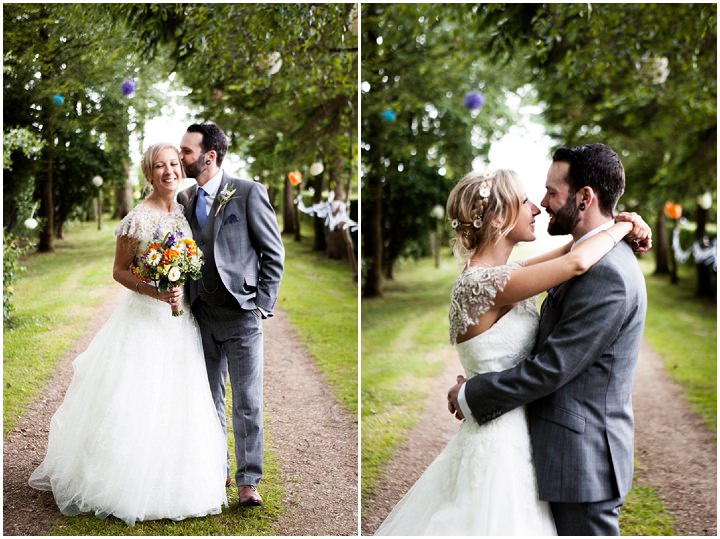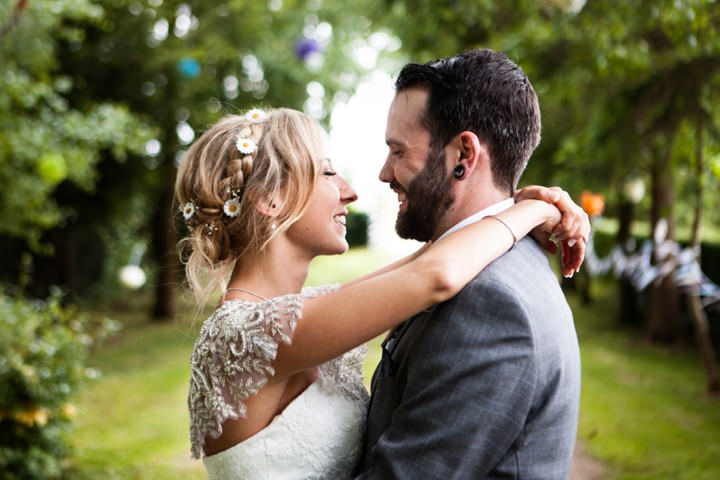 Buy or DIY your Stationery
Thom: We did all of this ourselves really. All the invites, the orders of service and even the seating plan board we designed and made by ourselves. We got them all printed locally and spent many an evening tying things together with garden twine ready to be sent out.
Personal or Handmade Touches
Thom: Alicia went crafting crazy and she bloody loved it. Alicia: This is true. We had all of our tables named after characters that Will Ferrell played in different films like 'Buddy', 'Burgundy' and 'Lord Business' which was fun. It took our guests ages to work out the connection.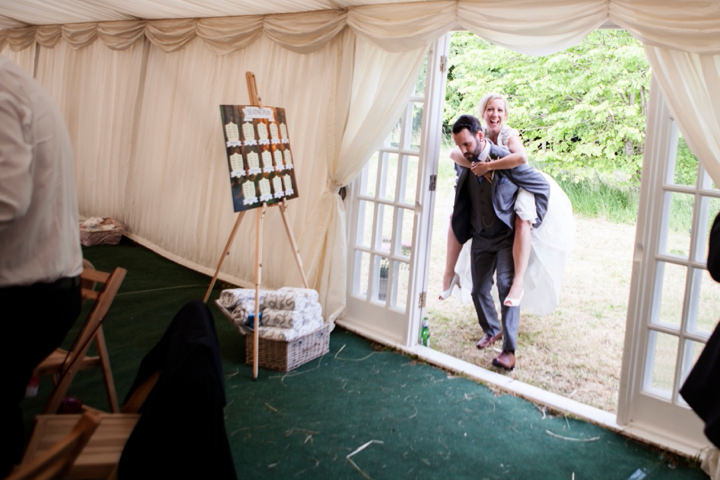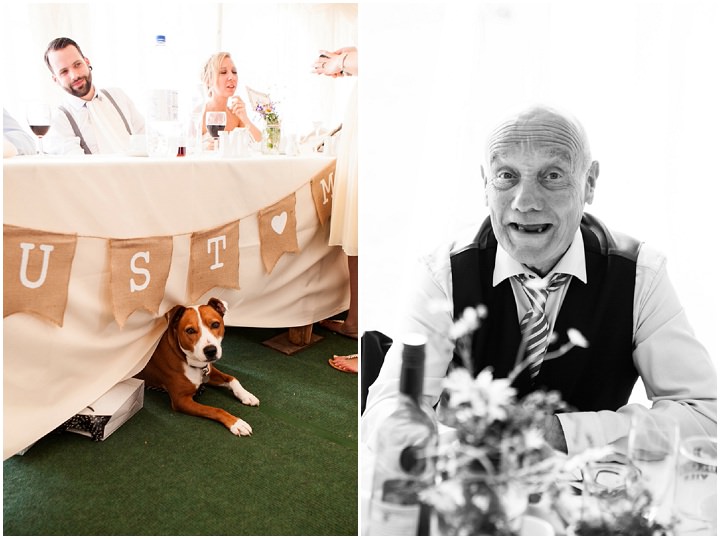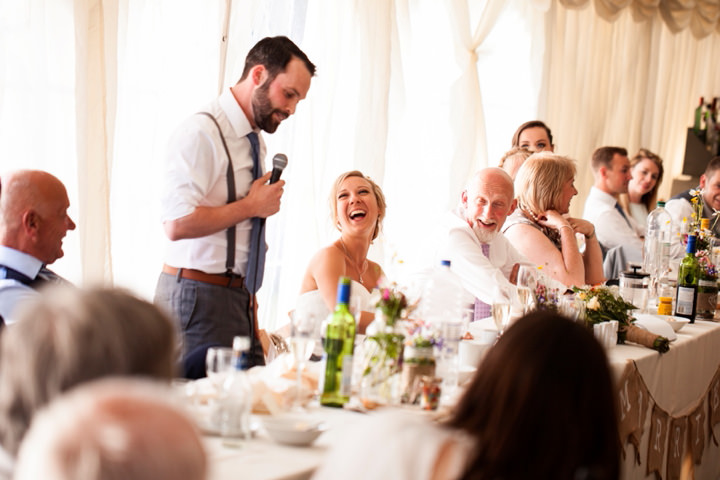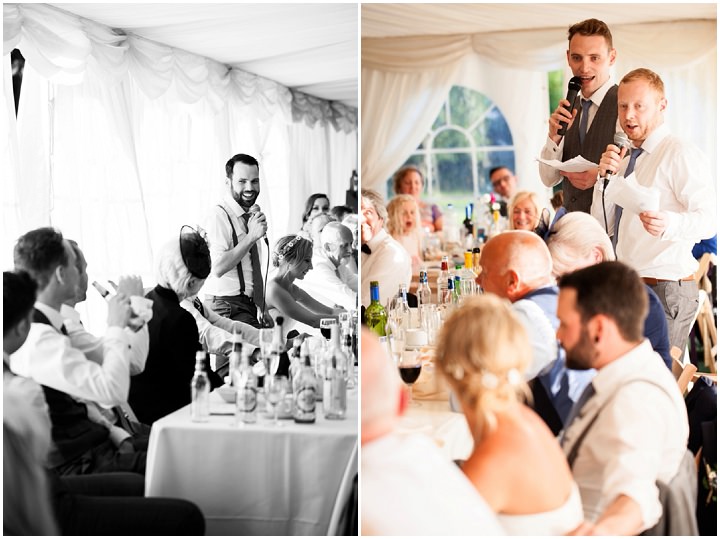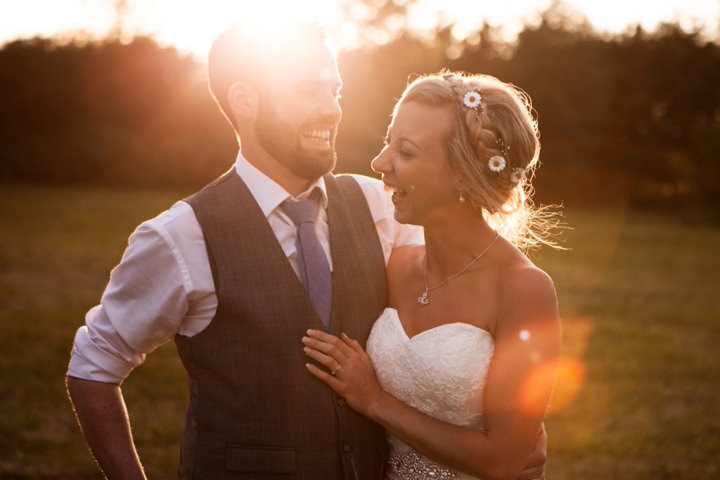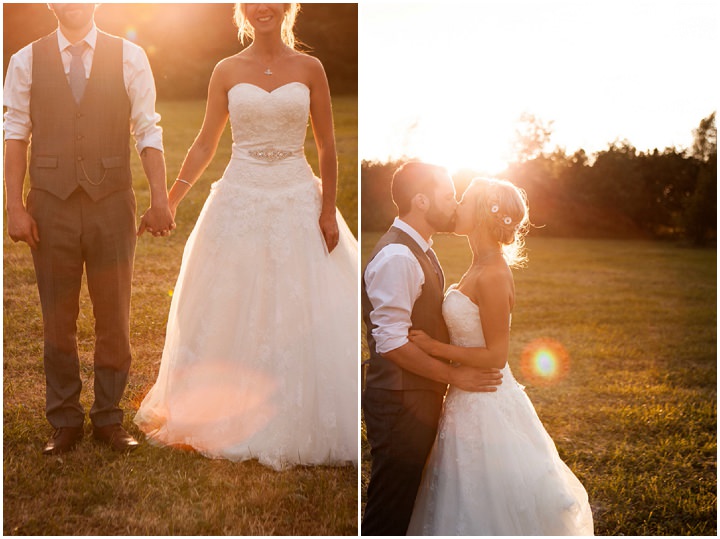 Special Moments
Thom: It's difficult to pick out special moments as the whole day was just perfect and exactly as we planned. When we did our first dance Diesel, the family dog, joined us on the dance floor, which was really sweet. Alicia: We had a moment as well, when we were eating dinner, when we sat back and looked at everyone carving their own meat and laughing and having a great time and we realised and said 'We did it! Look how much fun everyone's having! We pulled it off!'
Advice to other couples
Alicia: Give yourself time, and that goes for the planning and the day itself and try not to worry! You can worry as much as you want on the build up but just enjoy yourself on the actual day. Thom: Everybody will tell you that it goes by really quickly, and it definitely does. For us it was over a years worth of planning and it's all over in a day, so try and sit back and enjoy everything you did and all the effort you put it.
Biggest surprise
Thom: For me it was that absolutely nothing went wrong. Everything we'd planned came off and there was no waiting around or faffing. It all just went smoothly and was just the most fun.
Alicia: When Thom and his best men performed some songs, they played a 'My Hero' by Foo Fighters which is one of my favourite songs and I had no idea they were going to play it!
Supplier Shout Outs
For more information on Joanna's work please go to: