I am pleased to welcome back Bex to the Blog today. Bex is a regular contributor to the Blog and has her own blog www.homespunhoney.co.uk'. Today she is sharing with us another of her wonderful tutorials, as she tells us all about Creating a Sweet Station.
This is more of a hints and tips post than a normal DIY post so if you're not the crafty type then this post is perfect for you!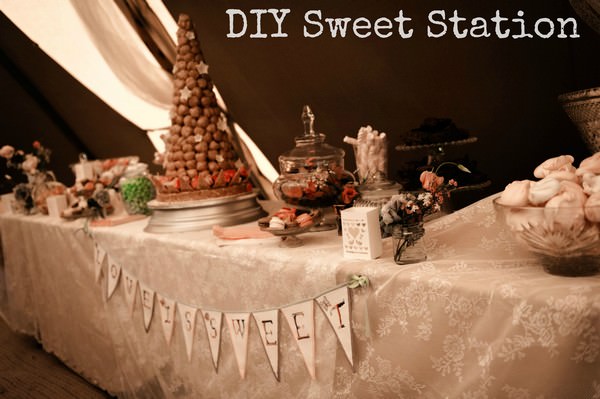 I'll pass the Blog over to Bex…………..
Hello Boho readers, it's lovely to be here again with another wedding DIY for Kelly. Today's idea has gained massive popularity over the last couple of years as something that is relatively inexpensive, fun, delicious, stylish and a great talking point: The Sweet Station. Working at lots of weddings myself I have seen some sweets tables that are less impressive than they could be and you can really tell the ones that have had time and thought put into them versus the ones that have been a bit of an afterthought. So this is less of a typical step by step DIY and more a list of tips and advice for making your sweet station simply sensational! I hope you find it useful and a little bit inspiring…
Tips and Hints
Tip 1) Choose a theme. Think about what you want your sweets station to look like and how this will fit in with the overall style or theme of your wedding. If you're having signs elsewhere in your wedding, can you use the same style of lettering for some signs on your table? If you've got a vintage style throughout your wedding how can you bring this to your sweets table?
Tip 2) Great Containers. You will usually get the best impact by having a linking factor between all your sweets containers. Whether this is that they are all glass, all the same colour or a similar style, having a common thread running through will pull things together. Within this consistency, you can have as many sizes and sorts of container as you want – the bigger mix the better! Some good places to look for containers are charity shops, car boot sales, TK Maxx, Ebay, Not on the high street, department stores and especially your parents' / neighbors  / friends' cupboards! By having a couple of really lovely containers, you can mix in some less exciting ones and the overall effect will still be great. Here are a few I've found online that would work particularly well.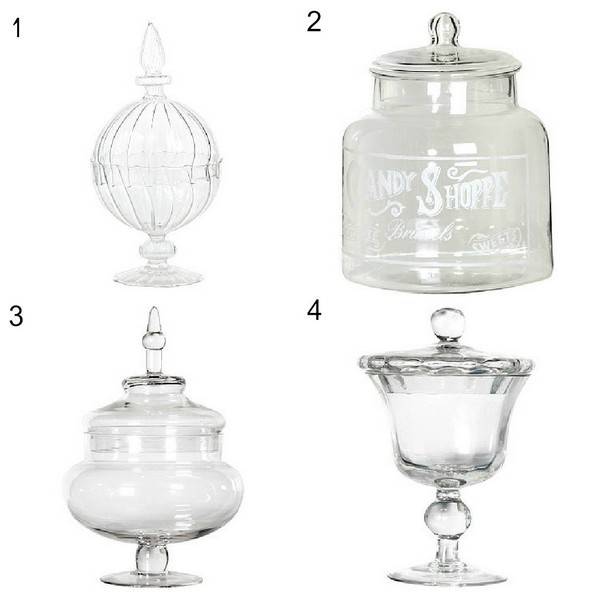 Tip 3) Have a centerpiece. We opted to have a French style croque en bouche instead of a traditional wedding cake, and this became the towering centerpiece of our sweets station.
Tip 4) Think levels. Your table will look better if you can introduce some different levels – we used a couple of boxes under the table cloth to place some of our containers on.
Tip 5) Signpost your sweeties. Create some signage to take your sweets table to the next step in designer dessert. I used various different shaped frames around my wedding venue, and we spray painted these in three colours. We used the same font for all our signage and places the signs in the frames. For the sweets table, I used two larger frames with the lyrics "How Sweet It Is… To be Loved by You" and placed these either side of the croquet en bouche. Some other ideas would be to use stand alone lettering spelling out your names or initials, a favourite word or simply "Sweets"! Lables on your jars can look lovely, or small name cards in front of each item to tell your guests what's what.
Tip 6) Add some props. How about adding a pair of vintage scales or an old fashioned till to the table? It's amazing what you can find at car boot sales…
Tip 7) Going home bags. As the ultimate favour, allow your guest to bag up some sweets and take them home. You could personalize some bags with your names on them or simply choose some pretty paper or cellophane bags, stack them up and tell your bridesmaids to encourage people to pick and mix!
 1) Cake Craft Shop 2) Carrier Bag Shop 
Tip 8) Sweet it Up! If you've decided to go for a sweets table, I would say you have to go big. Order more sweets than you think you will need – the key to it looking great is having scale and impressive amounts of the sweets, not being stingy! Think about mixing a few different sweets in the same jar or using some bulkier items such as marshmallows so you don't have to spend as much to create the right effect.
Here are some good value places to buy your sweets online…
www.aquarterof.co.uk
www.sweetsncandy.co.uk
www.tradesweets.co.uk
Here's a few photos of the Sweet Station I had at my wedding………..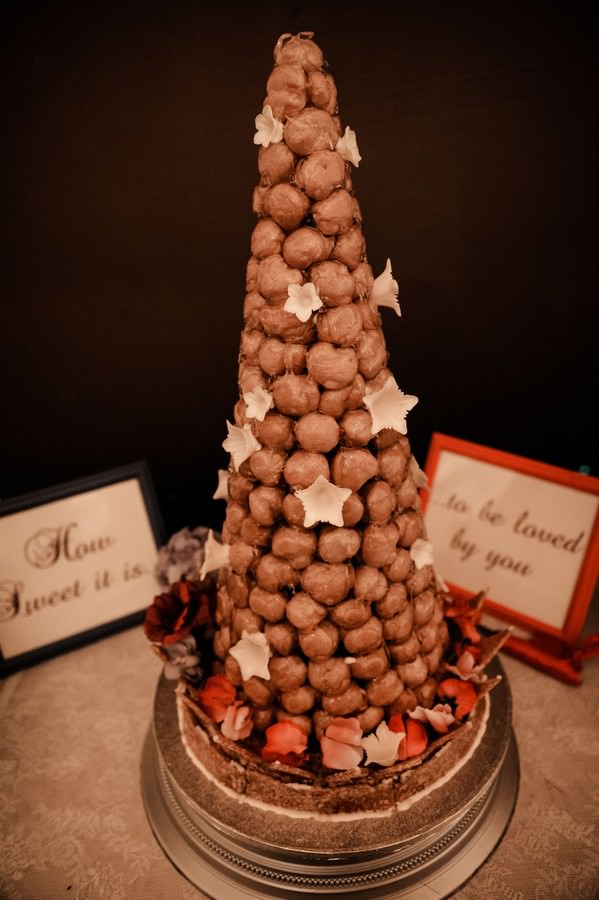 Thanks so much to Bex for this wonderful tutorial. I hope it's given you all some ideas.  Bex will be back in a few weeks time with another fab DIY tutorial.
You can read more from Bex on her Blog
www.homespunhoney.co.uk
TWITTER
'Hello lovely Boho readers, my name's Bex and I'm a makaholic. I'm also a newlywed with an obsession for all things homespun, vintage and delicious.
I love to make things – dinners, scarfs, music, tea time treats, decorations, skirts, gifts, curtains… you get the idea. I have spent the past year producing all sorts of things for my own wedding and have been further bitten by the making bug in the process.  I've just made the leap from avid blog reader to blogger myself – check out my site for lots more ideas and to follow my homespun addiction into married life!  www.homespunhoney.co.uk'
Pictures from the Sweet Station by Tino & Pip www.tinoandpip.co.uk
♥   You can find more DIY Tutorials HERE   ♥