Happy Monday everyone, how was your weekend? Mine was brilliant as it was my birthday on Saturday. I had a lovey day eating, drinking, shopping and then a lots of dancing. It's fair to say I felt the brunt of it yesterday, I can tell I am getting old as my recovery time after a night out is getting much too long! Today I am feeling much better though and ready for the week ahead. I'm going to hospital on Thursday to have my eyes lasered so I will be taking the later part of the week off, away from work and recovering, so it's a busy few days now getting everything ready before my Op! Today I have the delightful Sophie and Paul on the blog and their amazing hand made garden wedding that took place at Sophie's dads house. The whole day is super personal, full of fun and a whole lot of laughter. Lase Photography was there to capture the day for us.
A rickety, hand-made garden wedding, pieced together with favours from friends and the love and help of family; followed by a pretty special BBQ, good vibes, silky live vocals and garage music.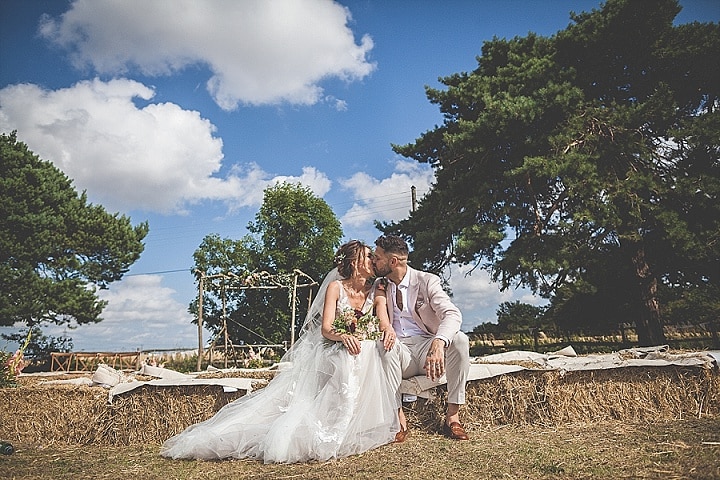 Sophie and Paul  were married on 20th July 2019 at Rook Lodge, Sittingbourne in Kent (bride's dad house.) 'We got married there for a number of reasons – 1. For the sentimental value, 2. For the freedom it would afford us with regards to guest numbers and timings (schedule, how long the dancing could go on for etc.) and 3. Originally, to save money but, in the end, it ended up costing the same, if not more, than a ready-made wedding at a proper venue! We had 128 guests in the day and another 60 in the evening. Paul proposed to me in January 2018, so in terms of time between then and the wedding, a year and a half to plan, but in reality, we didn't start planning it until, probably, September 2018!
How they met 
Woah, we met at a house party when I was 17 and Paul was 19, I asked for his number and we stayed in touch for a good few years, whilst I disappeared off to uni and then travelling (full cliché) and then, we kind of rekindled our dalliance whilst I was visiting a friend in a pretty dodgy area of Bahrain, (so was stuck indoors a lot) over something like MSN #Throwback! We then met up when I got back and have been together ever since, so that's a ripe old 12 years so far!
The proposal
Oh, I was actually furious about the proposal – Just to set the tone, Paul loves to stay local to where he lives, a proper homebody, and I like to adventure a bit more; our son, Cass, was a month old and it was our 1 year anniversary.  I had decided, last minute to go for a walk with Cass over our local park with our new born and Paul decided to come with me – albeit a beautiful park and a beautiful spot that he picked to propose, I was pretty livid (after saying 'yes' and getting over the initial semi-shock of it – kind of suspected because it was our anniversary), that it was in our local park and a last minute thing! However, it was a sunny day, on a gorgeous bridge, on an important day and we were still high with joy at having Cass, so I can see why he chose to do it then… I suppose.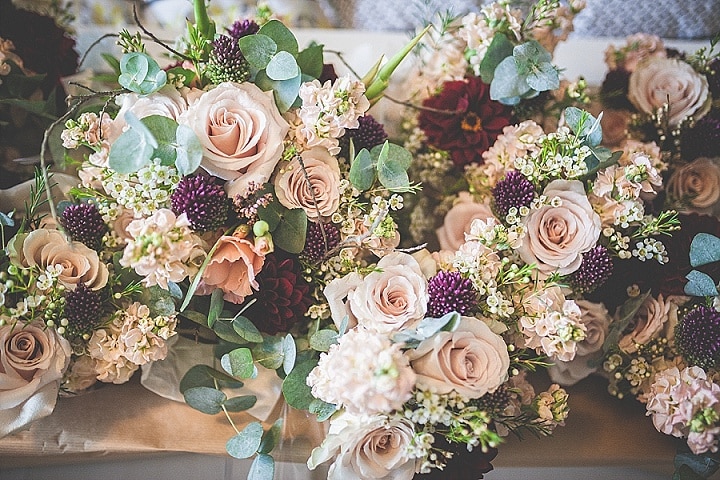 How did you allocate your budget?
We didn't really have much of a budget and, in the end, had to borrow a lot!  So, basically, we just booked and organised early on and thought about how we were going to make up the rest of the money later!  Not the most responsible, I know.
Where did you splurge and where did you save?
We were so lucky that we are surrounded by some great people who were all too happy to help out with our wedding in the way of favours, so our cake was gifted, as was all of the stationary.  My dad made our wedding arch, he organised for his friend to cut the tree stump centre pieces for us and used things he found around his house to decorate the bar area.  We had a horse box bar, which is a business start-up, so we were allowed to have that as favour to gain exposure for our friends company (all details below), a local farmer only asked for a small amount of money for the hay bales and refunded some of that on return.  A good friend of mine did us an unbelievable deal on the hair and make-up, which was a right touch, considering I had 10 bridesmaids and three flower girls!  Another friend of mine picked my dad and I up in his Aston Martin DB5 as a wedding present and Paul's friend is a cabby and offered to put a ribbon on two of his black cabs and pick up my bridesmaids! My beautiful chief Bridesmaid and sister bought me my veil.
We paid for our flowers and photos but they were so reasonable for the level of quality and service we received!
The most amount of money went on the sailcloth tent that we used for the wedding breakfast and party and the food! My dress and ring were a fair amount too.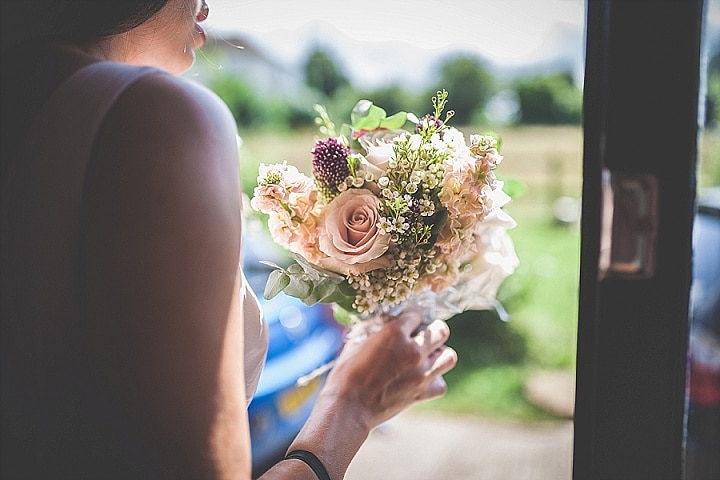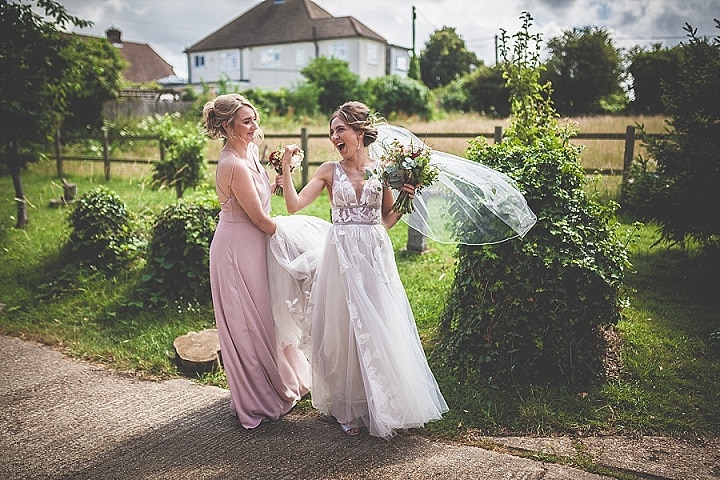 How did you choose your photographer?
Well, I had a good idea of what I wanted and I definitely wanted to stray from the traditional / conventional, sometimes cheesy wedding shots. I studied film at university so wanted photos that had that slick, filmic vibe but that were a little bit 'avant garde' and natural. I was really lucky because I stumbled upon our photographers when looking through the Instagram of the company I got my wedding dress from and instantly loved their stuff!  Then, the icing on the cake was the fact that we got two photographers, taking pictures from both the Bride and Grooms perspective, from early in the morning, all the way through to a few songs after the first dance and all for a relatively reasonable price to other what other photographers were charging!
The dress 
My dress was called Galatea by Willowby, my earrings were borrowed from my sister and were the ones she wore on her wedding day.  My ring was my mums, mum, whom I never got the good fortune to meet and my shoes were Head over Heels by Dune.
The suit and bridesmaids
The grooms outfit was from Reiss, his groomsmen got theirs from Marks & Spencer, most of my bridesmaids dresses were from ASOS, all but one, which was a maternity dress from somewhere obscure – I can't recall where!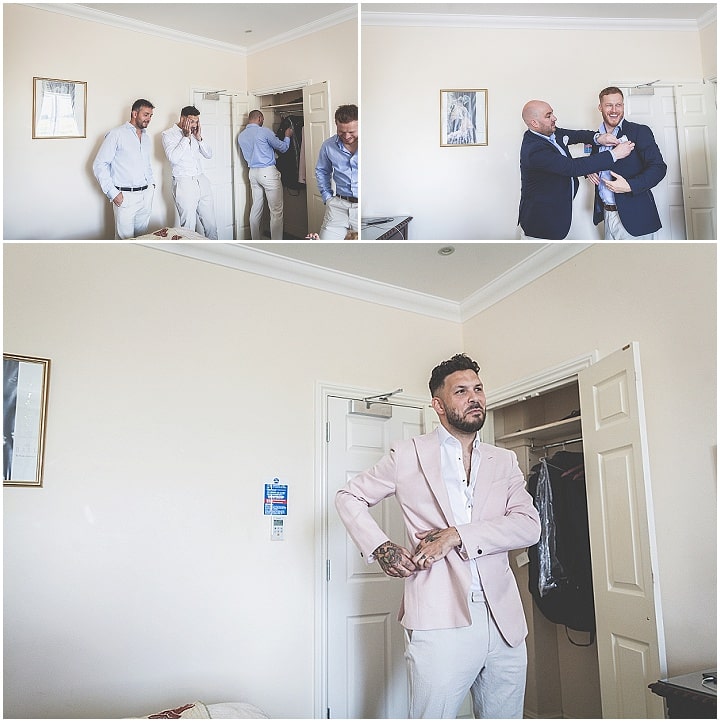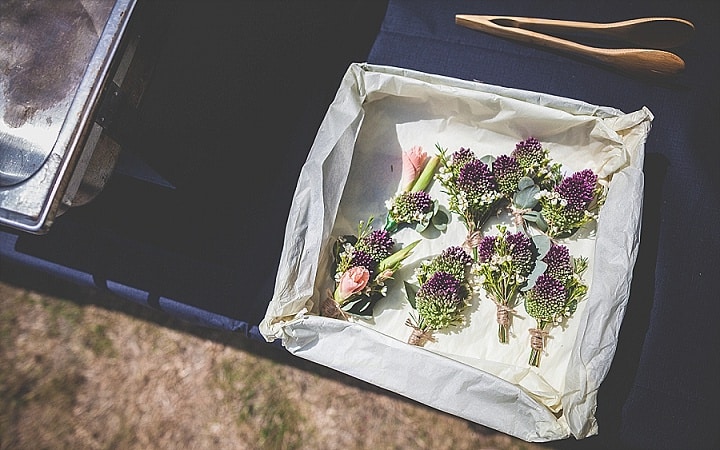 Theme or colour scheme
If I'm honest, it was a completely accidental colour scheme, I have actually always disliked pink but somehow ended up with a wedding day drenched in it.  I'm not even entirely sure how it happened.  I think it was because I didn't want anything to be too uniform or conventional and I particularly reject the "every bridesmaid in the same dress" look, so chose to put most of my bridesmaids in different dresses but in a similar colour pallet that, when I looked at what was out there, just ended up being pink!  So, I would say the colour scheme was just "rustic summer" really… sounds like a Farrow & Ball paint name.
Flowers
I asked for a bit of a chaotic, wild looking bunch of flowers that pulled together all of the colours of the bridesmaids dresses. I sent a few examples of what I wanted to our florist and she absolutely nailed it!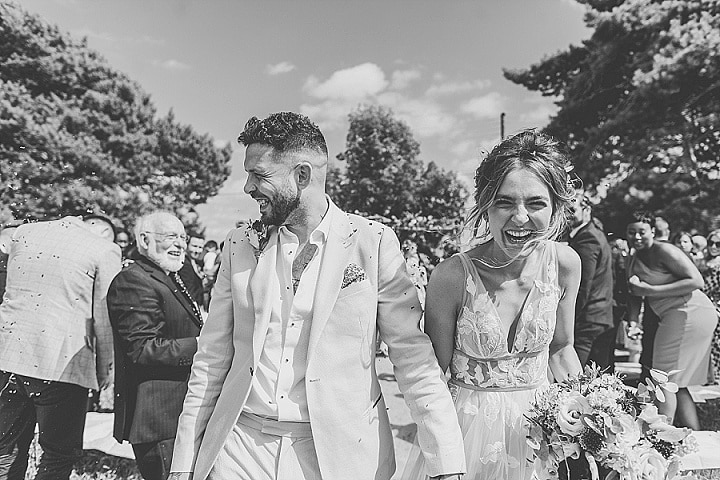 Decoration 
Ah, this is what I found to be the toughest part!  Mainly because it required some sort of vision, which I have just never had for my wedding, ever and because everything was chosen from the floor up, by us, I felt quite a lot of pressure to bring everything together through the decoration.  It was important to me that the centrepieces meant something and reflected our personalities in some way, so what I decided on was tree stumps, perfected by my dad's friend which ended up looking really good and added height to the centrepieces, with vintage, second-hand, cake stands with banana loaves on top, baked by Pauls sister, Chloe – because Paul has always loved cake and Cass loves Chloe's vegan cakes (he is allergic to egg and dairy!). Then, we poked photo holders in the cakes and topped with Polaroids of Cass holding the table numbers.  I love charity shopping and started really early on to collect lots of glass and brass / copper tea light and candle holders to dot around the tree stumps, then, to finish off and bring it all together, our florist created beautiful semi-circle shaped flower arrangements to add to the display and follow the shape of the tree stump.  Our florist also decorated the bar with eucalyptus leaves and the table plan with some flowers.  There were also quite a lot of fairy lights draped about inside the tent and we lined the perimeter fences with white, lace style laser-cut bunting.
Food 
We absolutely lucked out with the food, well, with everything really but there were a lot of comments about the food in particular!  A friend of ours recommended a brilliant gourmet BBQ company. We went straight for a main and dessert, self-service – it was beautiful food and all really well managed, they were such a HUGE help when it came to staffing, setting up last minute bits for us whilst we got ready and making sure everything looked nice – they took a huge amount of stress away for me on the day.
Wedding cake
Our friend gifted us our wedding cake! We were so lucky!  I like contrasting patterns, so wanted flowers against a black and white, asymmetric cake, which wasn't supposed to be a football, as many people assumed (Paul plays football semi-professionally).  We then got a cake topper made that incorporated the fact that we have five French Bulldogs at home… absolute madness, I know.
Entertainment
We had a really slick vocalist from the X Factor singing us back up the aisle and singing throughout the drinks reception and then for an hour later in the evening – he sang covers and really set things off with such a vibe!  We then had a DJ for the evening who played a wicked old school Garage segment part-way through the night, it was flippin' electric.
Who supplied the stationery?
Pauls ultra-talented sister, Chloe (Banana bread girl) did all of the stationary – another person who really didn't get enough credit for how much she did for us on the day.  She made all of the place names, with different style ribbon attached to each (I am ribbon obsessed), she wrote out the place names for the bales of hay that people sat on for the ceremony, she created all of the signage and the table plan, which she wrote out on a vintage mirror, plus the order of the day!  She did so much, I've probably forgotten something.
Special moments 
All of the speeches – they were so well written and thought out – really moving.  It's so tough for some people to speak publicly too, I know I couldn't do it, but everybody that we asked to, did, for the love of us and I will be forever grateful to all of them.  The Garage dancing was also a huge highlight – I relive it often.  Also, walking up the aisle, towards Paul, followed by some of my most favourite and important people of all time!
Advice for other couples
Wow, erm, it terms of being in a relationship, "live and learn" – just keep moving forward, if you've found somebody special, commit and just keep striving to grow together no matter how hard it gets – relationships are rarely easy and shouldn't be disposable. #Preach  In terms of a wedding, just make sure the most important elements are in place – people, food and booze and everyone will be happy oh and just split tasks, trust each other with those tasks and you'll tackle it in no time.
Supplier Shout Outs 
For more information on Lase Photography go to
www.lasephotography.com / [email protected] / 07496792263 / FACEBOOK / INSTAGRAM
Lase Photography are a photographic duo based in London and Brighton. We love to capture creative, unique moments. We shoot colourful, documentary style photography, shooting all the special moments for our wonderful couples. We bring a fun and laid back attitude to our work and always end up leaving a wedding with a new friend or two!