Happy Monday everyone, I do hope you had a good weekend? Mine was lovely, spent with friends, family and of course my two boys. We have a busy week on the blog and I have lots of amazing weddings to share with you, starting off the week with this super chilled wedding that come in two parts. The main part of the wedding was held on the family farm, however Amy and Ned carried out the legal part of their wedding the day before, giving them the opportunity to celebrate twice. The farm wedding was a real family affair, where everyone pitched in to help, from the decoration to the catering, they had so much help, which made the wedding super personal for everyone involved. The decor was beautiful and inspired by their trip to Peru where Ned had proposed, full of bright colours and so many flowers. A truly individual wedding, bursting with personality and so much country charm. Big thanks to Andrew George Photography for the lovely images.
Chaotic, wonderful, familial
Amy and Ned were married on 29th and 30th July 2018. 'We had two wedding days! On the Friday we had our official marriage ceremony at the National Trust property Tintinhull in Somerset with parents, siblings and grandparents. Afterwards we met the rest of the bridal party and groomsmen at a local pub which was wonderful and a great opportunity to have a more intimate celebration. The next day we had a celebration at Amy's uncle's farm in Somerset, which included a ceremony led by our friend, a sit down meal, speeches, and a big party! 'The first decision that we made was that we wanted a ceremony at the family farm. We were looking for a place we could have a celebration where we could have an open bar and people could camp for free. That was the original idea. We were in Peru at the time so Amy's mum visited a few places for us and then came to us with the idea of having the wedding at Uncle Phil's farm. The farm has been in the family for many, many years, and once we made the decision we just knew it was the right one. It felt like coming home. Deciding the official wedding ceremony was harder. When we saw Tintinhull on the National Trust website, we just knew it was right for us.It was such an intimate, beautiful space. After visiting and meeting Pippa, the organiser at the trust, we just fell in love with the whole feel of the place. We had approximately 200 guests. We probably planned it in a year. We were in Peru for much of the planning phase so whilst we were coordinating stuff the real planners were our family and friends, who were amazing, they did so much for us.'
How they met 
We were very young when we met! We were at University, and it definitely wasn't romantic, but we have grown up together, and our love for each other has grown with us. We now have two children and a cat called Barry. It has been fifteen years and we are looking forward to many, many more!
The proposal
Ned proposed when we were travelling in Peru. We were hiking in the Andes mountains, and had just finished a day hike to a glacial lake called Laguna Churup. It was high, cold, and beautiful. After grabbing a sandwich we sat and looked out at the glacier. Ned said he wanted to take a photo of me looking out, and while I stood there facing towards the lake he got down on one knee and produced an engagement ring. It was a beautiful surprise. We both cried, and have no memory what either of us said. The walk back down the mountain was a bit of a blur as well, but a very happy one!
How did you allocate your budget?
We are awful at budgeting, and probably broke every rule there is. We tried to have a system, but spreadsheets are really not our strong point. There are a lot of expenses with having a ceremony on the family farm that you wouldn't get with a professional venue, like toilets, generators, tables and chairs, and even laying a chalk floor in the main barn! Most of our budget went on the infrastructure, and we borrowed and did the best we could with everything else! We are very lucky that everyone pitched in to help us and we are very aware that without the generosity and kindness of our friends and family, our wedding would have been a lot more expensive.
Where did you splurge and where did you save?
We did not spend much (relatively!) on our wedding outfits, so we probably saved a bit there compared to some weddings.
The big splurges were the on the band and the open bar, which were very kindly covered by our parents.
How did you choose your photographer?
Andrew was a very easy choice for us. He had been recommended to us, and as soon as we saw his work we knew he was the one and we asked him to photograph both days for us. He chatted to us and got a feel for what we wanted from our wedding photos. We did not have any planned group shots on the second day, and we were looking for a naturalistic, non invasive style of photographer and Andrew was the perfect choice. But the best thing about Andrew is his demeanour. He is very happy, very relaxed, and just a very, very kind person. And a really good photographer.
The dress 
On the first day I wore a simple singlet from Topshop with a skirt from ASOS and on the second day I wore a Grace Loves Lace dress which I found second hand on preloved, and my shoes were from Office. I love Grace Loves Lace and had planned to go directly to them, and then I found the dress I liked on preloved!
The suit and bridesmaids
The suit was handmade in Lima, Peru. I doubt many readers will be heading to Peru to get their suit made (!) but it is an absolutely brilliant place called Espana, on Calle Monte Rosa in Surco, Lima.
There were a lot of bridesmaids! So we ended up asking each of them to find their own dress. Between the bridesmaids and I, we agreed on a long, grey dress. I wanted them to feel comfortable in a dress that they liked and would wear again.
The flower girls wore simple white summer dresses from Zara and the flower boy wore a suit from Jojo Maman Bebe. The flower girls had ponchos and the bridesmaids had different coloured but similar styled pashminas for later in the day when it started getting cold, which we bought in Peru.
Theme or colour scheme
I think it is fair to say we went for a clash of colours rather than a theme. Peruvian style is bright, contrasting colours, and we used Peruvian blankets as our table cloths, which were brilliant. We had local, seasonal flowers of all different colours.
We did try and offset all this contrast with some more neutral touches, so the Bridesmaids wore different shades of grey and had gypsophila flowers, and we had a dark blue backdrop for the ceremony. The main barn was power hosed, so the natural wood and metal was our backdrop. We loved the contrasts. It was natural, comfortable, and fun.
Flowers 
For my bouquet and the buttonholes for the first day we made them ourselves with seasonal flowers from my nan and grandad's garden. On the second day the bouquet was on the decoration on our table.
For the second day we ordered flower crowns, bouquets, little posies for the flower girls and buckets of flowers from a local nursery. We visited the nursery and asked what was in season and went from there. We ended up with lots of gypsophila and freesias, which was beautiful. Amy's mum and auntie did the bridal party's hair and everyone had fresh flowers weaved in, in their own style.
Family and friends also all grew lots of flowers for us so the days before the wedding people were driving plants pots over to the farm and there were flowers everywhere!
Decoration
The decoration was all homemade by family and friends. We painted various old furniture that was lying around unused in the farm, and had quite a lot of old buckets, troughs and the like that we filled with flowers.
In the main barn there was a huge piece of farming equipment hanging from the ceiling, that became a slightly random decoration. Amy's mum is very good at this kind of thing and created a decoration with old books, so we spent more than a few months folding the pages of old paperback books in half to create these rather beautiful hanging decorations!
The flowers for our beautiful wedding decorations came from Green Rabbit Flower Farm in Cornwall. My cousin also gave us and created this sign with our names which features in the photos.
Again, we are incredibly lucky to be surrounded by people who are very generous with their time and highly creative!
Food 
The food was outstanding! On each table we put bread, cheese and chutney to get the meal started. The cheese was ordered from a local supplier and my nan and grandad made enough chutney for 150 people!
For the main meal we had jacket potatoes with a choice of fillings, made by a good friend of ours, Caroline, then later in the evening we had a hog roast. The hog roast is from a local supplier and it was delicious! Family and friends made desserts and after the main meal and speeches, the desserts were served as a buffet. We really wanted heart-warming, good food, on a relatively small budget and we still do not know how Caroline did it – the food was exceptional and a really highlight of the day!
We also brought biodegradable bamboo plates and cutlery which looked rustic and really nice with the tablecloths, and made tidying up easy!
And the wedding cake?
We had not planned a cake or a traditional cake cutting moment, but my auntie surprised us on the day with a beautiful cake she had made.
What did you have as entertainment?
The whole day was full of music!
Family friends lent us a beautiful old chevy truck which the bridal party arrived in. As we arrived at the farm our good friends Sarah and Linna started playing the fiddle and banjo and Amy and bridesmaids and her parents went down the aisle led by Sarah and Linna twirling and playing. Later, they accompanied the songs during the ceremony. Arriving at the farm, seeing everyone and hearing Sarah and Linna play was one of our favourite moments of the whole day.
After the ceremony, while everyone enjoyed Pimms in the afternoon sun, our very good friends Cath and John played a short acoustic set.
The main band was Area 52. They are a big funk band, that are just great fun! They have headlined at a local beer and music festival that our family helps to organise, and so we had seen them headlining more than a few Saturday nights! They had the barn absolutely pumping from the moment they got on stage.
Who supplied the stationery?
Our lovely friend Holly Smith. Holly asked us for ideas and some pictures of things we liked. She created the most beautiful hand drawn images of summer flowers, and used those as the basis for the invitations and orders of service. They were absolutely stunning, and she is an incredibly talented artist.
What were your special moments or highlights of the day?
All the speeches! One of our oldest and best friends did the ceremony for us. His speech was a complete surprise to us. It was beautifully written, personal and so thoughtful the photos of the crowd laughing and crying are exactly how I remember feeling during his speech. Amy's dad and sister had found an old poem Amy had written which he read in his speech, which was a lovely, slightly embarrassing and very emotional surprise. Ned actually lost his notes for his speech, but luckily he loves public speaking and even without his notes, delivered a beautiful speech.
What advice would you give other couples?
Keep people fed and watered! No-one cares about how pretty a centrepiece is if they are hungry or thirsty so invest in the guests! And go local.
Don't spend time on the day worrying about perfect photos or staged group shots. Enjoy every moment, and trust the photographer to capture those moments that can't be staged.
Find a quiet moment in all the chaos and fun, even if it is just for a few seconds, to tell each other how much you love each other. That is something you will treasure forever.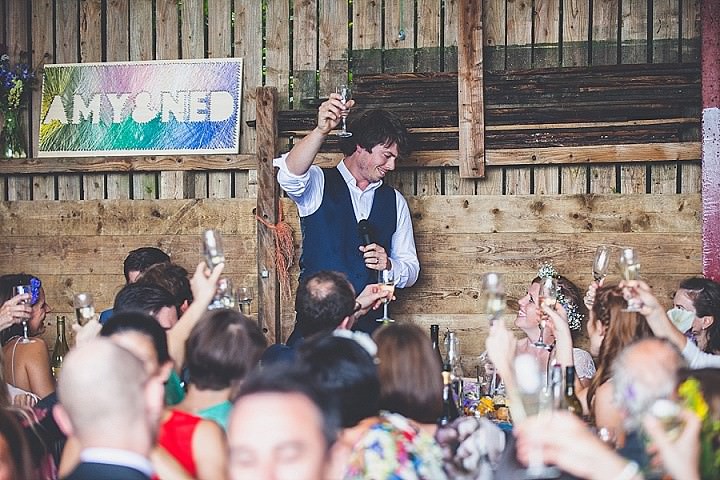 Supplier Shout Outs
For more information on Andrew George Photography go to
www.andrewgeorgephotography.co.uk / www.andrewgeorgephotography.co.uk/blog / [email protected] / 07809438376 / FACEBOOK / INSTAGRAM
I'm Andrew, a Cornwall wedding photographer who loves to shoot all things real, moments of emotion and happiness! I love getting outdoors and can't get enough of the amazing place that is Cornwall!! I am so lucky to call it home and if you are getting married down here, great choice may I say! Photographing things as they happen is for me what it's all about and how I go about shooting a wedding. If this sounds like you then I'd love to hear from you … so let's talk!