Happy Monday everyone, and Happy Bank Holiday to those of you in the UK. I hope it is a good one for everyone. I am currently on my way to Ibiza, super excited and ready for a week in the glorious Ibizan sunshine. If you want to follow my holiday adventures then I will be posting regularly on my Instagram stories. Ola and Emil are today's gorgeous couple and I am delighted to share their pretty pastel wedding with you. Their wedding sees us in Poland and what a gorgeous day they had. A super cute outdoor ceremony complete with hay bales, a ribbon backdrop and balloons. Followed by a very lovely and entertaining reception, full of Polish traditions. Karol Nycz was there to capture their magical day for us.
A chilled and relaxed time spent with our family and friends. We wouldn't change a thing
Ola and Emil were married on 8th of September 2018 at Zamosc Poland with the reception at Zamojskie Rancho Debry. 'We loved the amazing lake with all the nature around it. We had 130 guests and it took a year to plan'
How they met 
We met in our highschool. Actually we got into the same class. We became friends from the beginning but in the 3rd grade it turned into something more. Now we've been together for 10 years.
The proposal
We organise a trip with our friends in a truck trailer to Italy. We're there a few times per a year because Emil's family lives there. Rome is a very special city to us and at first Emil wanted to propose there but he was so stressed that he wasn't able to find appropriate time and moment to do that. So he postponed it to the last moment when we were visiting Cinque Terre- the last stop in our trip. We just had a nice walk with our friends along the seaside. There was a stunning view. And after having a dinner, Emil insisted on going once again to the seaside. We were all tired so we didn't want to come back there. Then we started arguing a little bit. He persisted so much so he agreed to try all the roller coasters in a Gardalandia And Emil is scared of roller coaster so much. And then it happened. I was looking into the sea, feeling magic of that place, I turned my back and he was already on knee. I was shocked and excited so I stared crying. Our friends were surprised too. The were just standing with opened mouths and a few moments later they were trying to take some photos. That's the way we got engaged. I can also mention, that Emil did use all the attractions in Gardalandia and since that he loves roller coasters
How did you choose your photographer?
We saw our photographer's pictures on facebook. He did photos on one of our acquaintance's wedding. We loved them, so we booked him straightaway.
Theme or colour scheme
The colours which dominated at our wedding were pastels and a lot of greenery. I don't remember which sorts exactly but mainly we had roses, eustoma flowers and loads of green leafy plants.
Entertainment
We had two DJ's who not only play really good music but they also played some funny games and  activities which got everyone joining in.
Special moments 
Whole wedding was very special to us but the best moments which we can remind was the ceremony, our first dance, the traditional polish dance- the Polonaise- danced with almost all our guests and the movie prepared by our friends with wishes and some funny stories about us. that was very touching.
Biggest surprise 
The movie from our friends.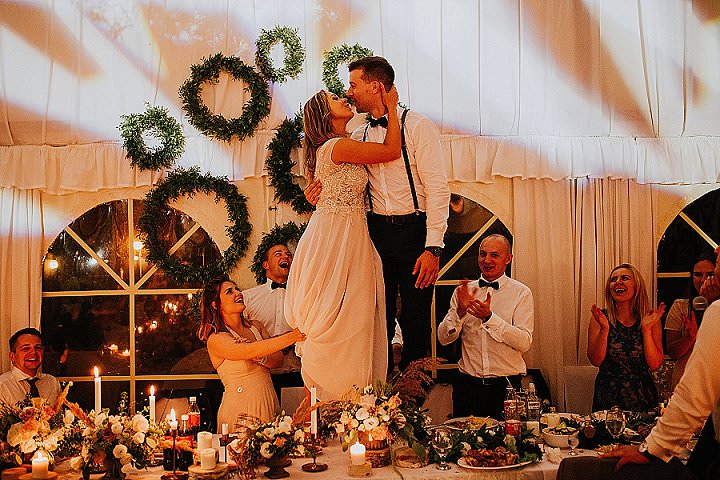 Advice for other couples
We would recommend just not to stress. If you're stressed drink some mellisa or something stronger or do some yoga, whatever. All you need to do is having fun, because it's your day.  We're not up to everything and when something goes wrong, just let it go and have another drink we forgot to put on tables little gifts for children and prepare some non alcoholic beers for some people. We lost the projector cable…  What's more, I had an oily spot in the middle of my dress so I had to cover it with the bouquet. Despite that, we had really great time.
Supplier Shout Outs
For more information on Karol's work go to
 www.karolnycz.com / www.karolnycz.com/blog / [email protected] / +48 883510930 / FACEBOOK / INSTAGRAM / PINTEREST /
I'm a young, smiling guy from Krakow (you know – probably the prettiest city in Poland). Feelings are the most important in the stories I tell. It is always hard to categorize someone's style, but three words can help describe mine and would tell a little what I love in the pictures: authenticity, warmth, feelings. Spontaneous moments come when no one around you is embarrassed, so I always try to be a friend more than a service provider, more an observer than a creator, and more a sincere smile than a serious artist. I believe that the style of my photos is not only the frames and post-production, but also the atmosphere that I create with the couple since the first meeting.