Happy Friday everyone, and how are you all today? I hope you have had a good week so far and are looking forward to the weekend? I have two wonderful days planned. Today I am off to the Cinema with Dexter to see the new Christopher Robin film, I was such a big Winnie the Pooh fan when I was younger, so I can't wait to watch it! Then tomorrow Nik, Dexter and I we are off to Gloworm festival in Nottinghamshire. It's a festival especially for families. We went last year and it was the highlight of my summer, so I'm hoping it will be as good again! Today though I have a lovely wedding which was sent into me by one of my gorgeous readers. I met Hayley via my Boho Brides and Grooms Facebook group, (If you haven't joined already, then what are you waiting for! Come and join the wedding chat!) It has been lovely hearing about her day and seeing the final results here in today's post.
Our wedding was the best day full of fun, love and laughter. We spent a lot of time and effort trying to plan a special day and seeing our friends and family in one place having an incredible time made it all worthwhile.
Hayley and Ross were married on Saturday 9th June 2018 at Haughley Park Barn in Suffolk. 'Haughley Park Barn is beautiful and the team there are so kind and were very helpful in accommodating any ideas that we had. Ross grew up 2 miles from the venue so we were very lucky to have such an amazing place that close to our home. We had 90 guests for the day and an extra 42 for the evening reception. We were engaged for 20 months so were able to spread the planning out and avoid any stress!'
How they met  
We met at the gym! I was having a rough year and my sister suggested I re-join the gym and I met Ross the first week I was there. I was attracted to him straight away and he soon became part of our friendship group. After a couple of months we went on a date. We have been together just over 2 and ½ years when we got married.
The proposal 
We got engaged after a year of being together. Ross had a plan to propose to me on an early Sunday morning dog walk at the top of the hill on the farm we live on. The wet weather and my reluctance to get up early scuppered the original plan so he left the wrapped ring at home for me to find when we got back. It was very special being just the two of us in the home we share. We celebrated in Vegas a couple of weeks later.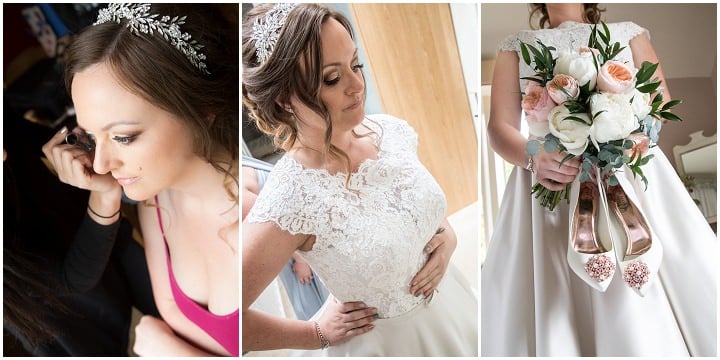 How did you allocate your budget? 
We looked at how much we could save over the course of our engagement and then spoke to friends that were married to ask their advice for how much services cost. This gave us an idea of how much money we would have to allocate to different areas of the wedding.
Where did you splurge and where did you save? 
Our floating candles and photo booth were items that we splurged on but they were worth every penny. A few of our suppliers are friends or friends of friends so we received discounts which were very much appreciated.  Our venue doesn't charge corkage so we were able to buy all of the alcohol, for the drinks reception and the wedding breakfast, ourselves when on offer!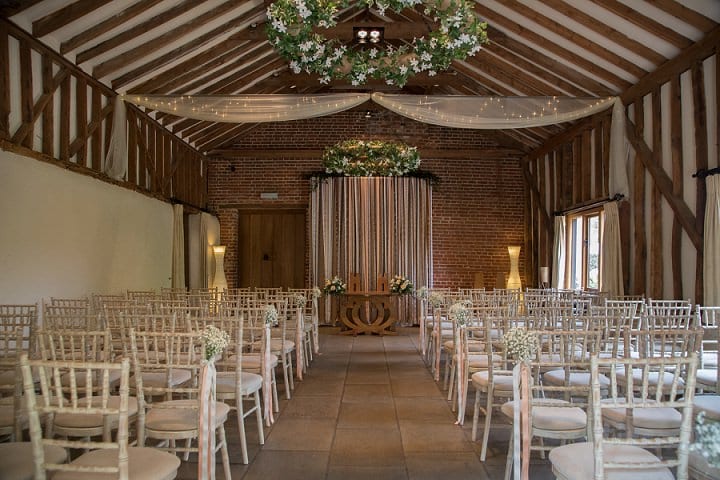 How did you choose your photographer? 
My brother in law has a friend who is a wedding photographer and he shot my sister's wedding last year. He was highly recommended so we chose him for our wedding day also. He is really hard working and was still working at about 11pm at the reception as he didn't want to miss any great photo opportunities!
The dress 
I bought my Allure Bridal dress from the amazing team at The Tailors Cat in Cambridge. It had pockets! I added buttons to the length of the train which I loved so I didn't want to cover them by wearing a veil. I wore a leaf design headband by En Vogue and my shoes were from the bridal collection at Ted Baker. I wore a Gucci bracelet that my sister has bought me for a birthday present a few years ago.
The suit and bridesmaids 
Ross ordered 3 piece suits from Mark Darcy for his best man, groomsmen and himself however he had a bespoke waistcoat made by Dapper Fox in Bury St Edmunds and the shoes were designed by Undandy. Our bridesmaid's dresses were multiway dresses from Two Birds in Platinum. This gave the girls the freedom and confidence to tie the dresses how they wanted. They wore matching navy wedges from Dune and chose their own makeup and hairstyles.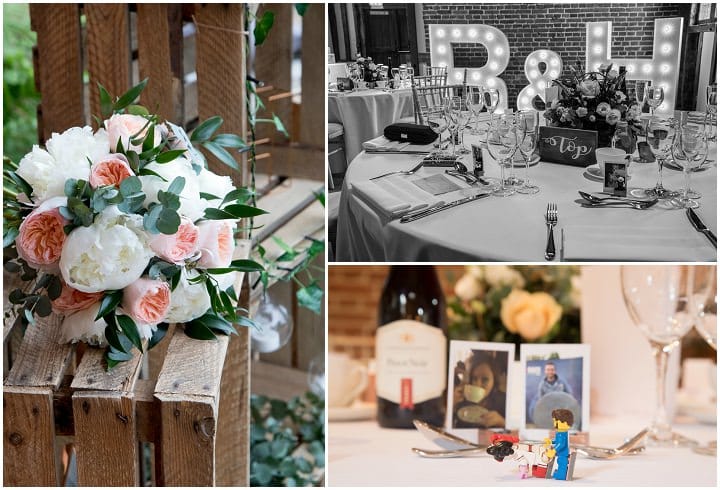 Theme or colour scheme 
Our colours were peach and grey with some copper and geometric elements.
Flowers  
My bouquet included white peonies and peach David Austin Juliet roses with seasonal foliage. The bridesmaid bouquets and table centrepieces included roses, stocks, lisianthus, veronica and mixed foliage. We used gypsophilia for the button holes and also tied this to the chair ends in our ceremony room.
Decoration  
Our main decoration were some incredible floating candles that a company called Dreamwaves hung from the beams in the barn. There were around 100 candles overall hung at different heights which looked amazing; very 'Great Hall from Harry Potter!' We made a ceremony backdrop ourselves using ribbon that matched our colour scheme and, as well as our stunning table centrepieces, we put the gyposphilia from the aisle chairs in empty gin bottles that were dotted around the barn. We also saw an amazing decorated hoop on the Boho FaceBook group which we loved so much that we made one ourselves! We also had 5 foot light up initials supplied by Rocks & Frocks.
Food
Our delicious food was provided by incredible local caterers, The Movable Feast who were fantastic throughout every stage of the process. We had 5 different canapes being served during our drinks reception which we chose instead of having a starter. These included quail scotch eggs, hoisin duck cones and mushroom arancini balls. We then sat down to a main course of fillet steak, sweet potato rosti, beetroot crisps with asparagus and baby carrots tied with leek with a rosemary reduction. This was followed by a trio of desserts – lemon crème brulee, baked raspberry and white chocolate cheesecake and a chocolate cup filled with coffee mouse and honeycomb.
Our evening food was pork noodles with sweet and sour vegetables served in authentic takeaway boxes. We also had a pick & mix table which went down incredibly well.
Wedding cake
We ordered our cake from Hannah at Bakerlicious Boutique. We had a 4 tier cake covered in white icing with a light grey watercolour effect and rose gold drips and a few peach coloured roses for decoration. The top two tiers were coffee, the 3rd tier was lemon and the bottom layer was black forest. We also had some matching gluten free vanilla cupcakes. It looked and tasted amazing. Hannah has since been featured in OK magazine – luckily we booked her before she got so busy!
Entertainment
One of the personal trainers at the gym, where we met, is a talented close up magician so he entertained our guests during the drink's reception. After dinner we had a glitter bar decorating people's faces. Our guests were queuing up whilst the girls were still setting up their stand! We also had a silver air stream photo booth for the evening. Guests could stick copies of the photos in a book and writes messages so this doubled up as a really fun guestbook. And the photos are hilarious! We had a DJ who played some awesome music so the dancefloor was never empty.
Who supplied the stationery? 
Our friend Gemma is a graphic designer so we showed her some ideas we liked and she designed it all. We were so pleased with the results and happy we had stationery so personal to us.
personal touches
We added personalised promises to our wedding vows. Ross promised to love me more than Star Wars, Lego and sausage rolls and I promised to love him more than flamingos, Las Vegas and Crème Brulee. Anyone who knows us knows how serious these promises are!
One of our favourite parts of the wedding was our place names that doubled up as favours. Everyone had a mini Polaroid style photo of themselves attached to a mini Lego figure. Hours was spent looking through social media for favourite photos of our guests, spray painting Lego blocks copper to match our colour scheme and putting together mini figures to represent people. They were one of the things we got the most compliments about on the day.
We put together a playlist to be played during our wedding breakfast and we tried to include as many of our guests first dance songs from their weddings.
We are very lucky to know some carpenters so my dad, my cousin and our close friend Tom all helped build some beautiful items for the day including our table plan, a wooden frame we attached photos too and a large wooden swing frame guests could stand behind and have photos taken.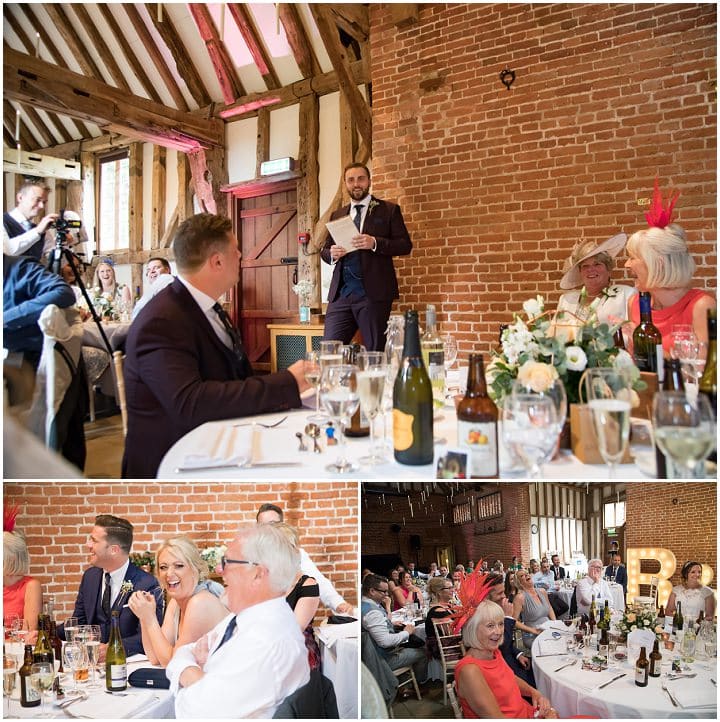 Special moments  
The whole day was so special so it's hard to pick just one but before the ceremony, myself and a blindfolded Ross had a quick hello and a hug. It was lovely to have a quiet moment together which helped eased my nerves before I walked down the aisle.
Advice for other couples  
Pick suppliers that you trust. This gave us so much peace of mind on the day as we knew that everything was under control and we could just relax and enjoy ourselves.
Utilise your friends and family. They really do want to help so delegate any jobs you can to help share the load and reduce stress.
Biggest surprise 
The biggest surprise had to have been the fly over that two of our friends organised for us. Ross and I were having some photos taken when we saw a plane overhead doing loops and dives. We initially thought it was an amazing coincidence until our friends announced they had organised it for us. Truly was priceless!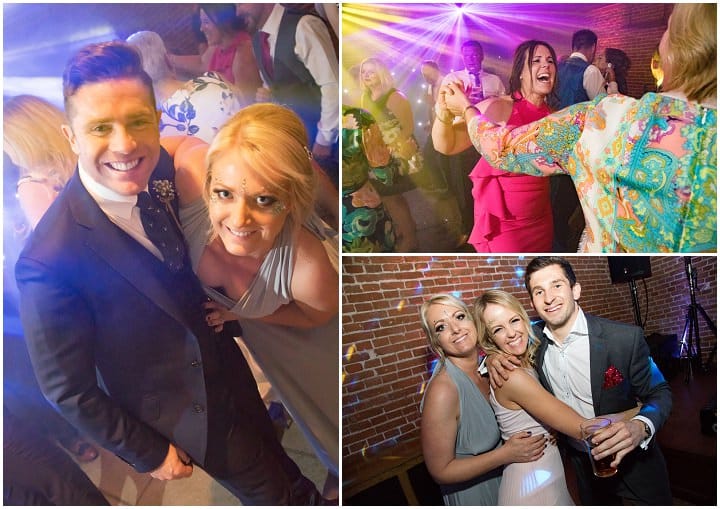 Supplier Sout Outs