Happy Friday everyone, I do hope you have had a fantastic week? Are you looking forward to the weekend?? I have a full on weekend ahead of me. Tomorrow is Dexter's 4th birthday party, so I have been busy getting that ready. It is also mine and Nik's 9 year wedding anniversary tomorrow, so we will be celebrating with 30 4 year olds and a plate of sausage rolls and birthday cake! Sunday is Father's Day and then Monday and Tuesday we are away at CBeebies Land for Dexter's actual birthday. Oh and did I mention we are then going on Holiday the following Sunday! So to say I'm a tad stressed is a understatent! However, I'm really looking forward to all of the celebrations and can't wait to spend a few days with my 2 best boys!
Today however, we are back to Barcelona, after visiting it yesterday, I have another glorious wedding to share with you. This one is a chilled out woodland wedding, with a music loving couple, all planned in 2 months. The day was captured by Ruben Cruz.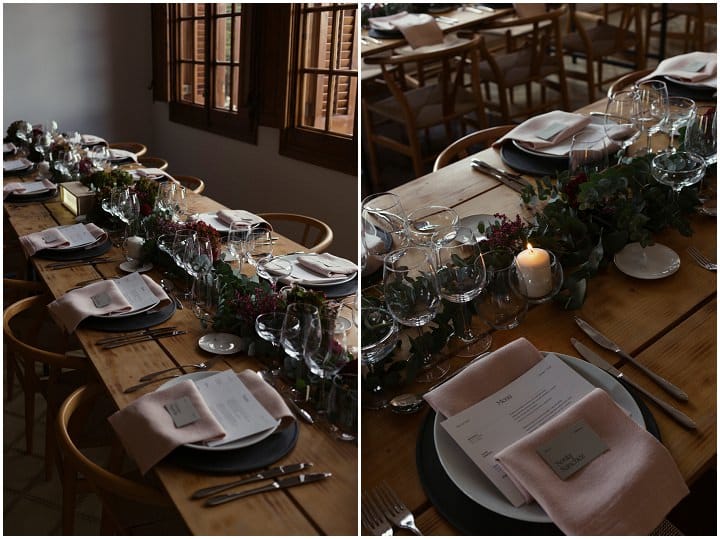 María and Andy were married on 11th November 2017 at Ca l'Iborra, Mataró in Barcelona. 'We looked at other options first but we were very happy to find this place. The house is very nice, built in the 1920's and restored with subtlety and care, preserving most of the originalarchitectural features. It's surrounded by a gorgeous mediterranean forest where we wanted to celebrate the ceremony. Also, the people who own it are really nice. We had about 150 guests and it took two surprisingly short months. to plan.'
How they met 
We met in a bar in Barcelona thanks to a common friend and we really liked each other but only met again half year later. In the second encounter we had a flash and started dating the next day. We had been together for about four years before getting married.
The proposal
I (Andy) had planned the proposal to happen somewhere in New Zealand during a trip we made together with the excuse of a friend's wedding. Two days before the trip I fell off the bike and broke my collarbone. For a moment we thought we couldn't do it but the doctor almost forced us to go anyway. After our friends wedding in a music festival, we took a car and wandered around the northern and southern island, and next to a small lake, in the middle of a forest I took the ring out of my backpack using only one arm and knelt in front of María. It was a bit ridiculous and funny but it said a lot about María to give me a yes for an answer even in my wrecked condition.
How did you allocate your budget?
The most important slice of the budget was for the catering and decoration. We wanted the people to feel comfortable, glamorous and spiritually bonded.
Where did you splurge and where did you save?
We could save thanks to the fact that the wedding was in November, low season. We don't consider to have splurged too much. We didn't hire anybody to film the event and we managed to get the sound and lights equipement thanks to friends and family. We reused resources and managed most of the things by ourselves and with the help of family and friends. Weddings are expensive even if you don't splurge.
How did you choose your photographer?
At the beginning we didn't want a photographer, but as the event started taking shape we started looking for one. Ruben and Maria had colleagues in common and when we contacted him we knew he was a good choice. We didn't have much time so we could only speak twice before the wedding and everything was pretty easy. We understood each other pretty well.
The dress
The dress is by Laure de Sagazan . The accessories from L'arca de l'avia and BOO . The shoes from la Coqueteria boutique atelier barcelona.
The suit and bridesmaids
The suit was from Sandro and we had no bridesmaids.
Theme or colour scheme
Everyone could dress as they wanted. We liked the mixture of very formal and very informal people.
Flowers 
Different kind of eucalyptus and typical autumn flowers, the tones ranged from burgundy to orange, with gramineae and hydrangeas.
Decoration 
Very basic, we had some carpets in the middle of the forest during the ceremony and we used noble materials during the dinner, wood and iron. The house is very nice as it is so we didn't need to do much about it.
Food
We ate a lot of delicious stuff. 21 de Marzo , the catering was really helpful to deliver very varied delicacies and we had our friends from La Porca adding some tasty notes after the ceremony ended.
Entertainment
We both are musicians and after the dinner we gave a concert with many musician friends, with whom we hadn't played together for a long time and with our actual bands. The concert must have lasted about 45 minutes, with different musicians coming in and out of stage for each song. We didn't decorate the stage too much, we wanted it to look a bit like a rehearsal room with people on suits. We just used the carpets from the ceremony in the forest and some coloured lights. When the gig ended, some friends started dj'ing and the rest partied.
Who supplied the stationery?
We made it ourselves, María works as a graphic designer so she designed the menus and sitting and sitting cards and had worked with her usual printers… As I'm a computer programmer we built up a custom website and used it as the formal invitation.
Personal touches
The thing people liked the most was what we did for the sitting. We had bought 150 7″ random vinyls in a flea market and labeled each one of them with the name of a guest and the place where he should sit during the dinner. Many of the vinyl's covers really matched the guest personality so people had a lot of fun with them.
Special moments 
One of the things we enjoyed the most, and also did the guests, was the ceremony. We wanted it to be somehow spiritual and enjoyable and we decided to ask some friends for help. We made two meetings with them and then left it on their hands. We didn't know any details until it happened. They had invented a whole pagan ceremony that really hit us. It was fun and it was emotionally touching. We still feel really blessed and thankful for how it all happened.
Advice for other couples
Don't be afraid of choosing a cold date in November or February. Everything is easier and cheaper and people in coats are more elegant. Just have a good plan for possible rains. As the suppliers have more availability, you won't need to spend too much time preparing the wedding. This way you will avoid ending up with very high expectations.
Biggest surprise 
Appart from the ceremony that really blew our minds, María's mother organized a completely unexpected cello concert that ended up with the cello being given to us as a wedding
present.
Supplier Shout Outs
Catering and decoration: 21 de marzo
House: Ca l'Iborra
Photographer: Ruben Cruz 
Dress: Laure de Sagazan
Accessories: L'arca de l'avia and BOO
Shoes: la Coqueteria boutique atelier barcelona 
Printing: Pressing 
For more information on Ruben's work go to
www.rubencruz.es / INSTAGRAM / PINTEREST  / YouTube / [email protected] / 0034 648100722
For me, photography is a way of life. It has helped me to know other cultures, to find myself in situations that without  the camera in front of me they wouldn't be possible, and above all, to know me more … it is being an incredible trip, sometimes hard and even harder others, but always worth. I have been shooting photos and videos for more than 10 years, I like to portray the things that happen at a wedding, those details that make it their own. The emotions, The gestures, the dance, the wine, the flowers, the grimaces … These details belong to their day and their history. I'm not only photographing what appears, I'm photographing what it feels like.
Due to an email issue if you have emailed me between the 2nd & 9th of December, please resend it.
X