Happy Monday everyone, it's only 2 weeks now till Christmas, how excited are you? I am SO excited! I absolutely LOVE Christmas! I hope you had a good weekend and managed to partake in some festive activities. Did you get snow? Sheffield is covered and oh so cold! So to warm you up on this rather chilly December morning, I have this super cute wedding from August this year, when the weather was warm and sunny, courtesy of the lovely Samantha Kay Photography. Jade and Ross were lucky enough to hold their reception in Ross's parents garden, and filled it with a wonderful eclectic mix of decoration. Hay bales, fairy lights, pinata's, feathers, throws, and a whole array of other wonderful items. The garden looks amazing, as do Jade and Ross. Beautiful flowers, delicious food, an amazing looking cake, the whole wedding is one marvelous celebration of love, laughter and all planned amazingly in just 8 weeks!
A wedding with a magical splash of imagination
Jade and Ross were married on 12th August, 2017 at a ceremony at St Albans church in the beautiful village of Tattenhall, with a reception in Ross's parents garden down the road to celebrate with everyone followed by The Barbour Institute in Tattenhall for night-time partying. Tattenhall is where Ross's Mum and Dad live and he grew up in the village after the family moved from Southend-on-Sea 16 years ago. It's very pretty and peaceful. We wanted personal touches and a relaxed, eclectic vibe. We loved moving from the garden to the night party. It kept things fresh! Plus I had more spaces to fill full of vintage/bohemian/romantic things. We had 135 guests in the day 160 evening and we planned it just 8 weeks! 
How they met
We met at Chester Rugby club 15th Feb 2014; the day after Valentine's day! Went on a date the following weekend and the rest is history.
The Proposal
We were staying at my grandma's little war time bunker holiday cottage in North Wales. On the Friday we went for a walk along Morfa Nefyn beach with the plan to have lunch at the wonderful and famous Ty Coch pub. After skimming stones we wondered up to a sandy strip where Ross suggested a game of hangman before lunch. Ross began to mark out his rather long attempt. He said it's a famous phrase. I still didn't have a clue what was about to happen. I began guessing letters, after guessing A, E , I, L  I knew what it was but couldn't believe what was happening, I kept looking at him and the letters. I guessed the next letter Y and started to cry! Ross began to fill the rest in for me and then got down on one knee and pulled out a red Haribo jelly ring. He did so well and it was a massive surprise and in a place so special to me. We walked the cliffs and spotted seals then ate open prawn sandwiches at the pub while calling our parents. The next day we went ring shopping!
How did you allocate your budget?
If you asked Ross he would say Jade had no control when it came to decorations…but we used a lot of things from our house and parent's houses too and borrowed tea cups and cake stands etc.
Where did you splurge and how did you save?
We saved by having the reception in the garden with BBQ style food and a hog roast. We wanted that relaxed vibe and more of a celebration with family and friends than too many formalities. The church was actually a big splurge, but so beautiful and our vicar Lameck was incredible and had everyone laughing and made us feel at ease. My mum also gifted us a friesian horse and carriage which was a dream come true! Horse obsessed, Black Beauty fanatic, I'm a little girl at heart.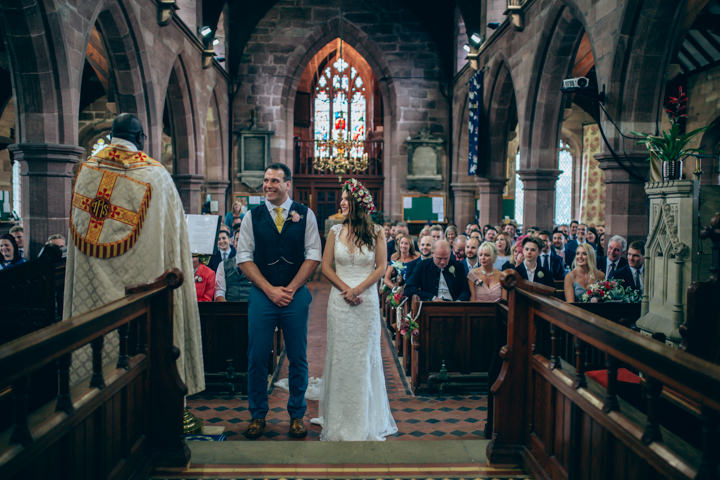 Why did you choose your photographer?
I have had the pleasure of being in a wedding party that Samantha Kay Photography photographed. Sam was so chilled, warm and friendly and have you seen her style! The photos speak for themselves. So talented.
The Dress
My dress was from Cherish the Bride in West Kirby. The designer was Stella York. I got my bridal espradrilles from Ibizencas and jewellery Art Deco by Donatale both on Etsy. I also wore a sliver bangle my grandad brought back from India many years ago.
The Suit and the Bridesmaids
The shirts and ties were from Charles Tyrwhitt the pants were M&S and the waistcoats from suits direct. The bridesmaid dresses were from Chichi Clothing.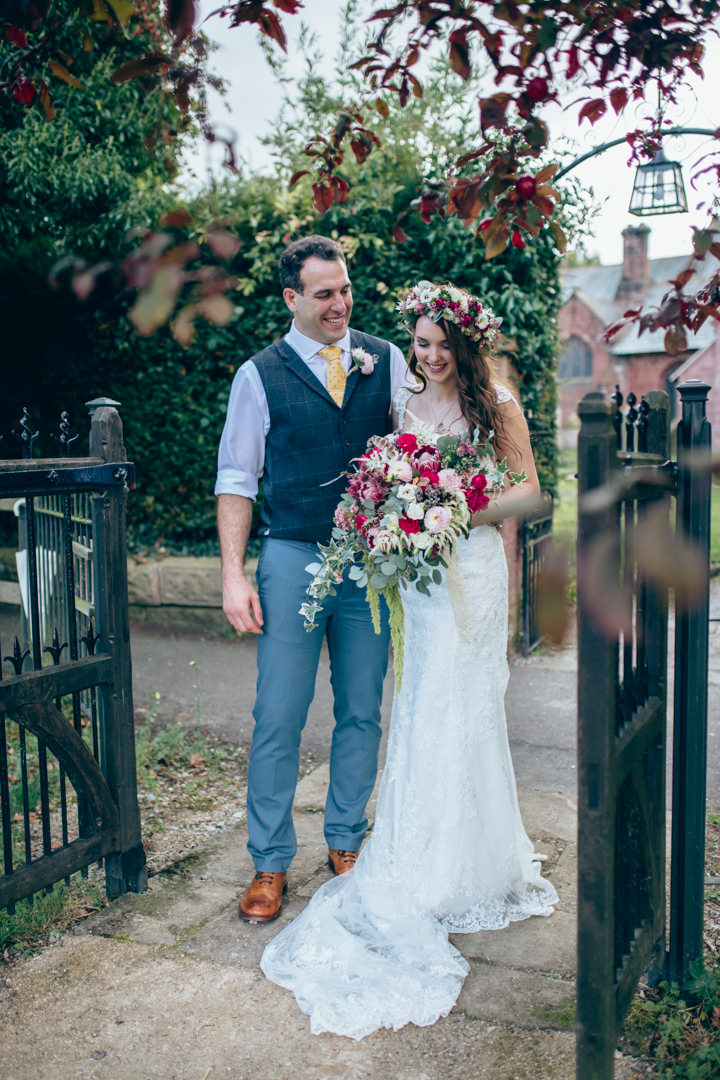 Theme or colour scheme
Eclectic!
Flowers
In our bouquets we had protea as I am half South African. Lots of eucalyptus and I forget the other names but I loved them! Flowers were from Fresh of Chester in Hoole, Chester. We also had pheasant feathers poking out and the button holes sported a flower, feather and eucalyptus too. I wore a flower crown too which was a dream come true.
Decoration
A bit of everything really! Feathers, fairy lights, bunting, tassels, succulents, orchids, vintage bottles, blue and white China, dinosaurs, ivy, flower garlands, doilies, Moroccan cushions and throws…the list goes on.
Food
Canopies, hog roast and lamb roast on brioche buns, pasta and salads, profiteroles, wedding cake, vanilla cake and lemon cake. Sweets, cheese board, fish and chips or sausage and chips.
Wedding Cake
Made by Ross's super talented aunt Julie White (orJoolie Woolies Cakey Wakeys)
Entertainment
Super chilled and professional Tom Anderson in the garden and the amazing Jukebox Band at the Barbour Institute who had everyone dancing their socks off all night.
Who supplied the stationery?
Vistaprint!
Personal Touches
Well we did everything ourselves. But my mum made the flower garland chandeliers and they were show stoppers which really helped in the transformation of the hall. And the garden at Ross's parents was stunning in itself, all their hard work was breathtaking.
Special Moments
The whole day was perfect for us. One highlight was eating chips from Ed Feely's Chippy Van as husband and wife, all relaxed and celebrating the fact we didn't fall on our faces during the first dance.
Biggest Surprise
The biggest surprise was how everything went off without a hitch! The weather was glorious, thank goodness.
Advice for other couples
If you want to prepare a wedding in 8 weeks while working full time, write a list! Write lots of lists and then rewrite the lists. Call and email suppliers during every waking minute, sitting on the loo doing a morning wee, on the loo in work, lunch breaks, evenings. And buy some herbal calming drops and lavender oil. But seriously, once you have boxed off the big things, enjoy the creative process and the big day. It was the best day of our lives and we can't thank everyone enough who helped make it happen.
For more information about Samantha's work go to:
Samantha Kay Photography / www.samanthakayphotography.co.uk/blog / FACEBOOK / PINTEREST / INSTAGRAM