Today I have one of happiest weddings I have had the pleasure of sharing with you for a long time. Chris and Katie are so full of smiles and love, when they described the theme of their wedding as 'Relaxed, joyful, colourful, fun, bright' I really couldn't find better words to describe it myself. Set in the heart of urban London, Hackney Town Hall and then Hackney Wick prove to be two first class venues for this London loving couple. With cool graffiti portrait shots, alongside a wonderful tour of the city, this wedding is not only bursting with colour and charm but a great snap shot of what it is like to live in such a  vibrant part of London. Big thanks to Jonny Barratt for the awesome photos and to Chris and Katie for filling our day with so many smiles.
Katie and Chris were married in August 2016 in a ceremony at Hackney Town Hall followed by a reception at Stour Space art gallery in Hackney Wick. 'We only saw one venue, and booked it straight away! Stour Space is an art gallery and has huge high ceilings, lots of natural light and was a blank canvas that we could imagine making our own. It is right on the canal with decking looking out over the water towards the Olympic Stadium; there's loads of graffiti and street art all around the area; it could not feel more 'London'.'
How they met
We were at the same university, with the same wider friendship group – but never actually crossed paths until a mutual friend invited us both to a music festival in Germany. A 12 hour car journey from London to Berlin later, a lot of festival fun and dubious fancy dress and the rest is history…
The Proposal
Chris proposed over my birthday lunch at the Sky Garden in London. We went straight to Hatton Garden, chose a ring, then stopped off 'for a quick drink' at our favourite local pub… where I found all of our friends – he had told them it was my surprise birthday party. Everyone was surprised for a different reason! Well played Chris.
How did you choose your Photographer?
We wanted someone who got to know us as a couple and wouldn't try and fit us into a particular mold. We also wanted someone who would also seek out the less 'obvious' wedding shots – every wedding is unique but many sets of wedding photographs look weirdly formulaic.
We loved the details Jonny picked up – things that we didn't notice until we got the pictures back, and got to see our wedding from a totally new perspective. He also understood the relaxed vibe we wanted on the day, and were able to 'go with the flow', getting some amazing pictures of unexpected moments as they happened. Our guests and families also said he seemed to be really enjoying yourself – it's great to work with someone who clearly loves their job!
The Dress
I actually had it made for me, which sounds totally extravagant but it worked out cheaper than any off-the-peg dress I tried on… Once I knew what would suit me, I went to Nina Furness in Cheltenham where my parents live. All I wanted in a wedding outfit was a huge 50s style skirt to swish about in (there are TWO petticoats underneath!) and Nina delivered. Added bonus of shorter dress length: just look at the shoes…
Topshop Oxford Street has a 'braid bar' in the basement, where we all pitched up first thing in the morning to get our hair done – then dived into an Uber to dodge a freak rain shower on the way back!
I did my own makeup, but my sister and I had an excellent (free) wedding tutorial at the Bobbi Brown store (then we had a little splurge on makeup…)
The Suit and Bridesmaids
Blue three piece suit from M&S; floral tie and pocket square from PoserClub on Etsy.
I like the 50s silhouette as it is so flattering, so I chose some plain deep blue dresses from LindyBop for the Bridesmaids  – then I added petticoats. Asking four very different women to all wear the same shoes seemed like a step too far, so they all chose their own!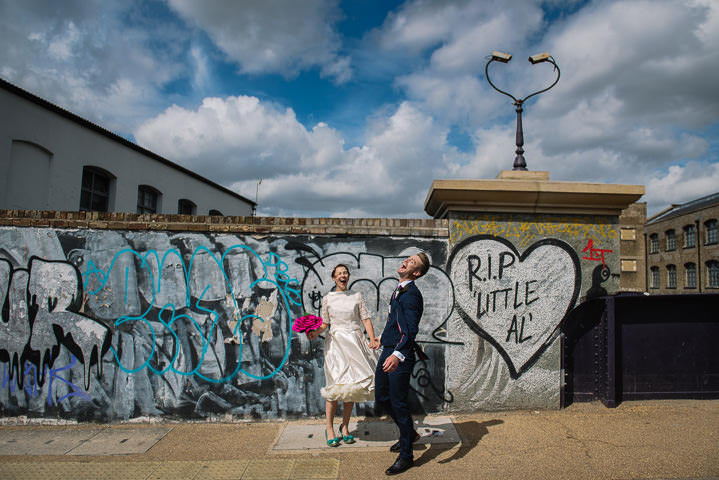 Theme or Colour Scheme
Relaxed, joyful, colourful, fun, bright.
Decoration
The huge 'LOVE' letters were made by us in the few days before – to decorate an ugly hoarding that had gone up outside the reception venue.
We made ice lollies to serve at the drinks reception as people arrived – they were welcome refreshment on a hot day and possibly slowed down the alcohol consumption for a few minutes at least…
Flowers
Me, my family, friends and my bridesmaids  made over 200 beautiful paper flowers to decorate the venue – it was actually good fun and not as time consuming as you'd think. The extra special huge paper roses my bridesmaids and I are holding were made by my mother in law. She might be going into business…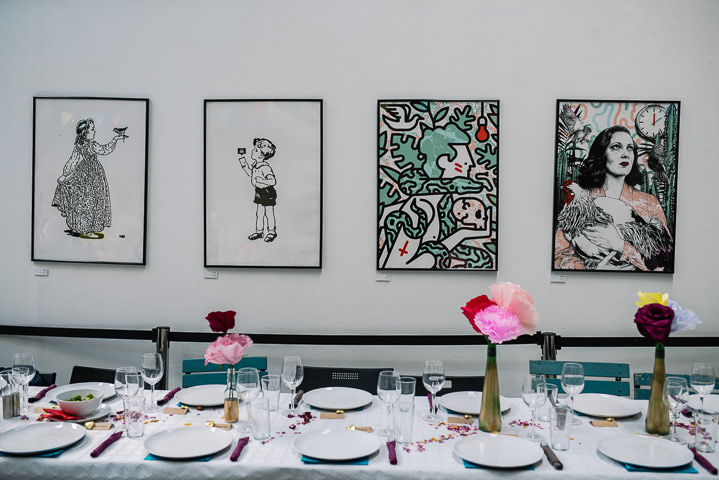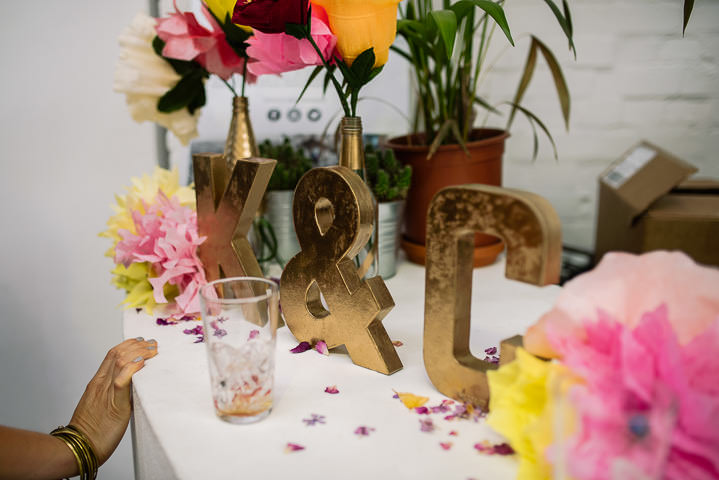 Food
Stour Space has its own café – the queues are out of the door on weekend mornings because their food is bloody delicious. So that was easy.
Cake
My incredibly talented sister who is a teacher but clearly missed her calling as a cake artist (if that's a thing?) She hand made all the sugar flowers and it took her weeks. We loved it, it was so special.
Entertainment
Our friend Tom is a musician and also runs Moozi which provides live music for parties and events of any scale – so he helped us pick an amazing band. The dancefloor never emptied, and when the band had to stop we just plugged in an iPhone and kept going.
Advice for Other Couples
Do a speech. If you are halfway considering saying something at your own wedding, just DO IT. I am so glad I was able to say a few words of thanks in public to the people I love and I can't believe more brides don't do it. Don't choose a song that's going to make you cry as your future wife walks down the aisle towards you…
Don't get sucked in to the 'wedding industry' insanity. It is ONE DAY in your life and no one will remember what colour the napkins were. Do as much as you can yourself, it will feel more personal. Choose a photographer who will be able to capture the atmosphere of the day.
Remember during the day to take a moment away from the madness, as a newly married couple. It's an insanely fun, intense day – just don't lose sight of the fact that it is about you two and the massive, exciting commitment you have just made to each other.
If you think you might want a wedding video, check this out…
I guess you could say, surround yourself with your closest, bestest friends in your wedding party and everything will be awesome.
Special Moments
The speeches. The best man Will is a very funny guy and didn't hold back at all in delivering Chris a good-natured character assassination (!) Katie's dad just about held it together emotionally, Chris definitely didn't, and Katie got to stand on a chair and shout into a microphone.
Walking hand-in-hand and into the reception venue as a newly married couple to a raucous cheer from everyone we love. Everywhere you look all you can see are the faces of all your favourite people in the world. It was amazing.
Biggest Surprise
The fire brigade turning up right at the end of the night, to help extract an adult guest from a baby's high chair. We're confident that doesn't happen at many weddings.
For more information on Jonny's work go to:
www.jonnybarratt.com / [email protected] / 07788550622 / FACEBOOK / I: @jonnybarrattphotography / PINTEREST