Happy Tuesday everyone.  I hope you are all well and happy today and hopefully enjoying some summer sunshine where ever you are in the country.  Today's wedding comes from the very talented Sebastian from Art Wedding Photography who we featured on the blog a few weeks ago. It's comes from Ireland and includes a gorgeous outdoor ceremony, some very colourful cup cakes and the coolest couple. Both Magdalena & Colm really went to town on their wedding outfits, injecting their own personal style into both the wedding dress and the suit. I just love this couples style and I'm sure you will as well.
'It was the most amazing day having our loved ones with us. Best party ever'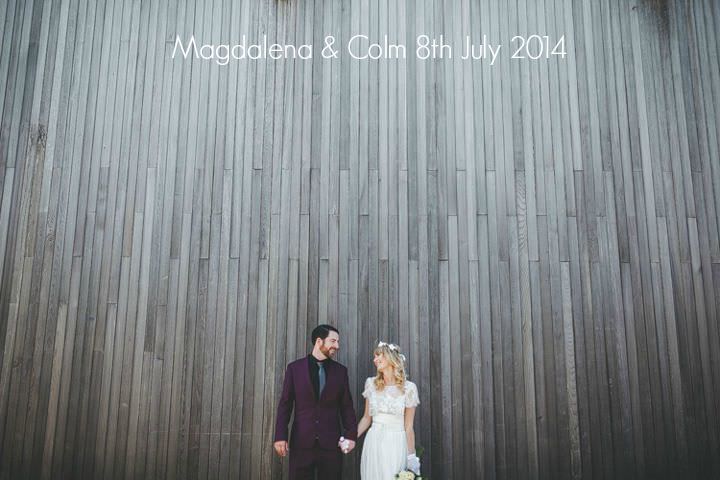 Magdalena and Colm were married on 8th July 2014 at Wineport Lodge, Glasson, Co. Westmeath. 'We fell in love with Wineport as soon as we saw it. The hotel was small, intimate, and in a wonderful location by Lough Ree. The themes of wine and boating that ran through the building, set it apart from the usual non-descript decor in a lot of hotels. But of course we wanted an outdoor wedding and when we saw the gazebo with the beautiful lake in the background, we knew we would be married there. We had a total of 70 guests and the planning took about 5 or 6 months after we decided on the venue.'
How they met
We met at work in 2004 when I first came to Ireland. I only stayed in the job, and Ireland, for less than a year, but in that time we became firm friends and Colm was the first person to buy one of my paintings. (www.magdarts.com) We stayed in contact and after 8 long years apart (and thousands of hours spent on Skype), our feelings for each other grew into something special and we both knew we should be together. So Colm drove to Switzerland, I packed my paintings into his car and we made the long journey back to Ireland to begin our life together.
The Proposal
Our house is surrounded by fields and one gorgeous summers day, we went into one of the fields, with our 2 dogs, Boo and Bella(St. Bernard and Golden Retriever) to feed carrots to the many horses and miniature ponies there. Just as I gave the last carrot to the pony we call Betty, Colm, in his wellies, shorts and tshirt, got down on bended knee and said those four big words… "Will you marry me?" With a squeal of delight, a huge beaming smile and the 2 dogs and 9 ponies looking on in bemusement…I said yes! He had the ring for 3 weeks before he picked his moment.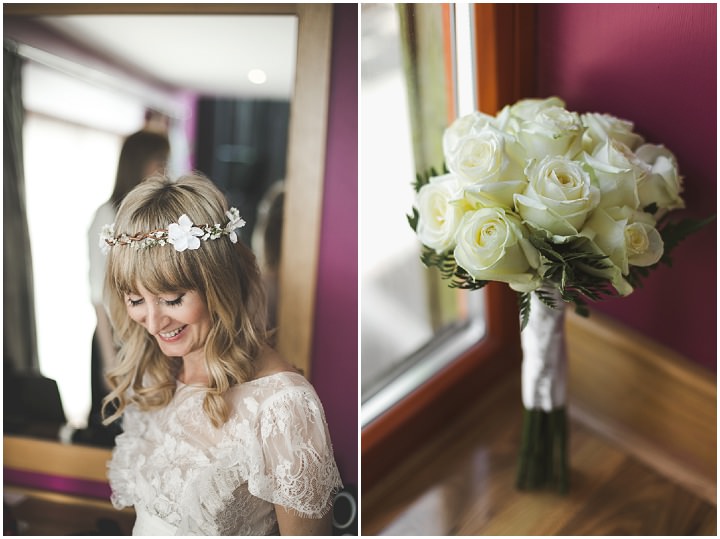 How did you allocate your budget
We spent €5000 on the Hotel package which included function room, Honeymoon suite and DJ hire as well as a dinner, wine, prosecco for 45 guests. €1000 on dress/suit, shoes, accessories etc for bride and groom €120 on wedding cupcakes. €700 on rings. €600 on Humanist celebrant. €150 on Wedding favours. €400-Ceremony and drinks reception music- Michael Watters €100-Wedding bouquet
How did you choose your photographer
After looking at many photographers sites, we really liked Sebastians work. It is different and this is exactly what we were looking for. We felt very comfortable with him as soon as we met him and throughout the day we were very relaxed with having him capturing the day. I cannot stop looking at the beautiful pictures he took. Amazing work. He is definitely someone we would recommend.
The Dress
I bought my dress online on www.etsy.com . It was inspired by "Lorraine" (an Elie Saab spring 2013 design). It needed slight alterations which were expertly tailored by the lovely Catherine Cross.
The Suit and Bridesmaids
Lambretta. Wine Tonic Slim Fit Suit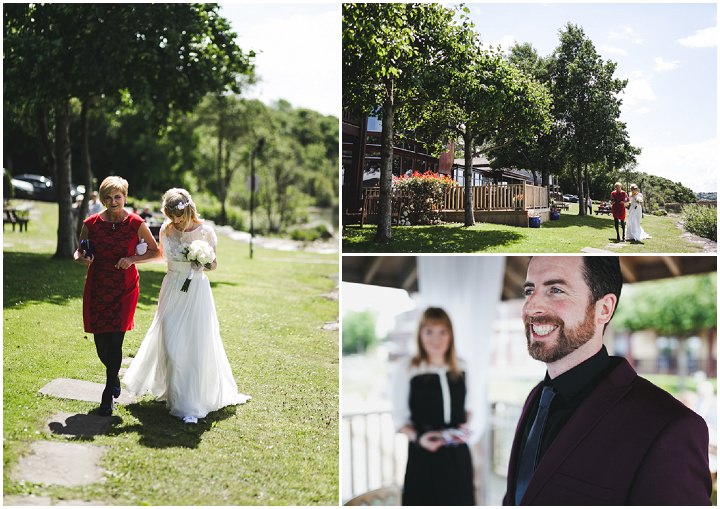 Theme or Colour Scheme
There was a wine theme for our tables and we made the table plan and place names ourselves. We wanted happy, diverse, but simple colours to brighten the day. The wedding cupcakes were different colours as were the wine glass charms and animal brooches that were handmade and bought from www.theheartfeltproject.com
Flowers
Flower crown- bought on Etsy. Wedding bouquet – Bretts Florist, 32 North Main Street, Naas, Kildare.
Decoration
We only asked for a simple decoration provided by the Hotel.
Food
Sweet potato, roast parsnip & spiced apple soupcon.
Starter:
Aromatic confit of duck, roast patatas bravis, garlic & parmesan aioli.
Crispy tiger prawn wontons Singapore style, pickled mouli, cashew nuts & pineapple relish.
Main:
Herb crusted fillet of salmon, leek & shrimp velouté, buttered carrots & parmentier potato.
Honey roasted breast of chicken, confit root vegetables, split peas, spiced ham & tarragon aioli.
Dessert:
Baileys chocolate soufflé, apple & blackberry crumble, banoffi & white chocolate mousse.
All 3 on one dessert plate.
The food was simply outstanding. My favourite was the salmon while Colm loved the banoffi, but everybody had happy bellies by the end of the meal.
Wedding Cake
Cupcakes and Sweets and Lollies
Entertainment
DJ Dermot Griffin (based in Athlone)
Buy or DIY your Stationery
We Bought.
Personal or Handmade Touches
We made the ceremony booklets, table plan ourselves also place names and had cupcakes instead of a wedding cake. We wrote the readings for the ceremony.
Special Moments
For me, I loved so many moments that I couldn't possibly choose just one as a favourite.
Colms favourite part was the celebrations after the dinner. Everthing had gone perfectly during the day; the ceremony, the meal, the music and of course the weather was superb. So when he finished his speech, there was nothing left to worry about and he was finally able to enjoy a stress-free evening and he loved having his family and close friends all together dancing the night away. It was such a chilled out, easy going ambience during the day and while it was much more lively at night, it was still a very carefree, joyful atmosphere.
Advice to other couples
Start planning as early as possible to give yourself plenty of time. After all the planning, stressing and work to get everything arranged, enjoy and savour every moment of the day as it goes by so quickly. And don't stress too much. It will be a fantastic day and worth all the hard work and worry.
Biggest surprise
Parents paying for the open bar.
Supplier Shout Outs
For more information on Art Wedding Photography's work please go to:
www.artweddingphotography.eu
www.artweddingphotography.eu/blog
[email protected]
+353 87 2590907
FACEBOOK
T: artweddingphoto
I: artweddingphotography
PINTEREST