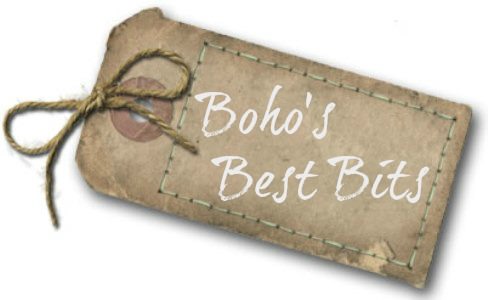 Happy Sunday everyone and how are you all today? I do hope you have been having a lovely weekend? It's been a busy week for me as it's half term which means that all of Dexter's baby groups weren't on this week, so I had to make other plans to keep him occupied. It has been fun though doing a few other things and catching up with friends. However Dexter is now full of cold and a really bad cough, which has been keeping us all awake for the past few nights, so fingers crossed he gets better very soon as we are all, knackered! Today we have family coming round as we are cooking a Sunday lunch for everyone, I'm hoping later on we may get some time to chill out a bit!
I have been busy searching the internet all week for the best in wedding land, so here are this weeks Best Bits, my weekly wedding highlights package.
Best Wedding
How cute are the couple in this wedding? I just love the autumn colours, the amazing setting, the outdoor ceremony and the amazing outdoor reception. The table set up is fab and the bonfire just finished the wedidng off perfectly. Found via Green Wedding Shoes, Photo by Love is a Big Deal
Joyful Virginia Farm Wedding – From Green Wedding Shoes
Best DIY
How to do a Dutch Braid Crown – From Style me Pretty Living
DIY Faux Stanined Glass Window – From a Beautiful Mess
DIY Gold Leaf Branch Centerpeice – From Ruffled
DIY Succulent Place Cards – From Style me Pretty Living
DIY Boho Weding Cake – From Green Wedding Shoes
Single Stem Corsage Tutorial – From Polka Dot Bride
Best Photography
Matt and Andi – From The Willinghams
50s Themed Sheffield Cathedral Wedding – From S6 Photography
Mayfair Library Wedding – From Babb Photo
David and Vicky – From Joanna Brown Photography
Trinity Centre Bristol Weddng – From Tux and Tales
Best Quote
Best Styled Shoot
Ethereal Ballet Wedding Inspiration – From Green Wedding Shoes
Ethereal and Elegant Wedding Stye – From Love my Dress
Chinese New year Party Ideas – From 100 Layer Cake
Modern Antiquity Wedding Ideas – From Wedding Chicks
Drama and Romance Wedding Inspiration – From Ruffled
Beautiful Boho Wedding Inspiration – From Bridal Musings (photo by  Marissa Kay Photography and Olivia Richards Photography)
Best from A Boho Life
Fun Filled Snow Day by Alex Knight Photography
Best From Boho Weddings
Gorgeous Mismatched DIY Farm by Wedding Photography to Love
Best of the Rest
Industrial New Mexico Warehouse Wedding – From Green Wedding Shoes
A 50s Vintage Peach Wedding – From Love my Dress
Destination Wedding in Turkey – From 100 Layer Cake
Row Boats and Wellies – From London Bride
Eclectic Charm at the Cathedral – From One Fab Day
Rustic Garden Wedding – From Glamour and Grace
Country Meets Bohemian Wedding in Nashville – From Ruffled
An Alternative Lonon Venue Wedding – From Rock my Wedding
Creative Yellow Waterfall Woods Wedding – From WWW
Big Boho Love
Kelly xx
Due to an email issue if you have emailed me between the 2nd & 9th of December, please resend it.
X