Hello to you all on this Monday morning. We are back to the normal blogging schedule and excited to share with you lots of amazing weddings. Kelly and I hope that you have enjoyed the weekend and are ready and feeling positive for the new year.
Kelly H has let me take control of the blog for today as today's wedding, is one that I shot alongside my husband Paul of Paul Joseph Photography. We blogged their engagement shoot on Saturday and are pleased to share with you today Christopher and Rachel's Wedding.
The wedding was held at the beautiful Manchester Art Gallery. A stunning venue for a wedding. It was the day of the tour de France and the sun was shining all day for these two. Rachel looked amazing in her gorgeous Jenny Packham Dress and her Rachel Simpson Shoes.  There was a touching humanist ceremony followed by a tour of the Gallery for all of the guests.  A very beautiful day with a vintage mathematical twist.
'A day filled with family, friends, fun and so much laughter'
Christopher and Rachel were married on 5th July 2014 at Manchester Art Gallery. 'We had already looked around 13 other venues but they just didn't feel quite right. When we walked into the Manchester Art Gallery one Saturday morning and were taken from room to room we just knew! The building itself is so unique and such a bright, airy space – perfect for a summer wedding in the middle of a city! From a practical perspective, the location and timing (the ceremony started at 4.30pm) meant that we could get married in the city we love with Rachel having plenty of time to leave from her parents' home near Holmfirth (about an hour away), which was something she really wanted to do. We had 95 guests for the ceremony and reception, increasing to around 105 in the evening. When we found the venue in April 2013 we were in the process of relocating from the Midlands to Manchester where Rachel would start a new job and Christopher would start training to be a maths teacher. We knew that it was going to be quite an intense year even without the wedding planning so wanted to give ourselves plenty of time. We knew that we wanted a summer wedding so picked July 2014, giving us around 15 months in total.'
How they met
We met online five and a half years ago when we were living in the Midlands. Our first date was at Wistow Maze in Leicestershire, mid way between where Rachel was living in Leicester and Christopher was living in Northampton. We had tea and cake then went into the maze where they have a puzzle to solve but we ended up taking ages to complete it because we were just wandering around aimlessly, chatting away! We have gone back every summer since to recreate our first date – even though we've been living in Manchester for the last two summers – and the owner remembers us now. It's a very special place for us.
The proposal
Christopher proposed on Christmas Day in 2012, which was Rachel's first Christmas with his family in Northern Ireland. After we opened presents in the morning, we went for a walk before lunch and when we were standing on the bandstand in the park Christopher said that he had another present for Rachel. It was a photo frame and a card, asking Rachel to marry him on the inside. It was the best Christmas ever! The card now sits in the frame on our bedside table.
How did you choose your photographer?
We came across Paul Joseph Photography on Boho Weddings and loved the photos on their site – they were the perfect blend of modern, romantic and fun – and we knew that that was how we wanted our wedding day to be captured. We set up a Skype chat with Paul and Kelly straight away and even over Skype we could tell that they'd be fun to be around! We met them in person three months before the wedding for our Love Shoot and we had such a fun afternoon with them. It was such a great way to learn how they worked and when it came to the wedding itself we couldn't wait to hang out with them again. When we saw the photos they took we were completely blown away – they did such an amazing job and we definitely made the right choice.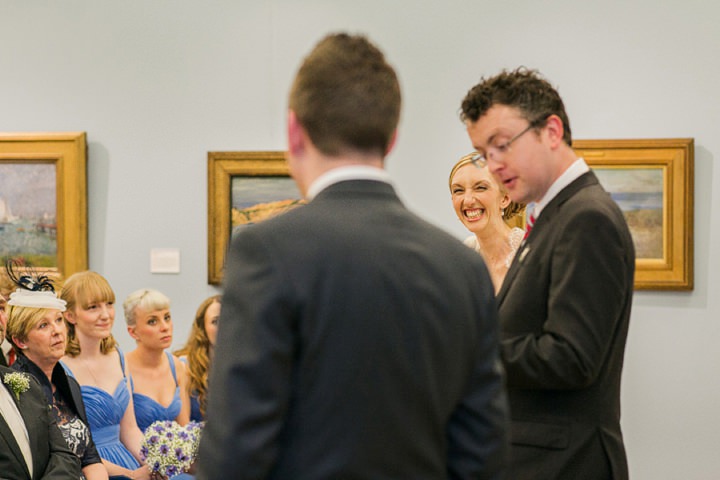 The Dress
Rachel: My dress was Aspen by Jenny Packham. I had gone dress shopping with a very specific idea in mind but when Andrea (at Andrea Bambridge in York) suggested that I try Aspen I completely changed my mind about what I wanted: this dress was it! I love how the dress has such an elegant, vintage feel to it and it just felt so easy to wear. My shoes were by Rachel Simpson, which I felt really complemented the vintage look. They were also, hands down, the most comfortable shoes I'd ever worn. My feet didn't complain once the whole day!
Accessories-wise, I bought three hair combs from Andrea Bambridge (one big and two small, which looked like one long comb when they were arranged in my hair, and I also bought one for each of the bridesmaids to wear how they wanted) and my pearl earrings and necklace were presents from my parents for the wedding. My bracelet was my "something borrowed" from my chief bridesmaid, Helen.
The Suits and Bridesmaids
Christopher: The men all wore suits from Moss Bespoke. I liked the idea of having an input in the design of my wedding suit and making something a bit different and personal. I could choose pretty much everything, including the cut, colour, pockets and buttons and I arranged to have each man's initials embroidered in the inside pocket.
Rachel: The bridesmaid dresses were by Sorella Vita, from Limelight Occasions in Huddersfield. I loved how flattering the cut was on all of the bridesmaids and thought they all looked stunning. The girls at Limelight provided such a great service: my bridesmaids live all over the UK and coordinating fittings wasn't easy, but the girls were so flexible and accommodating.
Theme/Colour Scheme
Both of our favourite colours are blue and it is also the colour that both of our football teams play in (Linfield for Christopher and Huddersfield Town for Rachel) so it was always going to be a colour that featured in our day, subject to agreement on shade! A more subtle theme was the incorporation of a typewriter font, which we used in all of the stationery, place settings and even on the cupcakes! We also found a blue typewriter on eBay which people used to type messages to us.
Flowers
Gypsophila featured in everything because we really liked it for its simple elegance. The men's buttonholes were made up of that on its own. The bridesmaid bouquets were gypsophila with blue delphiniums dotted in and amongst and Rachel's bouquet also featured blue hydrangeas and antique roses. Rachel's mum's buttonhole was an antique rose with gypsophila. We kept the table flowers simple, with blue hydrangeas and (yes, you guessed it) gypsophila.
Our florist (Dee at Country Flowers in Meltham) has such an amazing talent. We were conscious that blue isn't the easiest colour scheme for a florist to work with but Dee came up with the most incredibly beautiful designs and we were absolutely delighted with the end results.
The Decoration
The great thing about getting married in an art gallery is that you don't need to worry about decorating – the art does all of that for you. Apart from the flowers and a few personal touches (see below) we just let the space do the talking!
The Food
The art gallery's caterers were wonderful and had so many options for canapés and the main meal: the menu tasting was so delicious but made the final decision-making so difficult!
For the drinks reception we had glasses of mojitos and Pimms and the canapés were mini lamb koftas, feta spring rolls and tiger prawn on cucumber.
For the main meal, there was a choice of onion tart or ham hock terrine for starters, followed by either sea bass, Thai style chicken or gnocchi. Dessert was a choice of blueberry frangipane tart or choux bun with chocolate three ways.
The Cake
We decided to have cupcakes with a top tier for cutting. Rachel loves to bake cupcakes and we felt that incorporating them in our day was a perfect reflection of us! The cupcakes were in three flavours: carrot cake with cream cheese frosting, lemon with lemon curd frosting and vanilla with vanilla frosting. They were made by Rachel at Marie Antoinette cakes who brought cake samples direct to our house one night – bliss! We had just received our Save the Date card samples and Rachel immediately came up with ideas as to how the cupcakes could be designed to complement them: blue ribbon and icing to fit in with the colour scheme, a typewriter font for little messages on the cupcakes, picture frame decorations to match the stamp we used on the stationery (see below) and even a pearlised finish to the icing to match the pearlised paper. We were really impressed by her enthusiasm for our ideas and how she incorporated them into her designs – and the cakes tasted amazing too!
Entertainment
The art gallery has a big screen in the atrium (which is the room used for the wedding breakfast) and we thought it would be a good way to entertain the guests as they were all being seated. We came across an app called One Second Every Day, where you take video recordings every day, pick a second long snippet and mash them altogether to make a movie. We decided to do one for the year leading up to the wedding, from 5 July 2013 to 4 July 2014. It was really hard work to keep remembering to make a recording each day, particularly when it got to 11pm on a work night and we realised we hadn't done one that day, but we were really pleased with the result.
In the evening we had an acoustic duo who sang for our first dance (Let's Get Married by the Proclaimers) and a live band for the rest of the evening.
Buy or DIY Stationery
Christopher's mum makes amazing greeting cards and kindly agreed to make our wedding stationery for us. They were blue to keep in with our colour scheme, with pearlised paper for writing on. As a nod to the fact that we were getting married in an art gallery we found an ink stamp of a picture frame which Christopher's mum used on everything, from invitations to orders of service to place settings. We liked the idea of using a typewriter font for a slightly vintage feel and found one online that was used on everything.
Personal or Handmade Touches
Whilst the art provided most of the decoration, we did add a few personal touches ourselves. Examples include a beautiful, wooden box with our wedding date carved on the lid which Rachel's parents had bought for us – we used it to collect wedding cards from our guests. We used the blue typewriter in the evening for guests to type messages to us on. Table names were based on "Our Great Global Tea Party" with names of food and drinks from different places we've lived in or visited, for example Parkin and Yorkshire Tea, Rum Cake and Mojito (the Cayman Islands) and Fifteens and Club Orange (Northern Ireland).
Special Moments
Because our ceremony didn't start until 4.30pm we had plenty of time during the hours before the wedding to spend with our families and bridesmaids/best men, and we have a lot of special memories from that "getting ready" and travelling part of the day. Watching her dad's face when he saw Rachel in her dress for the first time is something she will never forget.
The ceremony itself was a real highlight for us. We followed the registrar's ceremony with a humanist one and it was exactly what we wanted from our wedding day. Our celebrant, Ewan, created something so personal and reflective of us and we were delighted with the result.
Overall, it was so beautiful and humbling to see so many loved ones from different parts of our lives and from all over the world come together to celebrate our marriage, enjoy themselves and make new friends. Everywhere we looked there was someone we loved and we felt so incredibly lucky to have them all there.
Advice to other couples
No matter how hard you try, there will be hiccups along the way but everything will work out perfectly in the end!
Biggest Surprise
Christopher turned 30 on the Monday before we got married so the wedding day was the first opportunity he had to see most of his family and friends. Rachel therefore decided to surprise him with a birthday cake so that everyone could celebrate with him and the band even sang happy birthday as it was brought out!
Supplier Shout Outs 
For more information on Paul and Kelly's work please go to:
www.pauljosephphotography.co.uk
www.pauljosephphotography.co.uk/blog
FACEBOOK
PINTEREST
TWITTER – Paul
TWITTER – Kelly