Directory
Search for photographers
Search for wedding suppliers
Claire Salter Hair & Make-up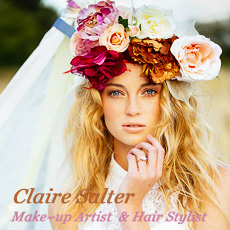 Overview
Hi my name is Claire Salter. I am a freelance Make~up Artist & Hair Stylist based in the Midlands, I do & will travel throughout the UK & also internationally for your BIG DAY. I have over 12 years experience in both the Bridal & Fashion industries.
Profile
Hi I'm Claire,
I am a freelance Make~up Artist & Hair Stylist with over 10 year experience in both the Bridal & Fashion industries.
Being in the Fashion industry I am often challenged with locations, very early call times and on occasion's demanding requirements regarding the look I am to create. Team work is what's required in Fashion & Bridal for me to create your desired look.
So in basic terms I'm not afraid of early mornings, challenging locations, working with you to create your desired bespoke look and helping with a few words of calm ;-)
Upon contacting me I do like if possible to have a chat over the phone, this way I can get a feel for your BIG DAY, get to know a little of your personality & chat all things about your day & desires!
I also like imagery & recommend you look at as many images as possible & share them with me! This way I know exactly the look you are wanting me to help you create.
The next step is a trial, this can take place in your home or you can come to me. I don't limit your time at your trial, a trial is exactly that!!! we just keep trying until you are 100% happy :-)
I will jot down the products I have used & take photos for reference ( Nothing is set in stone however and little tweaks can be made at a later date if required)
There after I am on hand for any questions, queries & what may seem to you like a silly question you can email, call or text me any time of the day.
When the BIG DAY arrives I will arrive at your chosen location, home, hotel, venue, beach (wherever you need me to be!)
The next step is for you to relax, enjoy, breathe, let me wave my make~up wand & hairspray ;-)
So now is the time for you to slip in to THE DRESS :-) I respect your privacy & will leave you at this stage if you desire? however if you would like me to stay with you then I will! I can help with any last tweeks!
The next step is to say "I DO" Kiss and have an amazing day!!!!!
Claire xxx