Happy Monday everyone, I hope you are all well and happy and have survived yet another big storm here in the UK? I sure am looking forward to Spring and the end of this horrible weather! How was your weekend? Mine was good and now we have a week of half term. I am looking forward to a few days off with Dexter, days out with friends, making memories and having lots of fun. Today's wedding is a good one, we are in North Yorkshire for this hand made tipi wedding and it looks like a great day. Jamie and Ella were lucky enough to hold their ceremony and reception at Ella's mums garden. They kept it super personal by making a lot of the decoration, including the flowers themselves. Friends and family helped with things like the cake and the entertainment and they sourced all local suppliers for the other elements. The whole day is natural, laid back and full of fun. Miss Whittington's Photography  was there to capture the day in all it's glory.
Our wedding was just the best day ever. It was just full of happy moments, our favourite people, smiles, giggles, jokes and sweet moments – we feel really lucky.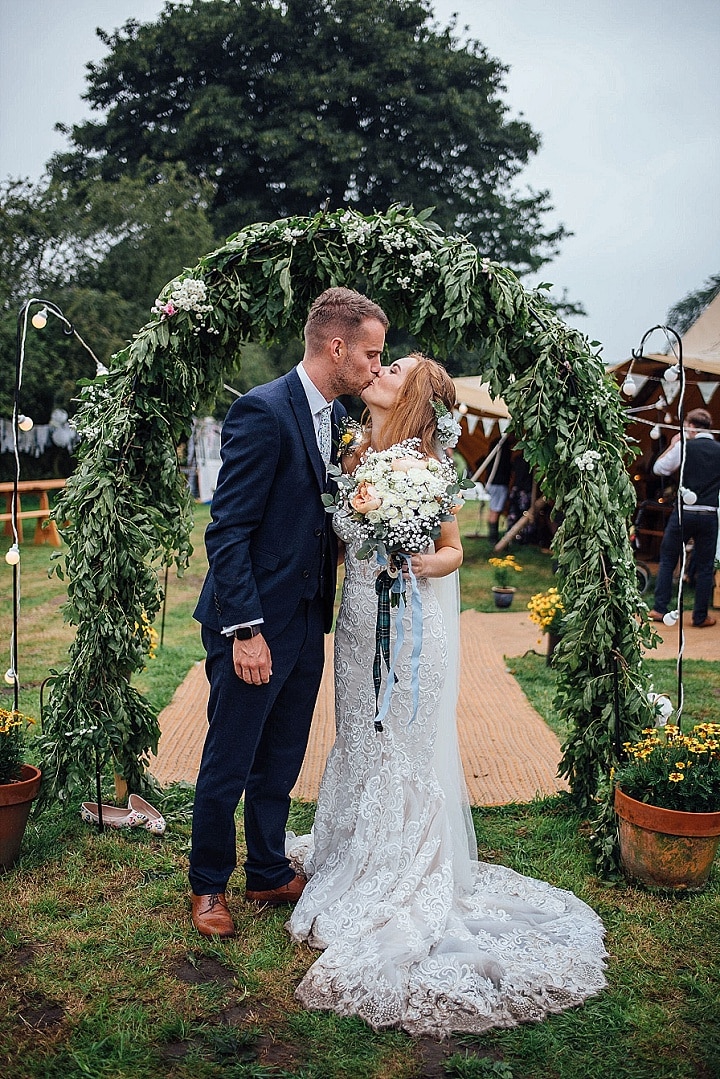 Jamie and Ella were married on 27 July 2019 at Newton Upon Rawcliffe in North Yorkshire. 'We were lucky enough to have the wedding in my Mum's garden. We've always wanted to get married at my Mum's house. It's obviously where I grew up, and the village and garden holds so many special memories for us as a family, as well as Jamie and I as a couple. We have 90 day guests and 150 evening guests. We were able to plan the wedding from start to finish in around 10 months. We were too excited to have a long engagement!'
How they met 
Haha – Bumble of all places. It was love at first site. I got very drunk and fell asleep on the first date – for some strange reason, Jamie asked me on a second and the rest is history.
The proposal
The proposal was as daft as Jamie is. I was in my Little Mermaid onesie, looking like rubbish, and he decided it would be the perfect moment to get down on one knee. And I quote, "If I can love you in that, I can love you in anything – will you marry me". It was very sweet though, and he presented me with a ring that's been in his family on his Mum's side for years, so that made it even more special. I feel very honoured to have been given it.
How did you allocate your budget?
We really didn't want to get into debt or spend loads of money, so we made all of the décor and did the majority of flowers etc. ourselves with help from friends and family. We also bought a lot second hand and chose to shop local when it came to things like catering, the tepees etc.
Where did you splurge and where did you save?
The tepees were a splurge, but the company is a not for profit, so the splurge meant we were helping local youth work, which was really important to us. They were amazing and very helpful – also very good value in comparison to other suppliers. I also went a bit crazy on my dress!
How did you choose your photographer?
Photography was probably the hardest decision to make. We wanted a photographer that would capture the important and special moments, but in a really candid and informal way. I searched Instagram and Google for hours, before finding Laura and totally falling in love with her work and style. She was totally amazing and really helped with the orchestration on the day too.
The dress 
My dress was by Riki Dalal – it was the Ariel from the Shakespeare Collection. My veil was my 'something borrowed' and was my older sisters, which made wearing it extra special.
The suit and bridesmaids
Jamie was clear that he just wanted a blue suit – no fuss, so I think he went to a highstreet store and grabbed his and the boys waistcoats from there. The bridesmaids dresses were made by my step mum, which were absolutely beautiful.
Theme or colour scheme
Haha – well, Jamie is a huge Leeds United fan and so when I said I actually like blue and white, with a hint of yellow the wedding colours were pretty much set. But really we kept the colours pretty muted and natural throughout.
Flowers 
My flowers were beautiful. Jamie's parents grew them on their allotment, and they just looked stunning. We went for wild and meadow flowers in the main. We also used the florist from my best friend's wedding who lives locally for the button holes, the bouquets and some of the table flowers.
Decoration 
We made the decorations ourselves – we wanted a very natural look and feel, so the majority of decorations were made from things we grew, found or bought second hand. From doily bunting, to glass jars and bottles, to hand tied foliage arches and chandeliers, crafting was a huge part of our wedding.
Food 
We used a local caterers, that we were introduced to through my friend Laura, who had them at their wedding. They were really good. Then for the evening we had fish and chips from a local chippy with a van.
Wedding cake
My sister made my wedding cake for us. She created a three tiered naked cake that was infused with different flavours, Sicilian lemon (one of our favourite places), Madagascan vanilla (we love vanilla) and elderflower gin (because obviously, like everyone else, we love gin!). The cake was beautiful, my sister is so talented.
Entertainment
Music is big in my family, my brother is in a band – Hunter Gatherer – and all my family are musical, so we opted for live music for the evening. My brother played alongside our band, which are called Trilogy and are family friends. It sounded amazing in the tepees. Everyone was dancing – it was great!
Who supplied the stationery?
We used CEWE. I've ordered from them in the past when I've created Photobooks, so I trusted their quality and finish. My friend James Greenway is a really talented designer, so he created the stationary and CEWE printed it.
Personal touches
Haha, yes as you've probably guessed by now – all of our wedding was very hand made and personal. There were some other really special touches though, for example the favours were Sloe Gin, which we'd made our self from sloes we'd picked from my Mum's garden. I also walked down the aisle to Becky Mills doing vocals and acoustic guitar. She's a really successful singer, and also a family friend. My parents organised her as a surprise for me and it was a serious tear jerker. I also had my Grandad's tartan wrapped into my bouquet, and wore my Grandma's earrings. Those little touches were really important to us.
Special moments 
It's so hard to pick highlights. I did really enjoy going off for photos as it gave Jamie and I a chance to take in the day. I also really enjoyed our first dance and our sparkler shot – both organised by our wedding planner, Ellen – who is literally the best person on Earth! I think the most precious moment was walking down the aisle, but also the lead up to the wedding. Each and everyone of our family and friends helped out and made a huge effort – we feel very grateful and lucky.
Advice for other couples
Honestly, on the day you don't actually care about anything. So if it rains, just enjoy it (it rained for us), if your dress gets muddy, just embrace it and if you're stressing about getting it all done, ditch it – on the day you literally won't care.
Biggest surprise 
The speeches were incredible. I knew they'd be good but honestly, they were so touching and special. It was an emotional roller coaster. But, as mentioned having Becky Mills singing me down the aisle was the most magical experience. She sang Golden Mile by Mary Black and I'm not sure there was a dry eye in the house. It gives me goose pimples to this day.
Supplier Shout Outs
For more information on Miss Whittington's Photography go to 
www.misswhittingtonsphotography.co.uk / www.misswhittingtonsphotography.co.uk/blog / [email protected] / 07964 101223 / FACEBOOK / INSTAGRAM

I'm based in South Yorkshire on the edge of Derbyshire and I cover weddings across the UK. I shoot fun and colourful festival and outdoor weddings with a rustic and film-inspired vibe. I love couples who are up for an adventure and aren't afraid to get a bit muddy in the process!

[jprel]