Directory
Search for photographers
Search for wedding suppliers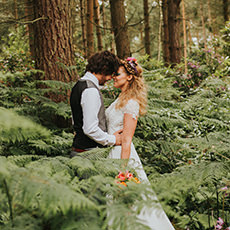 Overview
Ace Yorkshire photographer seeks eco-loving fun-loving couples for boho wedding adventures!! If you're having a laid-back wedding with a non-traditional relaxed vibe then I'd love to be a part of it - You're doing your day your way, I'll be there to photograph it in all its crazy glory
Profile
Ey Up!! I'm Nicky, a Wedding Photographer from lovely old Halifax in West Yorkshire. I cover all of Yorkshire and the rest of the North - So, tell me your plans! Registry office then off to the pub for some craft beers and tasty gins? A peaceful handfasting in the woods? Maybe you're planning a garden ceremony and a bbq, or a relaxed family do in a countryside barn? Or is a tipi and a mini music festival more your style?
If you're having a northern knees up and need an ace wedding photographer to follow you around, then I'm your woman!
I'm a people-watcher, I'm not an in-your-face giving you orders photographer; I love to catch people laughing, drinking, listening to grandmas stories - the best photos are taken when they think I'm not clicking away!
A little bit about how I work - I'm happy to offer whatever coverage you might need, whether its a full day from prep to first dance, or a couple of hours with friends, let me know what you're after and I'll send you a quote! I really love what I do, and I feel it shows in my work. I have a natural creative documentary style, but I also love creating lovely couples portraits for you to show to your friends and share on Instagram!
A final snippet of me - I'm a tea and biscuit addict, I'm a teeny bit obsessed with time travel, I love good books, 90's indie, and my favourites season is Autumn, I adore British seaside holidays and one day I WILL live by the sea :)
Head to my website, get in touch and lets make some wedding plans!