Directory
Search for photographers
Search for wedding suppliers
The Wandering Film Company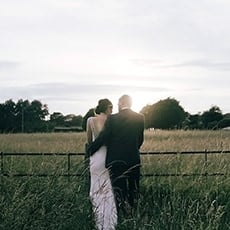 Overview
We make untraditional, beautiful, fast-paced wedding videos that make you rock, sing & cry all at the same time! We have worked tirelessly on crafting our unique style and approach to offer our couples something truly special. Go as big and as bold as you want, have fun on the best day of your lives and let us provide you with memories that never fade.
Profile
We are Emma and Ryan, The Wandering Film Company, a husband and wife videography team based in the Staffordshire countryside. Not to be confused with other videographers we have our own style when it comes to weddings. We shoot the kind of videos we love - beautiful, fast and real!
We have a super relaxed attitude to shooting weddings and are always on hand to Skype/Facetime with our couples so that they are completely comfortable with us before the day. We guide couples through our process, giving advice and help them decide which video package would be best for them.
Our packages are simple and filming on a wedding day is exactly the same no matter the package - we film bridal prep to dance floor antics and everything in between. All videos are professionally edited then packaged and delivered in our custom wooden box and USB ready to share with family and friends!