Directory
Search for photographers
Search for wedding suppliers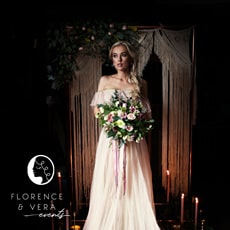 Overview
We are the romantic story-tellers who ensure your vision is executed to perfection. Florence & Vera will become your committed specialist, caring confidant and events soulmate. We take the time to listen to your unique needs - no ask is too big or too small - we provide the support you need.
Profile
Florence & Vera Events can find your venue, help organise your event, liaise and collaborate with your suppliers and can supply many different props to style your event too. We have an abundance of props and items to use; from lanterns to seating plans, tealights to a macrame backdrop - we have it all. If there is something that we don't stock, we will most certainly be able to source it!
We also offer a full or partial venue styling service- maybe with our stock or with your own, if you have decided to take ownership of things like centrepieces and table plans - we can be around to simply set it up for you on the day. We aim to be your absolute best styling pal- this way, you simply give us the brief and we provide a smooth service, collaborating with all of your suppliers in order to lessen your workload.